Russian Symphonic Metal giants, Imperial Age, have released 'Live On Earth', a new live DVD that was recorded during the band's live online concert during quarantine on Aptil 25th 2020.
You can order the album on this link.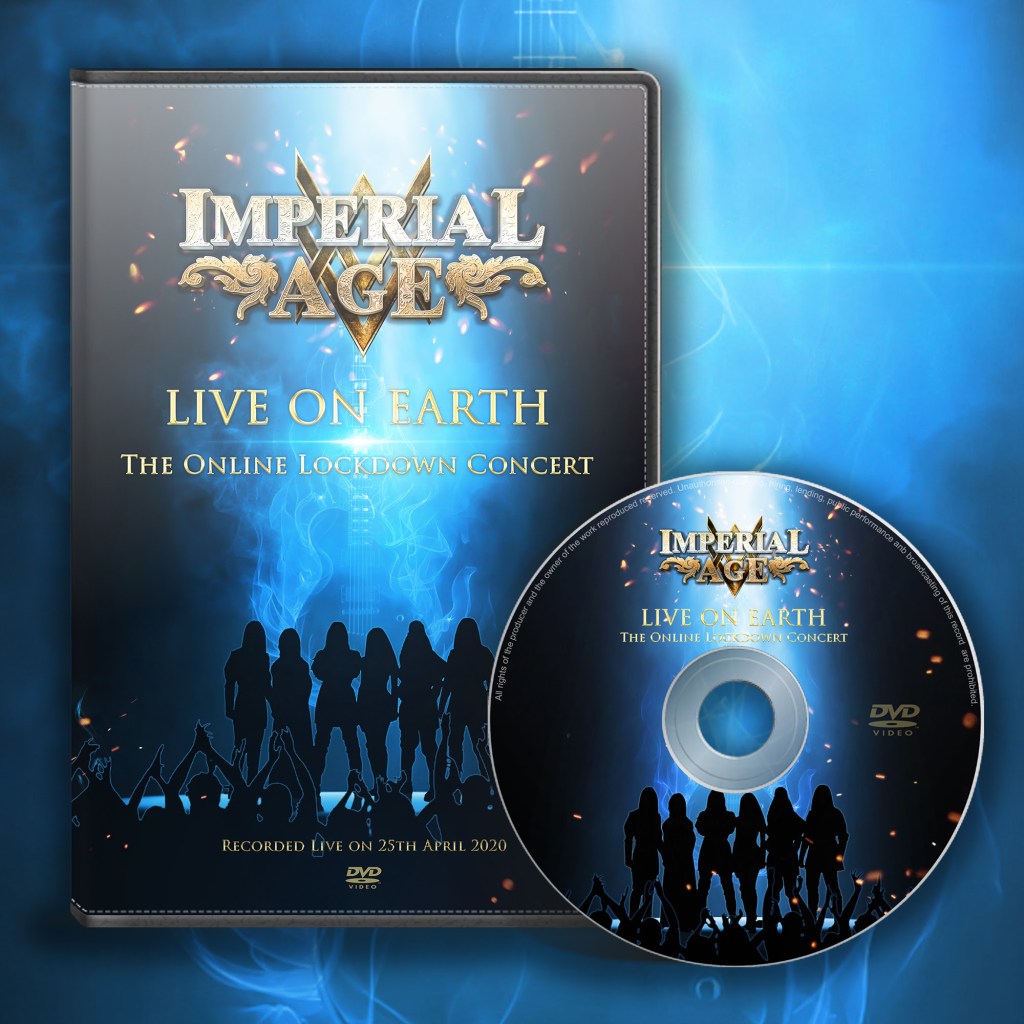 Imperial Age also released two music videos for Turn the Sun Off and Life Eternal from the DVD.
Below is band's full statement:
"In April 2020 Planet Earth looked grim…" – write the band on their official FB page – "The entire civilized world was paralyzed by an unprecedented wave of fear. People were imprisoned inside their homes, needing special permission for so much as to stick their noses outdoors. The strongest economies were hitting all-time lows, and the live music industry collapsed entirely: all concerts were cancelled, venues and promoters were going bankrupt and well-established bands were launching crowdfunding campaigns asking their fans to help them out of debt…

Under these dystopian circumstances, on the 25th of April 2020, a small group of Russian Metalheads (together with a very brave crew) gathered in the empty, locked-down and severely policed city of Moscow, obtained (in various ways) the QR codes required to get through all the police and military cordons, and set out to perform a 3-hour long online concert for their fans worldwide. Crazy? Maybe. Especially keeping in mind that the musicians had invested $2,500 USD of their own money into organizing it.

Some called it stupid, others called it genius, some cheered while others envied… but in the end, all facts indicated ground-breaking success: 38,000 fans watched the show online from all continents including Antarctica, donating $11,477 USD to the band in the process.

Being one of the first of its kind and in the beginning of the covid crisis, this virtual arena show became a landmark not only for Russian, but for the entire European and World Metal in general.

Over the following few weeks, IMPERIAL AGE leaders Aor and Jane found themselves talking to A&R's of some of the biggest Metal labels: NAPALM RECORDS asked to hear the upcoming album, FRONTIERS RECORDS offered a good record deal and BLACK LODGE RECORDS offered a personalized license deal. But they were all respectfully declined.

"A couple of years ago we were broke, unknown and desperate to sign anything: we sent our music to all the labels out there, but the industry completely ignored us. The only two people who lended a hand when we were nobody were Chris Johnsson (Therion leader) and Henk Mol (now our booking agent) and we are forever grateful to them. But where were all the labels when we needed them? If they thought that our music wasn't good enough back then, why have they changed their minds now? Everybody is your friend when you are successful, but only those who support you in your darkest hour deserve to stay with you.

Now – when they have finally noticed the existence of IMPERIAL AGE – there is nothing left that they can do for us outside the things we are already successfully accomplishing together with our fans (all while keeping 100% creative control and 100% income). I am actually grateful for them not signing us back in the days – their indifference forced us into this DIY strategy which ultimately brought us success.

The age of the Label is over – the age of the Indie has begun. And this online show together with our music sales is a bullet-proof argument in favor of this position." – says Aor, the band's main singer, songwriter and manager.

The 3-hour long online show was recorded live with 5 video cameras and a 32-channel audio multitrack.

The audio was mixed and mastered by Sergei Lazar of ARKONA and the video was cut by Alexander Kadyanov – known now primarily for directing the IMPERIAL AGE video "The Legacy of Atlantis" (1.5 million views on YouTube as of this writing), all creating a unique and immersive 5.1 audio and 1080p (FULL HD) video experience for those wishing to re-live this unique musical event."

Despite all the circumstances IMPERIAL AGE was one of the first bands who managed to stream their online show from locked-down Moscow, which was watched by 14,000 people on YouTube and 24,000 on Facebook and brought a huge success to the band.

Finally, IMPERIAL AGE are ready to introduce the DVD with their legendary show.

 LIVE ON EARTH – The Online Lockdown Concert will be released on 23rd October 2020 and will include 19 tracks plus all the questions and answers with the fans in between the songs, together with the behind-the-scenes Making Of film.

LIVE ON EARTH will be available in the following formats: DVD, CD, Digital Download, and on all audio streaming platforms (Spotify, Apple Music, etc.)

Imperial Age's Statement on release