Allow me to begin this article with a meme.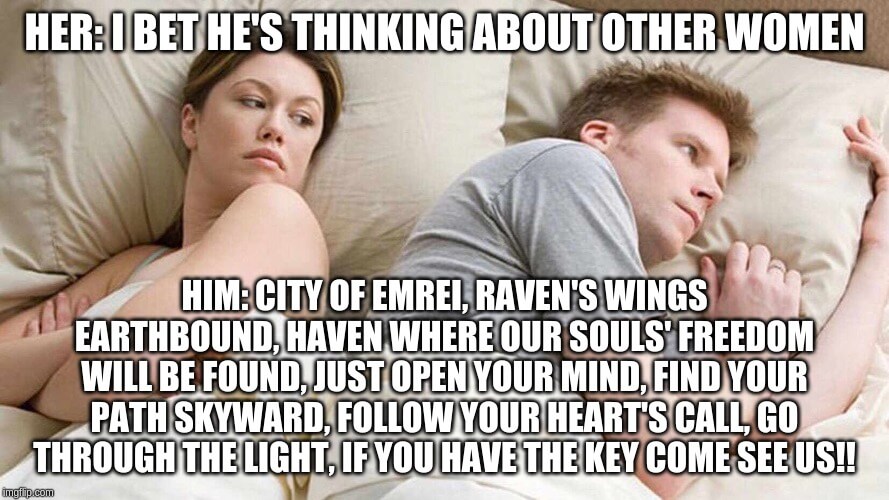 Seriously now, this band is one of my favourite new bands, and their album is one of my favourite 2018 releases, and their lead vocalist is one of my favourite female vocalists.
Now if you're pissed off Shirley hasn't started talking yet, click here to skip my review and jump right into the interview.
If not, here's FemMetal's review and ratings for the Czech band's 2018 album: AFTERWORLD.
P.S. For the hundredth time, mother, I won't be mad if you skip right into the interview.
---
Review
Afterworld is a concept album that tells a post-apocalyptic fantasy story. The story by itself is a wonderful tale with a very compelling timeline. Most famous writers of the fantasy genre usually reside in a time frame that is set in the past. The fact that this fantasy work is set in the future makes it more interesting and original. Add to that Shirley's on-point vocals along with the great Symphonic Metal music and you'll get one hell of a masterpiece. We won't comment further on the story which you can read on the band's official website.
The album opens with a minute-long prologue. The second track, Afterworld, is one of the best songs on this album. It begins with a beautiful melodic intro and then each verse builds up perfectly to a climactic chorus. If you want to learn storytelling through music, you should listen to the song that follows, Prophecy. Aside from the wonderful melody and the awesome contrast of Shirley's crystal singing and the growling vocals, the movement expressed in the song is quite amazing, as in many other tracks in the album.
Born of Hope, the fourth track, is softer than the other songs on this album and a chance to hear how unique and beautiful Shirley Tracanna's voice is. Aside from the beauty in her voice, Shirley has that signature voice that one can recognize immediately. Great Escape is another great song with lots of movement and high notes and a beautiful guitar solo. What follows is my favourite song on the album, City of Emrei. A great choir, a wonderful symphonic tune along with the heavy beats and guitars all fuse together in that masterpiece.
The seventh track, Ridicule is another beautiful fast song with a great guitar solo that messes with the space-time continuum. Magic and Storm is Coming are two self-descriptive tracks. I love the contrast in these two neighbouring tracks The former has a dreamy tune and features clean male vocals while the latter has a hard riff with harsh vocals. The album keeps building up with another beautiful song, Awakening, until we hit the climax track, Final Battle. The song is 8 minutes of beauty, full of great music, wonderful riffs, outstanding vocals, and lots of theatrical elements drawing a visual of this final battle between good and evil. Finally, Remember Me is the resolution track that concludes this epic album.
Now the three of us (myself, Betty and Becca) honestly tried to find something we did not like about the album to include in this review. And we came up with the following list:
FemMetal, not only recommends Afterworld, but also considers it as essential for any Symphonic Metal fan. This being only Wishmasters' second album says a lot about this band and where it's going. The lyrics are very well-written, the music is exciting, and the artwork is very delicious for the eyes!
---
Rating
Here are the average of the ratings that were placed by the FemMetal Team
| | | |
| --- | --- | --- |
| Music (30%) | ⭐⭐⭐⭐⭐⭐⭐⭐⭐⭐ | 10/10 |
| Lyrics (30%) | ⭐⭐⭐⭐⭐⭐⭐⭐⭐⭐ | 9.5/10 |
| Production (30%) | ⭐⭐⭐⭐⭐⭐⭐⭐⭐⭐ | 9.5/10 |
| Cover Art (10%) | ⭐⭐⭐⭐⭐ ⭐⭐⭐⭐ | 9/10 |
| Total | ⭐⭐⭐⭐⭐ ⭐⭐⭐⭐⭐ | 9.5/10 |
---
Interview
We had the chance to chat with Shirley about her band, their new album and herself. Here's the interview!
Mirk: Hello Shirley. It's wonderful to talk with you. How are you today
Shirley: Hi, it's a pleasure 😊 I'm fine, thank you for asking, I just graduated from college so I'm pretty happy.
Mirk: Congratulations! First, can you tell our readers a bit about yourself and your band, Wishmasters?
Shirley: Sure, I joined Wishmasters one year ago and in this time range, we shoot a lyric video and an official music video for the newest album that was out the last November.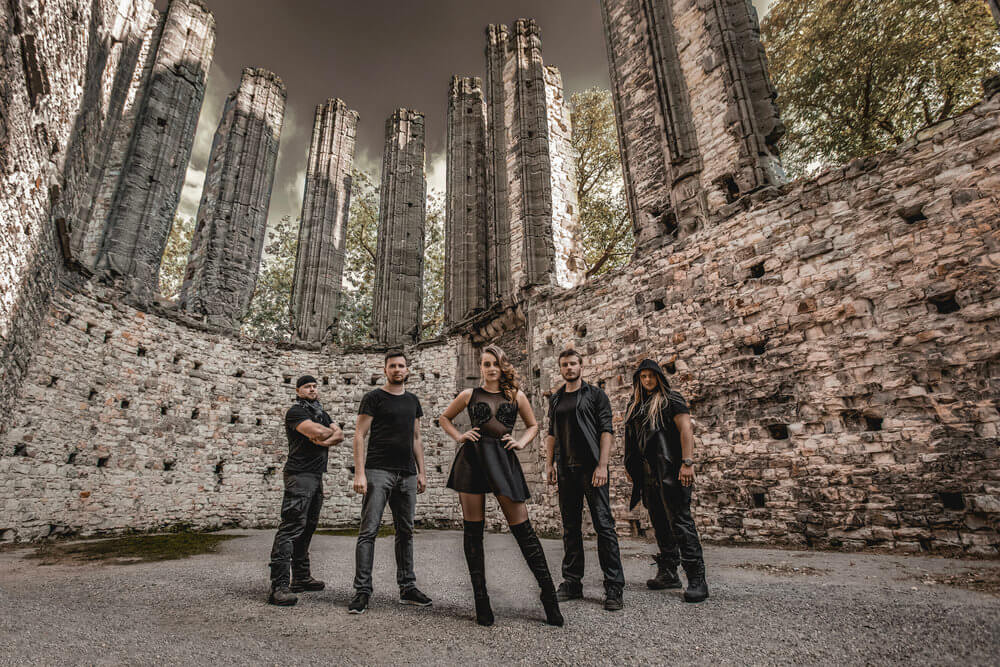 Mirk: You released an album, Afterworld, in 2018. How would you describe the album to people who haven't heard it yet?
Shirley: Afterworld is an album with a fantastical sci-fi story behind and each song tells a chapter of the great adventure. The story is about a battle between good and evil… the plot is very extended so it's difficult to resume in a few words, you can find the entire story on our official page or inside the booklet. The plot is also the main element of the music video Afterworld, where each member of the band, plays a role in the story, so for the no-readers, I would advise you to watch the music video on YouTube.
Mirk: You are, obviously, an Epica fan. Can we say Epica is one of your influences as a vocalist and a band? And what other artists influenced Wishmasters' music?
Shirley: I am. Epica has been the first Symphonic Metal band I have ever heard and it has been love at first sight. It was the perfect mix for me: Classical Music and Metal. Since the first day, I knew what I wanted to do in life. But of course, my icon doesn't come just from the SM scene. I'm also a huge fan of Lady Gaga and Freddie Mercury. In Wishmasters every member has his/her inspiration, so it is difficult to set precise bands. We do Symphonic Metal, so in general, Within Temptation and Epica had their inspirational role in our production, but we like to follow our wave.
Mirk: You have a great voice, one of my favourites. Did your great singing voice lead you to discover Metal through voices similar to yours? Or did Metal help you discover your voice?
Shirley: Aw thank you very much, It makes me happy that you like my voice. Well, I started taking singing classes many years before I discovered symphonic metal, so I think that I just adapted it to the genre, but very naturally… I also have to say, that joining this world helped me to improve and to know my voice more and to learn my strengths to show the best.
Mirk: You're Italian, in a Czech band that sings mainly in English. Do you think Metal music is playing an important role in making the world a smaller place and reducing distances between people?
Shirley: Music, in general, is the main way of communication and the only pure one. I can see it in our band. Sometimes it is difficult for me to express myself in Czech, but at the moment that we are recording and composing, we don't need words because the music feeling, leads us. And all the international friendships I made are because of music, so I'm very happy to work in this industry that connects the world in the most crystalline way.
Mirk: In your Instagram posts and stories, you're always smiling and you seem like you're making the best of every moment. Also, you have that "sheeslife" account where you post hilarious stuff that I laugh a lot at. What is your recipe? How can you be that happy and spread happiness around you?
Shirley: Haha, yaaas 😀 well, I like to be in a smiling and happy environment so I try to create a happy atmosphere wherever I go. So I am clown realness because I know that a smile is the best medicine so I have this need to make the world happy. I like to say that I catalyse the bad vibes creating positive
ones 😀
Mirk: Speaking of social media, being an artist gets you the ability to reach more people. What causes or ideas would you like to promote using that ability?
Shirley: BE YOURSELF and SPEAK. Because social media could be sometimes pressing, all that perfection that everyone wants to flaunt. I would invite all the people to be real and themselves, ignoring haters or thinking about what people could think, just do what you want – legally and speak….if there is something that makes you sad, just speak up with someone. It could be helpful.
Mirk: Have you faced any form of sexism either from people online or in real life? And if yes, how do you usually deal with it?
Shirley: Well, luckily I surround myself with the kind people that are not that stupid that in the 21st century could have sexist affirmations… yeah, sometimes it happened that some true metalheads laughed at me because of the genre I'm singing but I always kindly listen to their opinion and then I continue to live my life.
Mirk: Aside from singing and music, what other hobbies and interests do you have?
Shirley: Well, I'm kinda hyperactive, so I do many activities to avoid boredom. Musically speaking, I like playing the bass and the piano, then I try to get in shape by hitting the gym. In terms of sports, in winter, I love figure skating. I also joined amateur dramatics because I like acting too!
Mirk: It was very nice to talk with you, Shirley. We wish you and Wishmasters luck in your future projects!
Shirley: Thank you so much for having me today on this interview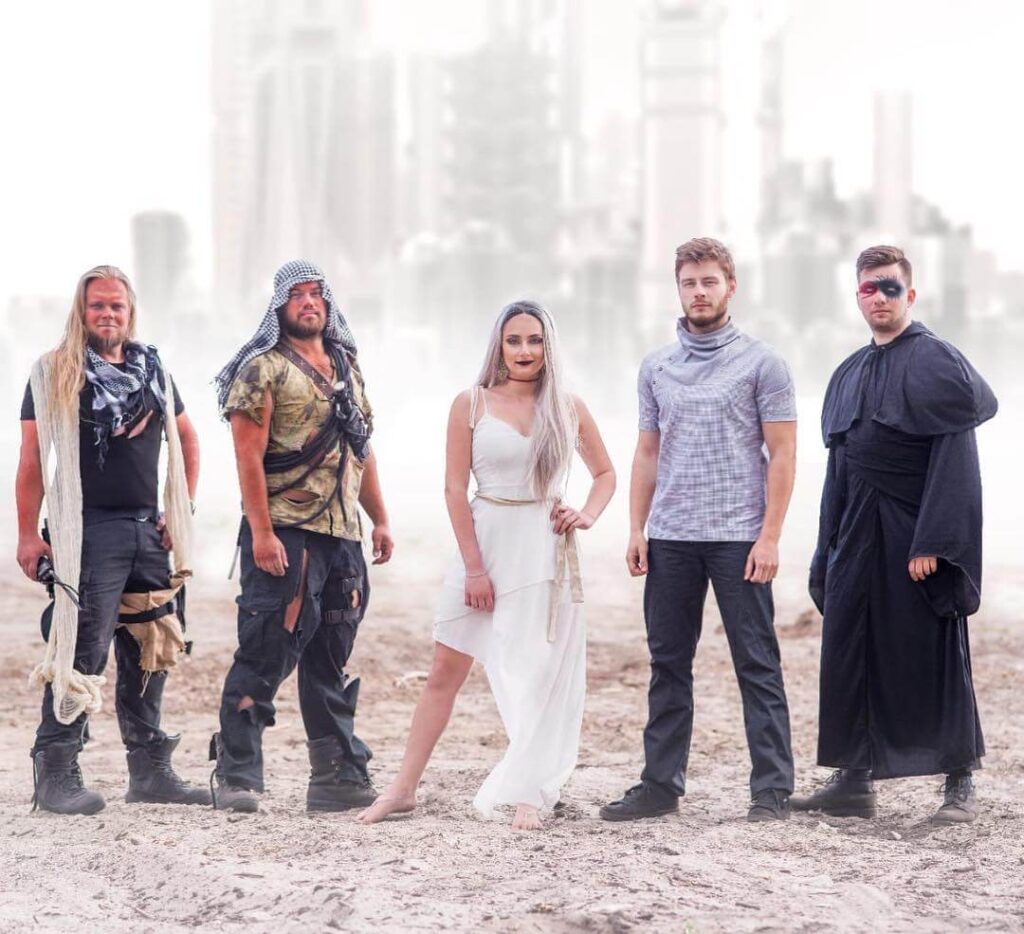 ---
Follow Shirley and Wishmasters on Social Media