Ear Buzz is a Rock band from Italy fronted by the vocalist, Ilaria Belluci. With the sound of modern Rock at its best merged with many elements from other genres and times, Ear Buzz is a band worth checking. The band has released their debut EP in 2018 entitled 'Planetarium'.
Here is FemMetal's review of 'Planetarium', followed by an interview with Ilaria Bellucci.
As always, you can skip to the interview by clicking here.
Review
The EP is made up of four songs, extending over about 15 minutes. The style Ear Buzz displays in their music, unlike many other modern Rock bands, is very dependent on a classical "band" sound, with the brilliant addition of keyboard music bringing an additional tune to the guitar riffs and solos that emerge out of the melody every now and then. The EP opens up on November 11 that provides an excellent melodic intro with a very good riff and beat.
Ilaria's voice is another one of these beautiful voices you always love to hear. All along with the 4 songs of the EP, it is marching note by note with the melody, and bonding with Pietro Montesarchio (Keyboards and Vocals) in the second track, Harriet, in a beyond beautiful display. In the EP, her voice is calm and yet, expresses all strengths it needs to express. Mass Destruction is the song on which you can hear the best display of Ilaria's voice.
Brilliant guitar solos can be heard all over the EP, in all 4 songs, my favourite being that of Shining Eyes.
Besides the EP is only 15 minutes long, there's nothing we did not like about it and nothing we thought the band could have done better. We recommend Ear Buzz and hope this EP is the clue to what awaits us!
---
Rating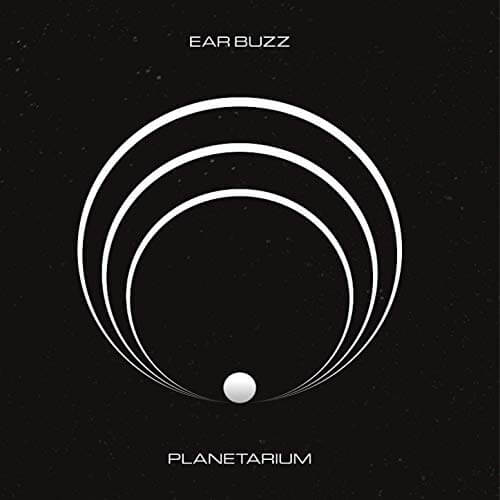 Here is the average of the ratings that were placed by the FemMetal Team.
| | | |
| --- | --- | --- |
| Music (30%) | ⭐⭐⭐⭐⭐⭐⭐⭐⭐ | 9/10 |
| Lyrics (30%) | ⭐⭐⭐⭐⭐⭐⭐ | 7/10 |
| Production (30%) | ⭐⭐⭐⭐⭐⭐ | 6/10 |
| Cover Art (10%) | ⭐⭐⭐⭐⭐ | 5/10 |
| Total | ⭐⭐⭐⭐⭐⭐⭐ | 7/10 |
---
Interview
Mirk: Hello Ilaria! I've very happy to chat with you. How are you doing?
Ilaria: It's a great pleasure to speak with you too! I'm having a really great time in this period.
Mirk: You're the lead vocalist and rhythm guitar player of Ear Buzz. Can you please tell FemMetal readers a bit about yourself and your band?
Ilaria: I've grown up dreaming about being the lead singer of a band, but the place where I come from doesn't offer so many opportunities to women in the rock industry…then in 2016 Ear Buzz asked me to be their lead singer. We had the first rehearsal and we were very comfortable with each other. They started playing together one year and a half before but looked for me to improve their career.
Mirk: In 2018 you released an EP called Planetarium. Is that how the future work of Ear Buzz will sound or are you still working on your sound and experimenting?
Ilaria: Well man, I think it's both…we are always writing and we always try to be faithful to our original sound on one side but also experimenting on the other. It's like, you know, mixing rock with electronic stuff. If you do it the right way, good results will come!
Mirk: As you know, I support women in the Metal and Rock music industries and promote feminism in music. How much do you believe music can help spread ideas of equality and respect? And do you plan to address women's rights-related issues in your subsequent releases?
Ilaria: Nowadays we have a lot of ways to talk to each other, but the only thing closest to people is music. Of course, music can help to spread ideas of equality and respect. Think about a rock icon like Patti Smith, who started a revolution that brought men and women to the same level in music. I'd really like to address such an important issue like one of the women's rights in my future works.
Mirk: As it had been mentioned, you're a vocalist and a guitarist. If you had to choose only one role for a future project, either vocalist or guitarist, which would you pick?
Ilaria: Vocalist, at all. I love playing the guitar but my first passion is singing.
Mirk: Is there any projects coming soon for Ear Buzz you'd like to tell us about?
Ilaria: We've just finished the promotional tour for Planetarium, and now we're gonna stop for the rest of the year because our keyboard player and also our leader will be abroad for a period. We have planned to re-start working in February and I can say there's much more to come!
Mirk: Aside from music, what hobbies do you enjoy doing?
Ilaria: Aside from music, I love to take photos, draw and watch TV series.
Mirk: Thank you for the interview Ilaria! Good luck to you and Ear Buzz in your future work!
Ilaria: Thank you for this opportunity!
---
Follow Ear Buzz on social media