The Silence Between Us is a Melodic Deathcore band based in Venice, Italy. Fronted by Federico Cardazzo, the vocalist with massive growls, the band also consists of Salvatore Palomba on Guitars, Chiara Zanøn on bass and clean vocals, and Samuele Dei Rossi on Drums.
As always, we love to promote women in Metal, especially if they are as talented as Chiara, who plays the bass with grace and power.
Chiara and her band-mates released a new EP earlier this year. Below is our review for The Silence Between Us' EP 'Nails', followed by an interview with the magnificent Chiara Zanøn.
Click here to skip the review and read the interview.
Click here and nothing will happen.
Review
When you hear 'Melodic Deathcore' you probably expect two things. 1) Brutal fast riffs and 2) Beautiful melodies intertwining with the hardcore riffs. The EP does not disappoint at both. Here are three things we loved about 'Nails'.
The Layers
The songs feel like they're made of many layers. As we mentioned before the powerful ongoing riffs and melodies are expected in this genre. The thing that makes this record stand out is that there is no "awkward" transitions or "disturbing" stoppages. Each song is a whole entity formed from layers all making it what it is. Example on that is the song Nails, where we hear several riffs playing with melodic entries coming every now and then, along with the continuous growls that take many shapes and colours and are far from being consistent in a boring way, with Chiara's clean singing in the background every now and then giving the song more grace. Dear Dad is another good example of how the band did that.
Variety
The EP is made from 6 songs and an intro. None of the 6 songs was lazily made and each song can be identified with its varying unique tone. The record, however, does have a unifying atmosphere that makes it overly connected.
'Bury Me Alive'
Bury Me Alive is the beautiful finish the record leaves you with. The song is brilliant, containing everything good about Deathcore, with lyrical brilliance and great tempo.
---
'Nails' has the music we'd love to hear on every Deathcore record. Probably a thing we would have liked to hear more of on the EP is longer and more distinguishable guitar solos.
We recommend 'Nails' for all Deathcore and Metalcore fans.
---
Ratings
Here are the average of the ratings that were placed by the FemMetal Team.
| | | |
| --- | --- | --- |
| Music (30%) | ⭐⭐⭐⭐⭐⭐⭐⭐ | 8/10 |
| Lyrics (30%) | ⭐⭐⭐⭐⭐⭐⭐⭐⭐ | 9/10 |
| Production (30%) | ⭐⭐⭐⭐⭐⭐ | 6/10 |
| Cover Art (10%) | ⭐⭐⭐⭐⭐⭐⭐ | 7/10 |
| Total | ⭐⭐⭐⭐⭐⭐⭐⭐ | 8/10 |
---
Interview
Mirk: Hello Chiara! It's very great to talk with you. How are you today?
Chiara: I'm being interviewed by FemMetal, I'm obviously fine!
Mirk: Aw that's sweet! You're the bass player and clean vocalist of The Silence Between Us. Would you tell FemMetal readers about yourself and your band?
Chiara: I've always loved to study, play and experience different kinds of music so I ended up playing deathcore as a step of my evolution as musician. I used to listen to The Silence Between Us and going to their concerts even before being part of the band so when they needed a new bassist, I considered it a great opportunity. They were young, enthusiastic and full of ideas and this is exactly the perfect mood to work. Then I discovered they were wonderful people too and this is why I'm still with them. We all have different music backgrounds and we made it our richness. Since I joined the band we started evolving towards a more melodic and emotional way of composing. Nails, our latest EP, is the spontaneous result of this. Our guitarist experienced some difficulties in his personal life during last 3 years and we helped him sublimating the whole thing into something beautiful, inspiring and full of meaning like music is. This is the reason why we're very proud of Nails, because its contents are authentic.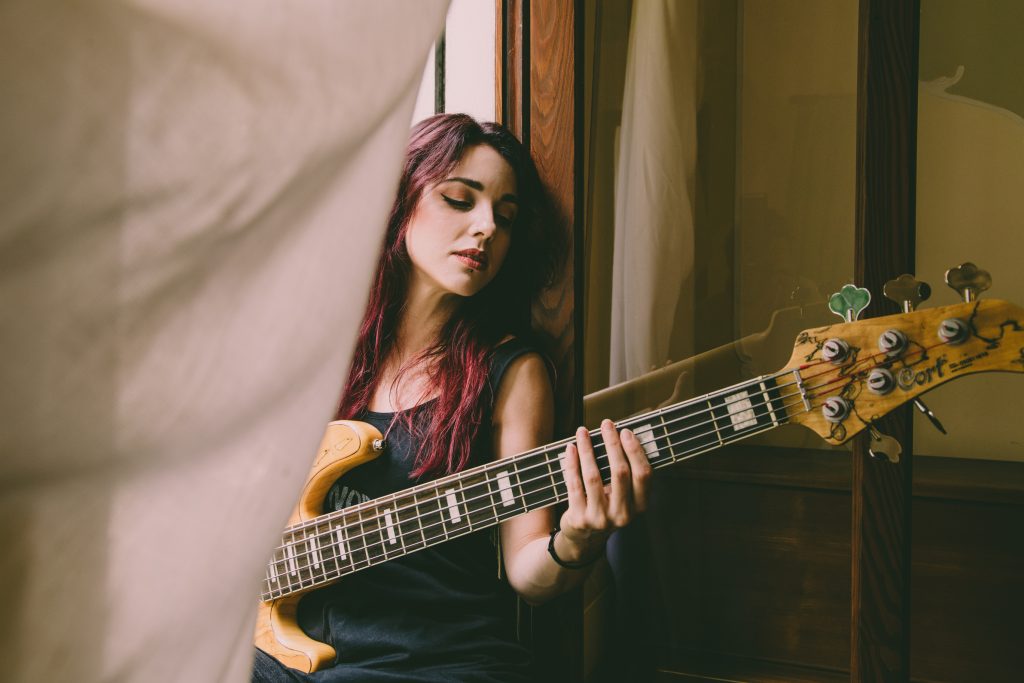 Mirk: Why did you choose to become a bass player? Any musician in particular inspired you to play that instrument?
Chiara: Originally, I wanted to play drums ahah! The problem was that my sister wanted to play drums too, but she is left-handed, and it would be a mess to play the same drum kit. So, I started with classic guitar for two years. One day my ex-boyfriend who used to play bass in a punk-rock band taught me a simple song by Silverstein on his bass and… It was an instant crush! I saved all the money I could and went buying my first bass as soon as I had the money. We're still deeply in love today. About the musicians who inspired me, I think that probably my main influenced were in terms of attitude and role of the bass in the band. I often thought of how Red Hot Chili Peppers or Toto or Queen would have been with a different bass player and the answer is very simple. So I've always tried to make my bass-lines a true essential part of the song giving a real contribution and I also tried to find my own way of putting together all my music backgrounds to reach a personal style. This is why I've never stopped studying and listening to almost any kind of music.
Mirk: You meet a lot of people when you're an artist, and unfortunately not all of them are good people. Have you ever been in a situation where you felt you were treated in a sexist way?
Chiara: Ahahah! That's really a great question. Thanks to music and concerts I've met many of the most important people in my life (I met my boyfriend too!). On the other side I have to say that male musician rarely treat female ones like as equals. This is true in almost every musical genre I played and it's sadly particularly true for metal. I think that during concerts with the guys of TSBU I found the most sexist behaviours. When we arrive other musicians and managers greet my band-mates but not me, because they assume that I must be only the girlfriend of someone of them. And unfortunately, nothing changes even when I'm holding my bass. I remember I guy, who could barely play in tempo, once told me "You're good at playing bass for being I girl". I just started laughing and told him that on Wednesday I have time for another class from 5 to 6 pm. Male musicians rarely take seriously what a female musician says, and they rarely compliment after the show or come to say bye when they leave. But I have to say that I LOVE looking at their faces when I get on the stage, they're so bewildered and funny! But sincerely I think that it is girls' fault too. Many female musicians are not interested in highlighting their musical abilities and tend to pay much more attention on how they appear rather than how they play. How can we expect to be taken seriously when we play half naked, we use our social media pretending to be suicide girls just for having a pair of tattoos, we record videos in which we play with shirts so low-necked that no one would care about the music, we take pictures of our music projects that would fit better a fashion magazine front page and keep on this stupid habit of propose us more as something to look up to than valid, talented, eclectic women with many music capabilities? WE are the ones who must start changing something about it!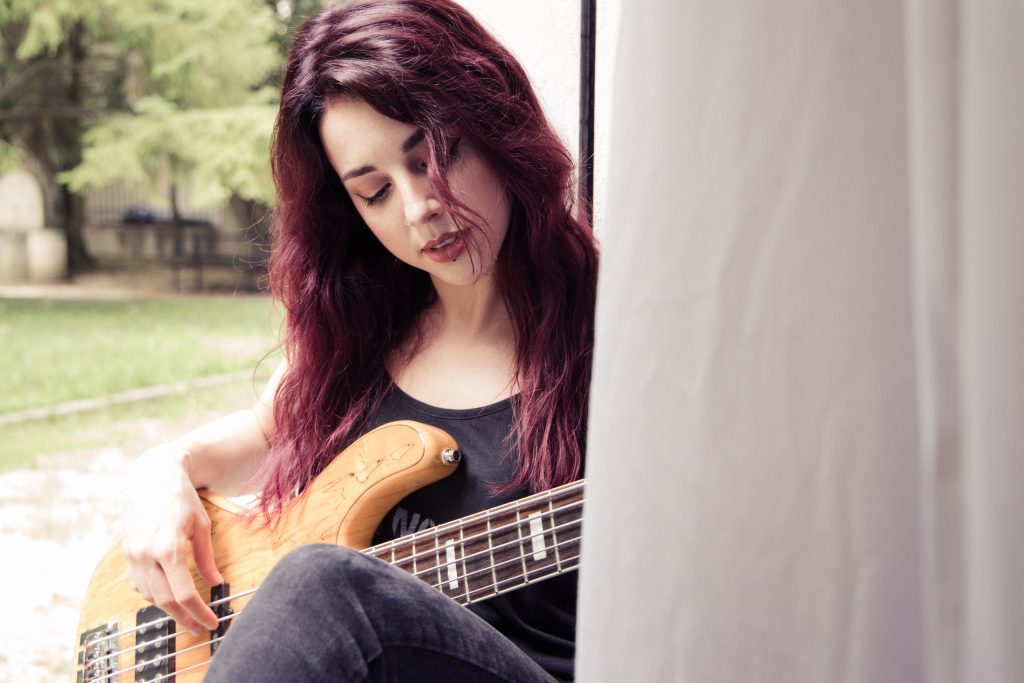 Mirk: Do you remember the first time you performed live on stage in front of an audience? Can you tell us about it? How many people were there? How did it feel?
Chiara: My first band was a punk band named Punk-ache. That sounds so funny now! We played at a little concert in the city centre in front of some friends and so on and I remember I completely forgot the bass lines of the first song because I was so nervous. I relaxed during the show and felt like I was I different person, much more conscious of myself, at the end of it. I felt that feeling only that time in my whole life, I will never forget it.
Mirk: Do you have any plans for the near future you'd like to tell us about? A new album or release?
Chiara: We are planning a new release by the end of the year just before leaving for a tour that will bring us to Slovenia, Croatia, Hungary, Czech Republic and Austria. We're also yet working on new material for next year. I'm also the singer of an industrial/electronic band, called Human Suit, and we're going to release new stuff in 2020 and come back to the stage after a pause of few months due to my graduation final exam.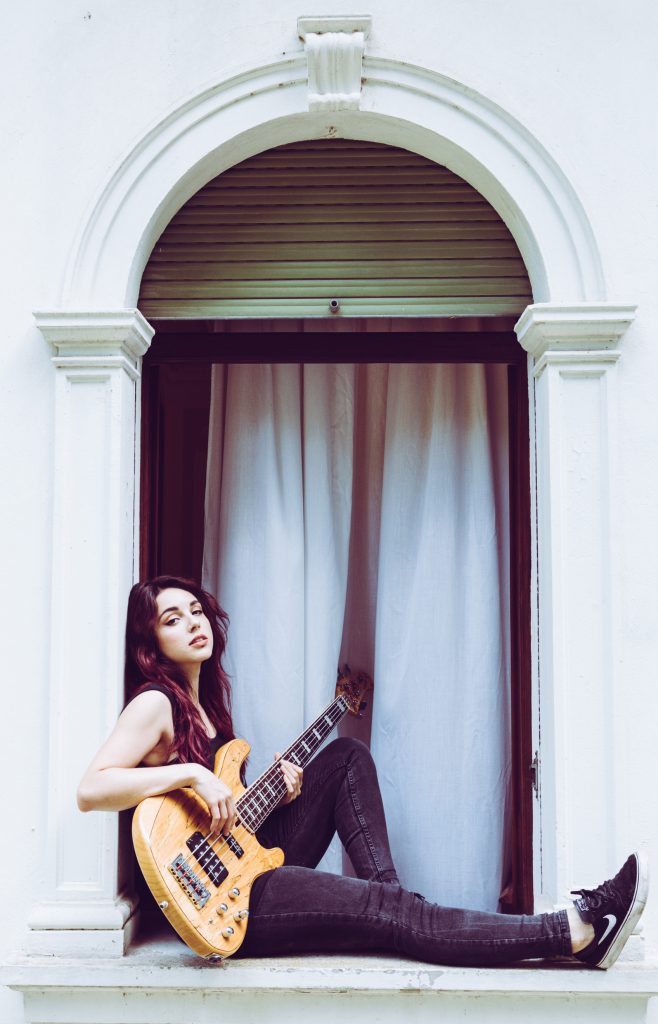 Mirk: Your growing popularity gives you the ability to reach more people especially through social media. What human rights causes would you use that ability to make people aware of and talk about?
Chiara: I'm strongly convinced that musicians should be an example and should help educating people through their music. In particular the things I have at heart the most are tolerance and respect for people in need (I'm really worried about the growing of extreme right parties' popularity in Italy and in Europe), the care for the planet we live in in every possible way (from separate collection to sustainable development) to preserve not only nature itself but also the people who are invariably involved by the consequences of climate change and non-rational use of resources. In addiction I'm a feminist in the old meaning of this word: I'm not interested in fighting only male privileges, I think the point is changing an entire culture about what a woman is and teaching something different to our children. Furthermore, I'm convinced that culture and education should be enhanced and that we should find the way to make people, particularly children and kids, love learning and to teach them to always use their critical thinking, one of the greatest gifts we have.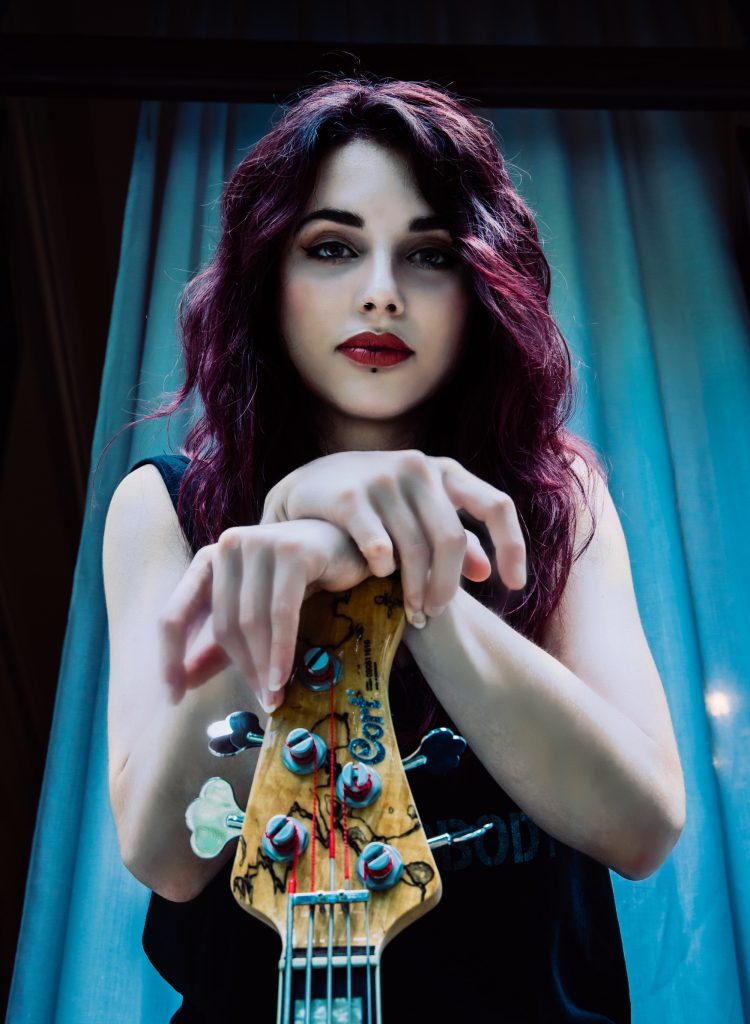 Mirk: Away from music, what hobbies do you have?
Chiara: I have many. I'm part of a collective which organizes concerts for underground bands which play original music from any musical genre. I love taking pictures of people and concerts. I like reading and writing. Since I'm a doctor I'm interested in scientific education and debunking and I try to contribute with my social media (and maybe also a YouTube channel in the future). I love beer, wine and food (eating but also cooking) so I'd like to become a beer sommelier and I often try new recipes. I love cinema and anime, so I watch a lot of movies and anime, in particular when I come back from work. I like graphic design and video-making, so I tried to learn some essentials to prepare some basic things for my and friends' bands. I love interior design and architecture too, so I try to be updated with news about this world. And since I'm a girl I like make-up: I watch a lot of videos and try to experiment on my own, in particular when I have to do my concert make-up. Oh, of course I'm not used to sleep very much with all of this stuff to do ahah!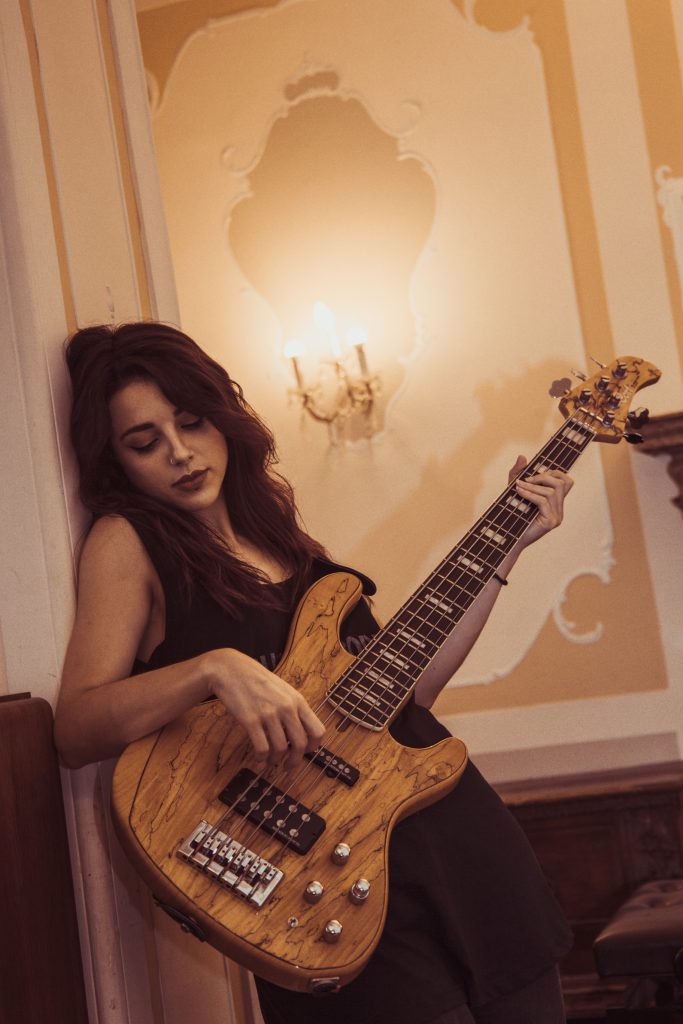 Mirk: Thank you for the interview Chiara! It was a great pleasure to talk with a young a promising musician. Wish you the best of luck in the future for you and your band.
Chiara: Thank you guys, it has been a pleasure to me.
---
Follow The Silence Between Us on social media



---