Every year, new bands emerge into the spotlight while others disappear. Some release their debuts while others their swansongs. Today we're talking about Heart Through Sacrifice's self-titled debut album. 'Heart Through Sacrifice' is one of the bands emerging to the scene with power and grace. Their debut album shows a hard and great work by Doug Rimington, the man who wrote, produced and performed all the music on the album, with sensational vocals from Corinne Cooper.
The album is not yet available on digital platforms and is release is limited to 100 hard copies for now that can be purchased directly from the band, with another release scheduled for 2020. However, three singles from the album are available on Spotify and iTunes.
FemMetal had the wonderful chance of speaking with the vocalist, Corinne Cooper, who told us more about the album and her experience with Heart Through Sacrifice among other things. We also had the privilege of listening to the album and writing a review.
If you're only here for the interview, click here to jump right to it.
---
Review
Someone on reddit once suggested a band's third album would be their best and defining album. Many agreed with his claim and provided examples of bands that rose to their peaks with their third major release. Theoretically, it can be true, because a band would experiment with their sound and abilities in the first two albums. Practically, however, Heart Through Sacrifice emerged just like the Greek goddess Athena: fully grown, and in a complete armour, ready to battle. Here are four things we loved about their debut album.
The Story-telling Production
The band describes their record with these words: "The tale behind the album is a dark fantasy, based on a world where life has been devoured by an evil wraith. Our heroes are an orphan boy and a warrior woman protecting him. Both fighting to regain their humanity after losing loved ones."
The lyrics of the album are entirely telling us a story, and many elements were added to keep us the story-telling zone, and to keep us aware we are not listening to a random collection of songs, but to a tale. The intro track and the first song, Blood Stained Stone / The Boy, successfully places our mind in that zone, with each and every song following delivering its part to the tale. We hear a whisper in the end of the second track that adds to the element of suspense, we hear a lullaby in Born From Sin / The Beast that exerts more anxiety and tension. The music gets harder and softer to emphasize the situation of the characters during the course of the album. That was something HTS did perfectly well.
Corinne Cooper's Momentous Vocals
Corinne has swiftly become one of my favourite voices in Metal. She isn't just someone with a "good voice". She has a majestic voice and talent and a performance that shows how hard she works to deliver her vocals in the best way possible. On tracks like Blood Stained Stone / The Boy and Vengeance And Fury / Decimate, she was simply soaring high with eagles. Her ability to sing softly or aggressively, slow or fast shows how great of a vocalist she is! My favourite performance of hers is on the fourth track, Eyes Of Gold / The Warrior.
The Music
When a band releases instrumentals for their songs, you know they are proud of the musical pieces they have written and want the fans to focus on them without the lyrics at times. HTS released instrumental versions of their three released singles, and Doug has all rights to brag about his music. We mentioned before how the music on the album managed to participate in the story-telling. Add to this factor the beauty of the melodies and the strength and speed of the riffs on songs like Eyes Of Gold / The Warrior and Vengeance And Fury / Decimate, and you'll be able to see how great the music on this album is.
'Salvation Through Sacrifice'
The final song on the album is definitely my favourite. It is an 8 minutes long epic and a perfect way to conclude the album. Starting soft and progressing to be the climax of the album, with great lyrics and great riffs all along the path. It is certainly one of those long songs that you would come back to.
---
Something we would have loved to hear or see more of on 'Heart Through Sacrifice' is longer guitar solos. Although the great riffs and existing instrumental parts were great, and the album is already long enough, but few more solos would have made this already rich album even richer.
We definitely loved the album from intro to epilogue and recommend it to all Progressive and Power Metal and Rock Opera and concept albums fans.
---
Ratings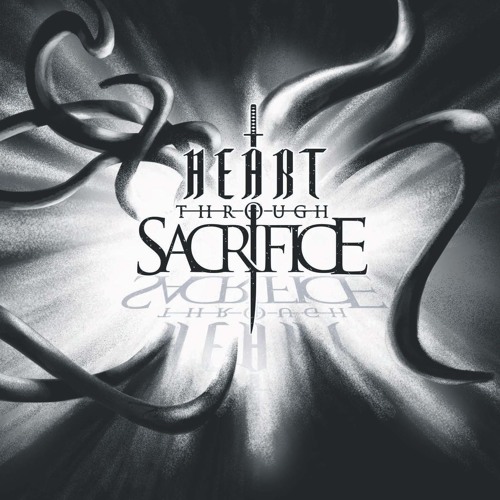 Here are the average of the ratings that were placed by the FemMetal Team.
| | | |
| --- | --- | --- |
| Music (30%) | ⭐⭐⭐⭐⭐⭐⭐⭐ | 9/10 |
| Lyrics (30%) | ⭐⭐⭐⭐⭐⭐⭐⭐ | 8/10 |
| Production (30%) | ⭐⭐⭐⭐⭐⭐⭐⭐⭐⭐ | 10/10 |
| Cover Art (10%) | ⭐⭐⭐⭐⭐⭐⭐ | 7/10 |
| Total | ⭐⭐⭐⭐⭐⭐⭐⭐⭐ | 9/10 |
---
Interview
Mirk: Hello Corinne. I'm very happy to talk with you. How are you doing?
Corinne: Hello! Aw thanks, I'm so buzzed about this interview! I'm great thanks!
Mirk: You are the vocalist of Heart Through Sacrifice. Can you tell us a bit about your band?
Corinne: Yes, I am indeed, HTS started out as a project, all music was written and played by one man! Doug Rimington, incredible talent. We briefly worked together on a previous band which unfortunately didn't work out, but Doug messaged me and asked if I could try to put some lyrics and melodies to his music – it was track 4 he sent. I fell in love with his music, and instantly was inspired, thankfully he loved what I did with it, and didn't look back since! He then pulled two amazing guitarists together, Jonathan Downs and Donnchadh Mullaghy, who are just so talented, and great guys to work with (they all are) and thus creating the 'live' band of HTS .
Mirk: You released a new album recently. The album has a very interesting theme into it. Can we say it's a Metal Opera, or more of a Concept album?
Corinne: Haha I love the idea of a 'Metal Opera' and I suppose you can say it is, because the whole album track by track tells the story of a strong warrior woman, a young orphaned boy and a beast that hunts them both! It's a very thrilling and exciting story! When writing the lyrics and melodies for these tracks, particularly the first 4 tracks, I really wanted to paint a picture about the characters and used the music, to power what emotions they may have been feeling at certain parts of the songs. Most songs were written from a 3rd person perspective to give a 'narrated feel', other songs such as track 2 in particular, we have the beast's point of view… It's been so exciting to be a part of this!!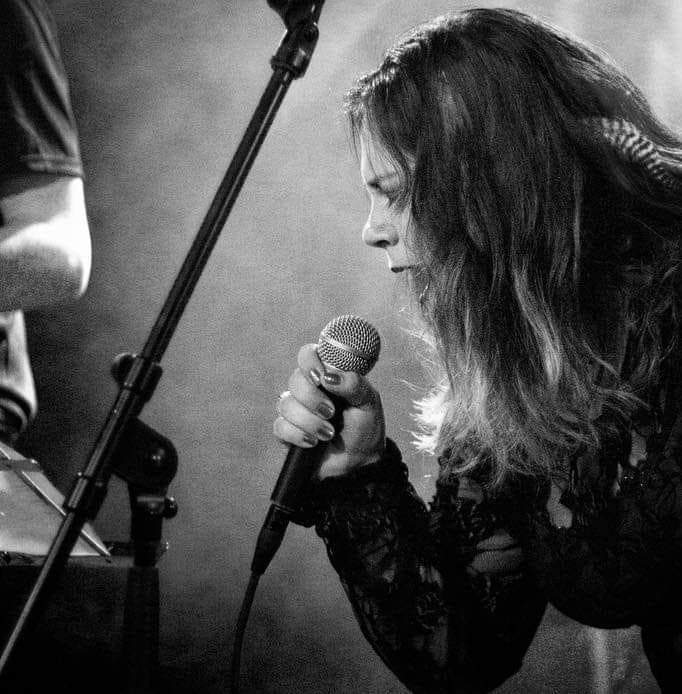 Mirk: How would you describe your sound as a band? And what bands would you say have influenced you through the way to create your own sound?
Corinne: To be honest, I feel like HTS is SO SO unique, I know Doug has influences including Devin Townsend, Machine Headand Anneke van Giersbergen whereas the bands and artists I used to influence the vocal style and lyrical style, I would say would be bands like: Epica, within temptation and Nightwish.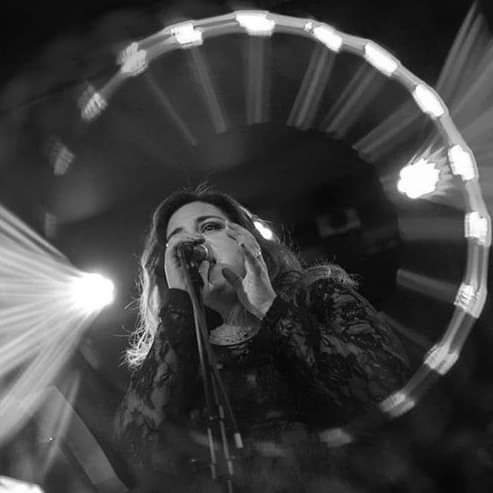 Mirk: Personally, what artists did you grow up listening to? And when was that moment you decided you want to become a professional singer?
Corinne: I'm actually mostly known for my blues/soul voice and for singing big female ballads! Singers like Celine Dion, Whitney Huston, Barbara Streisand and Christina Aguilera to name a few. I've been singing professionally since I was 9 years old back in Gibraltar. I've always adored performing, I believe it's who I am rather than something I do. So at the age of 14 I decided I would one day move to London and study Musical Theatre, which is where most of my training is, and I did back in 2015.. and I never looked back again!!
However, I've always had a passion for melodic metal, and Within Temptation, Epica and Nightwish.
Mirk: You were born in Gibraltar, and now you live in the UK. What are your best memories about growing up in that small but beautiful territory?
Corinne: Gibraltar is a very unique place, it's a British colony, by the southern tip of Spain. It's literally a rock and has such a rich history and culture.
My best memories in Gibraltar aside from growing up playing at the beaches, seeing dolphins when you're on a boat, and walking with macaques up the rock (and sometimes in town) is the amazing opportunities that rock has given me to do what I love to do – sing- I've had the honor and privilege to sing since the age of 9, singing in huge events such as National Days, 300 years of British Gibraltar celebrations, the Queen's Jubilee, weddings, charity events and shows so on! There's so much talent on that rock! A population of 30,000, and in that population we have so many amazing singers, musicians, dancers, artists… list goes on! And that's something I always take such pride in.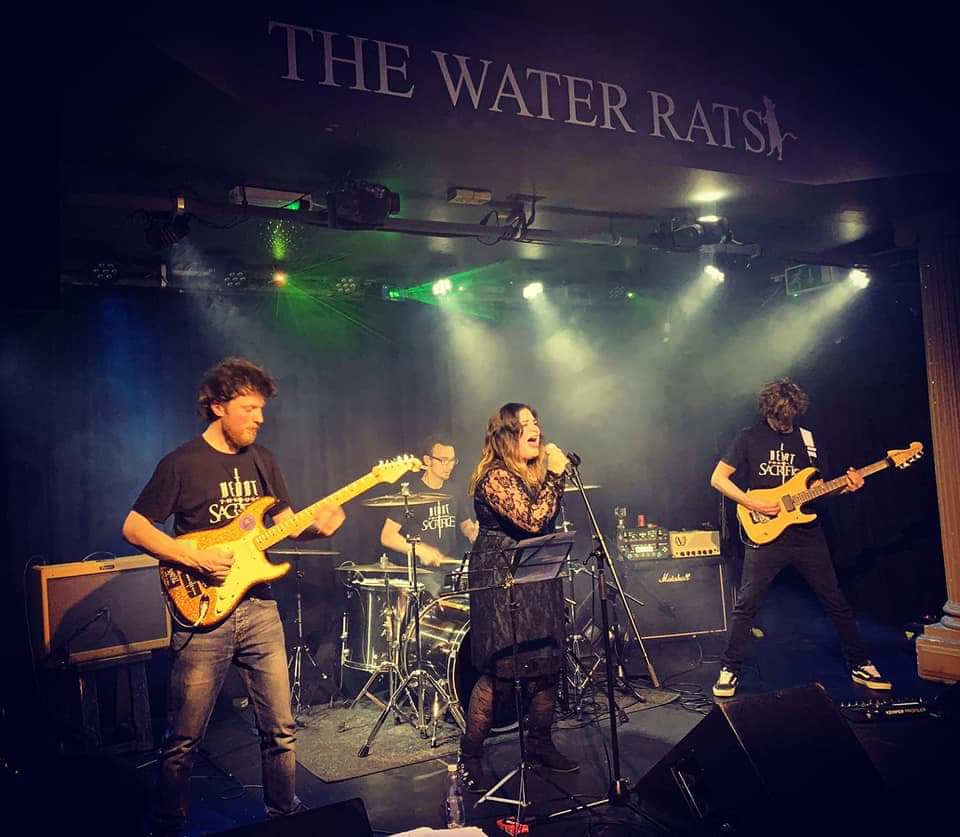 Mirk: You come across many people in your gigs and concerts and life as a musician. Some people might be worse than others. Have you ever been treated in a sexist way? How would you deal with sexism?
Corinne: I've sung in many different venues, and always been a very strong woman, and I grew up a feminist! I've been yelled sexual slurs while on stage before, I've been told before that as a woman we are a piece of meat in the music industry, and the more attractive and sexy or skinny you are, the more likely you are to succeed… I've somehow grown up being told constantly to lose weight if I wanted to succeed. Even at my thinnest, I've always been curvy…and I can't tell you how inside that's affected my self confidence… but as I grew up, I became a mother of two, I've realised that actually, even if there is some truth to it, I refuse to be put in a 'box' and rather be successful due to my talents and not the size of my waist!!
The way I fight through sexism in the music industry, is simply by using it as fuel to keep me stronger and inspires me to want to succeed even more, so that I can give other women the confidence to use their voices.
Mirk: What hobbies and interests do you have other than your singing and music?
Corinne: I adore acting and I have a small crafts business, I love painting and making things!
Mirk: Thank you Corinne. We wish you success on your new album and hope to hear from you again soon!
Corinne: Thank you so much for having me!
---
Follow 'Heart Through Sacrifice' on social media



Band Contact
Doug Rimington
M: 077 8518 2193
E: heartthroughsacrifice@gmail.com
---