She's a Metal rebel. She's a talented musician and a brilliant artist. She's an influencer that people await to see her posts and interact with. She's a Metal Goddess. She is Mikaela Attard.
We've known Mikaela at FemMetal as an Extreme Metal vocalist. And now we had the chance to chat with Mikaela and learn more about her ideas and her music and her upcoming solo album. We hope you enjoy this interview with Mikaela Attard as much as we did.
---
Interview
Mirk: Hello Mikaela. How are you today? It's a pleasure to chat with you!
Mikaela: Hey FemMetal! Thank you for having me. I'm great thanks, hope you all are well too!
Mirk: First for our readers who don't know you yet, would you like to tell us a bit about yourself?
Mikaela: I'm 26, a Taurus, born on May 8, Maltese, a girl from an island, Malta, in the heart of the Mediterranean Sea, have been singing since I was 8 and actually started with classical singing training as well as classical piano training and examinations. I had won the Pop Idol in Malta when I was 13, released my first alternative rock EP 'Hear Me Out' when I was 15, with all the singles from the EP getting constant airplay, also with 'Call Me' who all won me the Best New Artist, Best Female Artist, Malta's Export Artist and Vodafone Upcoming Artist award winner in the past. I performed on several stages around Malta and overseas, I enjoyed performing in Los Angeles and Boston in USA, in a lot of the countries in Europe and can't wait for more and more. I studied Vocal Performance on campus at Berklee College of Music in Boston and furthered my education with a Bachelor's Degree in Music Production with Summa Cum Laude. I always loved the creation and production side of the music, and so pleased I got into it and all that came along with it. I also ended up getting into the science, and engineering behind it, but also Game Audio and Film Scoring a lot. I then started working on my first full length, a full metal production, which from the start presented the new chapter of my artistry. After I debuted live with some of the songs, I joined extreme metal band Martyrium as their new front vocalist for the Female Metal Voices Tour with Butcher Babies and Kobra and the Lotus and for the shows and tours after that. Last year, we won the Best Metal Band award in Malta. I also had the pleasure to collaborate with a great friend and legendary multi-talented musician Marco Minnemann on his latest album release "My Sister" also featuring Alex Lifeson from Rush, where I feature on vocals on some of the tracks. Currently, I have almost finished working on my solo album, it's at the mixing stage actually. I couldn't be more pleased with the results and extremely excited to share this piece with the listeners and viewers once due. Marco Minnemann was also announced just recently and actually plays drums exclusively on this record.
Mirk: You are on the verge of releasing a solo album. Will it be similar to the style of music we've already known you in with Martyrium or will it be a sound?
Mikaela: It will be my sound 🙂 My background of influences are quite different from Martyrium's, although obviously there's a lot of common favourites. I, however, like a more dynamic plateau of sounds and textures. I am a lot into deathcore, jazz, classical, electronic, groove and progressive music apart from all the metal in general. Obviously, I have a fond love for Black Metal and Death Metal too as well as all sorts of rock and metal in general. But I'm not quite a one kind of music-kind-of-girl. For that matter, I also love techno and industrial.
Mirk: What in particular about your new album are you excited to see the reaction of the fans to?
Mikaela: It will be my first full length album and pretty much the first sound people can eloquently relate me to. I wrote all the work on this album, music, lyrics and all that came with it and so I have hands everywhere and it is how I wanted everything to sound and be. It's been a wonderful experience, writing every piece from my personal walk of life. There is a lot of fusion, elements from different genres and sub-genres combining and creating new results. I wrote this album with all my heart, I let myself out through this every song of this piece of work, I feel that it is time for people to get to know me. So, I'm excited to see my fans' and new ones' reactions with this authenticity.
Mirk: Your growls and screaming vocals are very powerful! How did you grow to like and practice this kind of singing and who can you say were your heroes or inspirations that got you into that?
Mikaela: I am actually a trained classical singer with a fond love for rock and metal. By time I kept the classical practices, they are my foundations. I used to love it quite frankly! I always listened to rock and metal music, having been introduced to it young by my parents. To this day, we all share discoveries and new music with each other still. I was also taken to the first metal festival when I was around 12, and there you have it. I wanted to be on that stage! So for a while I sang a lot of rock and metal music, even been part of concerts on a big scale showcasing heavy music but not quite full on growling. My voice always had sort of a rasp and natural scream there, and when I sing clean with passion, apart from being very loud and projected, it halves naturally so put the love for growled music, and there I was working at it. My first experiences growling and screaming in public came gradually but once I launched some of the music at my debut, it was then official. With Martyrium, I growl all the way through the shows, with my music it is a mixed technique venture, bringing more dynamic and depth. I don't listen to growling music exclusively, I get something from everything. I am more of a vibe girl, if it makes me groove, I'm on it. What oozed me in though were probably Opeth, Death, Kittie and Lamb of God. Apart from those, I'm constantly listening to namely, Suicide Silence, After The Burial, Whitechapel, Thy Art is Murder, Behemoth, Jinjer, Otep, Northlane, Attila, Wage War and In This Moment. I also love the moods and orchestrated brilliance inside Katatonia, Sleep Token, Emerson, Lake and Palmer, King Crimson, Mahavishnu Orchestra, Jacob Collier, Mehliana, Robert Glasper, Thundercat and Herbie Hancock's music. The classic gods material is always on loop from Black Sabbath, Ozzy Osbourne, Janis Joplin, ACDC, Ronnie James Dio, Metallica, Megadeth also Black Label Society, Rammstein, Nine Inch Nails, The Prodigy. I also love Tigran Hamasyan a lot, and definitely a big fan of Beethoven, Chopin and Rachmaninoff's work.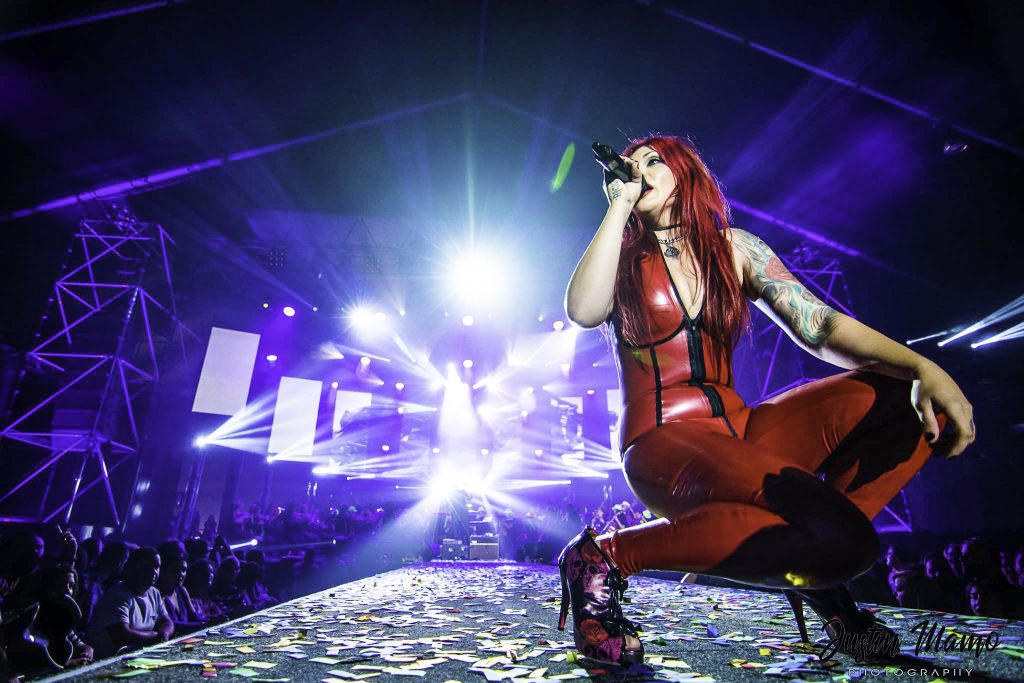 Mirk: You have a very powerful presence on stage from the live videos I've seen on YouTube. Do you remember the first time you performed live for an audience? How did it feel?
Mikaela: I must have been 9 singing in public, festivals, auditions, cathedrals, singing with organs and orchestras, stages, karaoke's, we used to do it all the time when I was kid. It was fun. My first official outside country experience in public was singing in Johannesburg, South Africa though on a much larger scale and I loved it. I never feared the stage, can't really say I got ever shy or anything… And I guess that still shows to this day.
Mirk: I really love how you interact with your followers on social media. You don't only post pictures, you often write a lengthy caption and ask some important questions about opinions or suggestions or things like that. What I notice sometimes is that a huge number of people ignore your questions and give you only compliments in the comments. Does it bother you that people might not be reading your thoughts and focusing only on what they see?
Mikaela: Maybe they get carried away… haha… Well, people react how they want to react. I appreciate all the comments and compliments, some of those people are actually few of the most honest followers, harmless so I don't judge. But I'm quite an observer and can spot not the oddity we practice at a glance. I've been through a couple of things. Whatever thing I don't like when I see it, as I'm not always on social media, I like to go off grid too, but with any bad or vengeant vibes there, I just call them off when I encounter any as I like to keep my spaces harmless and fun environments and surroundings. I like to interact with people equally but who doesn't like listeners? To listen to what you have to say. So I obviously value a witty response more than an obvious daily remark, even though I really do appreciate those a lot anyway. Sometimes it takes a lot out of a person to say something so I value that. I read quite a lot, and it's about anything really. I have a lot of curiosities and I just love to research a lot too. So my captions, yes, I mostly like to infuse a vibe, my own, create a home for the witty, metal rebels like me and beyond. I do have a dark sense of humour, so a warning there as I like to entertain it too 🙂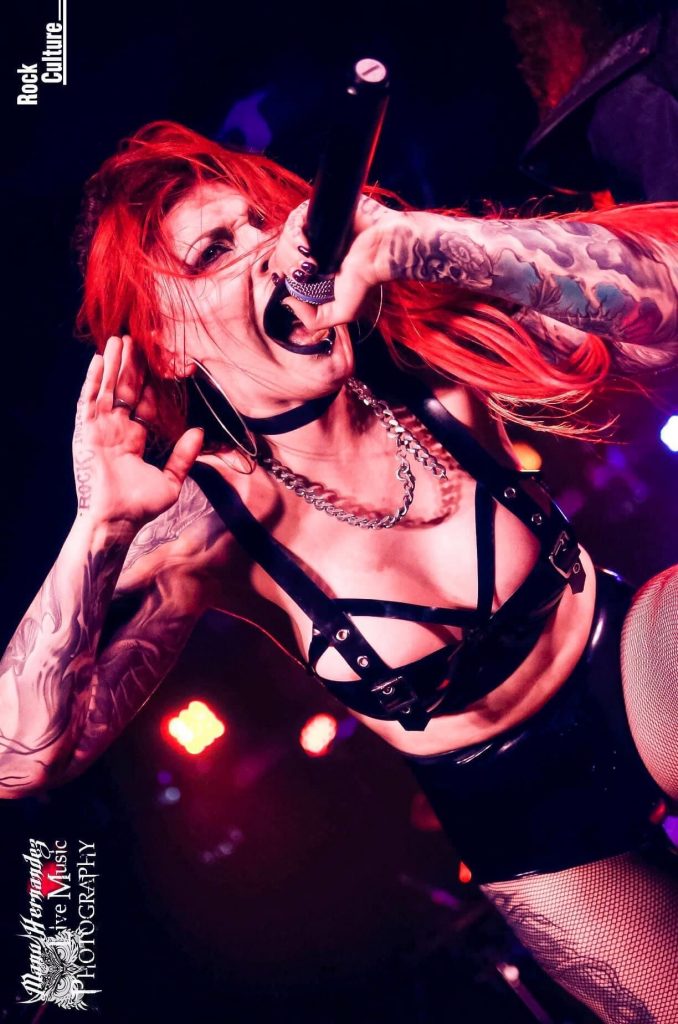 Mirk: You have many wonderful tattoos. How many have you got at the moment and what are they?
Mikaela: Thank you so much! I'm honestly not counting… Haha I started off with 'Rock and Roll' inked on the side of my palms some years ago and I haven't looked back. My two full arm sleeves, palms, fingers, front side of the thighs, some on the neck, ass and full back are all covered. And can't wait for more ink. I love tattoos, I think it's like turning a house into a home. I feel confident in my body and what I represent. In my country it was still a taboo, especially on women, until a few years ago, but things slowly started changing thankfully. I used to get looks for having red hair in the past, can you imagine when I had the first tattoo sleeve? Older mentalities still judge a woman with tattoos greatly and to be fair, it is still not the norm and could get a lot of judgement. Just like metal music, even still deemed to be associated only with satan by a very catholic church manipulated culture on the island and it having massive authoritative power throughout so many centuries. But times change. I never really cared what others said because what I do is me. And I know it's true. It's a means of expression. And people are opening up much more now. So I really do appreciate this, as it allows for reality to sieve through and to experience real freedom. I feel naturally inclined to stay open-minded and enjoy people's perceptions that do. I find that sometimes people mistake confidence for attention too especially when they see a lot of tattooed artwork, when really the only answer for that is their fear and insecurity. I don't blame anyone. It's how they've been trained to perceive. Having said this, it's not with everyone, so I'm not generalizing. Just to understand where I come from and when I spend a lot of time where I come from, I do notice that the alternative world is still downright uncommon here but I encourage uniqueness and carry it by example. Great things are happening of course but people who segregate and discriminate, it really only lies in their line of sight. Through touring, visiting so many countries, meeting people and making new friends, my connections, all that I do and my perception, keeps me woke. I love to enjoy different cultures and like-mindedness nonetheless. I prefer to base my opinions on truth, abilities, talents and honesty. And that is what I push in real life and online. On this note, I would like to thank everyone, fans, friends and followers from all over the world for their support and respect. I do get a lot more positive comments and inspiring ones too so I'm definitely glad with those and I definitely feel appreciated. For me, having a tattoo or not, everyone's the same, we're only different through our uniqueness, the only good reason why all should exploit it. I actually feel more empowered and more me doing what I do and performing what I love so I don't care what medieval comments have to say. I am myself, no matter what the weather is.
Mirk: If you had the power to get rid of one of the many problems the world is facing, what would that problem be?
Mikaela: Well, timely fitting to say the Coronavirus, it has killed so many and has stopped everything. But also what caused it.
Mirk: As a woman that performs in a genre that is always connected with power and strength, what advice would you give to women in general who face sexism and undermining and are considered weaker than men, and what advice would you give girls in particular that want to also become singers like you and might look at you as their example?
Mikaela: Always believe in yourself and stay true. Don't go to their level! It is a waste of time or their shot of fame. Some people simply don't understand and we are not here to prove ourselves, we are here to be ourselves and connect with others who understand. I have obviously been bullied by some band members before because they get offended by a female lead, they don't know how to deal with it, and so they try to undermine you, share rumours to invoke and provoke but just don't mind their ignorance, they're even wasting their own time and they don't realize. If you share negativity, that is what you'll get. So be positive, feel it for real and just shut them and their vibes out of your life. The world is much better than that. Always be yourself and look for people who share the same ambition, who can see through you for real and what you're after in life and music. You deserve better, we are strong and our strength should be celebrated just as any man can. For me, music shouldn't be divided by gender or sex at all, as if we don't all have a pair of vocal cords and we all can sound unique no matter what techniques we use to voice our hearts out. Always be yourself, true to yourself and to your goals, stay focused and forward! Don't get lost in the noise!
Mirk: Thank you Mikaela! Good luck on your album release and hope to hear from you soon. Stay safe.a
Mikaela: Thank you so much for the support! Stay safe <3 \m/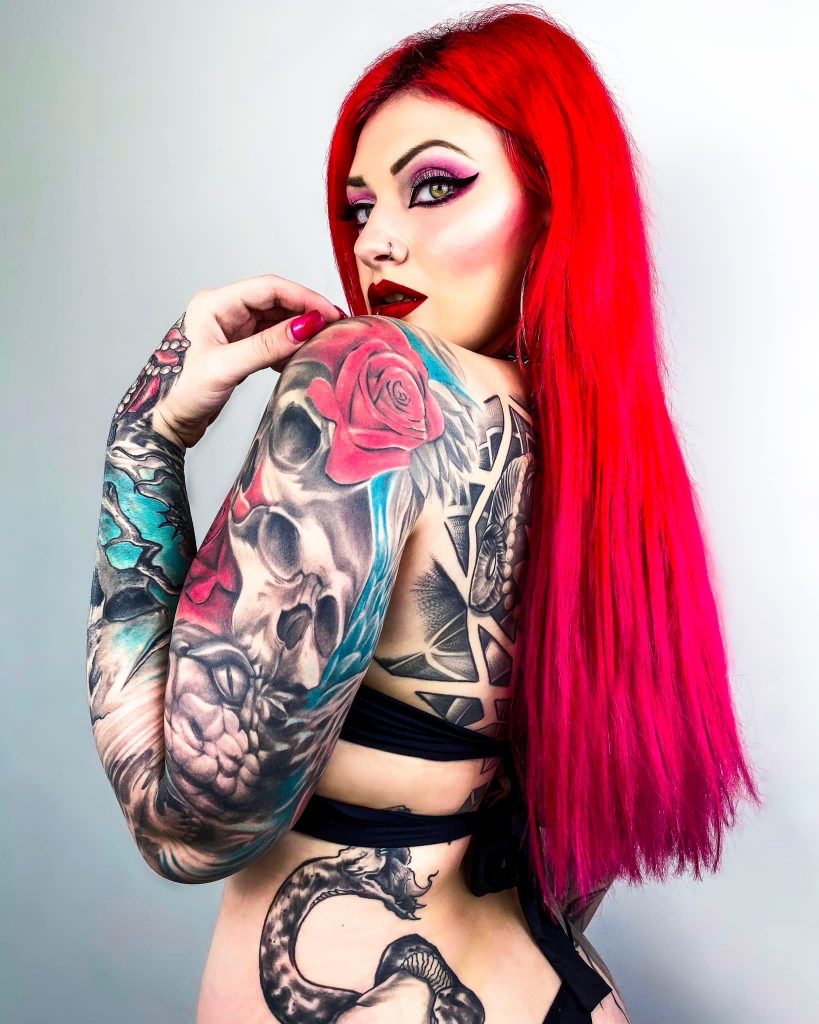 ---
Follow Mikaela Attard



---