If there was indeed intelligent life on other planets, and intelligent creatures gathered up in a space bar to have a beer, and a debate began on which planet is the best, earthlings would have a huge advantage to win the debate if they shove the "we have Heavy Metal" card in the faces of the debaters. Now of course, Martians would also have have an advantage with their namesake chocolate bar, but unlike chocolate, Heavy Metal does not melt in your pocket on a hot day. In fact, some Metal vocalists have the ability to make hearts melt with their electrifying voice, and one of these vocalists is Fabienne Erni.
Fabienne's recent work with her band, Illumishade, is one that should be receiving attention. It's not just music, although the core of it is, but a world that Illumishade have created that fans can feel like they are part of. Their new album 'ECLYPTIC: Wake of Shadows', which we will review in a separate article later, feels like a passage into that world, just like the train going into Hogwarts.
We had the chance to interview Fabienne Erni and talk about her new album, her band, and many other things. We hope you enjoy reading this interview.
---
Interview
| | |
| --- | --- |
| Hello Fabienne. It's wonderful to chat with you! How are you doing? | |
Hello, thank you so much for having me!
Thank you, I am doing good. Weird times, but staying busy with different projects, working on the bands and working on things I normally never take my time for! And how are you?
I'm doing fine, thank you!
Most FemMetal readers know you from Eluveitie, but I'd like to talk about your new project, Illumishade. Would you like to tell us a bit about your new band? How was it formed and how is it different from the things you've previously done?
Actually, the whole band started out as a school project! I finished my master degree last September at the music university in Zurich and my task was to build a project and music. This is basically how ILLUMISHADE was born! 😉 But we all enjoyed it so much that we decided to take it further and actually go to the studio and work more on the world we started to create.

With ILLUMISHADE I learned a lot, we had to face so many different challenges as a do-it-yourself-project. I learned a lot about myself and we all got to know each other better as a team.
That's wonderful!
You released your debut album, 'ECLYPTIC: Wake of Shadows', last May. How are you feeling about the way the fans and media reacted to the album?
| | |
| --- | --- |
| | I am very very happy about the reactions! We didn't know what to expect and we are very thankful for our fans, our community! The support of our ILLUMISHADE-family is more than we've ever expected! |
What I love about Illumishade is that you're creating along with the music a high fantasy world. There's lore on your website that your fans can read and even find out which tribe of your world they best fit into (I'm a Faeva by the way).
In your opinion, how does this rich concept, in your opinion, affect the music listening experience?
| | |
| --- | --- |
| | Welcome, fellow Faeva! 😉 For me it was clear from the beginning that we will create a world around our music. I've always been a huge fan of fantasy worlds and musical theaters. I love it, when music drags you into a whole new world, where you can escape reality for a moment. The songs on our album are a moment in time of the story-line, but it was also important for us that the songs are strong just standing alone. |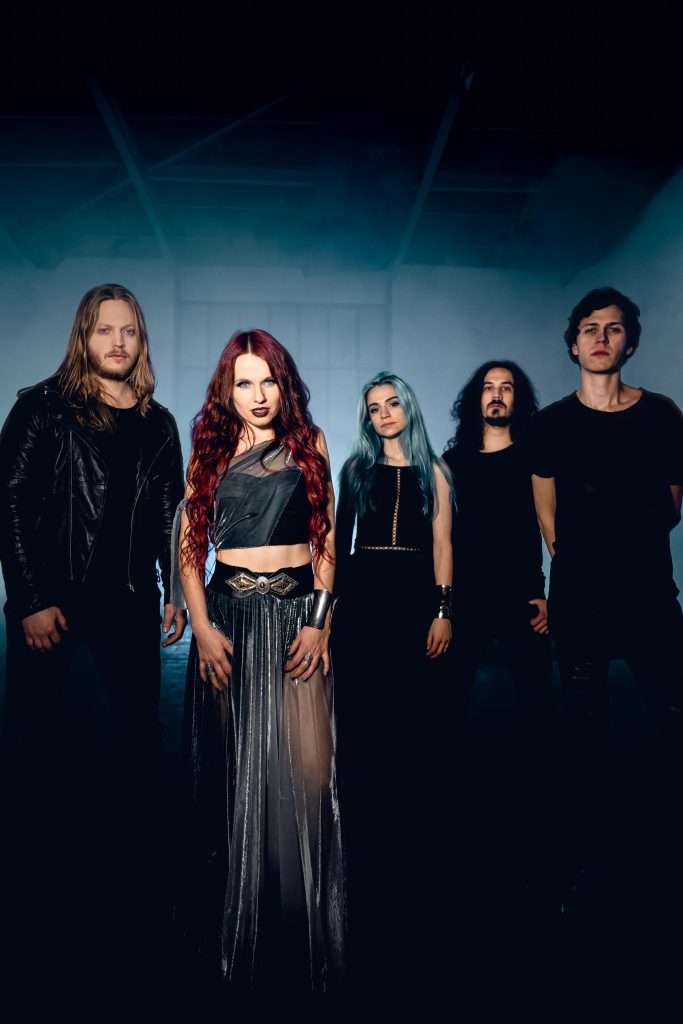 | | |
| --- | --- |
| Do you feel that putting your music in a certain concept would limit the topics you can talk about in your music? | |
| | |
| --- | --- |
| | Not at all! The opposite is the case for me! Having created this world inspires me and every band member for new material! I already have sooo many ideas for future stuff! 😉 It brings many opportunities for us, and we are working on things, so stay tuned! 😉 |
| | |
| --- | --- |
| Alongside singing you play the piano and you also play the celtic harp with Eluveitie. Is there an instrument you'd yet like to learn and play? | |
| | |
| --- | --- |
| | Oh, I would love to play many more instruments! The only issue is the time! But what I want to dive into more is definitely the guitar. I had lessons when I was younger and now I want to continue there where I stopped for a while! 🙂 |
We at FemMetal love to play games in our interviews. And since your album is about another world, how about we play the 'In a world..' game.
I'll ask you some questions about how things would be in alternate realities with some interesting settings. Ready?
| | |
| --- | --- |
| | I like it! Shoot away! |
| | |
| --- | --- |
| In a world where you're a football (soccer) player, what would your shirt number be? | |
| | |
| --- | --- |
| | I think I would take number 11 again. When I was in primary school I attended the yearly football tournament and I always wore number 11! |
| | |
| --- | --- |
| In a world where you're the lead vocalist of a Jazz band, what would your band's name be? | |
| | |
| --- | --- |
| | The chattering triols! |
| | |
| --- | --- |
| In a world where time travel exists, what time would you love to visit most? | |
| | |
| --- | --- |
| | The future! A little bit scary but interesting experience I'd say. Hopefully a good one as well! 🙂 |
| | |
| --- | --- |
| In a world where sense of humour is the currency, how rich would you be? | |
| | |
| --- | --- |
| | Uhhh, interesting! Hmm… I think you gotta ask my band members. I will call my assistant to quickly fly with the private jet to get them hahaa. 😉 |
LMAO
In a world where the sense of sound and the sense of taste are mixed up, what food would Illumishade's music taste like?
| | |
| --- | --- |
| | Apple, chips and chocolate at the same time! Try it – it is very nice! I am not kidding. Used to eat that as a kid a lot! |
I'll try that for sure 😂
In a world where you're a head of state, what's one law would you make or change?
| | |
| --- | --- |
| | I would forbid slaugherhouses. All the animals will find a loving family that will take care of them! 🙂 |
| | |
| --- | --- |
| Finally, in a world where magical creatures such as unicorns and dragons exist, what creature would you have as a pet? | |
| | |
| --- | --- |
| | A cute dragon that can light up my fireplace for many cosy evenings! And I want to fly! |
Thanks for playing Fabienne!
Due to the pandemic many tours and gigs were cancelled. Do you have plans for any tours in the near future or is it still impossible?
It is so unpredictable, so it is very hard to book and fix shows at the moment. Of course our goal is to play as much as possible in the future and spread the ILLUMISHADE-spirit! 😉
But I guess now is also the time to be creative and find other ways to stay connected with the people! We are working on a few things at the moment! 😉
| | |
| --- | --- |
| Have you ever been treated with sexism? How would you face sexism and what advice would you give to young women around the world who have to deal with discrimination on daily basis? | |
| | |
| --- | --- |
| | Luckily I never was in the situation. I've always felt respected and well treated by everybody in the music industry that I met. And knowing your borders and standing up for yourself! <3 |
| | |
| --- | --- |
| Thank you for the interview Fabienne! Good luck for you in all your future projects. | |
| | |
| --- | --- |
| | Thank you so much for having me! It was an honor and a pleasure! Take care you all! |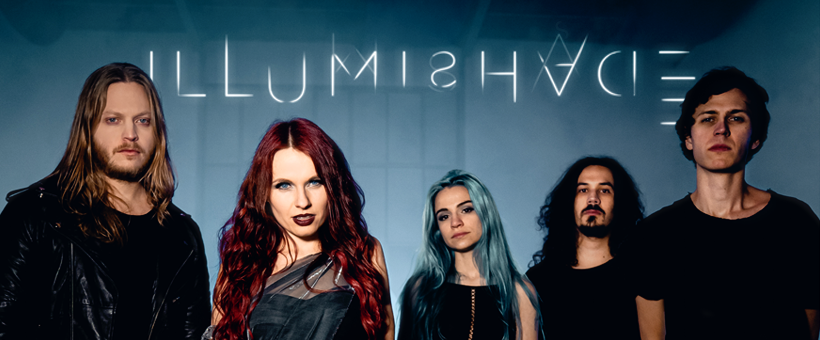 ---
Follow Illumishade