Walk in Darkness is an Italian Symphonic and Gothic Metal band. The band, active since 2015, has released three albums so far, the latest being 'On The Road to Babylon', released earlier this month on the 6th of November. We have enjoyed listening to the album and wrote the review below. We also had the pleasure of interviewing vocalist Nicoletta Rosellini and asked her about several things related to the album, her band's music and her view on several issues.
Click here to jump straight to the interview.
---
Review
'On The Road to Babylon' is a 9-tracks album that runs for about 47 minutes. The album has a gothic mood that governs it. We recommend the album for all fans of Gothic and Symphonic Metal fans. Here are four things we loved about 'On The Road to Babylon'.
1. Vocals
The vocals are mainly Nicoletta's with harsh ones joining to create a beautiful contrast on some songs. Nicoletta's voice is wonderful and was one of the key factors that made 'On The Road to Babylon' remarkable. She was able to deliver the mood of each song brilliantly with the feelings she placed in her singing. Melancholy, hope, and power were all felt in her voice on the relevant songs. The power and beauty of her sound can be most felt on songs like On The Road to Babylon, Nothing, and On The Moon Or On Mars.
2. Consistent concept in varying media
'On The Road to Babylon' has a consistency in the concept, which Nicoletta explained about in the interview below. That is a beautiful thing to have on an album. If the songs were not connected in a certain way they'd be just collection of 8-12 songs. The concept makes 'On The Road to Babylon' an album people would love to listen to from beginning to end. However, the album was not consistent in the way that concept is delivered. Although a dark melancholic mood is dominant, softer melodies were used at many instances and the music's speed and harshness varied on many songs which made it far from being monotonic or boring.
3. The lyrics
One of the things that makes Metal and Rock more attractive intellectually is the quality of the lyrics. The lyrics on 'On The Road to Babylon' are on another level of depth. They not only push you to enjoy the rhythm, but also push you to think, feel, wonder and hope. Brilliant lyrics are especially on songs like Walk on the Sky and Time to Rise. The lyrics are also brilliant because they are relatable to the time of the release of this album. When we listen to a song like 2 Minutes To Midnight by Iron Maiden we think of the hard time the world was at in 1985 wit the fear of nuclear war. When people will hear songs like Walk on the Sky after 10 or 20 years they will feel the hardship of this time.
4. Favourite song: "On The Road to Babylon"
The title track is our favourite song on the album. Beginning with a soft catchy tune and falling into a heavy gothic sound, the song takes you from where you are and places you in the right mood and on the right track where the album wants you to be. The song is beautiful as a piece of the album and also as a stand-alone song.
---
---
Ratings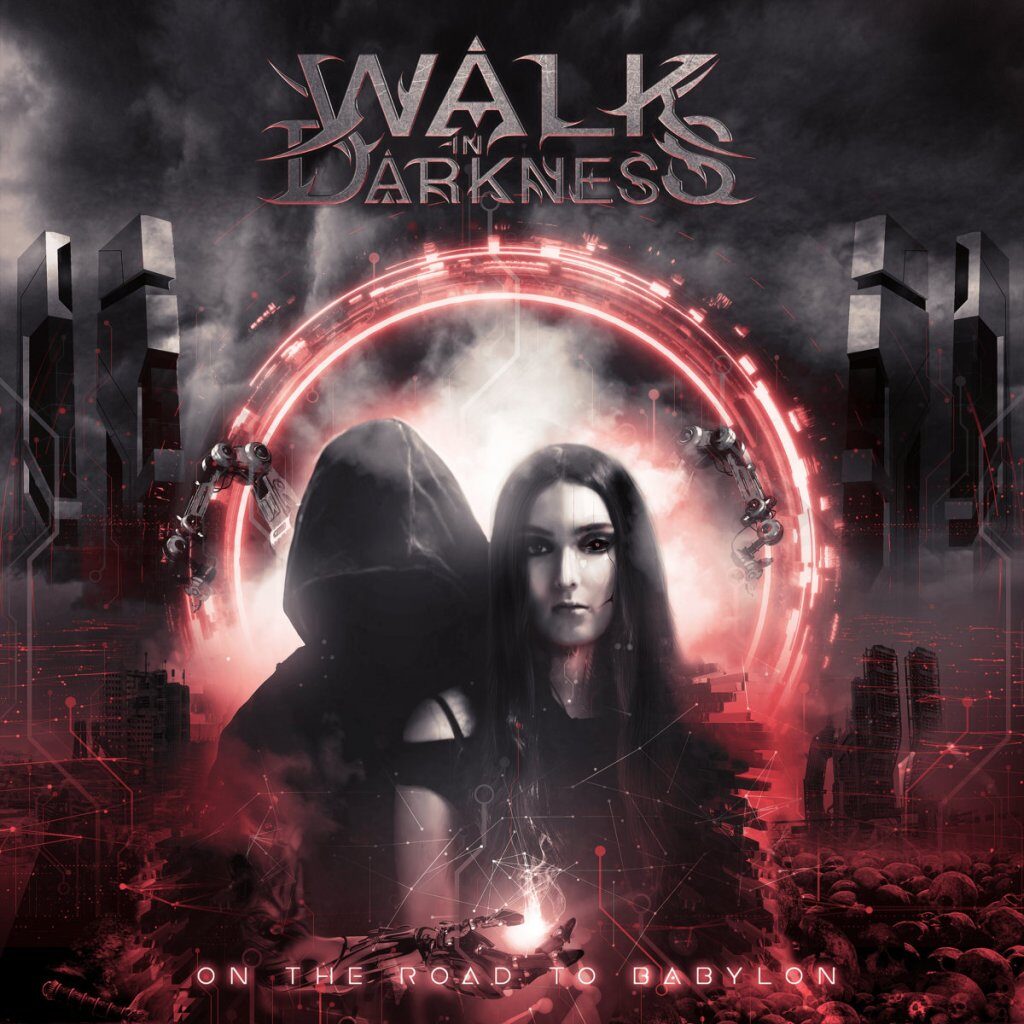 The FemMetal Team has given the album the following rates:
| | | | |
| --- | --- | --- | --- |
| | Betty | | 8.0/10 |
| | Mirk | | 7.5/10 |
| | Rebecca | | 8.5/10 |
---
Interview
And here's the interview we had with Nicoletta. We hope you enjoy reading it.
| | |
| --- | --- |
| Hello Nicoletta! It's wonderful talking to you. How are you doing? | |
| | |
| --- | --- |
| | Hello! Despite the tragic worldwide situation, I'm fine and safe for now, thanks for asking. Hope all of you are doing great as well. |
I am thankfully!
We're going to talk about your new album, 'On The Road to Babylon', but first would you like to tell us a bit about your band Walk in Darkness? How would you introduce your band to our readers?
| | |
| --- | --- |
| | Well, I think it's not easy to describe a band like Walk in Darkness. It's a gothic metal band with dark and doom influences formed by faceless musicians representing the whole humankind. The music has surreal atmospheres that drag the listener to another dimension. The lyrics describe the human condition in these dark times. |
| | |
| --- | --- |
| I know you previously from your other band, Kalidia. What is the difference between the two projects? | |
| | |
| --- | --- |
| | Kalidia is a power metal band with catchy songs and strong melodies, on the opposite Walk in Darkness has a more gothic/atmospheric vein. I also use my voice differently, belting most of the time with Kalidia, while going to soft/low vocals in WID. |
| | |
| --- | --- |
| Your new album was released a few days ago. How are you feeling about the reception it got so far? | |
| | |
| --- | --- |
| | We are receiving lots of messages/mails from our fans which make us proud of what we accomplished. The video of the title-track reached 100,000 views very quickly (considering we didn't buy any YouTube ads promotion – all organic views). We are now reading the first reviews and it seems the press like the album too! |
| | |
| --- | --- |
| What do you think are the characteristics of the album that will draw attraction to it? | |
| | |
| --- | --- |
| | It's a contemporary album, describing the actual human condition. As Shaman (guitarist, composer and lyricist) said about the concept, 'The world of human beings is in rapid involution and progressively gets lost in the mists of time, to make way to a gray world without differences, a flat surface without directions, without heroes, dominated by technology, where human beings, deprived of foundations and identity, constantly monitored and directed, walk quickly under a dark and alien sky, hardly dragging themselves towards nowhere. In this drama there is no lack of glimpses of light and the hope of salvation'. |
| | |
| --- | --- |
| We have a tradition at FemMetal to play a game with our interviewees. Since you've released a new album, let's get our readers who haven't listened to it yet more curious by playing 'Which song'. I'll give you a scenario and you'd have to decide which song fits best into. Ready? | |
| | |
| --- | --- |
| | Let's do it! |
| | |
| --- | --- |
| One of your friends is going through a hard time. Which song from 'On The Road to Babylon' would you use to make them feel better? | |
| | |
| --- | --- |
| | 'Time to Rise' for sure. This is a hymn to resist our doomed condition. |
| | |
| --- | --- |
| Which song on 'On The Road to Babylon' would you use to introduce someone to your music? | |
| | |
| --- | --- |
| | 'The Sound of Rain'. In my opinion the track has all the WID features. |
| | |
| --- | --- |
| Aliens from a planet superior in technology invade Earth. Their only weakness turns out to be sound waves produced when a powerful guitar solo is played. Which song from 'On The Road to Babylon' would you save Earth with? | |
| | |
| --- | --- |
| | The opening solo of 'Walk on the Sky'. I think this is powerful in its beautiful melody. |
| | |
| --- | --- |
| All songs from 'On The Road to Babylon' came to life and became people. Which song would be your best friend? | |
| | |
| --- | --- |
| | Ok, this is difficult! Maybe 'In the Mists of Time' or 'The Sound of Rain' because of their heavy riffs. They must be cool dudes, ahah! |
| | |
| --- | --- |
| In 3020 AD an archaeologist called Kal Proton discovers under the remains of an ancient vehicle a working CD of 'On The Road to Babylon', and is able to listen to it. Which song would Dr. Proton like most? | |
| | |
| --- | --- |
| | I'll pick once again ' The Sound of Rain'. Seems like I really like that track, uh? |
Yes it seems so! It's one of my favourite on the album as well.
Thank you for playing Nicoletta! Hope that was fun.
Do you remember the first time you performed live on stage to an audience? How did it feel back then?
| | |
| --- | --- |
| | Yes! I was 16 and I played with my first rock band, we were doing most cover songs. Well, I was like a piece of ice on stage because I was so nervous! But it just took me 2 or 3 more gigs to break that ice and let the adrenaline stream through my veins! |
| | |
| --- | --- |
| If you could travel back in time to any era and spend a few days at that time, what era would you like to visit and why? | |
| | |
| --- | --- |
| | 14th century for sure. I'm a reenactress and I do sometimes spend some days as in that century. Challenging but interesting! I would also love to be in the 18-19th centuries, just to wear those gorgeous dresses! |
| | |
| --- | --- |
| Have you ever been treated in a sexist way? How would you face sexism and what advice would you give to our young readers who face any kind of discrimination in their communities? | |
It happened sometimes in metal music. A part of the metal fanbase will never accept women on a stage, that's a fact. Few times I've heard something like 'They shouldn't play before that famous band because they have a female vocalist. She should be a groupie instead' or 'Her band is doing great, surely she slept with someone who helped them'. I tend to ignore this and prove them wrong, singing the best I can.
Every time they doubt you, young lady, prove them wrong. It's sad we need to prove we are worthy and with talent, but this is how things are, especially in metal music.
| | |
| --- | --- |
| Aside from music, what are some other hobbies and interests you have, if any? | |
| | |
| --- | --- |
| | I'm a full time veterinarian, so I guess I should mention taking care of pets. But I love videogames, mythology books and great food! |
| | |
| --- | --- |
| Thank you for the interview Nicoletta! It has been a pleasure to chat with you. | |
| | |
| --- | --- |
| | Thanks for this interesting interview, it was my pleasure. It's time to rise, we are back on the road to Babylon! |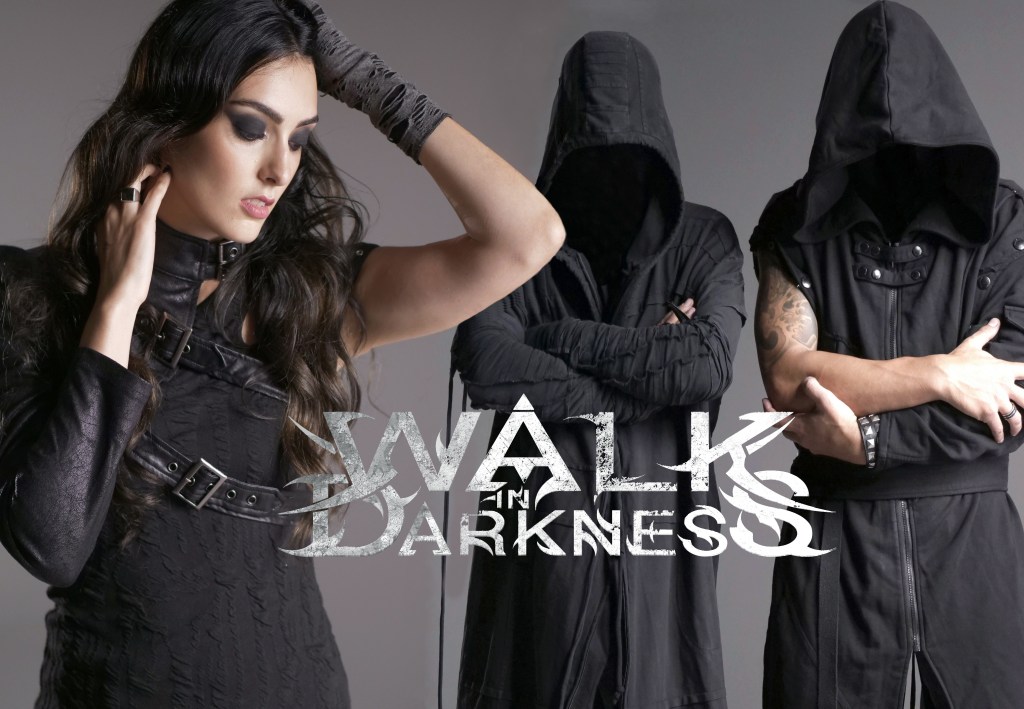 ---
Follow Walk In Darkness