The Swedish band Pressure will be releasing a new album entitled "In A Dark Heart We Trust" tomorrow (3rd of June). FemMetal authors Mirk and Benedetta have written their reviews for the album.
Benedetta's Review
Pressure's newest release, "In A Dark Heart We Trust", starts with a spectacular opening track: it really gave the feeling of beginning, a majestic overture for this album. But music is not just the most distinctive characteristic of this album. A lot of sound effects, placed strategically inside the songs, create a wonderful atmosphere and the listener is physically and musically transported to another universe.
There is some sort of narrating voice in the first three tracks, and it feels like listening to a story. It was hard to pause and do anything else! Olli's low notes in "Behind Closed Doors" could make shiver even the most apathetic listener; I felt that this was the first one of the album where she shines more.
It is amazing how Olli can space from almost a symphonic voice to a rock 'n roll one; that is something you do not hear every day. She, alternating with male vocalist Olof, gives the songs a fresh sound. "Angel of Lightning" continues in the same mood: energetic and fast, with powerful drum and guitar riffs.
"Hunter or Pray" has some sort of "Coyote Ugly" vibe, and the contrast between Olof and Olli is just like listening to two sides battling each other. It's incredible how particular yet fascinating is the atmosphere that this band can create. Even though Olli rests in "Barb Wire Love", don't worry because it's her time to come back in "Just Undress", which enhances her vocal abilities and makes up for the absence in the previous track. She can go from a seductive tone to a more harsh one in just a matter of seconds; what a talented artist! Olof makes a brief appearance here, rapping out his lines and then leaving the scene to Olli. We're headed to the hospital now: not because we're sick, but because the journey brings us there. "Madecine" is another fast-paced song, and "One shot of love" is so easy to sing along to!
The slow beginning of the following track is just what I was waiting for. I'm sorry, I need ballads to feel an album is complete at 360 degrees. Starting like a phone call with an acquaintance, the song continues with almost a dramatic feeling. The narrating voice returns, giving consistency to the record. The call ends beeped, and we're onto another ballad. I'm really enjoying this album. The guitar in this track is superb, just brilliant and perfectly delivered.
We are finished with each other. I didn't mean that; it's just how "No More Promises To Break" begins! And what a massive song is this, very doom and dark, almost death metal. The narrator continues to guide us in this realm. It looks like we're at sea now, breathing some fresh air… of Freedom. And Olli's voice welcomes us to the second-to-last piece. The narrator is instead the one that introduces us to the last track. This 10-min hymn is a conversation between Olli and Olof, and the music is an impressive background. The themes are many, and it feels like you're witnessing it live. I really appreciate them mentioning the previous tracks like they were combining to get to this. In my opinion, "In A Dark Heart We Trust" is an incredibly versatile, diverse and powerful album, merging unique and refined styles to create more than just a record, but a concept for whoever will listen.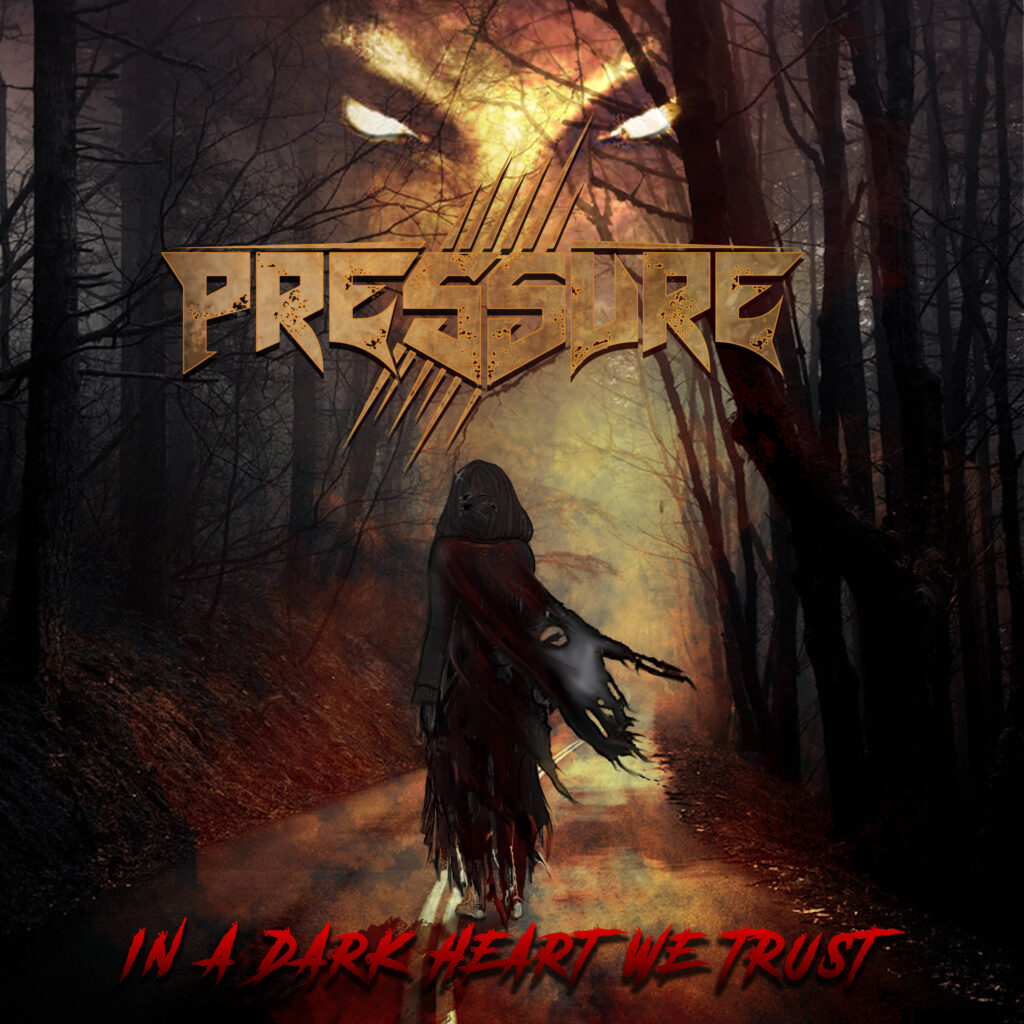 ---
Mirk's Review
"In A Dark Heart We Trust" is easily one of my favourite albums this year. Pressure utilized their talents in the best way possible to create an album that has variety in the sound and mood. We can easily feel the identity Pressure have created for their music throughout "In A Dark Heart We Trust". But within this identity, we also feel their continuous and largely successful attempts to expand their sound.
Throughout the album, Pressure made sure we can feel "garage" and "arena" elements that are embedded into their Heavy Metal sound. The album is a long way from being monotone or repetitive, with every song bearing something new to excite the listener. Some songs are headbang-worthy, while others are catchy with their melodic tunes and flawlessly flowing guitars. The songs were also arranged in a way that makes this heterogeneity clear and enjoyable. Take for example tracks 11, "Did You Really Know My Name", and 12, "No More Promises To Break". We step into the first from a generally heavy and fast sound into a slower one with more emotions reflected in the vocals, then into the second, probably the heaviest song on the album, with faster and more aggressive riffs and vocals. This "jump" is a thing of beauty when you're listening to the complete album.
"In A Dark Heart We Trust" also showcased the brilliant work that Pressure has done on vocals. With two talented vocalists, Olli and Olof, the band had plenty of tricks up their sleeves. But it is not only the natural talent of the two that made the vocals a forte for the album. The way the two vocalists worked together is one of the most impressive things about the album. When Olli and Olof sang simultaneously, the harmony between the two voices was clear. And when they exchanged parts, the harsh voice of Olof with the crystal clear voice of Olli created a beautiful contrast.
Pressure managed to create an album that is rich in musical elements, consistent in quality, and enjoyable in its melodies and topics. "In A Dark Heart We Trust" is an album you can enjoy anywhere and anytime, except at a funeral – probably. I recommend checking it out if you're a fan of classic Heavy Metal or Hard Rock or modern Melodic Metal.
---
Follow Pressure