Cover Photo by Elise Meunier
We had the chance to interview Christelle, the vocalist of the French Progressive Metal band, Sangham. Sangham recently released a new single "Vertigo". We asked Christelle about Sangham's music and plans as she shared some of her experience with us.
Reuel
Hello Christelle! I am thrilled to chat with you. How are you and the rest of Sangham doing?
Christelle
We're doing well, going through a period of introspection and creativity, which aligns nicely with the arrival of autumn temperatures in France. It's a time for us to center ourselves and plan for our upcoming projects. 🍂
Reuel
Wonderful. You have recently released your new single named "Vertigo". How are you feeling about the way your fans received it?
Christelle
We are very pleased with the feedback we've received following the release! This track was particularly meaningful to us. The collaboration with Mody PTD provided an opportunity to create a dialogue between two different writing styles that complement each other. It also marks the first time I've explored using my saturated vocals in a studio-recorded track, which signifies a shift in Sangham's musical style. Our listeners are encouraging us to continue down this path, so we are enthusiastic about presenting our future compositions!
Reuel
How would you describe your style of music to someone who never got the chance to listen to your music before?
Christelle
Sangham is a blend of airy melodic lines interwoven with very heavy and massive sounds. We love creating progressive music with unique and irregular structures. Our aim is to evoke emotion in the listener through our compositions. We draw inspiration from a wide range of influences, from folk to modern metal, and sometimes even death metal. We enjoy experimenting!
Reuel
Let's play a game! I will set a scenario in an alternate universe with new rules and see how you'd react to the different situations. Ready?
Christelle
Let's go ! 🙆‍♀️
Reuel
In a universe where you are a necromancer, which late musician would you ask for advice?
Christelle
That's a very unique question! I would say Freddie Mercury, whose vocal abilities have always left me in awe.
Reuel
In a universe where humans can choose either to be able to teleport from one place to another or travel back and forth in time, which superpower would you pick?
Christelle
I think I would choose teleportation: it seems more environmentally friendly than any form of transportation!
Reuel
In a universe where money does not exist, but instead, people pay for things by making others laugh, how rich would you be considered?
Christelle
I'm quite an easy laugh, so I suppose I would have quite a bit of money in that world 🙈
Reuel
In a universe where the senses of taste and hearing are mixed together, what food would you imagine your music would taste like?
Christelle
I imagine Sangham's music would taste like a harmonious blend of sweet and vibrant elements, akin to a poke bowl featuring ginger, mango, and an assortment of vegetables. This reflects our music, which combines gentle tones with dynamic elements, creating an immersive experience. All vegan, naturally! 🌱
Reuel
In a universe that is a post-apocalyptic world flooded by zombies, would you be hiding in a safe house, on the run fighting zombies, or a zombie?
Christelle
Let's be honest, I'm not sure I'd have a great survival capacity in such a world. Zombies don't seem to suffer or feel fear, so maybe I would willingly choose to become one.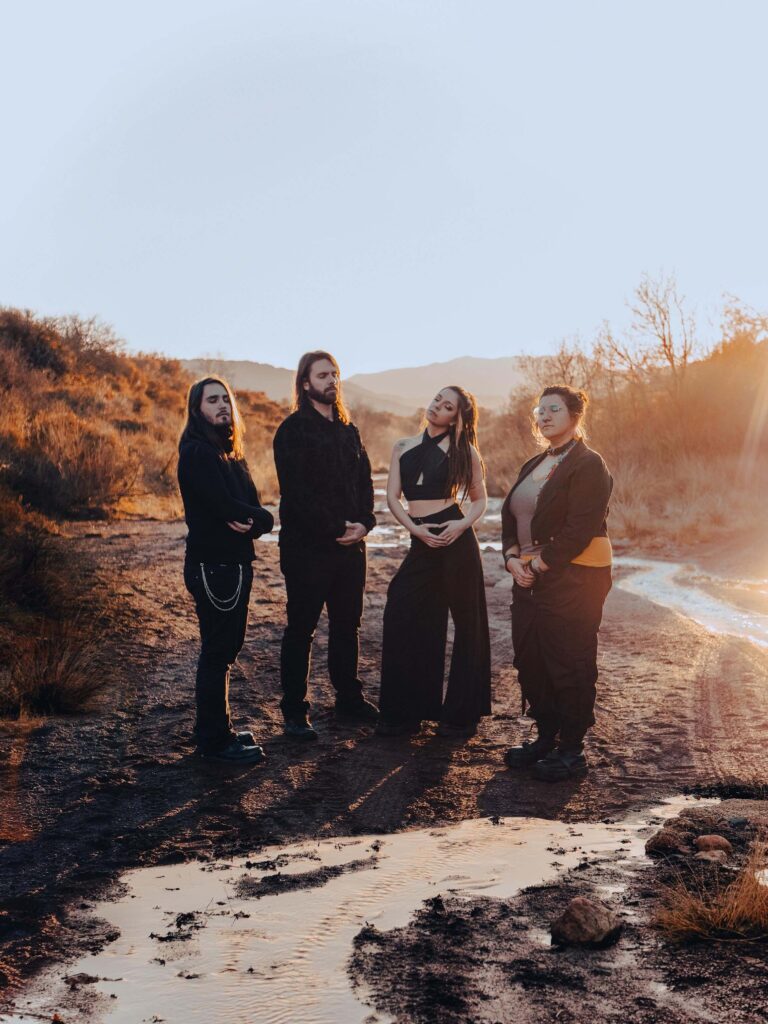 Reuel
That's dark! In a universe where you were chosen to rule a nation, what is the first law you'd change or make?
Christelle
I believe I would enact a law prohibiting the exploitation of animals, aiming to shift our perspective on livestock. It doesn't make sense to me to pamper a cat or a dog, yet slaughter billions of land beings for their flesh. This change, however, would need to be accompanied by a positive transition towards a creative, flavorful, and nutrient-balanced plant-based diet. Therefore, I would simultaneously open large open-air markets where people can enjoy a wide variety of delicious and diverse food options 🥰
Reuel
In a universe where you can only communicate through emojis, how would you describe Sangham's music?
Christelle
🔥🌙🌿🌍🌿🌙🔥
Reuel
Thank you for playing, Christelle. I hope that was fun!
Christelle
I had a lot of fun answering! Thank you!
Reuel
Great! What is your most treasured music-related memory?
Christelle
I believe it was the day I made the decision to start taking singing lessons. I was 25 years old and had never pursued music before. I remember being quite reserved and very afraid to sing in front of anyone at that time. However, I told myself that we only have one life, and I felt I had the right to feel legitimate. Everything happened very quickly after that! I founded Sangham with Cyril just 3 years later, and today I am very happy to continue this project with the other members of the band. I feel fulfilled for having had the courage to take the plunge!
Reuel
Have you ever experienced any kind of sexism in your professional life? What advice would you give our young readers who might experience any kind of discrimination?
Christelle
Yes, unfortunately, it does happen to me. I often come across men who doubt my abilities when we're preparing for our performance, especially when they struggle to handle the sound during soundchecks (it can be challenging to bring out a clear and gentle voice in a metal band, due to the saturated instruments accompanying the vocals, and the frequencies of the cymbals). I find it a bit inappropriate because they wouldn't do the same with male musicians. I've learned to brush off these comments so they don't unsettle me too much. While I'm certainly open to advice, I prefer to actively seek it out, especially by consulting experts in the areas where I have questions. If I were to offer advice to young female musicians, it would be to lean on and seek support from trusted individuals. Fortunately, there are many more of them out there!
Reuel
Thank you for sharing your experience and thoughts with us, and thank you for the interview and your time, Christelle. Is there anything you'd like to add?
Christelle
I'm delighted to have had the opportunity to answer your wonderful questions! I warmly invite your readers to explore our musical project, and I hope we can capture their hearts. Thank you for your kindness!