If one of the great Metal bands of old left a diary on how to make great Metal music, Scarlet Aura must for sure have a copy of that book. This could sound to many as a bold statement, but whenever I listen to Scarlet Aura's music, I feel the essence of greats embedded deep in their music.
When we reviewed 'Hot N' Heavy' previously we said we'd recommend it to all Heavy Metal fans who keep saying: "why don't they make stuff like that anymore?". And our statement holds. The Romanian Heavy Metal band have released a new album entitled 'Stormbreaker' on the 27th of March. We had the pleasure of reviewing the new album and interviewing Aura Danciulescu (again) and talk to her about the new album.
Below is the review FemMetal team have prepared for 'Stormbreaker', followed by the interview. Click here to jump straight into the interview.
---
Review
If you hate 2020, we definitely do not blame you. But 'Stormbreaker' could be one of the few good things 2020 has got us. Here are four reasons why!
Great production into a unique and variant sound
'Stormbreaker' is an album that balances between being continuously heavy and "harsh" and being also melodic. This can be said to be is part of what makes Scarlet Aura's sound very special compared to other modern bands, and although keeping a large amount of essence of classical Metal throughout their music, producing it into their own style, painting it with their own colour – scarlet. (Pun intended). This can be felt through songs like Metal Hell, a clear Metal anthem that perfectly follows a symphonic intro track. Songs like Battle Cry and Loose Cannon are real headbangers while High in the Sky stands out as a slower track that freezes time only for it to explode into action again with The Heretic and later into a riot in Daddy's Lil Monster.
The Magnificent Guitars
Magnificent guitar solos and great guitar riffs are probably the best aspect of 'Stormbreaker'. Almost every song peaks into a wonderful solo, with great riffs showing up everywhere. Our favourite greatest guitar solos are on Metal Hell and Loose Cannon.
Aura's vocals
Aura Danciulescu could easily be the vocalist of any of the "Big Four" Metal bands with her wonderful voice. Her voice matches the heaviness of the music. And like her band's music, she creates a perfect balance between harshness and melody, not allowing her great aggressive vocals to take away the tune. We loved her voice especially on tracks like Stormbreaker, Battle Cry, and The Heretic. Oh, speaking of the latter…
'The Heretic'
Maybe that would be surprising, but our favourite track on the album is none of the already released single, but the 8th track The Heretic. That song begins with a gorgeous riff and and a beat that keeps growing into a wonderful verse. It is mediated by some wonderful spoken lyrics followed by another one of them magnificent lengthy guitar solos and more war chants from the valiant voice of Aura, bridging into the chorus. But it does not end here. Instead it jumps into two more minutes of a wonderful instrumental part, into the chorus again and then finishing with the beats the started it. Wonderful!
---
'Stormbreaker' is a wonderful album that should be listened by all Metal fans. We couldn't really think of anything we would have loved to hear more or less of on it. Everything we look for in a Metal album is there.
We recommend 'Stormbreaker' for all of you Metal fans looking for good and heavy music to bang your head to.
---
Rating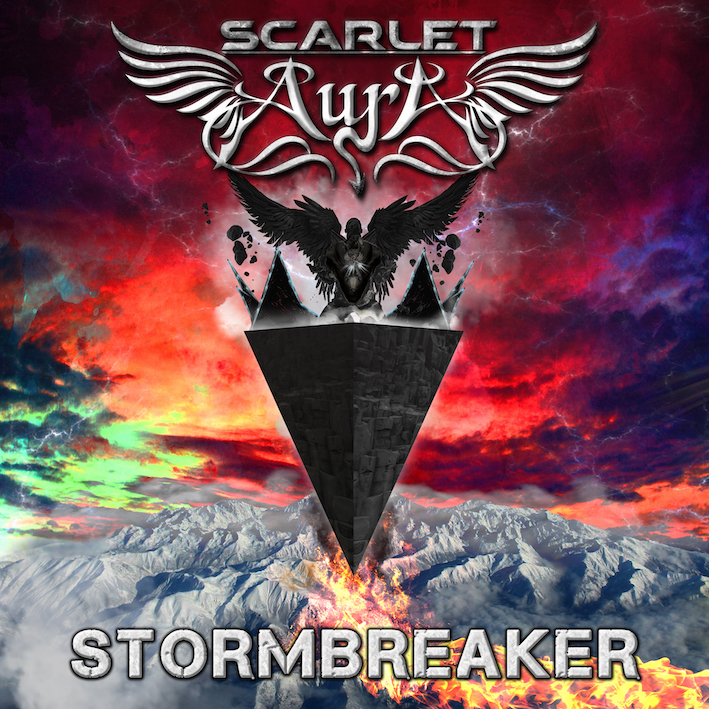 The FemMetal Team has given the album the following rates:
| | | | |
| --- | --- | --- | --- |
| | Betty | | 8/10 |
| | Mirk | | 8.5/10 |
| | Rebecca | | 7.5/10 |
---
Interview
Mirk: Hello Aura! I'm very glad to interview you once again for FemMetal! How are you and the other members of Scarlet Aura during these hard times?
Aura: Hi dear, thank you for having me! Well… it's like never before. We never had such a long break so we panicked and actually worked harder than before. We worked on new music, on reinventing ourselves, in getting back to the roots, we did everything so far to stay sane and hopefully we succeed but one thing can't be ignored and that is the fact that we miss our public like hell.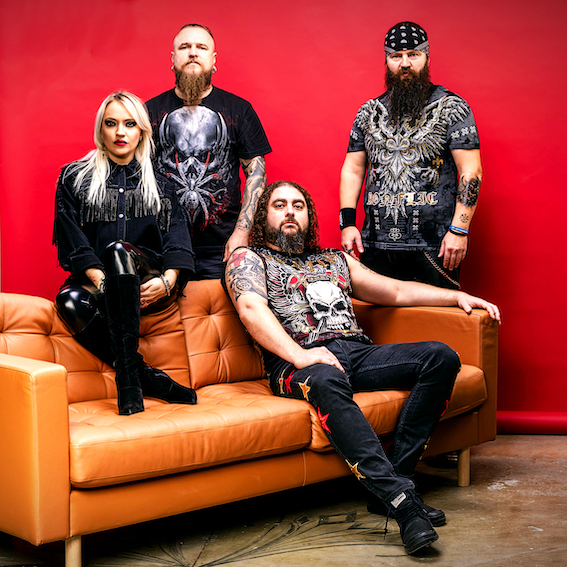 Mirk: Last time we talked with you for the article about your last album 'Hot 'N Heavy'. Now you've released a new album, 'Stormbreaker'. How do you feel about the reception this album received?
Aura: Not enough unfortunately. This pandemic stopped us from playing this album and promote it so… we did what we could online and, on that side, so far was really well received. But you need the shows to convince and to make your music well known. So, what we can do is to hope that we'll still have this chance with Stormbreaker because in 2021 the trilogy will be ending as the third album will be released; so not that much time left….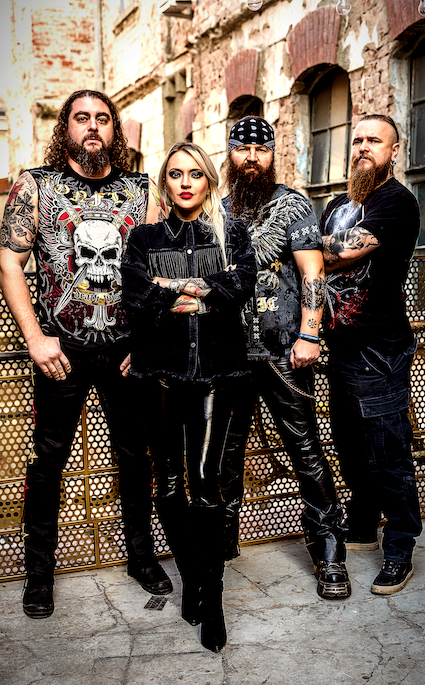 Mirk: Your unique sound as a band is abundant in 'Stormbreaker' as it was in your previous albums. What can you say is special and new about 'Stormbreaker' that listeners would experience?
Aura: The entire Scarlet Aura experience is special… there is no one like us! Wanna convince yourself? Buy the music and come to our shows!
Mirk: What new songs were you most excited to see the reaction of your fans to? And which songs on the new album do you think the fans will like to listen to live in concert most?
Aura: Metalhell and The Heretic. These songs are way more heavy than what we played before and live I can't wait to listen to them playing along with us Scarlets United, I Am The One, A Blast From The Past.
Mirk: Since we're talking about singing live, many tours and gigs were cancelled lately because of the coronavirus pandemic. When you stay for a while without singing live, what is the most thing you miss about it?
Aura: The contact with the ones I love the most: our fans!
Mirk: You were nominated last FemMetal Awards for Best Image and Performance and Best Aggressive Vocals awards. A large number of people voted for you on both awards and you won Best Image and Performance! What would you say to your fans that continuously support you?
Aura: What I always do: believe in yourself, stay true to yourself, live every fucking second of your life and never forget: you are not alone!
Mirk: Your music video for Battle Cry was released last week. I have to say it's my favourite music video by you so far. Will there be other music videos for songs on the album?
Aura: Definitely! We love making videos! A lyric video will be released soon so subscribe to our YouTube channel!
Mirk: In Battle Cry everything is black and white like an old movie until the last scene. If you had the ability to travel back in time and visit a certain time in the past and come back, what time would you travel back to?
Aura: This is an amazing question! I would definitely go back to Adam and Eve's time, run wild naked in the garden and have zero clue about envy, jealousy, money, misery, death, killing, poor people, hunger, disease and so on…
Mirk: Thank you, Aura, for the interview! It's a pleasure to chat with you as always.
Aura: Thank you and hopefully we'll meet soon! Thank you for the nominations, thank you for supporting us and metal music!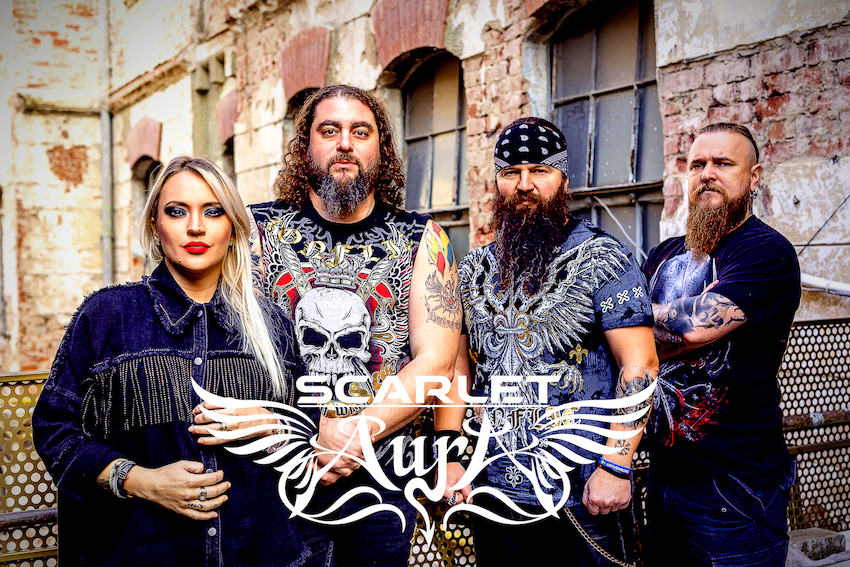 ---



---