Scarlet Aura is one of the few remaining bands that refer to themselves as "Heavy Metal bands" rather than using other sub-genres to describe themselves. And the Romanian quartet have all rights to do so. Their sound is a direct fusion of Heavy Metal with some modern Metal elements merged into it. Their lead vocalists, Aura Danciulescu, has one of those voices that were born for Rock.
Here's our review for Scarlet Aura's 2019 album, 'Hot 'n Heavy', along with an interview with the wonderful Aura Danciulescu.
Click here if you don't give a single shit about our review and you're only here to read the interview with Aura.
'Hot 'n Heavy' Album Review
Now you might be wondering, "why the hell is there a 'Finding Nemo' poster on a Metal album review?"
First, why not? Second, it's because I'm going to quote Finding Nemo in my review intro. When Bubbles, a fish who lived all its life in a tank, learned Nemo is from the ocean, he asked: "Wow, the Big Blue. What's it like?" and Nemo replied: "Well it's big, and…um…Blue." So now if you ask me: "Wow, Hot 'n Heavy. What's it like?", you know what the answer would be.
The album begins with a soft intro, The Future Becomes Our Past, opening up to a war cry song, Hail To You. The first song is special because of its strong lyrics and massive Metal sound and Aura's thunderous vocals. It's a very good song that would get a crowd chanting along, and that includes a wonderful instrumental and guitar solo part. In The Name of My Pain begins with a sweet guitar riff, followed by a wonderful tune, which then explodes to join the Heavy Metal sound of the album. This song has one example of how Scarlet Aura's movement in lyrics can be felt in the music. When Aura is chanting "I'm running faster", you feel the music is actually running faster too. This reminded me of songs like Ozzy's "Crazy Train" or Metallica's "Wherever I May Roam".
The fourth track, Hot 'n Heavy, deserves by every means to be the title song. A gorgeous riff in the beginning, followed by rebel lyrics with a great hard rock melody and another beautiful guitar solo. After the rage of the first 3 songs, Fallin' to Pieces begins slowly with a melancholic mood and another hard rock master piece. Now that we had this little break from Metal, my personally favourite song on the album, Glimpse in the Mirror begins with a fast melodic tune and a flawless flow in music. Another fight song You Bite Me I Bite You Back, follows, sticking to the high standards of this album.
Hate Is Evanescent, Violence Is Forever is the track that follows. Although this track did not keep up with the album's pace for me, I really loved its lyrics and their meanings and the message embedded into it. Silver City comes next putting another piece in the great album. And following is the masterpiece Light Be My Guide. It begins slowly with a soft tune and Aura's great vocal abilities being showcased in a ballad mood for the first 2 minutes and 23 seconds, and then a heavier riff and a wonderful solo for the remainder of the track. Let's Go Fuckin' Wild is another one of these neo-classical Heavy Metal songs in this album. The album is concluded with a 7-minutes masterpiece To New Horizons, including, in addition to the great music we enjoyed the whole time on this album, a wonderful contrast in vocals with an anthemic mood and yet another great solo, and an epic ending for an epic album!
One thing we did not like about the album is that some songs felt a bit too long for their content and some melodies overlapped in a confusing manner. Otherwise, this is one of the best albums in 2019 so far.
If you like classic Heavy Metal bands and keep saying "why don't they do stuff like that anymore?", we recommend Hot 'n Heavy to you. (Because it is as good as the "stuff like that"!)
---
Rating
Here are the average of the ratings that were placed by the FemMetal Team
| | | |
| --- | --- | --- |
| Music (30%) | ⭐⭐⭐⭐⭐⭐⭐⭐⭐ | 9/10 |
| Lyrics (30%) | ⭐⭐⭐⭐⭐⭐⭐⭐⭐⭐ | 10/10 |
| Production (30%) | ⭐⭐⭐⭐⭐⭐⭐⭐ | 8/10 |
| Cover Art (10%) | ⭐⭐⭐⭐⭐⭐ | 6/10 |
| Total | ⭐⭐⭐⭐⭐⭐⭐⭐⭐ | 8.5/10 |
---
Interview with Aura Danciulescu of Scarlet Aura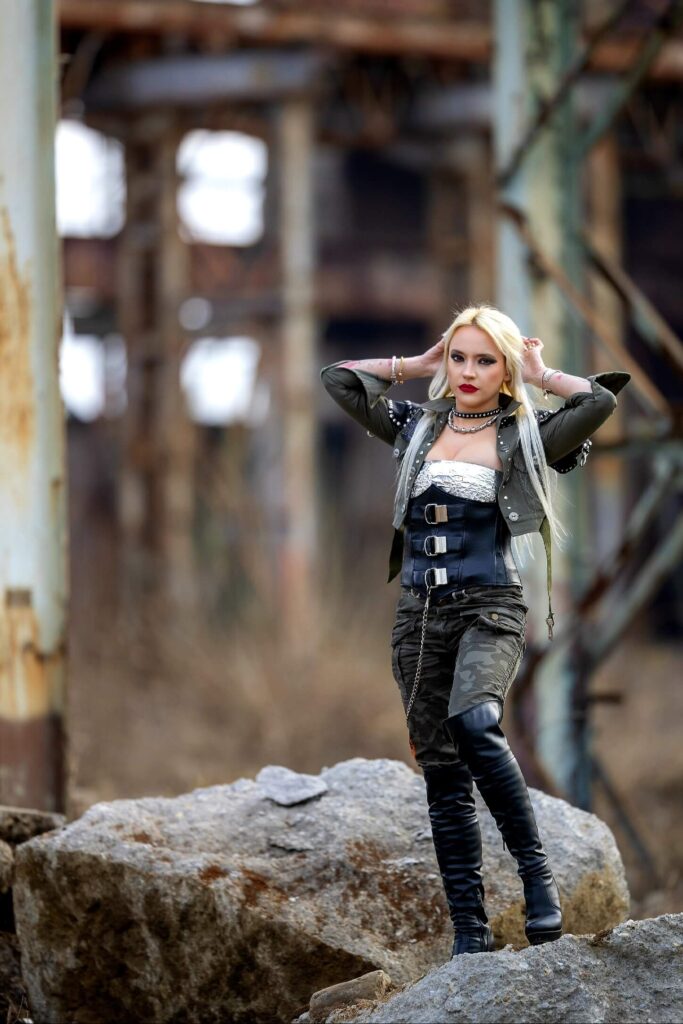 Mirk: Hello Aura. Thank you for taking this interview. How are you today?
Aura: I am well, thank you! Working for the summer festival season and autumn tour. We had an amazing time lately doing interviews and promoting Scarlet Aura.
Mirk: Can you tell FemMetal a little about your band, Scarlet Aura?
Aura: Scarlet Aura was founded by Mihai Danciulescu, our guitar player, song writer and producer and myself in 2015th. The band started in 2014th under the name AURA. We changed the name for a better version of ourselves and for uniqueness on the metal stage. It became now more than a name, it became a character, a symbol that you can read about in my The Book Of Scarlet fantasy trilogy.
Mirk: You released two albums in about 5 years. The second being this year's Hot 'n Heavy. How would you describe the new album?
Aura: Under the name AURA we release the first album in 2014th – The Rock Chick, then we changed name into Scarlet Aura and released Falling Sky in 2016th, we also released 2 singles – Tomboy and The Beast Within Me, another album came in 2017th – Memories, a cover songs album that we dedicated to the artists that inspired us along the way, a live DVD was released shortly after and Hot'n'Heavy this year. So… there are 4 albums, 2 singles, one live DVD and the first volume from the trilogy, in 5 years . A lot of work I might say but I think that the best is yet to come!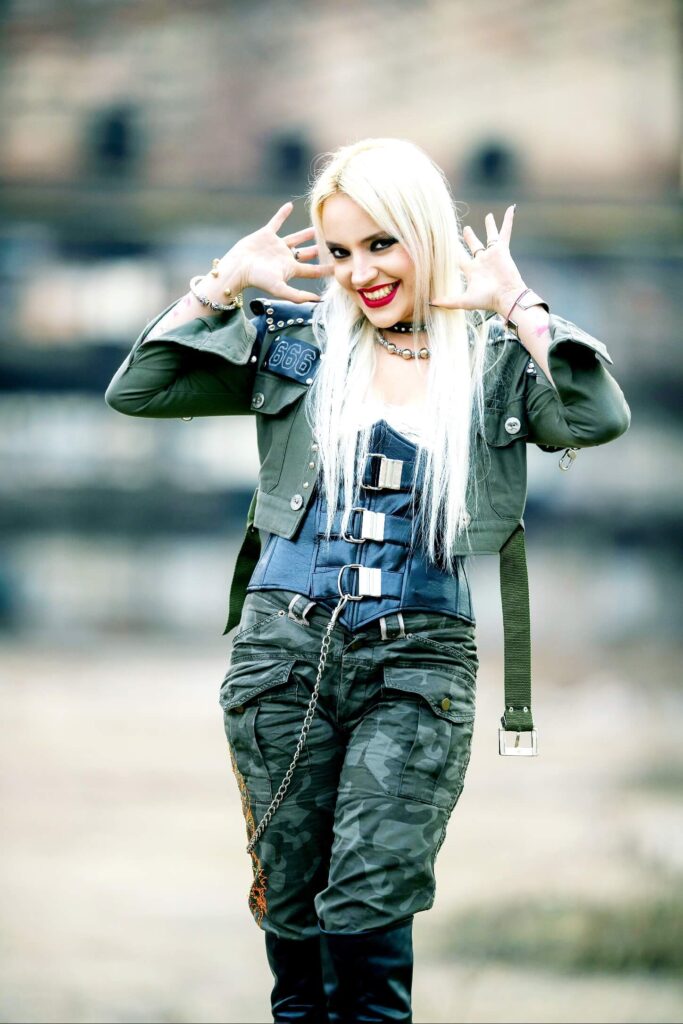 Mirk: You opened for Tarja Turunen in 2016. How was it like to share the same stage with someone many metal fans consider as the most iconic woman in Metal?
Aura: I remember the first moment I met her, it was indeed overwhelming.  She is such an inspiring figure in the metal scene that I was really happy to meet and share the stage with her! I learned a lot of things that tour and because of her and her bandmates, her crew, Scarlet Aura became better. Things somehow became natural between us and I'm honoured and feel blessed to have had this opportunity. 
Mirk: How would you describe the metal scene in Romania?
Aura: It's a continuous growing ball. It becomes bigger and shinier. I hope it will also be healthier and to keep growing as we need this on the global level.
Mirk: What, in your opinion, makes Scarlet Aura different from other Metal bands?
Aura: I don't know what makes it different now when I'm being asked but I know what makes it similar to the biggest bands on this planet: love for music, passion, dedication, ambition.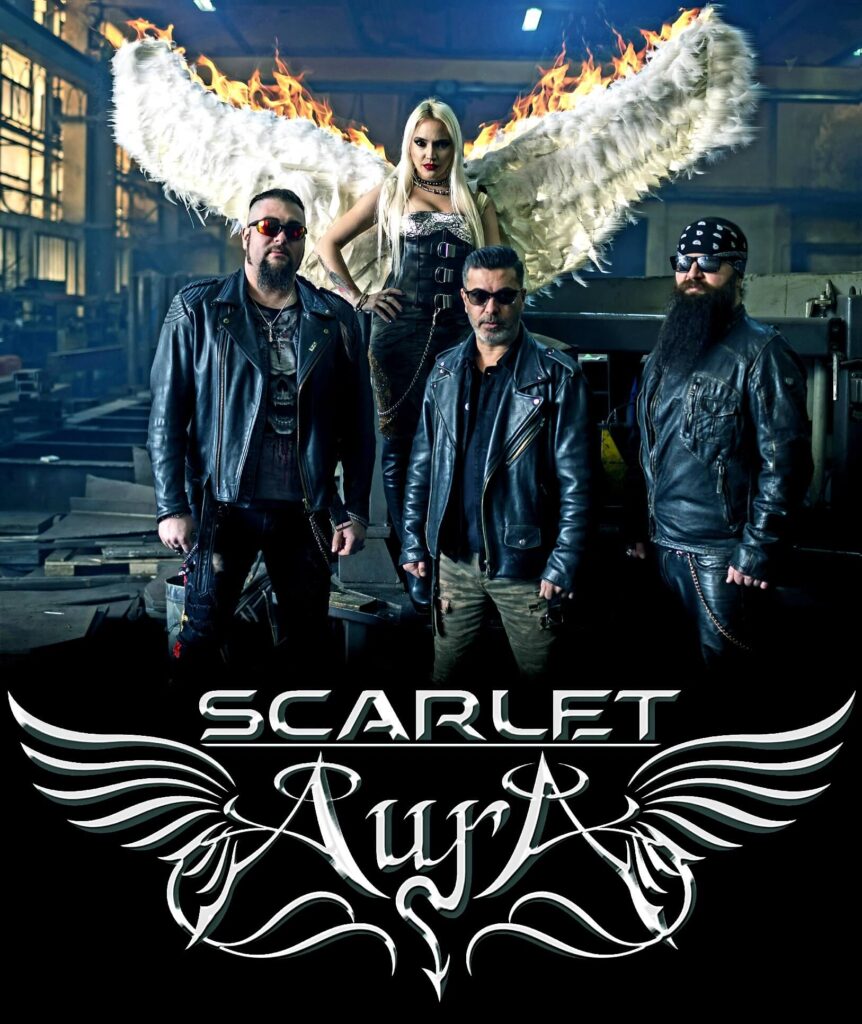 Mirk: Did you grow up listening to Metal? What bands or artists inspired you as a vocalist to reach to where you are today?
Aura: I am not easy to be inspired, I always search inside myself for the power I need to print my own convictions, my own beliefs and it's the same for my voice. I always loved soft voices in female vocalists but as you can see my voice is far from being soft :))))). I don't know, I guess my voice just grew on me… As artists I love I can count Ronnie James Dio, Bruce Dickinson, Tom Araya… there are so many! The female vocalists I really like listening to Tarja, Doro, Heart…
Mirk: Is there any future plans you'd like to tell us about?
Aura: We are living the future now, we always do something so follow us and become a Scarlet, it's an on and on adventure. We will release a single this autumn, we will play in festivals soon, we have an autumn tour preparing right now as we speak, a new album and the second volume from the trilogy will be released next year so… it's wild and we invite you to join us, we do what we do especially for you!
Mirk: Thank you for the interview, Aura! It was great talking with you.
Aura: And thank you! Feel free to listen to our songs on Spotify, iTunes and other social media platforms! Hug you all, hope to see you soon in shows!
---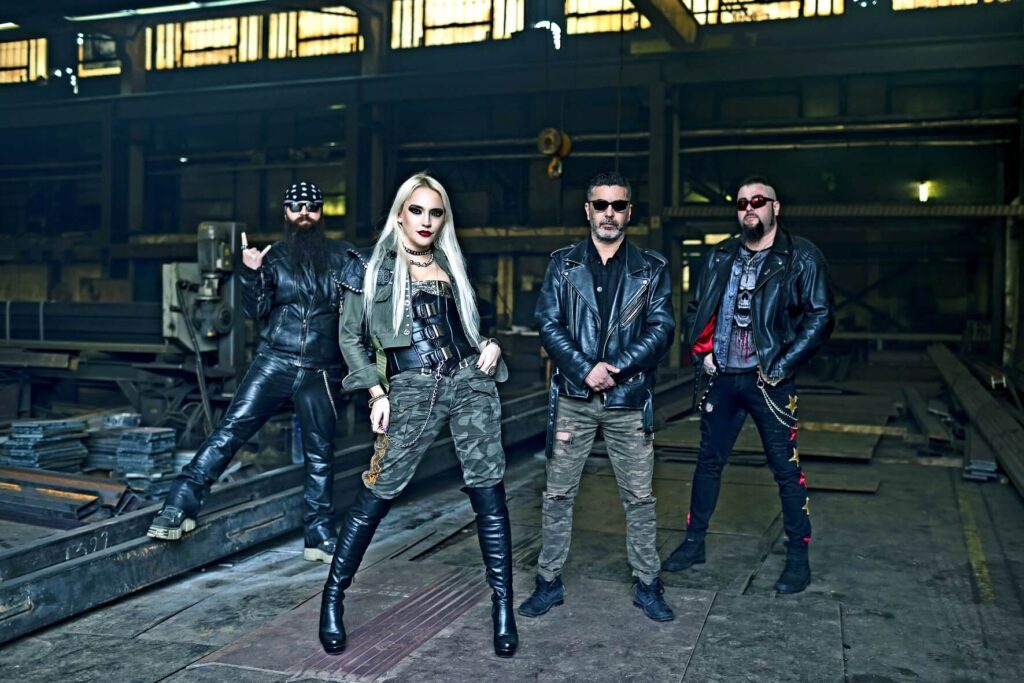 Follow Scarlet Aura on YouTube and Social Media