Metalympics (previously known as Fandoms At War) is an annual competition between teams formed on the basis of Metal bands' fandoms. Players earn points by solving Metal and other general knowledge trivia, or by completing other tasks.
The current champions are VoA Sailors, a fandom of Visions of Atlantis.
The new format adopted in 2022 will take the form of a league table points system competition.
The registration process remains the same. Anyone can pledge loyalty to a fandom for a band with at least one female member, suggesting an alias and stating if they would like to be the team captain. The 20 fandoms with the most pledges will qualify for the main event. The team captain is picked by the Game Maker and is responsible for choosing an emblem and the alias for the fandom.
Teams will be placed at a league table and the event will be carried out through four phases. Each phase includes different challenges and games to collect points. The main game is the Metal Trivia. As teams collect points, their placement in the league table will change accordingly. At the end of the fourth and final phase, the team with the most points win.
The event also includes a Cup competition, where the top four teams at the end of the third phase qualify for the Metalympics Cup, a two-stage knockout that decides a winner. Points collected by teams facing each other at the cup games will also be added to their sum in the league table.
| | | |
| --- | --- | --- |
| Year | Champion | Runner-up |
| 2019 | Epicans (Epica Fandom) | Nemesis (Arch Enemy Fandom) |
| 2020 | Amaranthians (Amaranthe Fandom) | Epicans (Epica Fandom) |
| 2021 | VoA Sailors (Visions of Atlantis Fandom) | Smoon Babies (Epica Fandom) |
| | | |
| --- | --- | --- |
| Fandoms | Champion | Runner-up |
| Epica Fandom | 1 | 2 |
| Amaranthe Fandom | 1 | 0 |
| Visions of Atlantis Fandom | 1 | 0 |
| Arch Enemy Fandom | 0 | 1 |
Metalympics News and Reports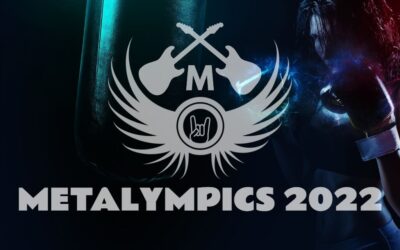 Metalympics 2022 was concluded a couple of weeks ago and two winners were crowned for both the Metalympics League and Metalympics Cup! Jinjer fans' team "Wallflowers" and MoonSun fans' team "Constellations" emerged victorious from the league and cup competitions...