Italian band Break Me Down have released a new cover for Halestorm's hit "Break In". The song originally released in 2012 in the album 'The Strange Case Of…" was re-released in 2020 featuring Evanescence's Amy Lee. Break Me Down's cover of "Break In" saw the band join forces with vocalist Vitali Mats, who shared vocals duty with Veronica Driven. You can watch the video here below.
FemMetal is lucky to host another collaboration between Veronica Driven and Vitaly Mats, as the two vocalists combined together to create their Mixtape for FemMetal, each explaining why they picked each song they picked and what it means for them! Here are the eight songs picked by Veronica and Vitaly for their FemMetal Mixtape!
Side A: Veronica's Picks
Track 1
Billy Idol – Dancing with Myself
This is my so-called "Happy Song". This song has a great power: every time I listen to it at the disco, it makes me feel like I want to dance all night long. One day I will tattoo on my arm the title because "Dancing with myself" to me, it's a way to live your life.
Track 2
Nirvana – Come As You Are
Nirvana is the first band that I followed in love with…in particular, since I started to listen to them, Kurt Cobain became my first love. This song means a lot to me and my childhood. It's so inspiring because of Kurt's voice. When I listen to it, I'm feeling like I'm in the middle of a hurricane of emotions.
Track 3
Slipknot – Vermillion pt.2
If you ask me: which is the song that makes you cry? The answer is Vermillion pt.2 I know that maybe it could sound weird but, one of my goals, as a musician, is to write a song like this one someday. Music is emotion, it's a way to make the audience feel what you feel. In this case, this song is pure emotion to me!
Track 4
Spiritbox – Circle With Me
This is a recently discover for me. It's always interesting to find new bands, new songs and new inspirations. Since I started to listen to their latest album, "Eternal Blue", I followed in love with Courtney's voice! It's so powerful and so delicate at the same time. Such an incredible and talented singer. This song in particular shows all her skills, her energy. This is definitely a kind of the song that I'd like to write.
---
Side B: Vitaly's Picks
Track 5
Backstreet Boys – I Want It That Way
It's funny, but I listened to this band when I was a little child. I guess I discovered my passion for pop music and music in general thanks to them and thanks to my mother who listened to them very often. By the way, I still listen to them when I take long trips by car: that lightness makes me think and relax at the same time.
Track 6
Slipknot – Wait And Bleed
It could be ANY Corey's song, cause his voice (and Chester Bennington's too) gave me a kind of input to get me closer to heavy music. It was something revolutionary for me! But the same way, I wanted to sound like him and I started to study singing to become as versatile as possible, I didn't want to be a "standard" metalhead, and I'm still working on it.
Track 7
Suicide Silence – You Only Live Once
Ok, let's go with something heavy! This track just blew up my mind years ago and thanks to Mitch's vocal skills, I decided to practice a lot with my distorted voice: scream, growl, gutturals and stuff like that. I consider them a kind of icon of deathcore.
Track 8
Behemoth – O father o Satan o Sun
I'll be honest, it took me a long time to appreciate this band, but now their music and Nergal's voice had completely defined what I am as a singer. It's hard for me to explain it but, if I decided to work on my vocal range and skills thanks to Corey Taylor, soft parts and pop things like Backstreet Boys and stuff like that, it's because of NergaI! I finally found the darkest side of my voice: one of the last pieces of the puzzle.
---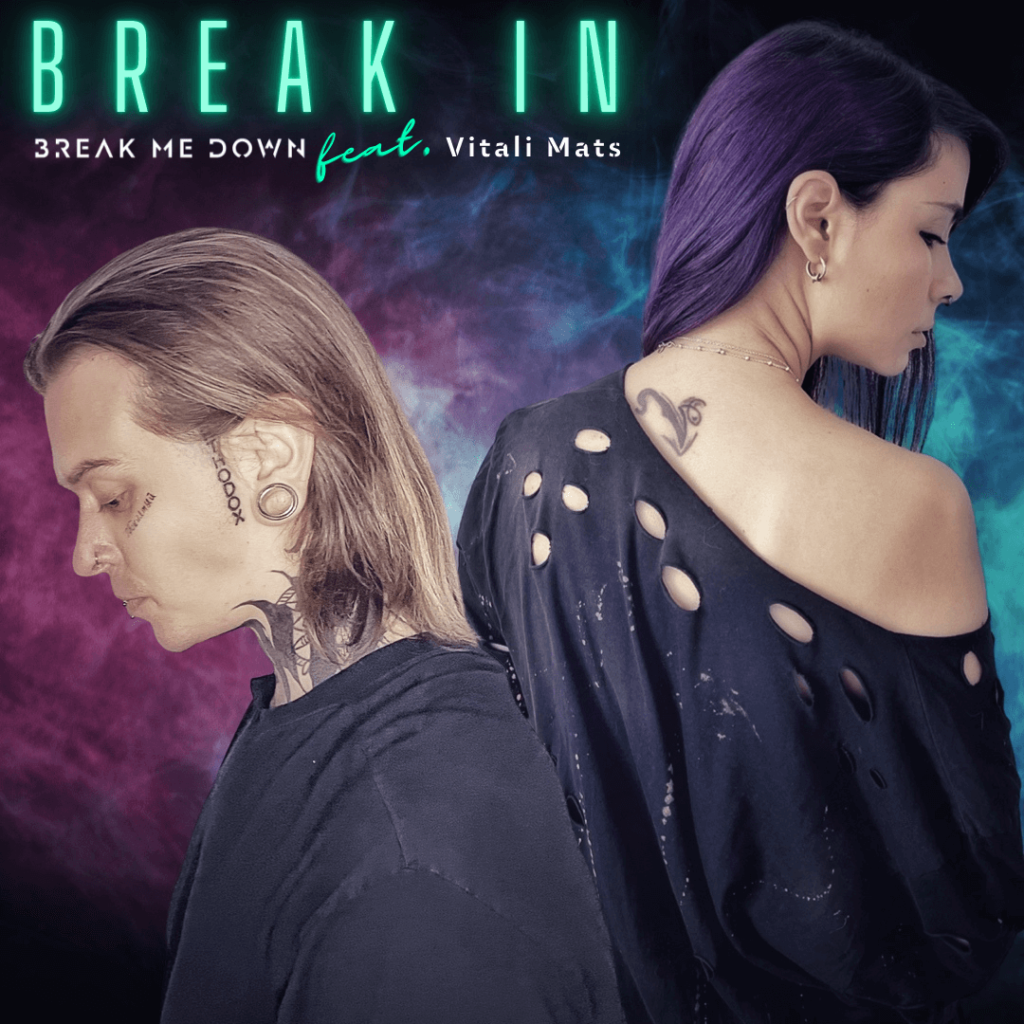 On their new cover of "Break In", Veronica commented: "It was fun and interesting to mix Vitali's vocal characteristics with mine. Being an excellent growl and scream singer, it was a real challenge for him to merge his vocal capabilities to an Alt-Rock project, although we managed to give small but significant space to these peculiarities … but I will not reveal anything else! The even more beautiful thing in reality, when you give life to these projects, is the human aspect, meeting new people, exchanging techniques and experience, and, with Vitali, the beginning of a beautiful friendship".
Vitali states: "It's a very deep song. I believe that we have all gone through periods similar to those that are described and therefore it is a piece that can arise memories, it can make us reflect on our current situation, or, who knows, could bring back the spark that was missing in a relationship. In any case, I hope that, in some way, this cover will be able to warm some hearts or awaken some feelings."
Veronica, regarding the video, adds: "For the shooting of the video we were not very lucky, Vitali tested positive for covid19 a few days before the shooting and we had to change the whole script on the spot, opting for self-shooting at our own homes. Despite the setback, the results are amazing and we can't wait to know what you think!"
Don't forget to watch the video for "Break In" cover by Break Me Down featuring Vitali Mats!
Listen to the MIXTAPE ON SPOTIFY!