One of the things that interest me most about Symphonic and Power Metal is the marriage between the classical orchestral music and the Metal in various elements. I love it when the riff is joined by a symphonic melody and the beats with an orchestral choir chant. But one of the most interesting sides of these genres for me is the vocalist who operatically sings over fast and hard music and produces that complete musical Janus with a face on the glorious past and another on the mighty present.
And when the lead vocalist is someone like Elena Minina, you guarantee that at least one of the faces of Janus are smiling, and smiling wide.
Tigersclaw might be new as a band, but enjoy the experience of three talented and well-achieved musicians. The members, German and Russian form together a trinity of a striking power Progressive music.
The band has released their second album 'Force of Destiny' in 2019. Below is our review for the album followed by an interview with the lead vocalist Elena Minina.
Click here to jump directly to the interview.
---
Review
'Force of Destiny' extends over one hour and thirteen minutes with 15 tracks ranging between 3 and 6 minutes long. Below are four things we loved about 'Force of Destiny'.
The Great Instrumental Parts
The album is very rich with great music in intros, outros, bridges, and a whole lot of guitar riffs and melodies through each song that shine with brilliance. The speed in riffs and beauty in melody and greatness in beats is very well noted through songs like For Kingdoms Pride, Empire of Forgotten Souls, Feel the Night, and Force of Destiny among other songs.
Musical Variations
The music in the album varies between different speeds, moods, and styles. We hear ballad-like songs like Empire of Forgotten Souls, Still of the Night, and The Fallen Queen. We also hear internal variations in songs like The Fallen Queen which starts slow and in the end of its fourth minute becomes faster, heavier and higher in terms of vocals. We also hear tracks closer to classic Heavy Metal like Speed of Light while others like Lightyears Away closer to modern Melodic Metal. These variations create a wonderful mood in the album and make it artistically rich.
The Magical Voice of Elena Minina
I'll be straight to the point here because I'd need books to write how much I love Elena Minina's voice. Previously I talked about the musical variations throughout the album. And only a voice like Elena's can match these variations vocally becoming what the song needs. The power she has in her vocals is very remarkable. She is a true classical singer but she is also capable of deliver in every shape and colour. She can give lyrics life by her wonderful feeling that she sends through voice. Her vocalizations that is heard through almost every song but is remarkable on songs like Walpurgis Night, Tigerslclaw, and Still of the Night, take good songs into an even higher level. In Feel the Night she delivers a wonderful performance of lyrics giving each sentence and each phrase the feeling it deserves. Simply wonderful and enjoyable voice with a great power and beauty.
Tears In The Night
The 12th track of the album comes after amazing songs, but manages to take a spotlight of its own. Beginning with a soft ballad tune for the first 2 minutes and a half and then growing into a heavier song with a great riff, it is easily my favourite song on the album.
---
Probably one thing that would have made 'Force of Destiny' an even better album is more or longer solos. The album is already musically rich but such solo give such albums more greatness. Other than that, the album really has everything someone would expect from a Power Metal album.
FemMetal recommends 'Force of Destiny' to all fans of Symphonic, Power and Progressive Metal. Fans of both classical Metal and modern Metal would enjoy it also.
---
Ratings
Here are the average of the ratings that were placed by the FemMetal Team.
| | | |
| --- | --- | --- |
| Music (30%) | ⭐⭐⭐⭐⭐⭐⭐⭐⭐ | 9/10 |
| Lyrics (30%) | ⭐⭐⭐⭐⭐⭐⭐⭐⭐ | 9/10 |
| Production (30%) | ⭐⭐⭐⭐⭐⭐⭐⭐⭐ | 9/10 |
| Cover Art (10%) | ⭐⭐⭐⭐⭐⭐⭐⭐ | 8/10 |
| Total | ⭐⭐⭐⭐⭐⭐⭐⭐⭐ | 9/10 |
---
Interview
Mirk: Hello Elena! It's wonderful to talk with you. How are you doing?
Elena: Good day! I'm glad to talk to you. Now I have a hot time, a lot of concerts and performances. But it's always nice to find time for a good conversation! Such as ours 😀
Mirk: First, can you please tell our readers about your band, Tigersclaw? How did yo guys meet and form?
Elena: Alexander Baier is our founder, he composes and writes all songs of Tigersclaw. His studio produces all the songs and albums of Tigersclaw, he is a virtuous guitar player and perfect sound producer. Ralf Neumann is our drummer, he has been the former drummer at the Band Antares together with Alexander, they know and appreciate each other since lots of years. Alex wanted to create a new band with female vocals and was looking for a suitable voice everywhere. Really thanks to the will of fate, I accidentally saw a photo from Wacken in his Instagram and liked it! Then he looked at my account, and saw that I am a singer. He loved my voice and decided to write me the email with an offer of cooperation. We tried to record a few cover songs to begin with, and then realized that they were made for each other – his music and my voice! In November 2016 finally Tigersclaw was born!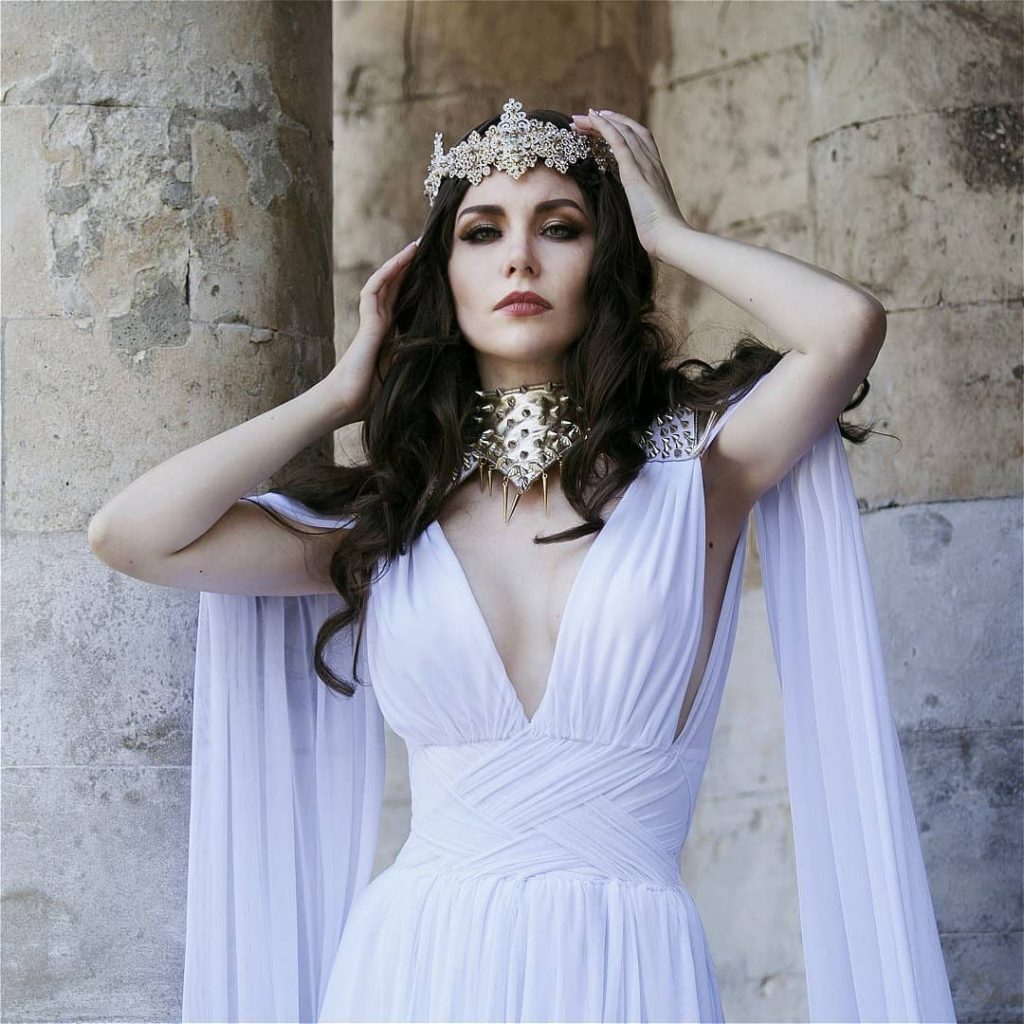 Mirk: You released earlier this year a new album with Tigersclaw, 'Force of Destiny'. How are you feeling about the reception the album got?
Elena: The album received very good reviews from both the press and fans. Of course, it inspires! We put all our soul, all our professional skills and maximum inspiration into this album. Therefore, we are very pleased that it is highly appreciated!
Mirk: In addition to being the vocalist of Tigersclaw, you are also a soloist at Gradsky Hall performing more classical operas and music. I won't ask you which do you prefer because I know you will probably say both are great in their way. But what feelings does singing classical opera gives you that Metal doesn't, and what feelings does Metal give you and Opera doesn't?
Elena: That's an interesting question! Yes, I like to sing both of this genres. Moreover, in the theater I sing not only Opera, but also popular music and musicals. I love variety and my voice and vocal education allows me to express myself in different genres. I'm a lucky performer! But no genre gives as much power and drive as metal! When I hear such music I can't sit still, I literally get charged with energy! Besides it is very sensual, emotional. Such music requires different colors and shades in the singer's voice, and this, in my opinion, makes it related to Opera – perfection of vocal performance and depth of emotions.
Mirk: When you were growing up and discovered you have such a beautiful voice, did you imagine yourself as a Metal vocalist or classical singer or maybe completely somewhere else?
Elena: I've been learning music since I was 3 years old and at first I was a pianist. When I started learning vocals professionally, it was at the age of 14, I didn't even think that fate would lead me to Metal! Mostly I sang classical music and Opera. And I'm glad about it, because classical education for a singer is a very strong Foundation. Now I feel as comfortable as possible – I found myself in those genres in which I work. And even started to write music in such a-style by myself.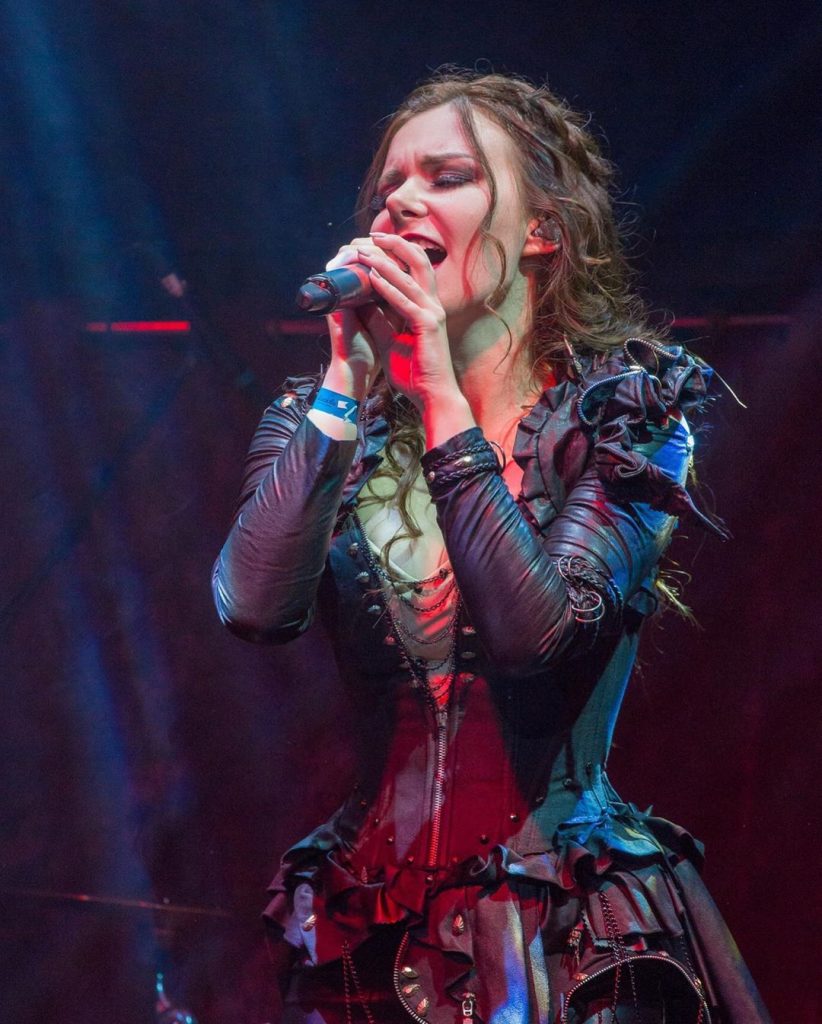 Mirk: When you sing you have that glow in your eyes and you look really happy. How important is it for an artist to be happy with that she or he are doing?
Elena: You can't do anything without love. Otherwise, it will be just a craft and will not touch important strings in the hearts of the audience. I'm happy every time I sing, go on stage, compose or record music or even just listen to the songs that Alex sends me – my eyes glow, heart burns and I'm like electrified!
Mirk: If you can travel in time, would you go back in time to live in an older era of music, or would you go to the future to see how music will become, or would you stay in this era?
Elena: We live in a happy time when borders are not closed to us. When is possible such Union – metal band from Germany and Russian Opera female singer! When have you seen this before?;) In our era we can listen to the ocean of music via the Internet and go to concerts of favorite bands around the world. People have already created many masterpieces, based on which you can create your own, unique. Each of us can remain in the centuries if we create with our hearts. But.. if I could see another time – I would like to visit Baroque Europe. This is the highest point of the virtuoso vocal school – and the style of Baroque music is very close to some of Tigersclaw songs, if you notice – a very beautiful parallel)
Mirk: Speaking of time travel, some people still have fogy ways of thinking and treat people with discrimination. Have you ever been treated in a sexist way? How would you deal with sexism and what advice would you give to other young girls and women who still suffer from sexism?
Elena: To be honest, I have never met with this problem and have little to say about it.
Mirk: Aside from music, what hobbies and interests do you have?
Elena: In fact, there is little time for Hobbies. But if it is I love spending time with my family and friends. Walking in parks, in Moscow there are very beautiful places. But only if it's not cold and it's not raining! I love rollerblading and swimming. And of course I am a girl to the core – I love to pamper myself, to spend time shopping and taking care of my health and beauty.
Mirk: Are there any plans with Tigersclaw in the near future you'd like to tell us about?
Elena: We're writing new songs. Alex has a lot of great material. I'm currently writing vocals for some breathtaking compositions. I think in the near future I will go to the guys in Germany and we will shoot a lot of new videos and photos and prepare a lot of surprises for the fans!
Mirk: Thank you Elena for the interview! It was a great pleasure talking with a talented artist like you!
Elena: Thank you too, Mirk!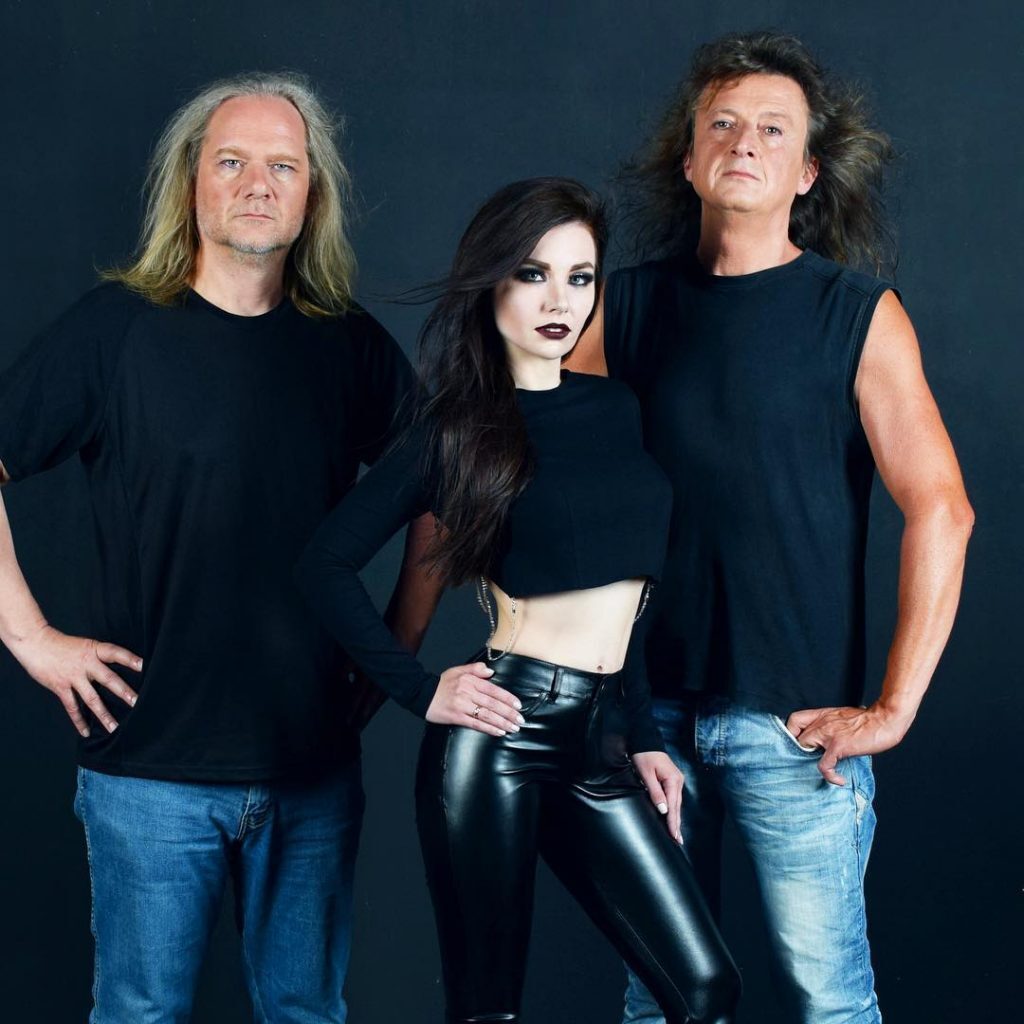 ---



---