From Canada comes a band that blends together melodies with heavy riffs, growling, and a unique "thrashy" sound. Lutharö is a band from Ontario, Canada, that has released a new EP earlier this year. That would be their second EP in 2 years and third overall. We had the chance to chat with vocalist Krista Shipperbottom and ask her about the new EP as well as other things. We also listened to 'Wings of Agony' and wrote a short review on it.
Click here to jump straight to the interview.
---
Review
The 5-tracks EP begins with the track Barren, a wonderful song with an introductory mood starting with a cinematic sound followed by a riff and a wonderful vocalizing start from Krista. The growling then begins and the heavy riffs and melodies bring out a powerful and aggressive musical texture. The alternation of Krista's vocals aggression between growling and singing is a brilliant aspect that follows us throughout the whole EP. The first track has a good guitar solo as well.
Diamond Back kicks in next with a faster beat and same aggressive texture. The guitars on the second track are superior, with even more aggressive riffs and solos.
Probably the most remarkable track on the EP however is the third track, Blood Lightning, that begins with majestic guitar music and stunning vocals from Krista. As we get closer to the chorus, the vocals become more aggressive until they strike like thunder in a fast, melodic, and heavy environment. This song shows both sides of Krista's voice in their full glory. Also it shows the melodic ability of the band.
Will to Survive is another beautiful track on the EP that has a change in the mood and elements from the ones before it, preserving the general sound of the band, creating a more diversity to the record.
Final title-track Wings of Agony, is yet another diverse track with a slower and calmer start, that explodes yet into another fast and melodic thunderstorms.
Rarely does a 5-track EP contain such a rich musical context and such an exciting collection of songs. All 5 songs on the EP are worth of being singles for their unique sound and brilliant music.
---
Ratings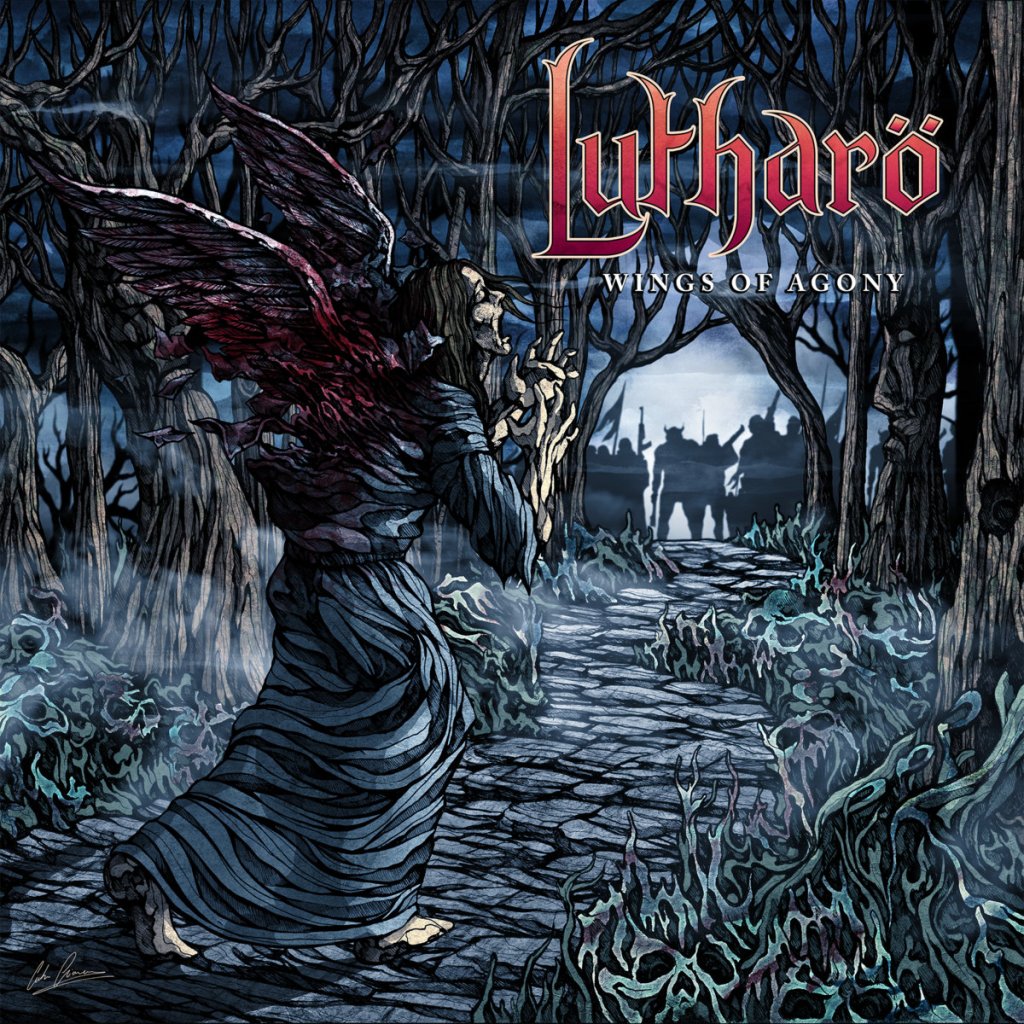 The FemMetal Team has given the EP the following rates:
| | | | |
| --- | --- | --- | --- |
| | Betty | | 9.0/10 |
| | Mirk | | 10/10 |
| | Rebecca | | 9.5/10 |
---
Interview
And here's the interview we had with Krista. We hope you enjoy reading it.
| | |
| --- | --- |
| Hello Krista. We're going to talk about your new EP, 'Wings of Agony', but first, how would you introduce your band Lutharö for our readers who are learning about you for the first time? | |
| | |
| --- | --- |
| | Lutharo is a hard-hitting and unique heavy metal band from Hamilton Ontario!  |
| | |
| --- | --- |
| You released your new EP earlier this month. How are you feeling about the reception 'Wings of Agony' has got so far from the fans? | |
| | |
| --- | --- |
| | The reception from our new album "Wings of Agony" has been absolutely incredible! To be honest we are feeling extremely honoured at the moment to be reviving such amazing feedback from the metal community. Especially because it is something we have put our blood, sweat and tears into.  |
| | |
| --- | --- |
| You also released a music video for the song Blood Lightning a couple of weeks ago. Was it hard to shoot and make the music video especially with the pandemic around? | |
| | |
| --- | --- |
| | The "Blood Lightning" music video shoot when it finally happened went awesome. However, the time leading up to it was a little bit unpredictable. We had to change locations and also wait a while for laws to be lifted. Overall though it was definitely worth the wait!  |
To get to know your new EP more, and also do our favourite thing at FemMetal, this is being nerds and playing games, let's play a game! I'll give you a quest or a case and for each case, you have to pick one song from the new EP that best fits.

Which song on 'Wings of Agony' would you use to introduce someone to Lutharö's music?
| | |
| --- | --- |
| | I would choose the title track "Wings of Agony" to introduce to someone because I feel it shows a little bit of everything we offer as a band.  |
| | |
| --- | --- |
| Hostile aliens invade planet Earth. It is discovered that these aliens have only one weakness, that is music with heavy guitars. Which song on 'Wings of Agony'  would you go to battle with? | |
| | |
| --- | --- |
| | I would definitely go into battle with the song "Diamond Back". That song is straight-up heavy, fast and in your face. Those aliens don't stand a chance!  |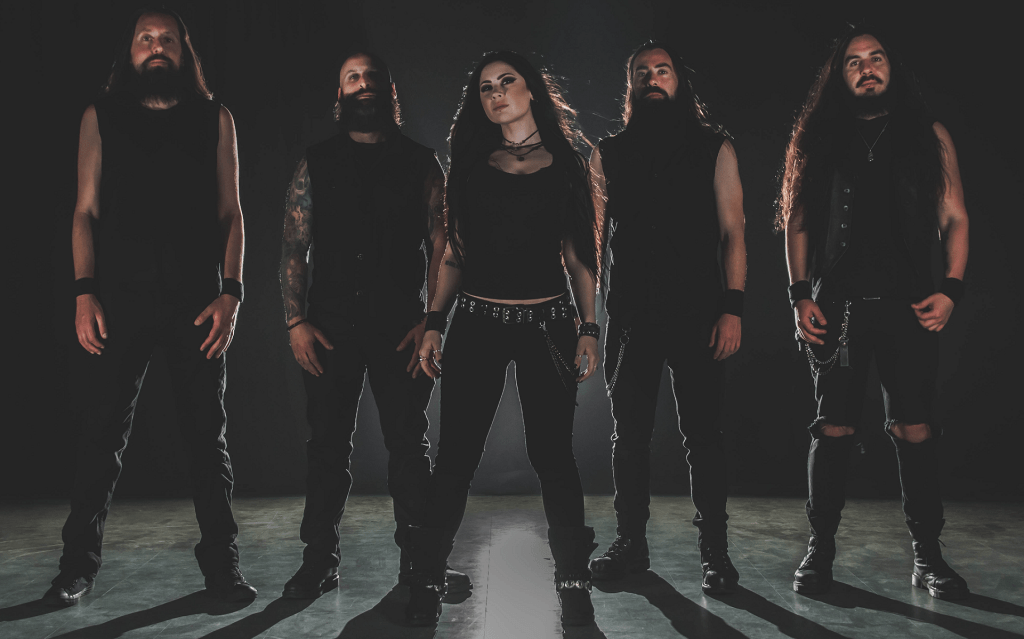 | | |
| --- | --- |
| All songs on 'Wings of Agony' came to life. Which song would be your best friend? | |
| | |
| --- | --- |
| | Blood Lightning would for sure be my best friend because even though it is a very deep song lyrically, the overall vibe is fun and cheerful.  |
| | |
| --- | --- |
| Which song from 'Wings of Agony' would you use to cheer up or motivate a friend feeling down? | |
| | |
| --- | --- |
| | For motivation, hands down I would go with "Will to survive". That title speaks for itself!  |
Thank you for playing Krista!
What bands and artists did you grow up listening to, and what moment did you decide you want to be more than just a music consumer and want to be an artist yourself?
| | |
| --- | --- |
| | Growing up I listened to all kinds of music ranging from classic rock, blues, metal, pop, r&b and everything in between so it would probably take forever for me to name all of the artists who have influenced me. I will tell you though, my favourite band of all time is "Black Sabbath". When it comes to myself as an artist, I knew I wanted to be one from a very young age. I was singing before I could talk and constantly writing and playing music throughout my whole life. However, when I found metal I found my place in music and then I found Lutharo.  |
| | |
| --- | --- |
| Do you remember the first time you performed live on stage? How many people were there and how did it feel? | |
| | |
| --- | --- |
| | I definitely remember my first performance! I was extremely nervous, pacing back and forth before taking the stage and almost throwing up. After our first song is when I started to relax a little more and enjoy the experience. I remember finishing the set and thinking "I want to do that every night for the rest of my life." I can't recall the exact number of people but I do know that a ton of friends and family came to support. (Thank god for that).  |
| | |
| --- | --- |
| Have you ever been treated in a sexist way? How would you face sexism and what advice would you give to your young fans who face any form of discrimination in their daily life? | |
| | |
| --- | --- |
| | I have definitely come in contact with my fair share of sexism. Being a woman in a male-dominated scene hasn't always been a breeze. The best way to combat it though in my experience is to just keep reminding yourself that you are worthy of anything you put your mind to and when you have a dream to fulfill nobody is going to take from you. |
Great advice!
Thank you for the interview Krista! It has been a pleasure. Good luck to you and Lutharö in your future projects.
---
Follow LUTHARÖ