On a cool summer night, I headed to The Hartford Healthcare Amphitheater in Bridgeport, Connecticut with my daughter and fellow FemMetal photographer/writer for the first Lindsey Stirling show of the American leg of her tour. The fans were slow to fill in, but it ended up being a nearly full house. The HHC Amphitheater is a former baseball venue that was converted into a music venue by adding a big top like tent and beautiful stage and backstage area that keeps the bands wanting to come back year after year.
Opening the night was Walk Off The Earth, an indie pop band from Ontario, Canada. Dressed mostly in colorful outfits, except the singer, Sarah Blackwood, who was dressed all in black topped off by her radiant smile and joyous personality. She had a beautiful voice and awesome stage presence. This band is bursting at the seams with talent and made a perfect opener for Lindsey Stirling. With each member of the band playing at least four or more instruments, including many less common such as accordion, didgeridoo, glockenspiel, ukelele, kazoo, and a host of percussion instruments.
They played a mix of cover tunes such as, Graham Lyle's "What's Love Got to Do With It", Wheatus' "Teenage Dirtbag", and AC/DC's "Thunderstruck", but my favorite performance of the night by WOTE was their Beatles medley. It contained approximately seventeen different Beatles hits that we all knew and sang along with. For the last song of the night, they brought the mic's together near the center of the stage, right in front of a unique, 3-necked guitar/harp, and four of the members all got together and performed on the same instrument, each playing a different part of it while sharing on the vocal duties. It was a sight to see.
Setlist:
Red Hands
Fire in My Soul
Crazy (Gnarls Barkley cover)
What's Love Got to Do With It (Graham Lyle cover)
Whatever
Teenage Dirtbag (Wheatus cover)
I'll Be there
Thunderstruck (AC/DC cover)
Long Way Home (With Lindsey Stirling)
Beatles Medley
Saxo-Didge Jam
My Stupid Heart (with kids performing)
Uiharp Medley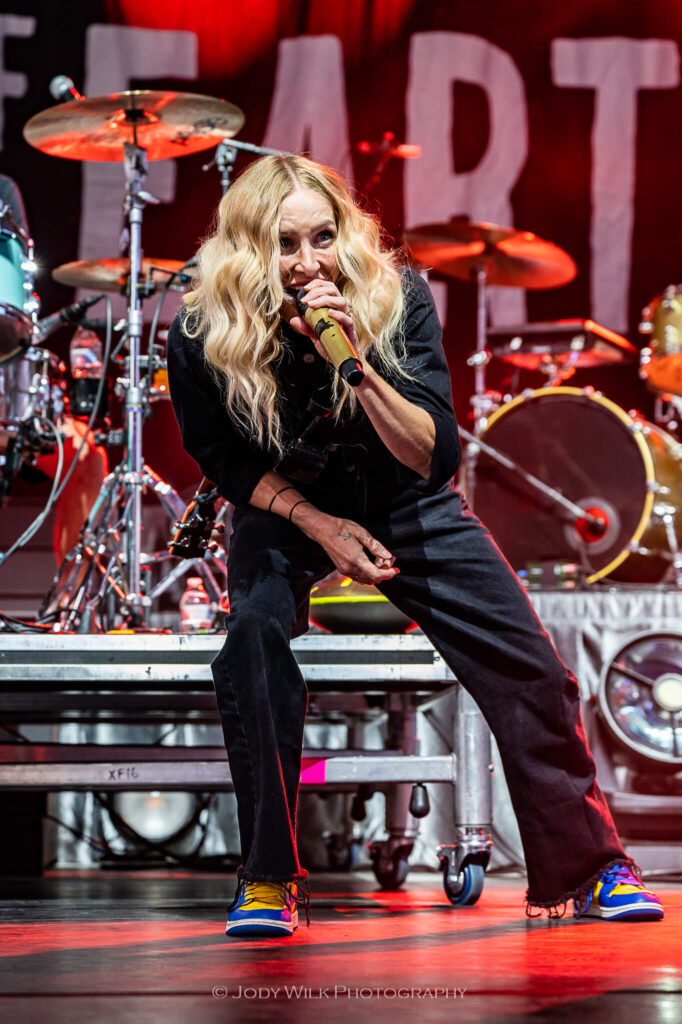 Lindsey Stirling started off her 18-song, hour and a half set, with "Beyond The Veil" off of her 2014 release Shatter Me. Lindsey is a ball of fire on stage performing dance moves throughout every song while playing her violin and never missing a note. Backed by a drummer and bass player, this is no run of the mill old school violin performance. This is a broadway rock show on steroids. Lindsey is backed by a crew of top-notch dancers to round out the production.
Near the end of the third song, the audio system started cutting out, and the band continued to perform through the debacle. By the end of the next song, they had lost all audio. Lindsey blew kisses to the crowd for cheering her on while the crew worked to correct the problem. Lindsey began to make a mockery of the situation by doing charades. Once the audio was restored, she commented how awesome everyone was and that nobody even got up to go to the bathroom.
Lindsey also does a lot of aerial performances being hoisted up in the air while still playing the violin and doing acrobatic moves, sometimes hanging by one leg. Next up Lindsey let us know she was going to do something she has never done before and go back to her classical roots. She then played a rocking version of Johann Sebastian Bach's "Toccata and Fugue". Lindsey and her dancers went through multiple costume changes throughout the night to go along with each song.
Lindsey held a contest to have a fan come up on stage and perform with her. This was something she had never done before. The lucky fan, Vermont native, "Offbeat" Bryce came up on stage to rock out on the kazoo. They did a little back and forth with Lindsey playing the violin and Bryce repeating what she did on his kazoo. Soon Lindsey was joking how they made it through 8 songs and the p.a. was still working and that the fans were troopers. I was a little surprised to hear "Carol of the Bells "included in the set during the middle of summer, but it's always a crowd favorite. Next was a long recorded vocal intro to the song "Crystallize" which talked about an experiment where positive words could make water molecules under a microscope crystallize into symmetrical snowflake like shapes, compared to with negative words, they made very jagged edges. Lindsey performed several more songs before ending the night with an encore of her newest release, a cover of Led Zeppelin's "Kashmir".
What a fantastic evening of not only music but fantastic stage performances by incredibly talented musicians. Walk Off The Earth was amazing with all the different instruments each member was a master of. Lindsey Stirling is a must-see performer, musician, and even has a comedic side when necessary. I would highly recommend you check out this rocking violin-based performance when they come to your area. They will be on tour throughout the United States through September 2.
Setlist:
Beyond the Veil
Underground
Artemis
The Arena (Acoustic)
Shatter Me
Toccata and Fugue (Johann Sebastian Bach cover)
Masquerade (Acoustic)
Hold My Heart
Moon Trance
Roundtable Rival
The Upside
Carol of the Bells (Mykola Leontovych cover)
Crystallize
Mirage
Don't Let This Feeling Fade
Guardian
Encore
17. Kashmir (Led Zeppelin cover)