She plays the bass! She sings! She is only 16 years old, and she has released her debut single! She is… 🥁 drum rolls 🥁 Abby K!
Abby K is a vocalist, bassist and a songwriter from North Carolina. The young musician released her debut single last week (22nd of August 2019).
Here's our review for "Should Have Been Me" by Abby K, followed by an interview with the Rock starlet!
Click here to jump right into the interview!
---
Review
It Should Have Been Me is a song that is really hard not to sing along to. The catchy tune and smooth lyrics make it very alluring to hear again and again.
The song begins slowly, with a nice riff and drums leading to the first verse. At the end of each verse, the tempo becomes slightly faster pre-chorus to then explode in a rocking chorus. The song also has a brilliant guitar solo following a bridge with a classic Rock riff making it all together a complete Rock N' Roll structure.
The thing we loved most about this song Abby's performance. The lyrics have a very clear projection on her voice, changing from being really soft at times and then hard at other instances depending on the lyrical expressions.
The single was released with a music video with a beautiful story-line that brought the song to life.
We certainly loved It Should Have Been Me and we recommend it for all Rock fans. We are also sure Abby K will be a big name in the Rock and Metal scene in the future!
---
Interview
Mirk: Hello Abby! It's wonderful to talk with you. How are you doing today?
Abby: Thank you so much for this opportunity! I've had a great day.
Mirk: You released a new single few days ago. How are you feeling about it?
Abby: I am so amazed by the response and support I've gotten following the release of my debut single, "It Should Have Been Me". We just passed 5,000 YouTube views in just under 3 days! It is an amazing feeling to see all of the support I have behind me.
Mirk: You're 16 years old and you have clearly chosen your musical identity. Most singers your age choose more popular music genres. Why did you pick to be a Rock or Metal artist?
Abby: My first memory of music is from when I was around five years old. My older sister and I would ask our dad to put a modern song on our iPod such as Taylor Swift or Kidz Bop. He then came up with a rule that he will give us the songs we want in exchange for "the good stuff." In addition to Shawn Mendes, we were also given KISS, Metallica, AC/DC, Alice Cooper, Iron Maiden and many other classic rock and metal bands. I have grown up listening to rock and metal, and it's a huge part of who I am.
Mirk: Aside from singing, you play the bass guitar. What first attracted you to that particular Instrument?
Abby: I play many instruments, bass, guitar, piano, drums and I sing. I began playing bass after attending my first concert, KISS. I was completely mesmerized. I have never felt better than I did the first time I held a bass in my hands. It felt like time stopped and everything was right.
Mirk: Do you remember the first time you performed on stage live for an audience? When was it and how did it feel?
Abby: I performed at a local frozen yogurt shop when I was 13 years old. I had been playing bass for around 2 months and had not began singing yet. I felt like a true Rock star. I was very inspired by that performance and went home to practice for multiple hours that night.
Mirk: What bands and musicians did you grow up listening to? Who would you say influenced you most to become a professional musician yourself?
Abby: I've had many influences in many different stages of my life. When I was growing up and before I became a musician, I would love listening to KISS with my dad. That's how we really bonded. KISS is the reason why I am a musician today. Nearly one year ago, I attended an Alice Cooper concert. That night changed my life. Seeing Nita Strauss, a female performer on stage was a breathtaking experience for me. That night I knew that I had to work harder. I haven't stopped working hard ever since.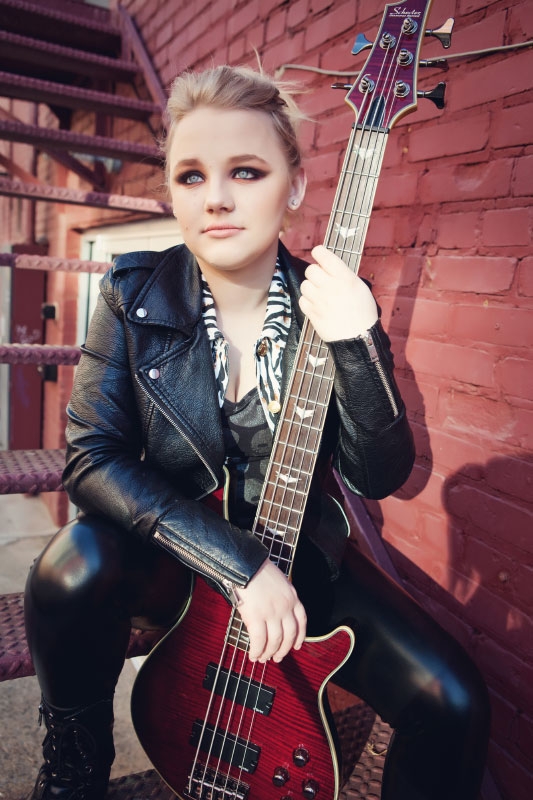 Mirk: What's your dream for the future? Do you want to be a full time musician or do you want to have some other career aside from music?
Abby: My goal is to be a full-time, touring musician. My dream is to be playing internationally, on a huge stage, to a sold out crowd, and have every member of the audience singing my original songs back to me.
Mirk: What places around the world would you like to visit and perform in?
Abby: Wow! What a question! It is hard to narrow that down, but I would love to perform in Europe and Australia.
Mirk: I've seen you on YouTube covering Iron Maiden songs in such a powerful manner! What would you say to young women in some places around the world who live in communities that try to silence them or keep their voices down?
Abby: I know how fortunate I am to live in a place where we have the freedom to express ourselves, even as women. I also know that I am pursuing a career in a male-dominated industry. I hope through my music and the words to my songs, other young girls are inspired to follow their passions even if they are non-traditional or uncommon. One of my favorite things is when young girls come up to me and tell me that they are inspired to play music.
Mirk: Aside from music, what hobbies and interests do you have?
Abby: Honestly, my whole life revolves around music. I like to write and sing music. I go to the studio and work on future projects. I enjoy going to concerts, it is my thing with my dad. I do like to go to the gym, go on vacations with my family & hang out with a few friends, but for the most part, my life is music.
Mirk: Thank you Abby for your time and this great interview!
Abby: Thank you so much for this opportunity! I would love to connect again in the future!
---
Follow Abby K on social media and check out her official website
---