It's always exciting when bands organize events to present their record to the public, and even more so when they're organized in intimate venues. That is exactly the case of the listening party I was so lucky to attend last Sunday.
A bit later than scheduled, around 9 PM, the listening party begins! Nocturna's vocalists Rehn and Grace introduced the evening and thanked everyone for coming.
I have to say, I have been impressed by "Daughters of the Night": not only it is a well-structured and balanced album, but it also unleashes talent from every track. My favourite one has been "The Sorrow Path", which to me is the closest to the pure symphonic metal that we all know.
After listening to the whole record, we have been spoiled with an acoustic set full of surprises. It started with "Sea of Fire": the singers shared that this was the first track they ever composed during the lockdown in 2020. It was followed by the second single released, "Daughters of the Night"; the lucky Japanese fans who purchase the album will receive an acoustic version of this song as a bonus! How cool is that?
It's time for a very special treat: Frozen Crown's Giada comes on stage, and they all perform "In The Dark". Even though the band said it was improvised, it sounded incredible!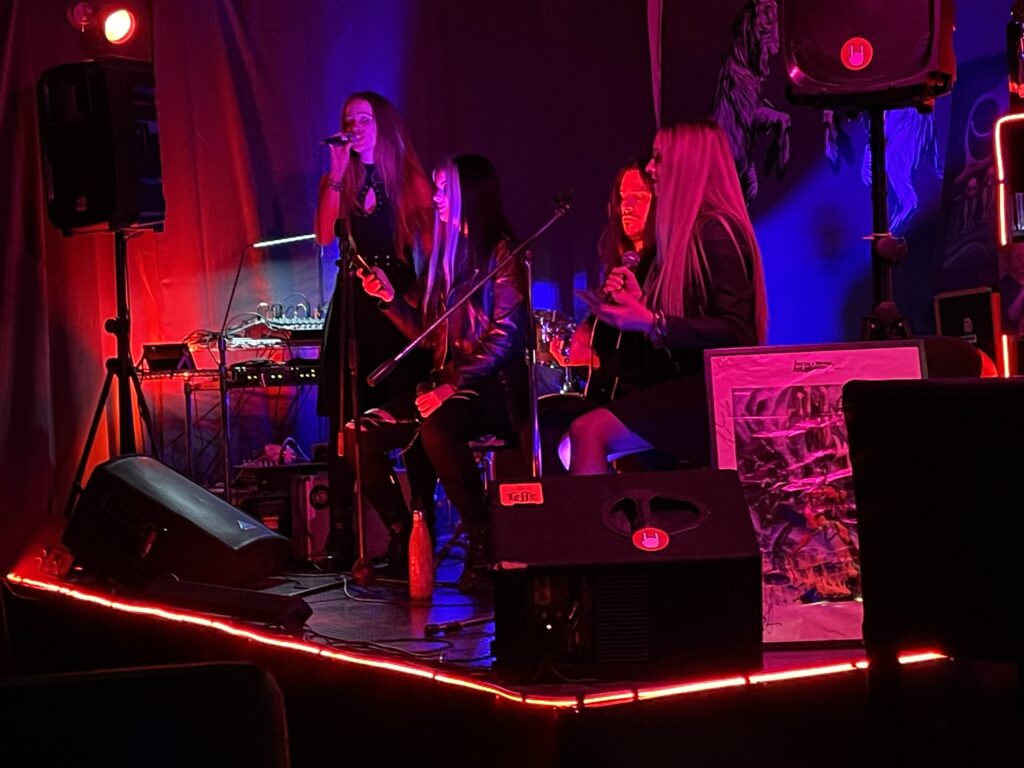 The audience was led to believe that the acoustic set was ending, but actually, the fun was just starting! The band performed other several covers, from Blind Guardian to Nightwish, from Metallica to Sonata Arctica. And how exciting were those! Unfortunately, Nocturna's guitarist broke a string, but that didn't stop him from playing until the show ended.
The most appealing detail about Nocturna is the contrast between the two lead voices: and if in the record they are perfectly combined, when they were singing the covers (sometimes alternating themselves), it was even more obvious. On one side, we have Rehn, with her bright, clear and direct voice. On the other, we have Grace, with her powerful, deep and rich tone.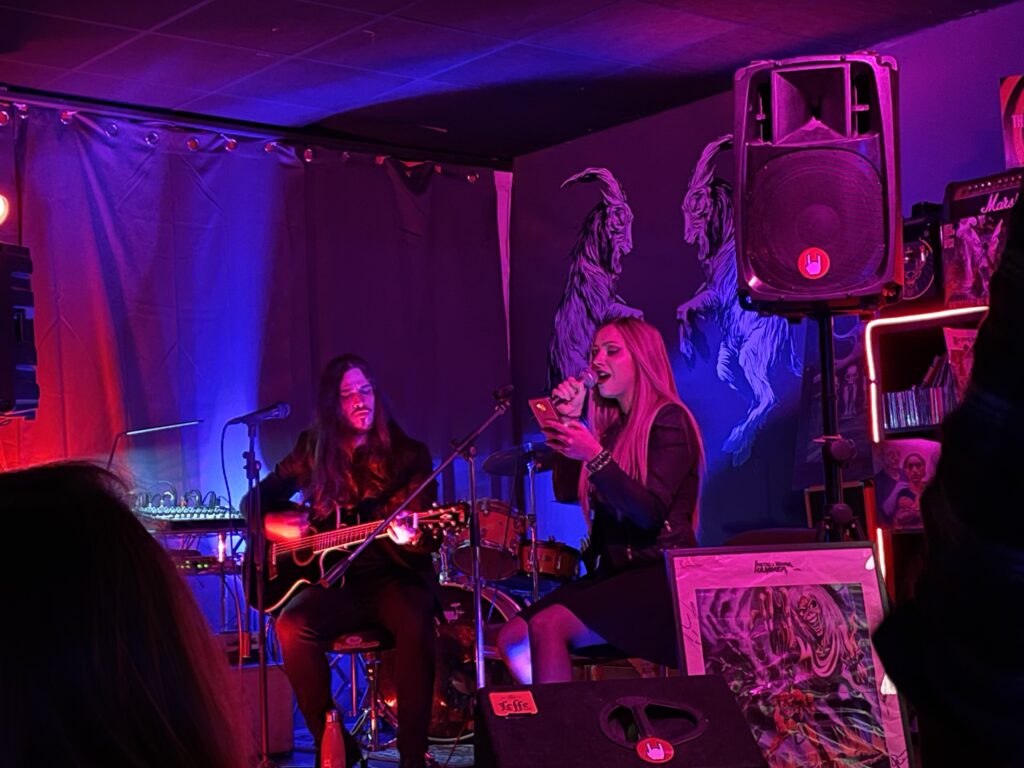 To end the acoustic show, the band played their debut single, "New Evil", met with a huge round of applause from us in the public.
The band also had a merchandise stand set up, and whoever wanted to buy their record or t-shirt was welcome to do so. Funny fact, when the guitarist explained this to us in the audience, he showed us the CD as an example. I'm proud to say I was the one who bought that!
I also asked Rehn and Grace to sign it for me, and they so kindly obliged. We also took a photo together, and I can't state how gentle and humble these two girls are. Nocturna is definitely a band to check out!