Holy Wars is an Alternative band from Los Angeles, California, who are using every colour available in the music palette to create a unique and heavy sound that their fans can enjoy, feel and relate to. They have released their debut album a few weeks ago, which I would describe as a magnificent work that puts together good and exciting music with rebellious and tenacious lyrics that you can go to war with, reflecting the spirit of the talented front-woman, Kat Leon.
We had the delightful chance of chatting with Kat Leon and enjoying her ideas and thoughts as well as her life experiences. Here's our interview with the amazing Kat Leon of Holy Wars!
Don't forget to check their album if you hadn't yet!
---
| | |
| --- | --- |
| Hello, Kat. It's really wonderful to chat with you. How are you doing today? | |
| | |
| --- | --- |
| | Thank you so much for having me, I am doing well 🙂 |
| | |
| --- | --- |
| When I first listened to Holy Wars I felt some vibes from Alternative Rock from my teen years (I'm a 90s kid), but with a twist. How would you describe Holy Wars' music to our readers who haven't checked it yet? | |
| | |
| --- | --- |
| | We are currently coining it as "Heavy Alternative". Not sure if that is even a genre at this point, haha but perhaps we start it now 🙂 I love music from the 90s as well and as a kid then, that is when I really started to find my voice and so the alternative genre from that era definitely defined me and is a huge inspiration for our music. We do lean heavier though and also love punk as well as metal so we tend to take our alternative/grunge influences and lean it even heavier in moments. We also love pop and hip hop so we have a blend of pop sensibilities to the vocals in other moments and give some rhythmic vocals over industrial and hip hop beats. I love all kinds of music and so we really try to blend everything together so there is every part of us throughout each track. |
| | |
| --- | --- |
| That's clear through the quality and diversity of your music. You released your debut album, "Eat it Up, Spit it Out", last month. How are you feeling about the way your fans received this album? | |
| | |
| --- | --- |
| | I am so grateful for how the fans received our album. It has been in the works for quite some time and we got the opportunity to tour nationwide in the US to promote the album and every city was SO welcoming to it. Many cities heard these songs for the first time and were wanting to buy the physical cds / vinyls that weren't even made yet since the album was dropping after the tour. We knew by that response that when the album would release officially on April 29th, we would have a great response globally and started a pre-order option for the physical album because of the demand. We were truly blown away and are so excited to release even more music for all these new fans. |
| | |
| --- | --- |
| That's truly amazing! To get FemMetal readers who haven't yet checked out "Eat it Up, Spit it Out" excited about the album, how about we play a little game? I will describe a situation to you and you'll have to pick a song from your album that would best fit. Let's go! Which song from "Eat it Up, Spit it Out" would you use to introduce someone to your music? | |
| | |
| --- | --- |
| | LITTLE GODZ. It was the first song we wrote for this album and really defined the whole concept of sound and lyrical message. |
| | |
| --- | --- |
| Which song from "Eat it Up, Spit it Out" would you play for a friend going through something and feeling down? | |
| | |
| --- | --- |
| | Definitely "I'm Messy". This one leans a little more alternative and less heavy but the lyrics are about losing the battle with yourself and the monster that lives in your head. I feel this song is there to let people know there is no shame in feeling down or having harsh feelings about oneself. We are all messy and there is always hope for a better day and working on ourselves and letting go of shit that doesn't make us feel our best. I would also say the second runner-up is "EVERYONE IS STARING" as well because this song was written after the loss of my parents and how I felt like a social pariah coming back to society after this trauma and struggle to stay alive myself. I feel we all at some point in our lives lose those closest to us and have thoughts of our own survival and giving up. This song got me through that terrible time and I held onto it for a while before releasing publicly because it was too raw for me then but now I felt it was important to share this message with others to give hope of life after death. |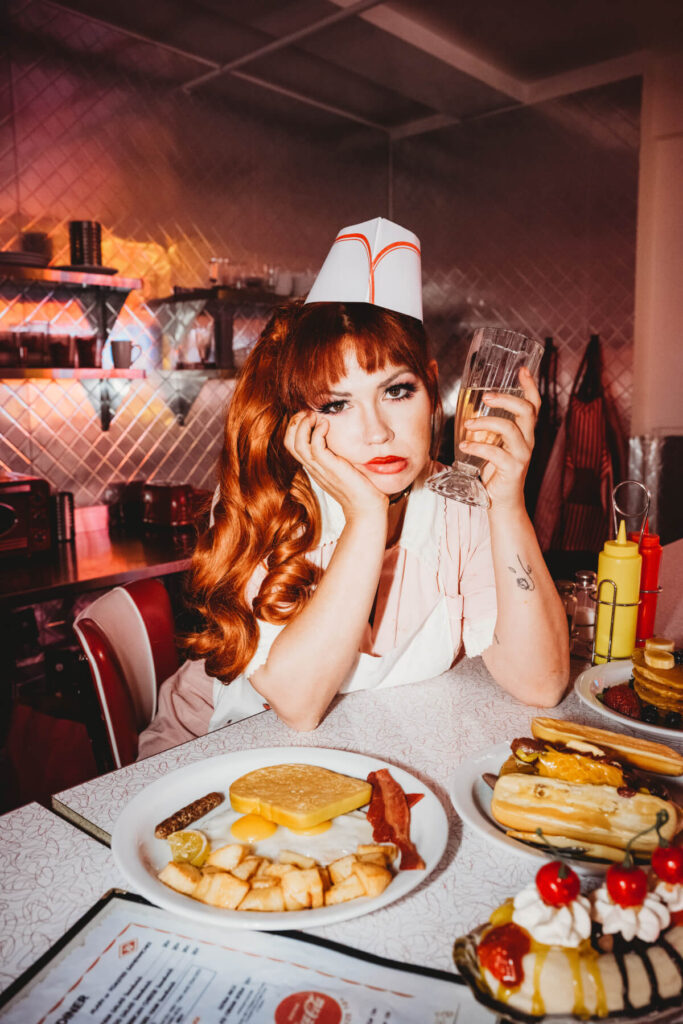 | | |
| --- | --- |
| I am so sorry for your loss. It's really wonderful you can share your experience with others! Which song from "Eat it Up, Spit it Out" would best fit to be the theme song if your life was a TV series? | |
| | |
| --- | --- |
| | I would say "TV Dinner" perhaps because I do reveal a lot of myself in that song in the second verse explaining my origin and what I've become. Also because in TV DINNER, I love the message it gives that what you see isn't always what it is and I can swing this message positively or negatively based on each experience. Sometimes there is more beneath than we give ourselves credit for but also the negative side of what lurks beneath or behind that smiling photo. I could also say the song "I'm Messy" as well because that song literally is me – daily. |
| | |
| --- | --- |
| If all songs from "Eat it Up, Spit it Out" came to life and became human beings, which song would you be best friends with? | |
| | |
| --- | --- |
| | Probably either "21st Century Bitch" though she is toxic af but probably fun as hell or even " 1% Milk" because that song is an anthem for the woke broke-ass friends that I am and have in my life. This song gives cred to the 99% that makes this society. Yet I would say the song "Get Mine" as well because it is a sexy mutherfvcker. soooo yeah I can't decide. haha |
| | |
| --- | --- |
| Hahaha! Aliens with advanced technology attack Earth. The only weakness they have is that their brains explode when they hear energetic music, which song from "Eat it Up, Spit it Out" would you lead the fight against the aliens with? | |
| | |
| --- | --- |
| | Aw man haha sooo many – but top would be SUCK IT UP – that song is a punch to the face and I could definitely see heads exploding on that one. I would also say the guitar solo in LITTLE GODZ – that one could fvck em up too 🙂 |
| | |
| --- | --- |
| We're definitely winning that war! Thank you for playing along, Kat! Hope you enjoyed this! Do you remember the first time you performed in front of a live audience? How did it feel? | |
| | |
| --- | --- |
| | Well, the very first time was in 6th grade which was the first time I sang publicly for a school talent show and it was horrific and took me a minute to dust that embarrassment off… However, the first time in Holy Wars was actually incredible. We had a show offer at the EchoPlex in LA and didn't even have a band or band name at that time but a friend heard I was writing again after my parent's passing and potentially starting a band and she asked if we wanted to open for her at this show. Because it was a terrifying thought and we even had to write more music to fill a 30 min set and create a band name for this (which was Holy Wars and it stuck) – the catharsis from that show and the fan reaction really made us see what we could do and the music we could share with the world for whoever needs it. |
| | |
| --- | --- |
| Have you ever faced any kind of sexism in your professional or personal life? How would you deal with sexist behavior and what advice would you give young people around the world who face any kind of discrimination? | |
| | |
| --- | --- |
| | I absolutely have and continue to. There is definitely still sexism in our society as well as ageism especially if you are a woman. I am often fighting this and try to speak about this in our music to be part of the change we so desperately need. We have come a long way but so far left to go with equality for all no matter the gender, the race, the religion, or the sexual preference. For the younger kids coming up, I would say speak louder than ever before. When you feel discrimination… no longer can you be silenced… speak out and others will come. Together …It takes all of us across generations to change inequality and not silence ourselves or others. We are so far away from the change we need to make this a safe world for all of us and now with the right to choose for abortion on the line again, it shows us our rights are always threatened and we still need to fight. |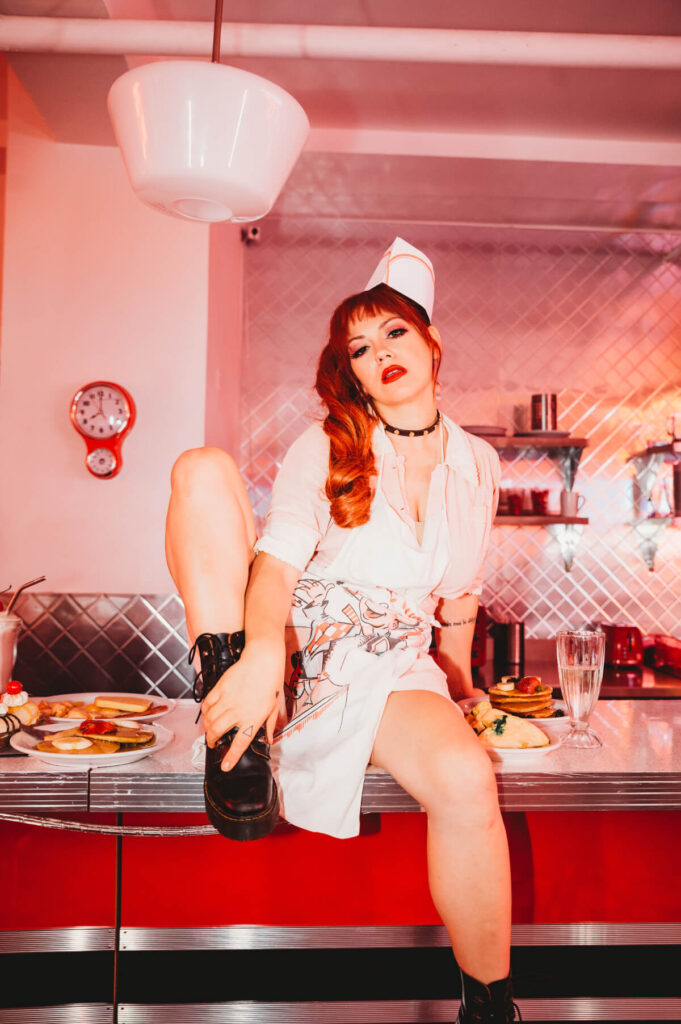 | | |
| --- | --- |
| Thank you for this powerful message, Kat! And thank you for the interview. It was a delight to talk with you! Is there anything else you'd like to add? | |
| | |
| --- | --- |
| | Thank you for these incredible questions. I really liked the game you listed, it made me think of our songs in a different. Thank you for that. We have more music coming and plan to follow up our debut album with another EP so I guess be ready for that 😉 |
---
Follow Holy Wars
& Kat Leon