After Evolution released their new album "War of the Worlds" on June 17th 2022 via Wormholedeath Records. The eleven-track album is the second full-length release by the band from Czechia and is a living witness of their growth and progression. Our own Benedetta Baldin interviewed front-woman Nikolette Olsson earlier. Click here to read the interview.
Here's my review for "War of the Worlds" by After Evolution.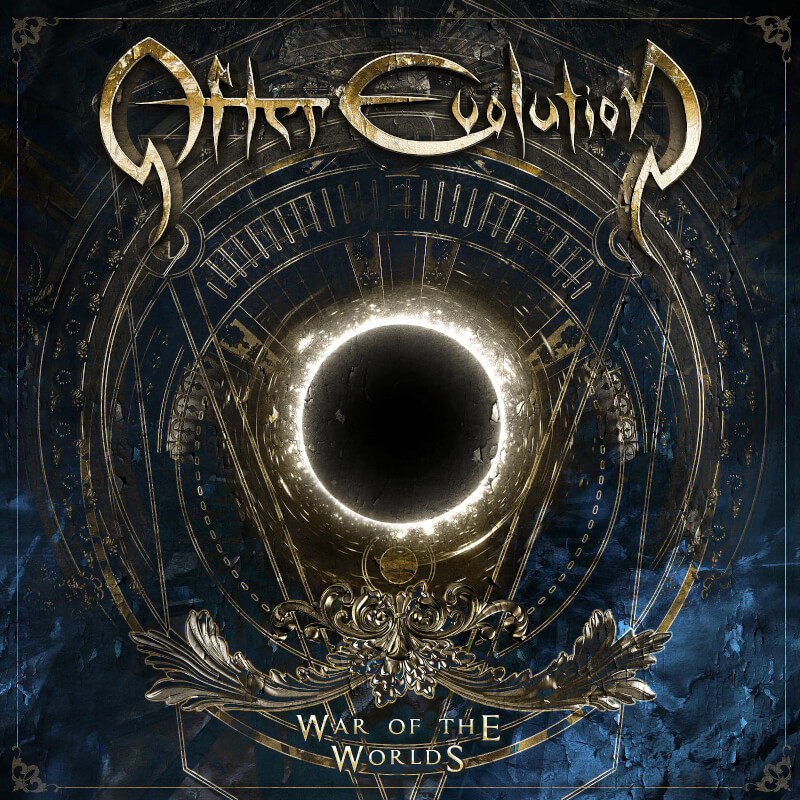 FemMetal Rating
8/10
…The musical lavishness and consistent quality of the songs on the album show the great amount of effort that After Evolution have spent working on their second major release.
The band, consisting of Adam Bittó (bass), Michal Matzner (guitars), Nikolette Olšáková (vocals, keyboards), and Vítězslav Janás (drums), possesses an enchanting sound that feels like the essence of a scene from a climax of an epic movie, served in a musical package embedding elements of Gothic and Symphonic Metal. The music is as progressive as it can be with each song having a twist of originality while being a segment from the beautiful large project "War of the Worlds" is.
The album sets about with the opening title song, "War of the Worlds", which builds up with a dark melody and a cinematic feel around it. The first few seconds of the album can easily be used as the soundtrack played on a peak scene in a fantasy movie, like when two armies representing good and evil of are charging to meet each other (I have a wide imagination). What follows is a fast-paced Gothic Metal song with a beautiful melody. The title song was also given a stunning music video. Check it out below. The second song, "The Path", follows with a similar pace and slightly heavier music. "The Path" manifests Nikolette's vby's quality, accompanied with some delightful instrumental parts.
After this rapid and heavy opening pair, we are treated with "Cursed", beginning with a slower and smoother intro, setting up for a Gothic ballad dressed in a mysterious mood. The spoken lyrics add a beautiful effect to the song and are one of the many successful tricks After Evolution used to make their album as flowing into the listeners' ears as possible . The album then returns to its fast and heavy ways with "Librum Fortitudinis",
The song to follow is "Once Upon A Time", a song that begins with a soft tune and a generally calm nature continuing as Nikolette begins to sing only to grow heavier and serve us with some unpredictable growls, creating a beautiful contrast effect as they couple with the clean vocals.
"Final Hope" comes next with clearer orchestrations, a balladic feel and some Folk elements. The verses are connected with stunning melodies. This song is my favourite on the album for how musically rich it is and how well Nikolette's vocals are glaring on it.
Next comes "In The Chains", one of the most exciting songs on the album, following the same pattern of beautiful melodies and unexpected changes in tempo. The eighth track, "Dark Side", is another song that showcases the band's creativity in always having something unique to offer with each track.
Approaching the final three songs, "Infinity Flames" is probably the most "symphonic metal" song on the album with heavy orchestral elements that the guitar riff flows perfectly with, and paired growling/clean vocal. Then, "Nothing Left But Pain" comes in, ironic to its title proving After Evolution have plenty of contentment left with more than 4 minutes of smooth music blending many instruments and vocals together in another great progressive song.
Finally, just like the album was introduced perfectly in a rhythm and mood that suggests so, it is also concluded perfectly with "The Victory".
---
"War of the Worlds" is an album that you should not miss listening to. The musical lavishness and consistent quality of the songs on the album show the great amount of effort that After Evolution have spent working on their second major release. And I think the end-product was worth all that effort put into it. But don't take my word for it. Listen to "War of the Worlds" by After Evolution right now if you haven't yet!
Follow After Evolution