Today, on November 22nd, the Italian band Never Obey Again is releasing their debut album titled "The End of Era." We had the opportunity to interview their vocalist, Carolina Bertelegni, to discuss the new album, her journey in music, and her thoughts on various music and societal matters.
Enjoy our conversation with Carolina Bertelegni from Never Obey Again, and don't forget the new album out!
Reuel
Hello Carolina! I am very happy to talk with you. How are you doing?
Carolina Bertelegni
Hey! I'm very happy to talk with you too!! Thank you for having me! I'm fine, and pretty excited for this new chapter of my life!
Reuel
Wonderful! You are on the verge of releasing your debut album "The End of an Era". What would you tell your fans to expect to hear when they listen to your new release?
Carolina Bertelegni
"The End of an Era" is the most genuine album that we could have ever written. It talks about daily situations, about our deepest demons and feelings.. we tried to put all ourselves in this album. It's a new chapter, artistic wise, for all of us. So I'm sure our fans will get a clear idea of who we are and what we do.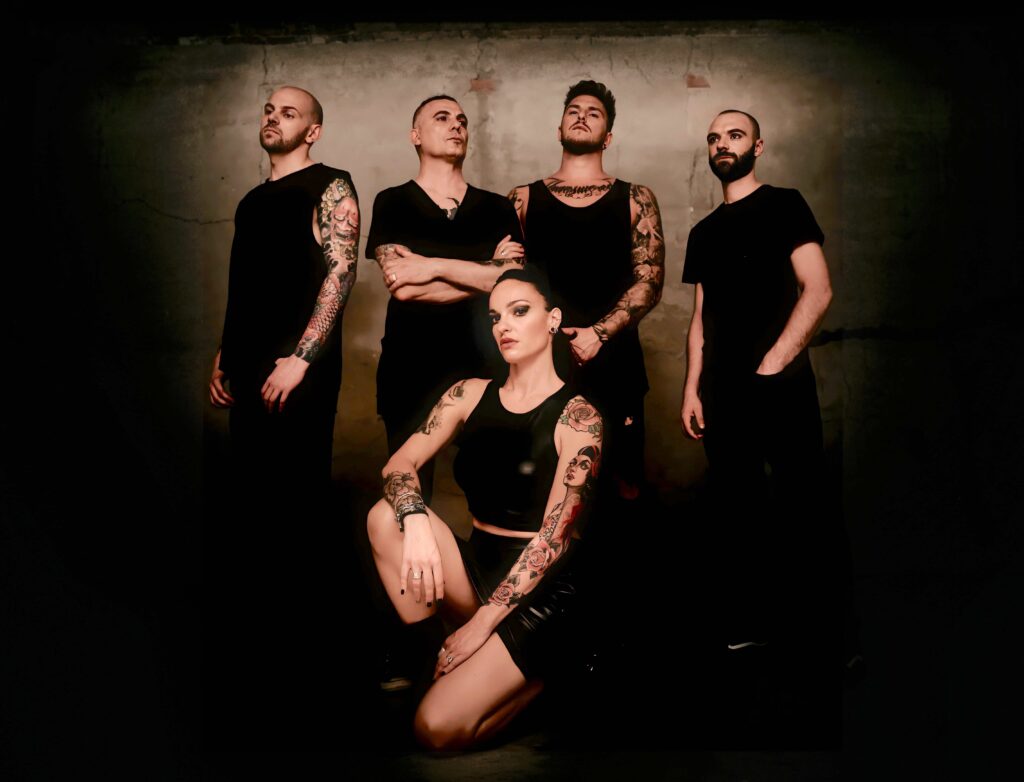 Reuel
How would you describe your style of music to someone who never got the chance to listen to your music before?
Carolina Bertelegni
Honestly, this is one of the most difficult questions cause I don't really know how to describe our style in one word. We have so many influences. It's a mix of metalcore feels, nu metal, heavy rock… there's a lot of electronic too. I'll say that it's modern metal or that it's just "Heavy". 🙂
Reuel
As a musician, what bands did you grow up listening to and would say have influenced your musical identity?
Carolina Bertelegni
My musical tastes are so wide. I can listen to everything.. from jazz to folk music to metalcore. By the way, if we talk about which bands influenced me when I grew up I say: Linkin Park, Evanescence, Blink 182, slipknot and Bring Me The Horizon.
Reuel
Let's play a little imagination game to get our readers more excited for your new album, I will ask you to pick one song for certain scenarios. Ready?
Carolina Bertelegni
I'm ready!!
Reuel
Which song from "The End of an Era" would you use to introduce someone who never heard your music before to your music?
Carolina Bertelegni
"The Storm" or "Toxic Feelings"
Reuel
Which song from "The End of an Era" would you use to cheer up a friend feeling down?
Carolina Bertelegni
"Stronger"
Reuel
Aliens from outer space invaded Earth. Their only known weakness is music with heavy guitars. Which song from "The End of an Era" would you use to fight back against the aliens and defeat them?
Carolina Bertelegni
"9:45" without any doubt
Reuel
If all the songs from "The End of an Era" came to life and became humans, which one would be your best friend?
Carolina Bertelegni
"9:45"
Reuel
In the year 3023, an archeologist finds a flash drive that contains your album in the remains of a vehicle and is able to play it. Which song would he like most?
Carolina Bertelegni
"Take care of you"
Reuel
If you could pick one song from "The End of an Era" to survive an apocalypse and be available for the survivors, which song would you choose?
Carolina Bertelegni
"Underdog"; it helps me to go into my serene own world.
Reuel
Thank you for playing! I hope you enjoyed this game. What is your most treasured music-related memory?
Carolina Bertelegni
I loved this game! Very original! The first time on stage with Never Obey Again I was so touched by the moment that I cried on stage. I didn't expect so many people in front of us, listening to our songs. We are a new band and the support we are receiving is incredible. I really can't believe how people can be beautiful and supportive even if you are a perfect stranger.. Music is pure magic.
Reuel
Brilliant! Have you ever experienced any kind of sexism in your professional life? What advice would you give our young readers who might experience any kind of discrimination?
Carolina Bertelegni
Honestly, I'm very lucky. I'm feeling 100% part of the band. Maybe because I'm acting more like a man than a woman! Ha! Besides jokes even if I'm ok I can feel that being a female singer carries with it a lot of prejudices. Male members of the band usually see you as a little out of touch and you are not always listened to 100%. Plus it's not easy to show your talent because a lot of people think that you reached some goals only because you have a hot body or a pretty face. It may be unpopular but let me say that often in terms of not being listened to is also our fault.
Female singers are often "spoiled". They think they just have to sing but having a band it's more. it's programming and planning. it's sweating to load and unload the equipment. I believe very much in female emancipation and fighting unfounded patriarchy. but I believe emancipation must begin with us too. it's okay to be spoiled, we are women. but since we are strong as hell, inside and outside, it is also good to pay the bill one more time and move some speakers and know how to connect the microphone. what will men have to say then? 🙂
Reuel
Thank you for the interview and your time, Carolina. Is there anything you'd like to add?
Carolina Bertelegni
Thank you so much for having me today. I feel really honored. I'll say that "The End of An Era" is only the beginning of this journey. We already have so many new songs that we want to share with you. thanks to all the people who are already on board and to those who will come later. You are the fuel of our biggest dream!