Few weeks ago, while listening to some bands suggested by followers on Instagram, I came across Héllena, an Indie Rock singer from Greece who is residing in London.
Everything about Héllena's music was special. First, there's that voice of hers that feels like a stream of water. The lyrics and music are carved together in a beautiful way with each and every song being a beautiful piece of a greater set. Elements from various worlds and various places were merged into these songs. I was deeply impressed. And I still am.
If you haven't listened to Héllena's music yet, I advise you to do so… NOW.
And, as the title of this post suggests, I had the lovely chance to speak with Héllena about her music, her plans and many other things. Hope you enjoy reading this interview as much as I enjoyed making it.
Interview
Mirk: Hello Héllena, it's a pleasure to talk to you. How are you today?
Héllena: I'm very well thank you. Nice to speak with you.
Mirk: First I would like to tell you how much I love your music. The mood and lyrics are amazing. And I can safely say I have never listened to anything like it before. I do listen to Indie Rock bands like 'Blur' and 'Manchester Orchestra', but your style is very unique. Can you tell us how you'd describe your style of music?
Héllena: Thank you so much for the compliment. It is a hybrid and it derives from genres and artists I adore. There are elements from different styles of music but I would call it Dark Dream Pop/Rock with sporadic eastern nuances.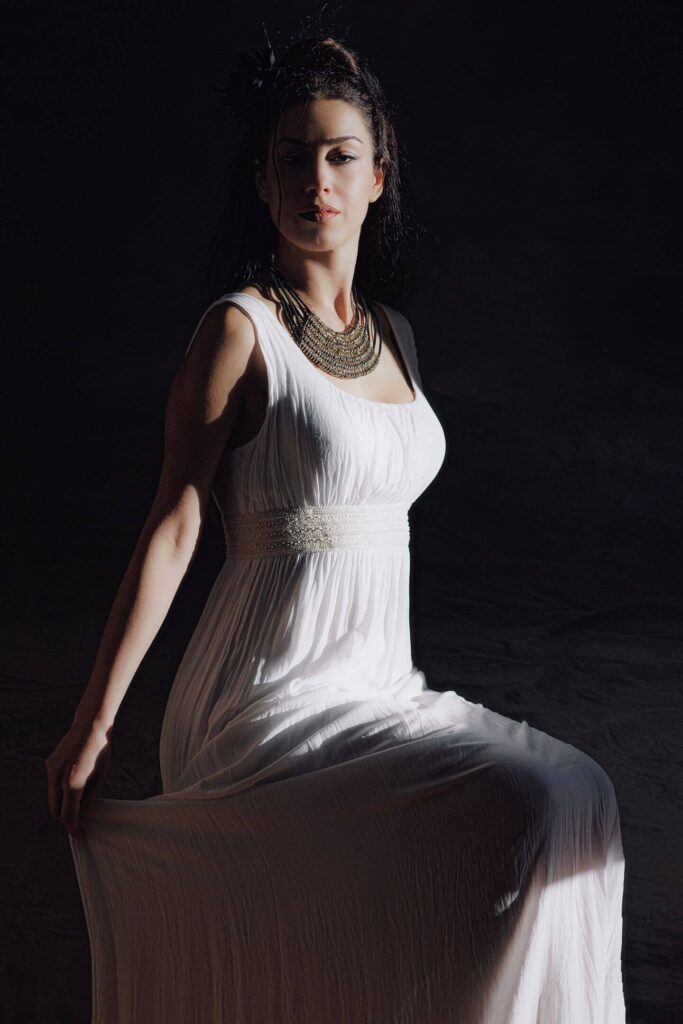 Mirk: You said your style was influenced by several artists. Can you name some of these influences?
Héllena: Sure. Nirvana, Lana Del Rey, Hozier, Sevdaliza have been some of my major influences.
Mirk: Truly amazing artists.
Héllena: Learning from the best.
Mirk: You were born in Greece and now you live in England. I am a bit close to Greek culture and music. And I might be mistaken but I felt some elements of Greek traditional music merged into yours. Is my feeling true?
Héllena: Yes, totally true, and they will be even more distinct and forward in my debut album. I learned how to be proud of my roots and what I wanted to do with the album is to marry the eastern and western world.
Mirk: Well civilization was born in Greece so it would definitely be a great marriage.
In your Instagram bio you call yourself a nymph. Will there be elements from Greek mythology in your future music as well?
Héllena: You are very observant. Yes there are some references to the Ancient Greek Gods for a start. And to my nymph sisters!
Mirk: That's great. Everyone loves Greek mythology.
Héllena: (laughs) Thanks. I'm happy you're interested in it too. It is truly magical, super interesting and you enter a different world when you get sucked into the ancient mythology.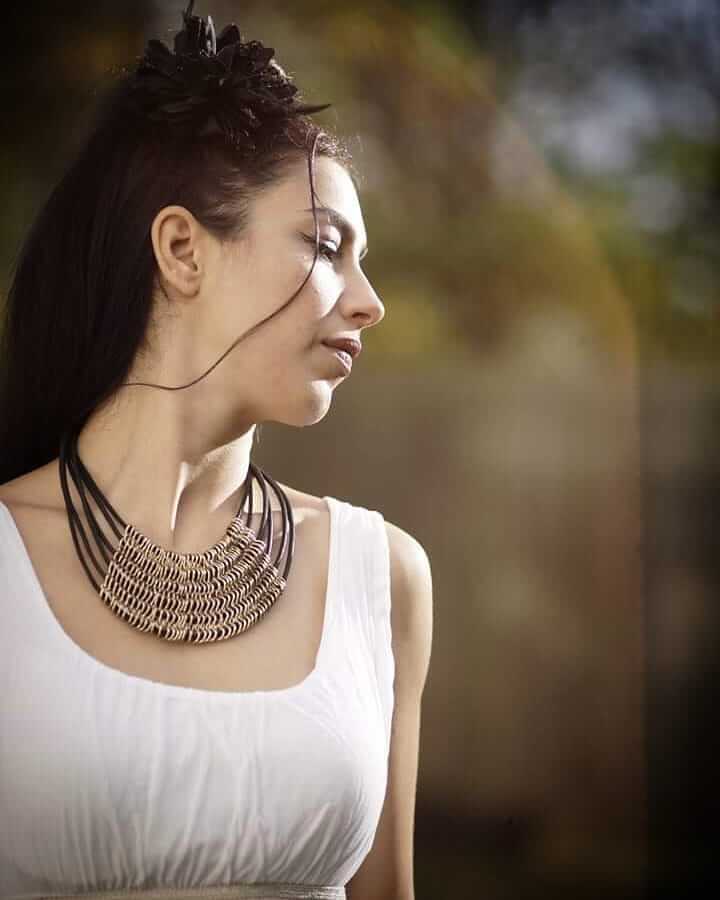 Mirk: That's true. I would love to live in that world rather than this real "boring" one.
Héllena: I think everything looks greener on the other side sometimes.
Mirk: (laughs) True.
While I was listening to your EP for the first time, every time a new track started I thought to myself: "Hmm.. that's the best one so far..". I said that to myself on almost every track. This made me thirsty for more. And I don't want to sound greedy, you did mention a debut album, but will this release be any time soon?
Héllena: Thank you! I will release some singles starting this June actually and we will see about the release date of the album. It isn't decided yet. The next single has to do with the stolen Parthenon marbles which reside in the British museum. I am truly eager to release this song and help bring more awareness on this issue and hopefully a big change with it too.
Mirk: That's a really deep topic. Another thing I noticed in your songs is your ability to shift between "complicated" orchestral sounds, and simple guitar-based ones. And your voice is fantastic in both cases. Will your future music include this variety in music?
Héllena: The thing is I'm getting bored quite easily so I need variation in sound. Of course the songs belong to one big umbrella genre but I definitely like to play with simple sounds and also cinematic-like sounds too.
Mirk: That sounds wonderful.
In the old days people used to say that Rock and Metal are men's genres. How do you feel about women that are soaring high in Rock and Metal today?
Héllena: I grew up listening to Rock and Metal music and especially female-fronted metal bands, so I am very proud of all women making it in this male-dominated genre. I have huge respect to all of them. I know how hard it is, and it takes a lot of guts to go down the route of the Metal world as a woman.
Mirk: That's right!
What would you like to achieve in your music? Like, what's your major goal or dream?
Héllena: I want to create a better -in my view- world, influence as many people as I can, express my feelings and ideals and communicate them with as many listeners as the music can reach.
Mirk: These are noble goals.
Away from music and songwriting, what are your other hobbies and interests?
Héllena: I love acting, dancing, drawing. I wish there were more hours in the day. I also enjoy reading poetry, philosophy and mythology.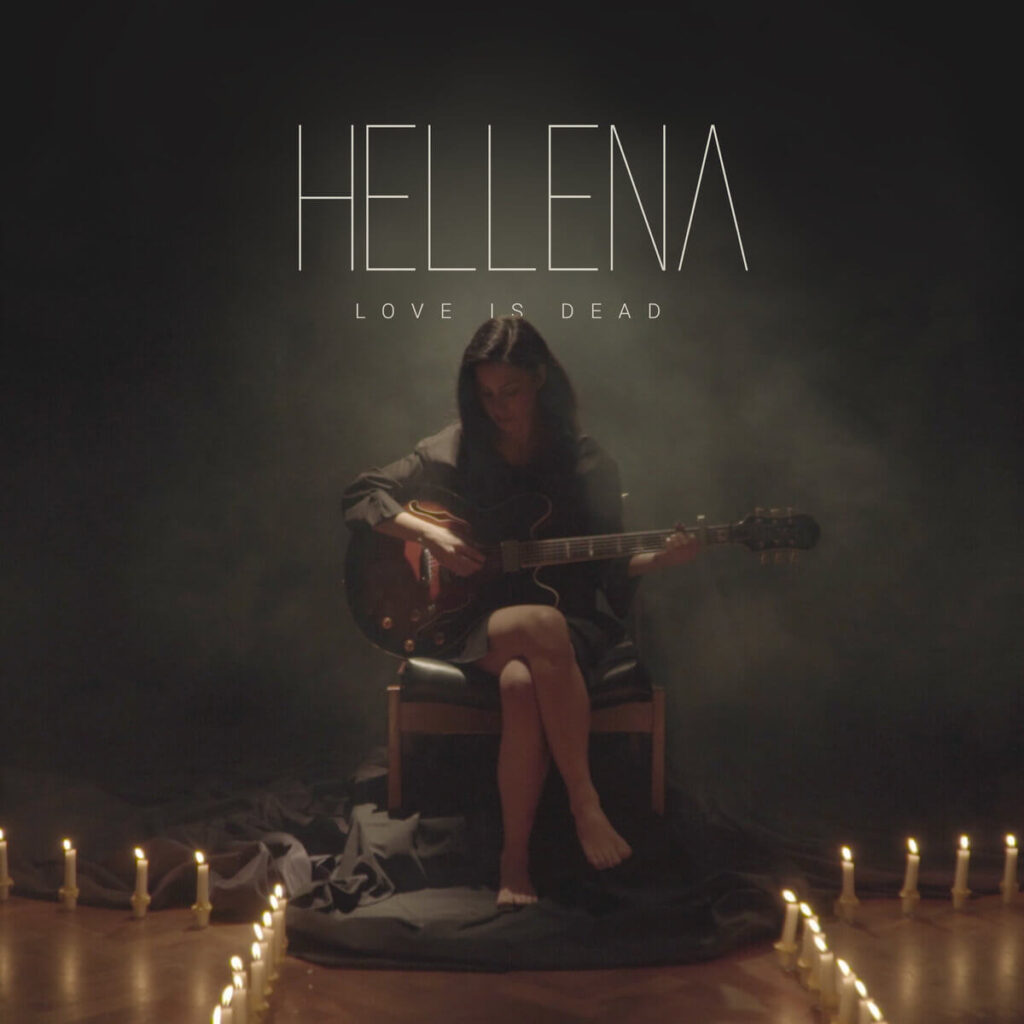 Mirk: You have many talents! What's your favourite book?
Héllena: Hmmm… That's a difficult one. Let me think…
Mirk: You don't have to pick one, you can name a few.
Héllena: (laughs) Phewww.. OK.
Mirk: I'd have the same trouble answering if you asked me what's my favourite one of your songs.
Héllena: (laughs) You're very kind.
The Complete World of Greek Mythology, Aristotle – Ethics, Homer – Odyssey, Oscar Wilde – The Ballad of Reading Gaol and also Ancient Greek tragedies.
Mirk: It's true. And wow, these are great books.
Thank you for this interview, Héllena. I am a big fan of your music and it was a pleasure to chat with you. I will be looking forward for your future releases.
Héllena: Thank you! You can find everything on my website or on my Patreon account where all my demos and unreleased songs are uploaded and kept secret on there.
---
Follow Héllena on social media: