Project Renegade is an Alternative Metal band based in the Greek capital, Athens. The four-piece band has been loud and active since their recent formation, appearing in many remarkable festivals and aside big names in the genre and releasing a successful EP. Recently, the Greek band has released their debut album, 'Order of the Minus'.
We had the chance of talking with Project Renegade's vocalist, Marianna, and the pleasure of listening to 'Order of the Minus' and writing a review about it.
Click here to skip the review and jump right into our interview with Marianna.
---
Review
The best thing about listening to debut albums is probably not knowing what to expect in terms of musical style and quality. Some bands brand themselves deeply with a personal image right from the start, others tend to start experimentally and make a variety album without a clear image. In a way, Project Renegade did both of these things at the same time. How? The following list will go through this and other things we loved about 'Order of the Minus'.
The Best of Two Worlds
'Order of the Minus' is made in a way that gives Project Renegade a clear musical identity. The band's sound is unique and far from being a derivative. However this did not stop Project Renegade's from experimenting and offering some variety in several places. For example, at some instances in songs such as The Strain, we notice a sudden change in the tempo that, for a moment, take us to another place. These magical variations make the album undetectable as we go deeper into it, and leaves the doors ahead of this band wide open.
Marianna's Special Vocals
The vocalist of Project Renegade has a voice that can be distinguished between a thousand voices. It is not only a beautiful voice. It also has a unique tone into it. And Marianna did not fail to showcase her talent throughout the album, whatever the melody behind her was. Liber8, Respirator, and Sylar are good examples of these instances Marianna's voice made the music richer.
The Mood
In 2019, many albums have became a simple collection of 10 or more songs. For some artists, making an album does not feel different than making ten songs and posting them on Spotify or iTunes. Things changed a lot from the older days when albums used to be conceptual or at least revolving around a common theme. 'Order of the Minus' has succeeded in not only having a common theme to revolve around, but also placing the listeners in that mood throughout the album. The band has done that by adding cinematic and story-telling elements such as narration like in the first track, and by bringing the lyrics to life by change of melody or the brilliant change in Marianna's tone that we spoke about.
---
Something we would have loved to hear more in this album is longer instrumental parts. They did have some parts with vocal silence and the riffs playing all alone, but these time periods were relatively short. Many brilliant riffs weren't given the spotlight they deserve. More guitar solos as well would have made this already rich album even richer.
We loved 'Order of the Minus' and we recommend it for all Alternative Metal fans. If you're not a Metal fan, this album is a good way to introduce yourself to the heavier genres, having the qualities any neutral fan would enjoy.
---
Ratings
Here are the average of the ratings that were placed by the FemMetal Team.
| | | |
| --- | --- | --- |
| Music (30%) | ⭐⭐⭐⭐⭐⭐⭐ | 7/10 |
| Lyrics (30%) | ⭐⭐⭐⭐⭐⭐⭐⭐ | 8/10 |
| Production (30%) | ⭐⭐⭐⭐⭐⭐⭐ | 7/10 |
| Cover Art (10%) | ⭐⭐⭐⭐⭐⭐⭐⭐ | 8/10 |
| Total | ⭐⭐⭐⭐⭐⭐⭐ | 7/10 |
---
Interview
Mirk: Hello Marianna. Very happy to chat with you! How are you doing today?
Marianna: Hello Mirk! I am doing very well thank you! Really busy as we are all promoting our upcoming album "Order of the Minus" like hell! Interviews, promo stuff, planning some exciting new things. You know the drill!
Mirk: Would you like to tell FemMetal readers a bit about Project Renegade? Maybe tell us the names of the members and how you met and formed the band?
Marianna: Project Renegade was founded by Ody (drums) and myself in 2014. Later, we were joined by Nick K. (guitar) and Jay (bass). Ody and I know each other since we were in school and we have been in other bands together before and Jay was also the bass player for a former band that Ody was playing for. Nick was a happy coincidence and we met him through an ad we have put on because we needed a guitar player. Proof that those things actually work! Back in 2014, Ody and I we decided to form a band that would actually have a message and where we could play the music we liked with the aim to be a more serious band and not just a jamming band. We started to write music and we managed to release our first EP "Cerebra" in 2017 and from that point on the journey has begun with lots of shows and of course new music.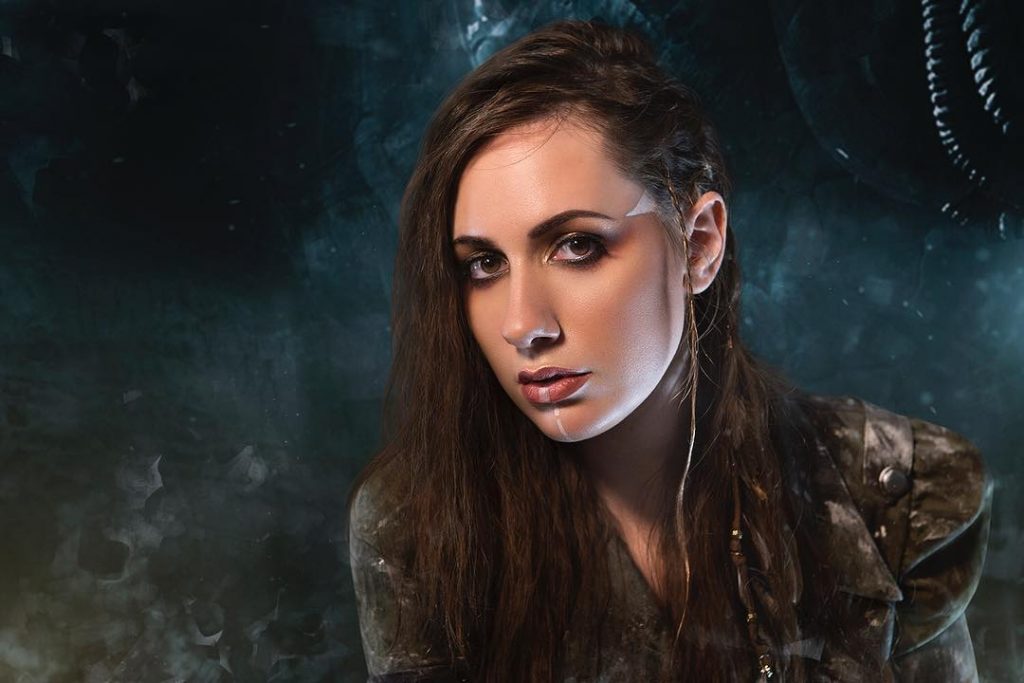 Mirk: You are releasing your debut album, 'Order of the Minus', on the 31st of October. What can you tell us about this upcoming album?
Marianna: "Order of the Minus" has really surpassed our expectations. We never thought that we would make something like that. We are so happy for the musical outcome and especially that we are able to communicate our message through it: unity through diversity. The album is about loss, whether it be personal, social, political, economic or psychological according to every song. Loss is something that everyone has felt at some point in his/her life. Therefore, it is a common ground where people can finally see that we have things in common. So if we have at least that to share as an experience, maybe we have also other staff that unite us, regardless of race, sexual orientation, status, religion etc. And that's how something negative, a minus, can make us become a team, an order, that strives to win in this life. Gradually throughout the album the thematic becomes deeper and deeper and it gets darker as it progresses. We are talking about today's shitty governments that have stolen the right to think and to live as a decent human being, about war, bullying and labelling, death and suicide. It cuts deep, it is honest and sometimes it is very hard for me to listen to it because it stirs me up emotionally. But after all that's what music and art is supposed to do. Finally, I have to mention that the excellent mix and mastering was done by Forrester Savell (Karnivool, Twelve Foot Ninja, Dead Letter Circus), the recording was done at Matrix Recording Studio Athens by Dimitris Misirlis and the artwork was created by Gustavo Sazes (Machine Head, Arch Enemy, Amaranthe). All of them amazing professionals!
Mirk: You also released 'Liber8', the first single from the upcoming album with a music video. The music got almost 8,000 in less than two weeks! How does it feel to be catching the interest of people already when you're such a young band?
Marianna: Thank you for your kind words! It really is amazing how well the metal world has embraced "Liber8"! We cannot believe it! Well, we put a lot of work on what we do, we are very professional and we do not settle for anything less than what we have in our minds. I think that reflects on our work and people can understand and appreciate that effort. Also, we do not adopt easy, generic formulas and we are very loyal to our identity and to our message. Above all, everything we are doing comes from our heart and we are giving our 100%. We simply love music, love playing live and headbang and people are really responsive to that. We cannot thank enough all of out fans for their love and support! All their good messages warm our souls!
Mirk: The 'Liber8' song is full of energy and theatrics. Will that be the case for the rest of the album?
Marianna: All of the songs are very energetic, but they also have dynamics. We like to write songs that are good to be played live and they are working on stage because we love to perform them. However, I believe that you will find some really nice surprises, where we have experimented a little bit more and pushed our limits like in the track "Black Mountain". Above all, I tried to capture all the emotions in each song and not create a product for consumption, but a powerful and emotional experience in the way that music exhilarates and makes me have goose bumps. It is a very intense record!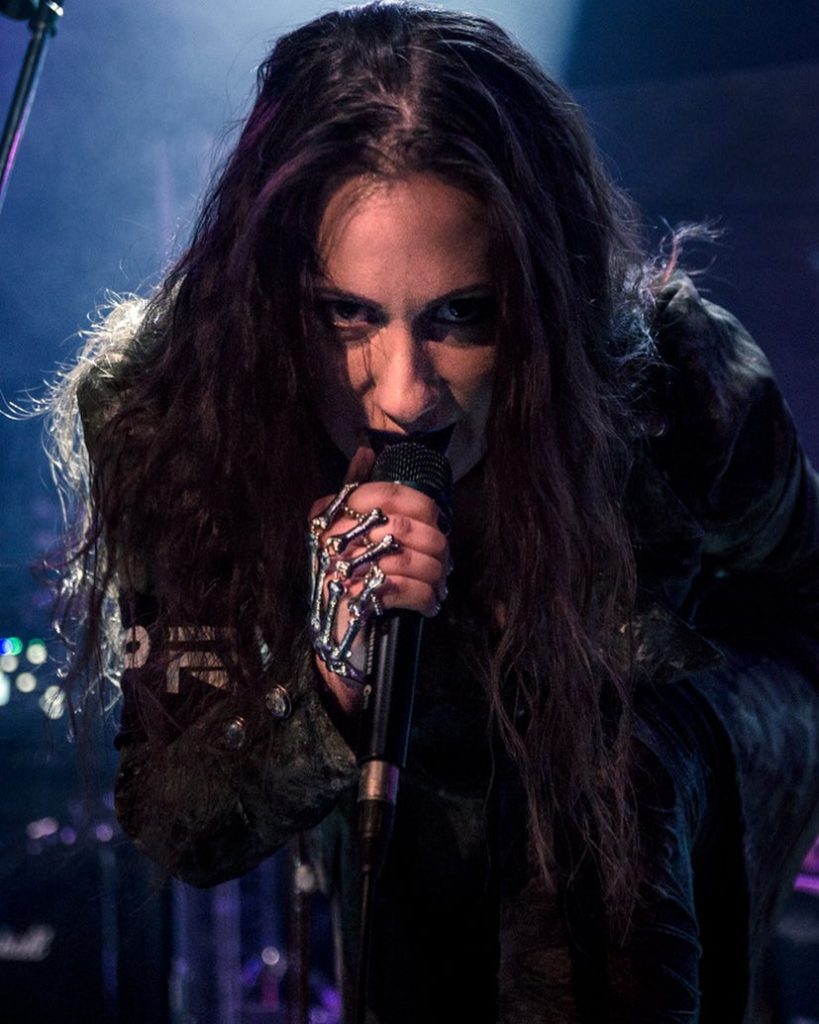 Mirk: You have shared stage with huge names like Evanescence and others. What are you most treasured moments from singing on such big stages?
Marianna: Certainly the show with Evanescence in Kyiv, Ukraine was one of the biggest highlights so far. The most vivid memory I have from that live was when the crowd lit up the place with their phones and lighters while we played "Sylar" and made it look like were were floating in space, like we were surrounded by stars! It was a beautiful image that is engraved in my brain forever! Another treasured moment was back in April, when we played with Bullet For My Valentine in Athens and we really felt that our hometown was embracing us and our music. That show was a bet for us and we feel like we' ve won it.
Mirk: What bands and artists have you grown up listening to? And which of these influenced you most?
Marianna: When it comes to the metal genre I have grown up listening to the late 90's, 00's bands, like Korn, System of a Down, Slipknot, Rammstein, Deftones etc. Of course I have a soft spot for bands like Evanescence, Lacuna Coil, Within Temptation and In This Moment, whose powerful singers are my musical heroines that paved the way for more female musicians to be a part of the metal world. But apart from metal I also listen to other stuff like r'n'b, soul, classical music, musicals etc. I enjoy music in general and I have an open mind about my musical taste. If it's good music then I'll probably listen to it!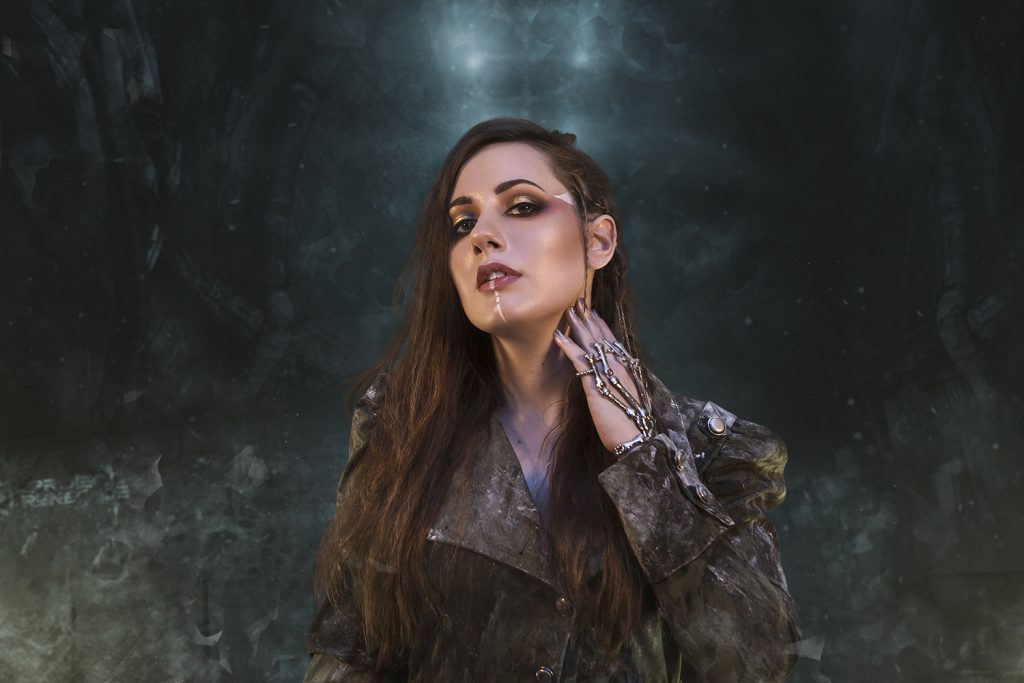 Mirk: Some people say that the band's first album is experimental and it's only till their second or thirdq album till they actually find their sound. But I felt that Project Renegade's sound already has an identity from your very first EP and in the first single from the album. Do you think you have reached your ideal sound as a band? And how would you describe it?
Marianna: To tell you the truth I have never thought about "finding our sound". To me that sounds like I should force something to sound in a certain way. I don't have you know a checklist that I cross out every time we write a song. If it sounds good, then it's good. I guess it comes down to how our musical instinct has been formed throughout the years. Project Renegade is a safe space where everyone brings his or her ideas and we can develop them. That's why there are a lot of elements in our music. Electronic music, orchestral music, ethnic elements, goth, nu metal, alternative, modern, everything has its place in what we do. What I found as common ground though is that we always want to have groove and be able to move the listener's body. You know it's funny because most people don't know how to label our music due to all those elements and we have heard a lot of crazy stuff throughout the years. What I can say for sure is that we play what we like, we are really open-minded and we try not to limit ourselves. If that makes us sound a certain way, then yeah I guess that's the Project Renegade sound!
Mirk: You can reach many people from all over the world when you're an artist. What causes and human rights would you use that ability to reach people to talk about and promote?
Marianna: That is a very interesting question! I wish I had all the time in the world to devote myself in such a fight against racism, inequality, poverty and war. I guess in a way I do that through Project Renegade's music, and I try through my lyrics to talk about those subjects, like in "Liber8" or "Products of War", in order to raise awareness. What I really like to advocate – and I am actively doing that when given the platform- is gender equality, because that is a subject that sadly still affects all of the women around the world including myself. I seriously believe that there are a lot of things to be done on that subject, a lot of presumptions to eradicate and a lot of work to do in order to balance things. Music is a powerful tool and that is why it's important to me to always have a message behind it!
Mirk: Thank you for the interview Marianna! I can't wait to listen to the rest of 'Order of the Minus'! Good luck on the release and future plans!
Marianna: Thank you very much Mirk! It was an honour and a real pleasure! I wish you all the best!
---
Follow Project Renegade



---