Last week this time I was reviewing a Symphonic Metal album. A month earlier a Hardcore Metal one. Probably the most thing I love about doing this is the various styles of Rock and Metal I get to hear as we review albums. Today, the album we're about to review and artist about to interview will take us back to the roots.
Freakstorm is a young German band with a Rock sound that derives straight from the spring of the genre. A fresh Hard Rock taste soaked in great riffs and solos and catchy music.
We had the chance to listen and write a review about Freakstorm's EP, 'From Zero', and write a review about the band's second release. We hope you enjoy reading this review followed by an interview with our celebrated band's vocalist, Sinah Meier.
You can jump straight to the interview by clicking…
…
…
…
…
…
here!
---
Review
The EP consists of 6 songs that extend over 23 minutes. Here are three things we loved about 'From Zero'.
'Can't Keep Me Down'
This song says "can't keep me down", and indeed you can't keep down the volume on it. It is a Rock song with a very catchy tune, excellent riffs, and an exciting speed. The vocals are probably what make this song rise above others on the EP, following the riffs greatly and taking breathtaking leaps as the song grows.
Those hot guitars!
We already mentioned the excellent riffs in the the EP's first track, Can't Keep Me Down. But in fact the EP is full with these gorgeous riffs that keep the songs alive till the end. Songs like Not The One and Nothing give us great guitar melodies to enjoy.
Covers it all
The record, although it's just an EP, is complete and has the structure of a full-length album inside of it. We have three hit songs that can be released as singles, an acoustic song, Sometimes, that successfully breaks the monotony, songs that grow from being slow to being upbeat and fast, like Not The One, some excellent beats, strums, riffs, solos and vocals. Simply, 'From Zero' covered it all, from A to Z.
---
Here comes the section where we write about things we didn't like or that we would have liked to hear on the record. And we really thought hard about it, but couldn't find anything. Not suggesting it's a perfect record, there are always things that could have be done better. But we did not feel the EP needed anything to be better than that as this stage, and we think Freakstorm made one hell of a good job making the EP as it is.
We recommend this EP for all of you Hard Rock and Alternative Rock fans out there. This could be an appetiser for what's coming next from this young but promising band.
---
Ratings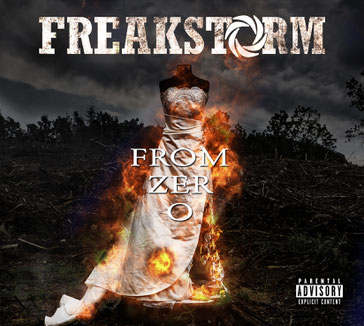 Here are the average of the ratings that were placed by the FemMetal Team.
| | | |
| --- | --- | --- |
| Music (30%) | ⭐⭐⭐⭐⭐⭐⭐⭐⭐ | 9/10 |
| Lyrics (30%) | ⭐⭐⭐⭐⭐⭐⭐ | 7/10 |
| Production (30%) | ⭐⭐⭐⭐⭐⭐⭐⭐ | 8/10 |
| Cover Art (10%) | ⭐⭐⭐⭐⭐⭐ | 6/10 |
| Total | ⭐⭐⭐⭐⭐⭐⭐⭐ | 8/10 |
---
Interview
Mirk: Hello Sinah. It's wonderful to chat with you. How are you doing?
Sinah: Thank you. I am fine. We are very busy with the release of our EP 'From Zero'. It was an exciting step after months of hard work.
Mirk: You're the vocalist of German band Freakstorm. How would you define Freakstorm as a band? How was it born and what is it now?
Sinah: We started as a tribute project for Halestorm in 2016. The singer, Lzzy Hale, inspired me. So a few friends and me recorded a song of the band. One day we met Halestorm and we gave them our CD as a present. Another inspiration! So I began to write my own songs and our tribute project became the band Freakstorm.
Mirk: You recently released an EP called 'From Zero'. How do you feel about the results you're getting from that EP?
Sinah: We are surprised to get reactions from all over the world. On Facebook some rock fans ask us how to get our CD. Although it says that no one cares for CDs anymore. But there still are people in the Metal scene that are open to buy music of new bands like us. And that makes us very grateful.
Mirk: Your EP contains 6 songs, some very energetic and catchy. Which one do you enjoy the reaction of the audience most when perform live?
Sinah: 'Can't Keep Me Down' is our opener. It's a thrilling moment to enter the stage. With the first song you can get the audience or not. I think 'Can't Keep Me Down' is a good song for that. On the other side I like it when the audience gets very attentive when we play our rock ballads.
Mirk: The EP contains some fast songs with a heavier tune like 'Can't Keep Me Down' and others slower and melodic such as 'Not The One'. Will your future work contain this variety between heavy and softer songs? Would you consider making acoustics too?
Sinah: Actually there is an acoustic song on the EP. 'Sometimes' was our last production and we weren't sure if the song should be on the EP. Finally we dared to expand our spectrum which was good. Some people already told us they feel touched by 'Sometimes'. I call it a realistic love song: You love your partner, parents, kids – but sometimes you just lose your nerves and want to quit – but that's ok!
Mirk: What bands and artists have you grown up listening to? And at what stage you thought you'd like to be more than just a listener, but also a vocalist yourself and a Rock vocalist to be exact??
Sinah: Actually I grew up with school choir and musicals. But with my first bands I came in touch with the big ones of course – Metallica, Guns N' Roses, ACDC – and I really liked it. In general I love female singers with great voices: Adele, Florence Welch and Lzzy of course. To be a vocalist came automatically with my first solo parts in school musicals. To be a rock singer came later. Freakstorm finally got it to the point.
Mirk: Do you remember the first time you performed live to an audience? How big was the crowd? And how did it feel?
Sinah: My first performance in a band was as a support for a famous 70s band. I think there were 600 people. Later we even were support for Toto with 5000 people. But it's always the same for me: I suffer from stage fright. It gets better after the first song and in the end I don't want to leave stage.
Mirk: What is your favourite and least favourite part of being in a Rock band?
Sinah: I like to show my ideas to my band members and to go to the studio. It's always exciting to see how a song develops. Especially to work together with our producer Dennis Ward. He is in business for a long time and very experienced as a musician as well as a producer and songwriter. We trust him. I also like acting as a team. For the audience it looks like the band members are working alone, but there is a label, photographers, filmmakers and a graphic artist that are so important for Freakstorm. What is bad to be in a Rock band? 😉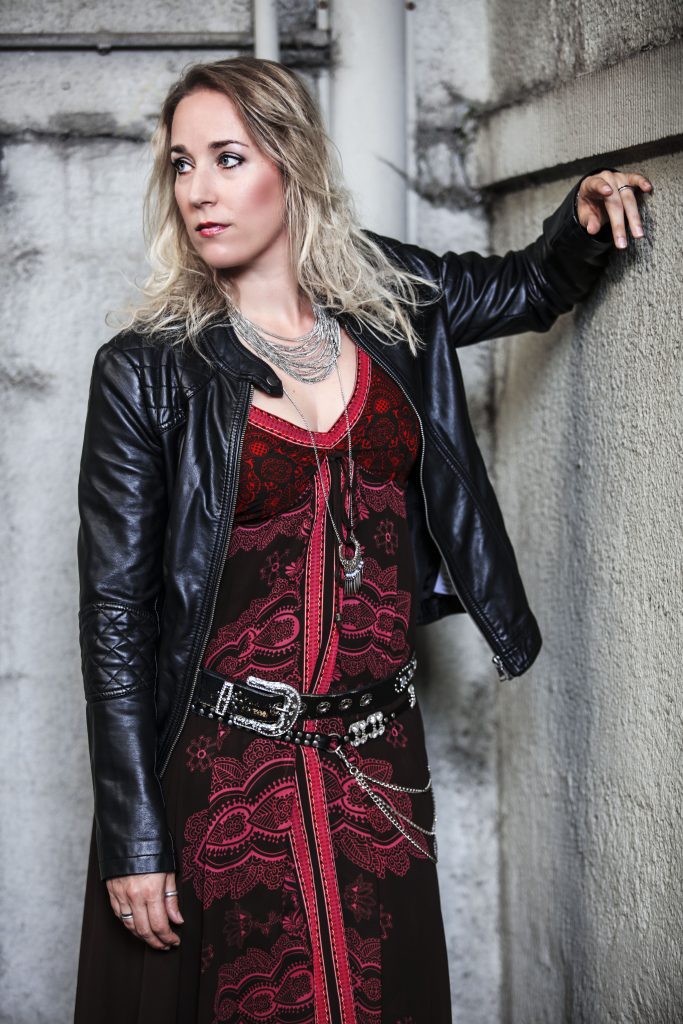 Mirk: Have you ever been treated with sexism or felt you're being undermined just for being a woman? How would you deal with this kind of treatment?
Sinah: In my younger years I was very shy and not demanding. Some people took advantage of it or tried to direct me. I needed a good friend to tell me that I am allowed to have my own will and opinion. Today I know you have to tell what you want and not want directly. In my life as a singer it was the opposite. Last year I was the only female musician on a big Rock festival and I was treated like a princess.
Mirk: What causes or human rights are you passionate about and would promote and talk about through social media or music?
Sinah: Freakstorm doesn't want to be political. Especially in social media it's dangerous to tell something political. Sometimes people don't understand it the right way, they screw your message and it gets very big. But in general I think: Why should any person have fewer rights than another person, no matter what sex, religion, origin? No one should be suppressed. And that's the message of 'Can't Keep Me Down' by the way. Of course I have an opinion as a private person, but I see Freakstorm as a band that wants to rock and to entertain the audience.
Mirk: What's coming after the EP for Freakstorm? Are we gonna get a full album from you soon?
Sinah: A full album is our next goal. The ideas for rock songs and also ballads exist already. Now the band has to work on the songs. And then comes the recording phase in the studio of course. So there are still a few steps to go.
Mirk: Thank you for the interview Sinah! Good luck for you and Freakstorm and thank you for your answers!
Sinah: Thank you very much for talking with me!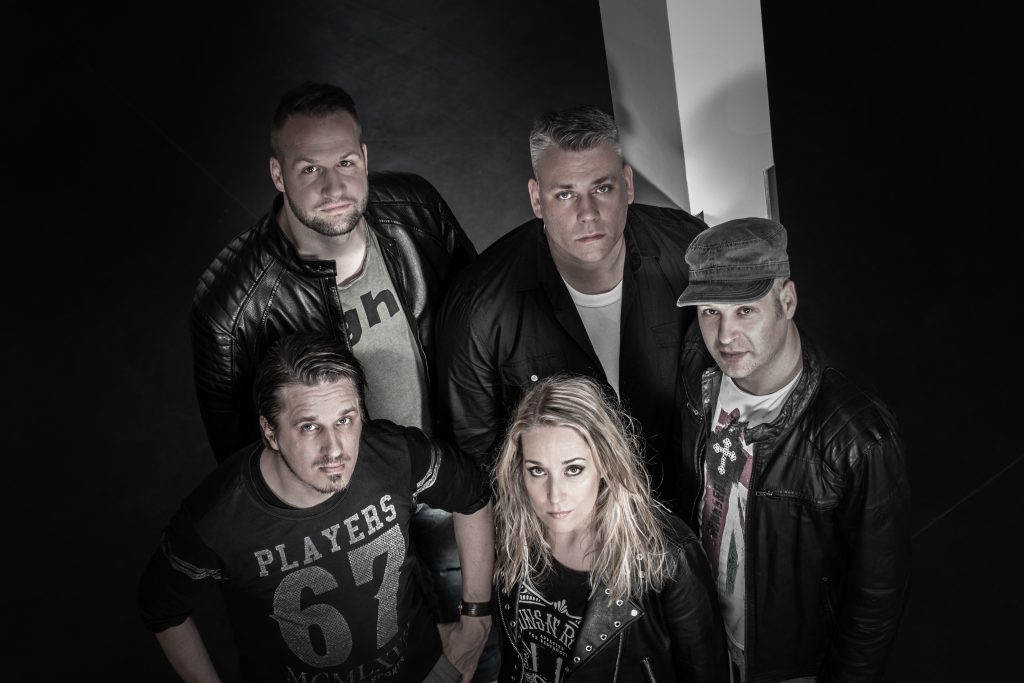 ---



---