Familia Jeff is a newborn Rock band based in Romania. The young band that was formed in 2017 has already released an album entitled 'Family Ties'.
FemMetal had the pleasure to chat with Laura Șincă, the vocalist of Familia Jeff. We also enjoyed hearing the album and writing a review about it.
Click here to skip to the interview.
Review
'Family Ties' is a very good album, rich in its content and very well-written and produced. Here are five things I loved about it.
The Authentic Rock 'n' Roll Sound
Many bands have reduced their use of instruments and used in its stead keyboards and computer-generated sounds and beats. When this might be okay in other genres, it reduces the feelings that classic Rock songs used to give. 'Family Ties' is an album where you can feel and hear every instrument as the classic Rock fans would like. It is 100% authentic Rock, especially in tracks like Tataie, Sharonna, and Save the Monkey.
Band Identity
The band identity is embedded and easy to find in the album. Their sound is very well established and can be recognized early on the first track and followed up in all other songs.
The Riffs & Solos
'Family Ties' is rich with wonderful riffs. Almost every song has a unique and beautiful riff, from which I liked Varu' and Adoptatu most. The album solos are also remarkable and come in great numbers, my favourite being the one on Mamaie at 2:27 – 2:58 and Unchiu' Betiv at 1:57 – 2:27.
The Voice of Laura Șincă
Laura's voice is like the liquid that would take the shape of its container. The way it flows with the melody is really recognizable. Some great examples of Laura's vocal beauty would be in my opinion the chorus of Unchiu' Betiv and the intro of Sharonna.
The Smart Production
Writing a good melody and good lyrics is a thing, but a good production would make a good song better and an okay song great. Familia Jeff made their album even greater by introducing and concluding each of their songs in a building-up or a collapsing-in manner, choosing the right length for each track (some are 2 minutes long, others 4, one is 6, but all of them are complete and without annoying repetitions), and by varying the tempo and varying the styles of their songs.
One thing I would have liked to hear more is some sort of experimental music. The album is very mature, but some experimental music would have made it sound more youthful, even if it went wrong in some places.
We highly recommend 'Family Ties'. If you like Alternative Rock and Post-grunge you will surely enjoy this album!
Ratings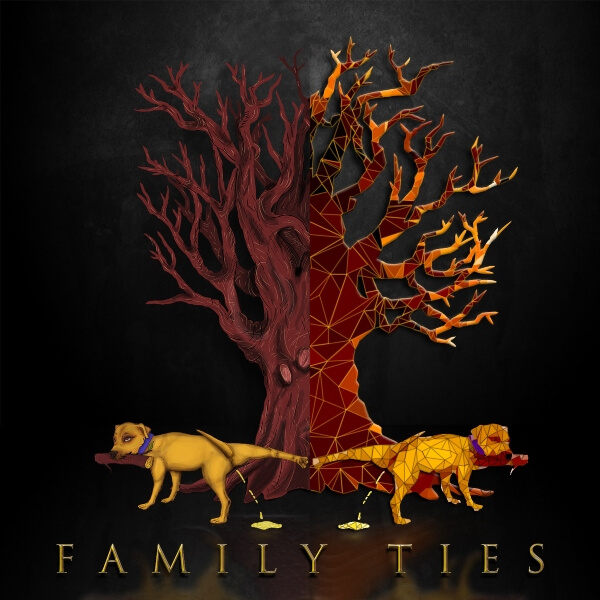 Here are the average of the ratings that were placed by the FemMetal Team
| | | |
| --- | --- | --- |
| Music (30%) | ⭐⭐⭐⭐⭐⭐⭐⭐ | 8/10 |
| Lyrics (30%) | ⭐⭐⭐⭐⭐⭐ | 6/10 |
| Production (30%) | ⭐⭐⭐⭐⭐⭐⭐⭐⭐ | 9/10 |
| Cover Art (10%) | ⭐⭐⭐⭐⭐⭐⭐⭐⭐ | 9/10 |
| Total | ⭐⭐⭐⭐⭐⭐⭐⭐ | 8/10 |
Interview
Mirk: Hello Laura! I'm very happy to talk with you. How are you today?
Laura: Hello there! I'm really excited to do this as well. I'm pretty good, thank you.
Mirk: That's nice. Can you please tell FemMetal readers a bit about yourself and your band, Familia Jeff?
Laura: Well, my name is Laura Șincă, I'm 24 and I live in Romania. I consider myself one of the music lovers, although sometimes I cheat music with psychology, if I were to choose, I would pick music every second of my life. I recently got my master's degree in Psychotraumatology, but music has always been my biggest passion, although I did not study it at all, only singing with my heart.
I've been singing since I was little and as a kid and as a teenager, I only wanted to be a musician. You know what they say about what they wish to become when they get older… I only dreamed about being a singer. I remember that, at 14 years old, I really wished that one day I'll have a band and that I'll be the only girl in the band, a front vocalist… And now it came true and it feels great!
I was singing pop, ballads, blues, soul, and jazz, but I've always loved rock music but never had the courage to approach it until I met the boys.
So Familia Jeff started when I first met my boys, in 2017. Albert (bass) and I knew each other already and then he introduced me to Robert (guitar) and after a while, I met Jeff (drums) at our first rehearsal. I guess that was my audition since they were looking for a new vocalist, but it felt more like a rehearsal, 'cause afterwards, we did not really talk about it, I just kept on going and then, boom, we were a band and we were calling ourselves, (at first as a joke, then for real, because why not?) Familia Jeff.
It seemed like we had the same goal, to play our own music, although we started doing some cover songs, that's how we began to see our abilities. After a month, I came up with some old lyrics and I worked with them and created our first song, "Mamaie" (translated as Grandma). We like to think of ourselves that we are a non-conventional band and we do not like to stick to one sub-genre, we really like to explore our ideas and not be caged by the concept of genre. Therefore, we don't really want to define our genre.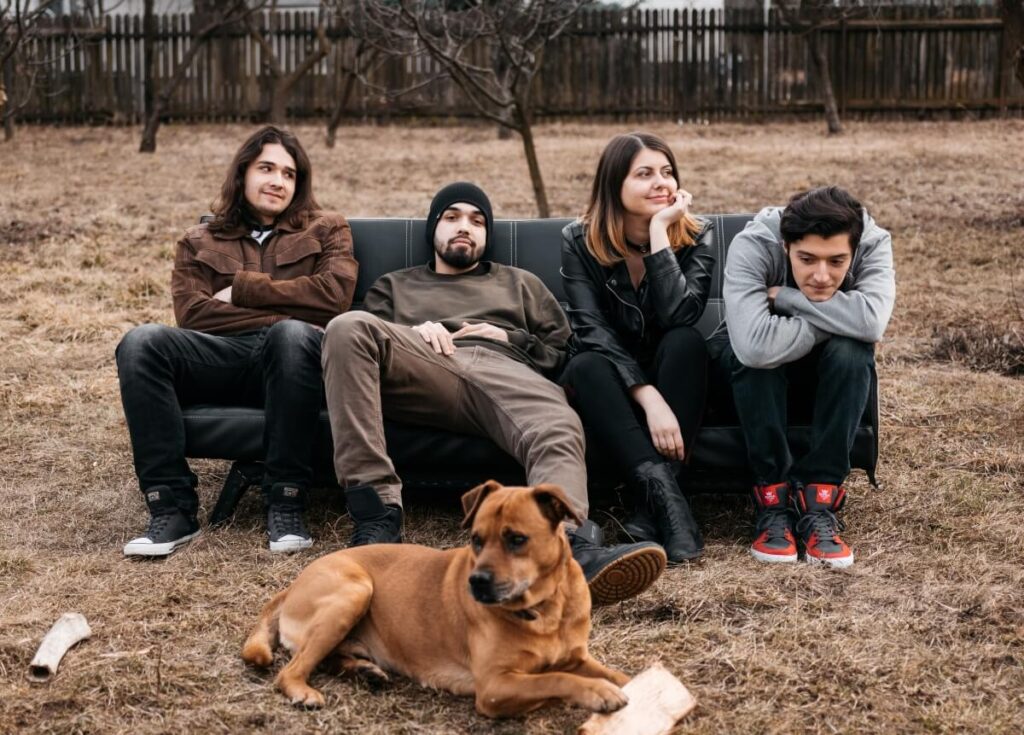 Mirk: That's a very inspirational and beautiful story! What artists and bands did you grow up listening to, Laura? And what bands can you say influenced Familia Jeff?
Laura: I was mostly influenced by Avril Lavigne as a teenager, I used to listen to her all day long and I still know all the lyrics to all of her songs. I grew up listening to a variety of musicians, from P!nk to Scorpions to Alicia Keys to, I don't know, Sum 41.
Familia Jeff is influenced by every band member's influences, and they are very different! I'm looking up to bands like Halestorm, Skid Row, Black Stone Cherry, Tonight Alive, Alice in Chains, Pearl Jam, Soundgarden, Audioslave etc., Robert is into grunge as well, but he's more metal than all of us, I guess, he likes Pantera, Black Label Society etc., Albert loves his progressive music and Biffy Clyro and Jeff really like hip-hop, those old vibes, but he is into Rock as well.
Mirk: That's amazing. Avril Lavigne was my obsession as a teenager as well. What did you think about her last album?
Laura: Honestly, I don't listen to her new music, I just like to keep my memories the way they are and when I get nostalgic, I listen to her old music. I still appreciate her a lot, but I'm not into her new stuff so much as I was into her first albums.
Mirk: That's my strategy with many bands too (lol). Your band's name is Familia Jeff. How is being in a band and having to work as a team and sometimes a "family", as your name says, make you feel?
Laura: Being in a band is really cool and it feels great working with people towards a common goal. My team is my family, because we are close to each other and just like families, sometimes we disagree on things, haha, but we always try to make things work.
Mirk: You released 'Family Ties' in 2019. Are you happy with the result of the album?
Laura: Oooh yes we did! We are very happy that we did it! We've been waiting for a long time to do it and we can say that we are pretty happy with the results, but we will strive for better results with the next one!
Mirk: And I loved listening to the album, I have to say. If you could live in any musical era, would you stay in the current one or choose an era from the past? And in that case what era would you rather live in?
Laura: I'm really glad that you did! If I could live in another musical era, it would be either 80's rock or 90's grunge era! Well, it's a tough choice, I would feel tempted to go to the 90s and meet young Sebastian Bach and Layne Staley, but I guess I rather live in the present and try to make the best of it.
Mirk: Many artists said that making music and performing helped them overcome problems they faced in their personal lives, being a sickness or anxiety or any other problem. In what ways did singing in a Rock band help you, Laura?
Laura: I agree with all of them, it really helped me too! To me, singing is a form of therapy and being in a rock band has given me the opportunity to express myself and deal better with my unexpressed anger and fears. It's a bit paradoxical that although I have stage fright, I still do it and singing is helping me with my anxiety. Expressing what you feel inside will always be relieving and sublimation has helped me a lot, it's my mechanism of choice, ha.
Mirk: What do you think about the condition of Women's rights in many countries around the world? And what would you tell women in places that are still fighting for basic rights?
Laura: That's hard, for real, because I would like to tell them so many things, maybe in individual therapy sessions.
It feels wrong that women need to fight for HUMAN basic rights in 2019! That would be a long conversation, but to be short, I would tell them not to give up hoping and fighting and to stay as strong as they can and to seek help if they feel mentally and emotionally drained by this struggle.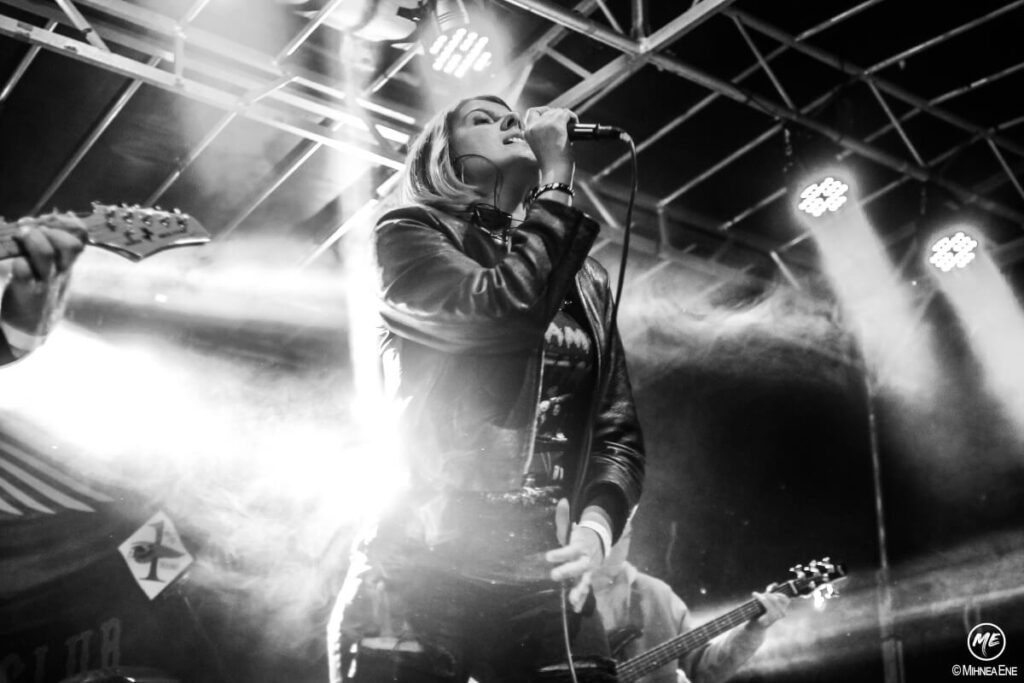 Mirk: That's awesome to say. Is there any project or tour in the near future of Familia Jeff you'd like to tell us about?
Laura: We are working on another project, maybe an EP or maybe an album. We have many ideas all over the place and we want to continue them. We started creating more songs, but being a band requires all of us to work together and sometimes the time is not on our side. We dream about being on tour but for now, we are only doing small gigs or attending biker festivals.
Mirk: Can't wait to hear new things from you! Final question. What hobbies do you have aside from music?
Laura: And we can't wait to release new music! Besides listening to music, singing and writing lyrics, I like to draw, write short stories, read psychology books, help people, pet dogs and enjoy nature!
Mirk: That's great! Thanks a lot for the interview, Laura! Good luck to you and Familia Jeff
Laura: Thank you too, Mirk! Great talking to you and thank you very much!
---
Follow Familia Jeff's social media
---