Null Positiv is an Alternative Metal band from Berlin. Their sound is a fusion of extreme Metal, with vocalist Elli Berlin performing mostly harsh vocals with occasional clean singing. The German band has released to back-to-back albums in 2017 and 2018 – Koma and Amok.
FemMetal had the chance to interview the lead vocalist Elli Berlin and ask her about Null Positiv's sound and plans and other things. We also had the privilege of listening to the 2018 album and writing a review.
Click here to skip directly to the interview with Elli Berlin.
---
Review
'Amok' is an hour-long album containing 13 tracks. The album is all in the German language, with the exception of the 12th song, Scars. Here are four things we loved about 'Amok'.
The Ranging Vocals of Elli Berlin
Elli Berlin has a voice that can reach the deepest depths of hell and the highest peaks of the heavens. Her vocal ability was showcased all through the album, clean and harsh, low and high, fast and slow. You can enjoy her great vocal range, especially in songs like Trauma, Amok, and Hexenjagd. You can also enjoy the great quality of her clean vocals in Scars and Rabenhaar.
The Mono-duality
Yes, I just made this word up. One great effect modern Metal bands use is a duo between an operatic voice and a growling singer, which creates a beautiful contrast allowing bands to add more theatrical into the songs. Null Positiv managed to duplicate this effect with one singer. This happens all over the album, but my favourite examples are in Psychopath and Neue Matrix.
The Resonating Anger
The album is mostly angry except for the last two songs. It's the type of angry music you'd listen to on the way home after a long day at work where you put away all the day's trouble.
Neue Matrix
This song for me is a milestone Null Positiv reached in this album. I've spoken about the contrast between Elli's clean and growling vocals in it previously, but that is one of a thousand things you can adore about this song. There's a flow in melody along with the vocals that make this song one of the best by this band, at least for me.
As for the few things I did not like about 'Amok' probably the first of them is the lack of guitar solos and long instrumentals. Although the album's melodies, in general, are great, I feel that instrumentals would make it richer. I also did not like a couple of songs: Als ob wir Götter waren and König Ego, although they're still better than most shit on the radio, I felt they're of lesser quality than the rest of the album.
We recommend this album for all extreme Metal lovers. Even if you do not understand German, I promise you'd enjoy it. (I can assure you that because I don't speak German and I have enjoyed it).
---
Ratings
Here are the average of the ratings that were placed by the FemMetal Team. We would also like to thank our friend Nadine Rothfuchs who helped us rate the lyrics of the album.
| | | |
| --- | --- | --- |
| Music (30%) | ⭐⭐⭐⭐⭐⭐ | 6/10 |
| Lyrics (30%) | ⭐⭐⭐⭐⭐⭐⭐⭐ | 8/10 |
| Production (30%) | ⭐⭐⭐⭐⭐⭐⭐⭐ | 8/10 |
| Cover Art (10%) | ⭐⭐⭐⭐⭐⭐ | 6/10 |
| Total | ⭐⭐⭐⭐⭐⭐⭐ | 7/10 |
---
Interview
Mirk: Hello Elli! It's wonderful to talk with you. How are you today?
Elli: Thank you, it's great to live this dream. 
Mirk: You're the vocalist of Null Positiv, a band that makes awesome extreme Metal music. What first attracted you to this style of music?
Elli: It was the power of these songs and the honesty of the lyrics, every song is a little revolution, and not least the wonderful fans of this music.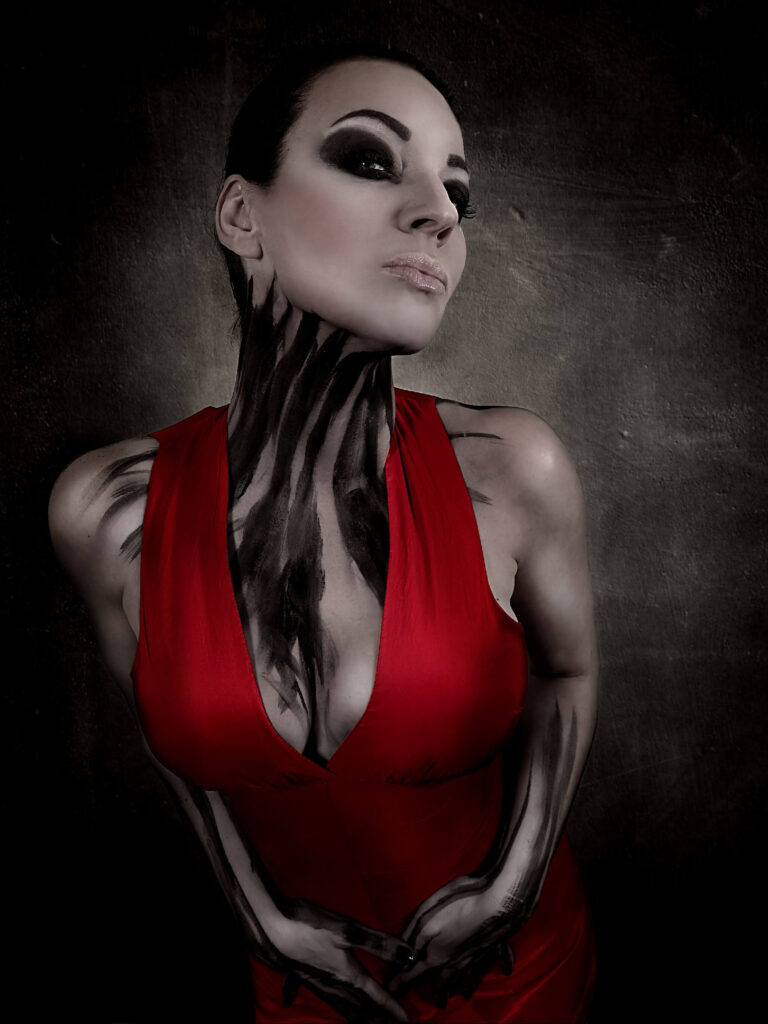 Mirk: What bands would you say have influenced Null Positiv to create the unique sound you have now?
Elli: Its not easy to answer. Korn, Slipknot, System Of A Down but also bands like Rammstein.
Mirk: You released two albums in two years, 2017 and 2018. Would you like to tell us a bit about these albums?
Elli: There are a lot of problems in the world today. We tried on the first album Koma to shout out all our worries. On the second album Amok we have tried to find the causes of these problems in the human psyche and in ourselves.
Mirk: Do you remember the first time you performed on stage life for an audience? When was it and how did it feel?
Elli: There I was a teenager, and I was excited. Today I am too, but only with joy. I love to tour with my band.
Mirk: If you had the ability to go back in time and live in any other music era than ours today, which era would you choose?
Elli: I am happy here and now. I do not need another musical era. I feel like all modern musical currents are flowing through my body.
Mirk: You are a band that performs fully in German language. To what extent do you think you can reach the non-German speaking world?
Elli: We have already made several long tours through all European countries. It makes no difference if you sing German or English in Greece or Romania. Often we are approached because of the special timbre of the German language. People like it.
Mirk: Your performance on stage and in music videos shows a lot of strength in the way you express yourself. What advice would you give young girls and women in places where they still can't express themselves due to lagging behind community standards?
Elli: Be strong. Be educated. Be self-conscious. Any kind of repression is wrong.
Mirk: You've been to lots of places on tour with your band. Many cities and festivals in Europe. What are some places you'd like to go to and perform at next?
Elli: We will be touring exclusively in Germany for the rest of the year. A lot is already planned for next year. All current dates can be found on our website www.nullpositiv.com
Mirk: Are there any projects for Null Positiv in the near future you'd like to tell us about?Maybe an album before the end of 2019 to make it 3 in 3 years?
Elli: We are working on our third album, but it will not be finished in 2019. At the moment some music videos are planned, but first of all there are the live shows.
Mirk: Aside from music, what hobbies and interests do you personally have?
Elli: I'm a musician with all my heart but I also paint, ride (I love horses), like being sporty …
Mirk: Thank you Elli for your lovely interview!
Elli: You are welcome!
---
Follow Null Positiv on social media