With everything around us being sad and the world playing a melancholic tune, one of the few things that keep us alive and holding on is music. So here's another article on a new band that is making good music.
Stormstress is a band from Boston, Massachusetts. The all-girl Hard Rock band released their debut single earlier in 2020. We had the awesome chance to chat with the three girls that form Stormstress and talk about their music future plans and thoughts on different things.
We also wrote this review on their single.
---
Review
Paint the Mask is a Hard Rock anthem and a powerful song with amazing music and vocals. The song, with few seconds short from 4 minutes, begins with a powerful riff and beats with the intro vocals coinciding with moments of instrumental silence, giving the way to a full course of great riffs, melodies and a wonderful solo.
Stormstress did very well at making their first single a very dynamic song, full of motion, with the instruments and electrifying vocals giving the impression they're building up to a great finish the whole time. And although it is in general a fast song, the song slowed down in certain parts only to explode again into another chorus.
The advantage of having vocalists as instrument players is very clear in this song as the vocals perfectly interacted with the music and the music played the role of the perfect vessel to the singed lyrics.
And that's only their first single! More is to come!
If you haven't listened to Paint the Mask check it out now. It is one song you'd love to repeat over and over again and it promises a great future to this talented new-born band.
---
Interview
Before we dive into the questions and answers, it would be helpful to learn who does what in the band. So here's a quick intro for each of the 3 members of Stormstress.
Stormstress is (from left to right):
Tanya Venom – Vocals and Guitars, Tia's identical twin
Tia Mayhem – Vocals and Bass, Tanya's identical twin
Maddie May Scott – Drums
---
If you feel lost at any question and want to know who is answering, click on the answer and we'll remind you of the role of the band member answering.
And now, here is the interview with Stormstress!
---
Mirk: Hello ladies! How are you all doing today? It's a pleasure to chat with the three of you.
Tia: Hi there!
Maddie: Thank you so much for having us!
Tanya: We are doing well and very excited to be speaking with you, today!
Mirk: The pleasure is mine! Before we talk about your music and debut single, would you like to introduce yourselves and talk a bit about your band?
Tia: We are Stormstress, an all female hard rock/metal trio from Boston, MA, co-fronted by my identical twin sister Tanya Venom (vocals and guitar) and I, Tia Mayhem (vocals and bass), with Maddie May Scott (drummer) holding down the groove!
Maddie: Thank you so much for interviewing us! We formed this band back in October of 2019, but we have all been playing together since 2017. And personally, I picked up the drums in 2009, and have always had the dream of being in a touring rock band! I have always focused on learning rock music, and studied music performance at the University of Massachusetts in Lowell.
Tanya: Tia and I, originally hailing from Detroit, MI, moved to Boston to chase our musical dreams at Berklee College of Music, heading east with the specific intention of starting and pursuing our own all-female hard rock band. We met Maddie while performing together in our previous band, Flight of Fire, that is now on an indefinite hiatus. We loved performing with Maddie so much that we couldn't wait to work together again! We already knew we vibed super well, shared the same love of heavy music, possessed the same ambitious spirits, and shared the same dream of becoming rockstars so the prospect of the three of us starting our own project as a trio was… electrifying! And thus, Stormstress was born!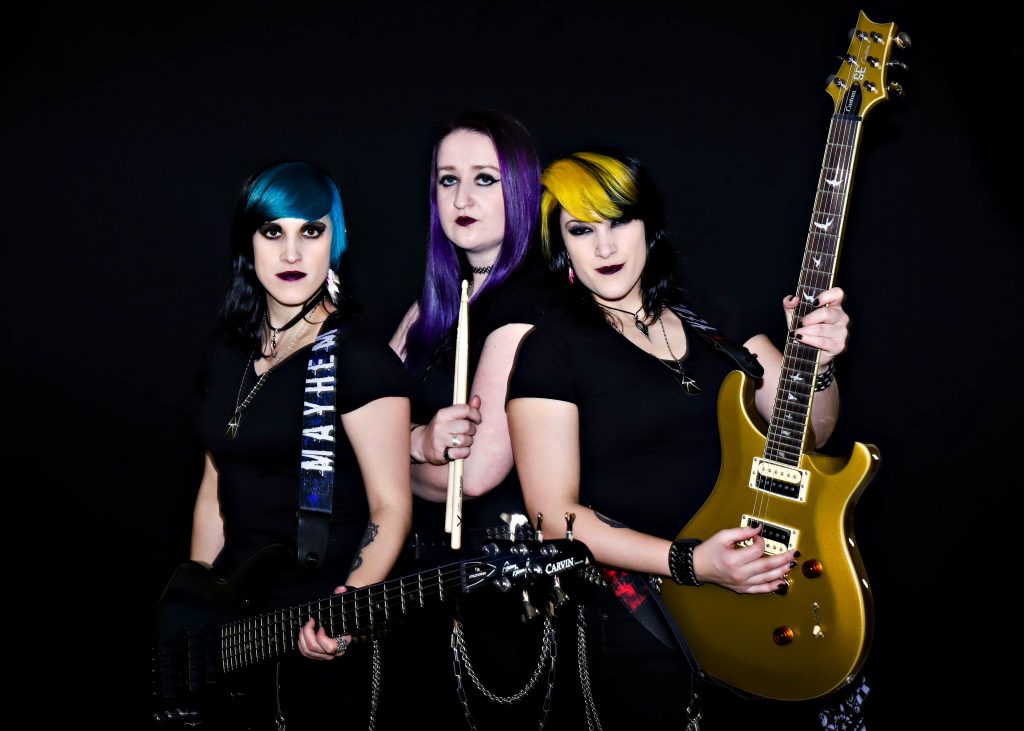 Mirk: That's wonderful! You recently released your debut single, Paint the Mask. The single lyric video has already exceeded 1000 views on YouTube. How do you feel about the reception your first single received?
Tanya: We are absolutely thrilled and truly humbled by the positive reactions we have received for "Paint The Mask." Because the three of us had been so involved in the music scene in previous projects, there was a lot of hype surrounding the inception of Stormstress. Our fans were exceptionally eager to see what the three of us had to offer which was very exciting, but at the same time, came with a lot of pressure to make sure that our first musical release – our first impression – was a satisfying one. Based on all of the positive feedback we have seen, we would say that we successfully exceeded expectations with our debut release and have attracted a great deal of new fans as well! After working so hard and pouring so much of your vulnerable heart into your work, there's no greater reward than knowing that there are people out there who are genuinely connecting with your music. We could not be more proud!
Mirk: How much do you feel this single reflects the type of music you want to make and the sound you want to be known for?
Tia: Out of all the songs we had been shedding, we specifically chose "Paint The Mask" to be our first single because we felt it was the best representation of our sound: hard rockin riffs and heavy grooves with catchy, melodic vocals. From that focus point, we can expand into the other areas of our sound with songs that dig deeper into the depths of our metal side as well as songs that shine the spotlight on our lighter side.
Mirk: In your social media bio you list many bands from various eras and genres as your influences. There are bands famous for Hard Rock, Classic Metal, Metalcore, and other sub-genres of Metal and Rock. How important is it for an artist to be influenced by a variety of musical backgrounds and not just one or two styles of music?
Maddie: We feel that combining a variety of musical backgrounds results in a sound that is uniquely our own. Instead of simply repeating what has already been done, we take our favorite aspects from all of the sub genres we love and combine them to create what is the Stormstress sound. It is important to us that each of our songs have its own personality and vibe because additionally, as eclectic musical performers and listeners, it keeps us from ever getting bored! Sometimes we're in the mood to seriously riff out and headbang while other times we just want to pull on the heart strings and feel. There's a little something for everyone.
Mirk: Tanya as a vocalist, who are the singers that inspired you to become one yourself?
Tanya: M. Shadows of Avenged Sevenfold is a long time top vocal influence of mine. I've always loved how his voice is so uniquely characteristic that you can 'pick it out of a crowd.' Nobody sounds quite like him. In addition to his vocal quality, I'm also very inspired by his vocal melodies as they are incredibly fun to sing and can often be surprisingly beautiful and lyrical for the heaviness of the genre – something I aim to achieve in my own melody writing as well. Lzzy Hale from Halestorm is another huge inspiration of mine, both as a singer and as a person. She is incredibly talented and as badass as they come! You can FEEL her passion in every word she sings. With lots of practice and time, I hope to one day be able to sing even half as powerfully as she does.
Mirk: What about you Tia?
Tia: I'd have to agree with Tanya about Lzzy Hale from Halestorm being one of my biggest vocal inspirations as well. She possesses such an incredible vocal range, power, and versatility that really makes her stand out. She's got the grit, sass, and sweetness to spare on her masterful vocal lines. On that same wavelength, I'd have to also mention Avril Levigne. Avril has a unique way of combining edgy punk yells with beautifully flowing melodies all with such confidence and spirit. I hope to follow in their musical footsteps and create my own vocal sound that's got power, body, and crunch!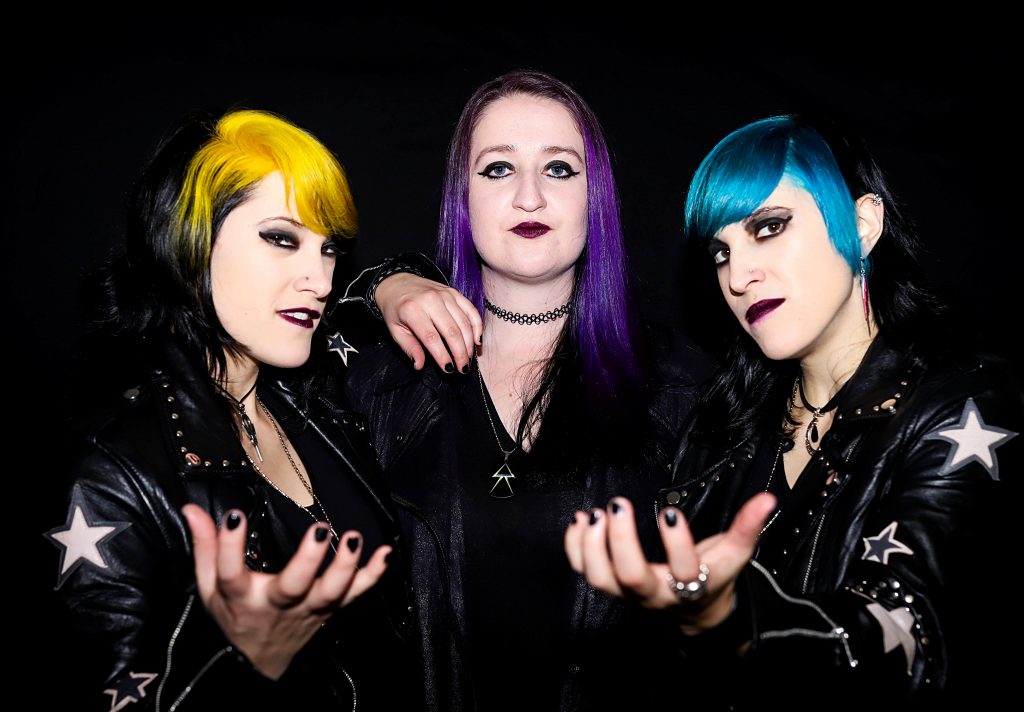 Mirk: All these people you mentioned are great. Maddie, you're the band's drummer. It's a role that requires a lot of physical effort that some describe as the beating heart of a Rock or Metal band. What are the best feelings that you get while you're playing drums?
Maddie: When we play live, I usually get an adrenaline rush so I don't usually get too tired while playing, even when we play a song that is very physically demanding. After some of our shows though, I do feel as though I need a nap, once I am out of the zone! Haha! I think the main feeling that I get while playing is just intense happiness, and I usually can't stop smiling, which is sometimes a bad thing because if I'm headbanging while smiling I sometimes swallow my hair!
Mirk: There are many examples of bands that consisted of two or more family members just like Tia and Tanya here. And you're not only sisters, you're also identical twins. Do you feel this unique relationship creates a better chemistry in the band that would reflect on the composing and performing?
Tia: Yes! We absolutely do feel that our relationship as twins adds a whole other level of depth to our musical chemistry! When we are on stage performing together, or even just jamming out while writing new music, one glance at each other and we know exactly what to do! It's this incredible and unique energy transfer that feels a lot like mind reading and makes playing together feel extra smooth and effortless.
Tanya: Our 'twin telepathy' is so natural for us that it really only becomes obvious on those rare occasions that I play with a bass player other than my sister. I'll look at them hinting that we should go into the next section now, or extend the solo, or switch sides on stage and of course, nothing happens, haha! It really comes in handy when we write together as well because I feel like Tia just knows exactly what I'm envisioning and throws down a bass line that perfectly compliments my guitar work.
Mirk: Besides singing, you also play the guitar in the band, Tanya. Do you remember your first guitar? How old were you when you started playing and did it take extra effort to be a singer and guitarist at the same time, or did it come naturally?
Tanya: I was 13 years old when I started playing guitar. My first ever guitar was a tobacco sunburst, strat-style electric guitar by Johnson. I got it at the local music store in my hometown and immediately started taking lessons there as well. My ability to sing while playing guitar definitely came to me over time. I started by just singing backup vocals and harmonies for whatever bands I was in at the time and built up from there. I generally write my guitar and vocal parts together to make sure that I can perform them simultaneously but I never want my vocal abilities to limit what I do on the guitar so learning to sing over trickier riffs and rhymically displaced grooves has taken some extra effort and is a constant work in progress. It really helps to have two singers in the band however because if there's a riff that I can't sing while playing, Tia will take the lead and vice versa!
Mirk: Tia, there's a meme going around in some Metal groups that says: "You're not a fan of a band unless you know their bass player's name." From a technical point of view, how important is a bass in a Metal song?
Tia: Haha, yes, we bass players better be shown some respect for we may one day take over the world! But anyway… Like in most genres, the role of the bass is to connect the drums to the guitar and to help solidify the tonality of the chords in a song. In metal, there are loads of sick riffs and during those times, the bass will often be heard doubling the guitar to increase the power and beefiness of the riff. When there is more of a chordal section, you'll likely find the bass locking in with the kick drum creating a comfortable groove bed for the chords to lay upon.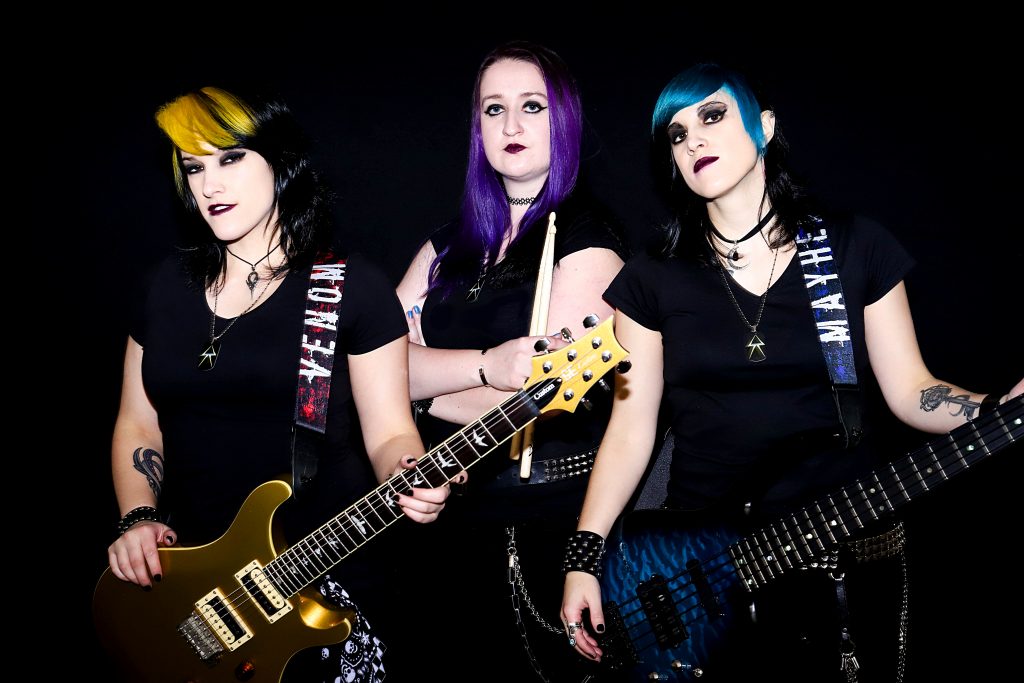 Mirk: Maddie, who is a drummer you look at and think you want to be as known or successful as he is or was?
Maddie: I would love to be as skilled and as successful as the old drummer of avenged sevenfold, Jimmy Sullivan! (Rip). He was so quick, and so creative, and had such great groove ideas.
Mirk: What are your upcoming plans after releasing your first single? Will there be any bigger release like an EP soon?
Tanya: We are very excited to announce that we are in the process of recording a full-length album set to release later this year! We are also currently in talks about getting a European tour together for this coming November and are hoping to add in a US Tour to precede it!
Mirk: That's very wonderful news!
Thank you Tanya, Tia and Maddie for this interview. We wish you luck and success at all your future plans!
Maddie: Thank you for the interview!
Tanya: We had a great time chatting with you. Thanks so much for the well wishes!
Tia: Thanks for taking the time to talk with us!
---
Follow Stormstress



---