We shall begin this report with the lyrics of a beloved Beatles song that has been slightly altered in order to satisfy the purpose of this article. The altered words are in bold.
"Hey Jude, don't make it bad
Take a pop song and make it better
Remember to add some riffs and a solo
Then you can start to make it Metal"
This article will be few words and many links to covers made by artists that we adore. The list will include professional artists that have been performing for years as well as young new-comers. It will include covers with full production and music videos and ones with simple videos with a single instrument or just vocals. It will include artists who have started as cover bands and later moved on to have their original act and material as well as those who have dedicated a tribute band to cover the work of one artist. It will include artists who have taken songs from the pop culture and performed them with a new production to become heavier, as well as ones who cover beloved songs from famous Metal bands.
Here goes our list of the best goddesses of Metal and Rock covers.
Let us begin with some of our favourite pros…
They are… Halocene
All covers by this Arizona Rock trio begin with the phrase "We are Halocene". And this could not be more appropriate because they indeed are Halocene. I'm not saying this as a joke, but as a way to emphasize how this band have established a personal identity by their covers. Vocalist Addie Nicole Amick and her band-mates do not just copy the original song and perform it and shoot a video of it. They work hard on making the song fit into the sound they like with additions to the music and vocals, making some Punk hits into cinematic ballads and pop songs into Rock songs . That is why whenever a hit song surfaces around, a huge number of music fan wait to hear how Halocene is going to perform it.
Here are some of our favourite picks from Halocene.
Halocene also makes original music.
---
Exit Eden: Quadruple epic Metal
Exit Eden is a band that took Metal covers into a whole different dimension. Imagine how amazing it would be to take a good Pop song and remake it in a Symphonic Metal sense and perform it with an operatic vocalist with a breathtaking voice. Now hold this thought, and multiply it by four! Exit Eden's unique quartet of vocalists makes every song they perform an epic. Exit Eden's vocalists are Amanda Somerville, Anna Brunner, Clémentine Delauney, and Marina La Torraca.
Here are some of our favourite picks from Exit Eden.
---
Rehn Stillnight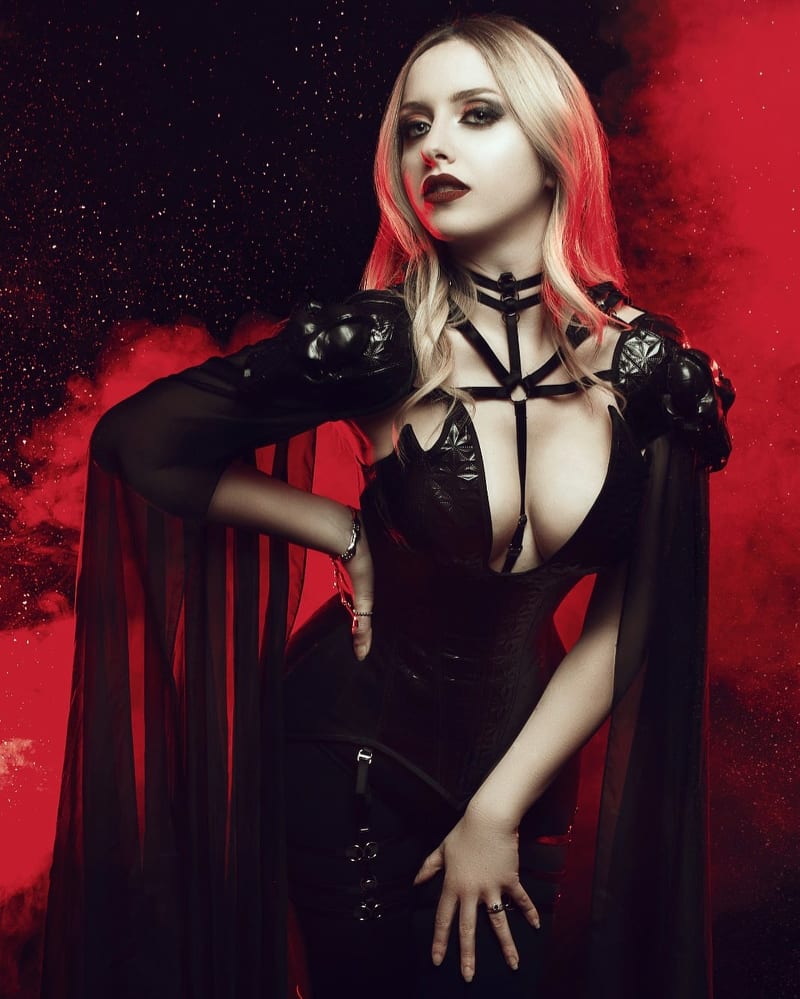 Rehn Stillnight is a very busy Italian soprano with various running projects such as StarWards and Rehn:Fade. That is in addition to her many covers where she delivers hits with her extraordinary professionally-trained soprano voice. Rehn began studying classical singing in 2011 and continued to study modern singing and is now a vocal coach. Every cover by Rehn is a chance to hear her angelic voice at work!
Here are our favourite covers by Rehn Stillnight.
---
---
---
Morphide
Fronted by the amazing Elizabeth Zhovnerchuk , the Copenhagen-based duo developed in years from a cover band into a rising Metal band with original music. Elizabeth's ability to perform powerful growls in addition to her beautiful clean vocals gave Morphide a wide spectrum of bands to cover from Jinjer and Northlane to Evanescence and Halestorm.
Here are our favourite covers by Morphide.
---
Ruby Bouzioti
The Greek siren, Ruby Bouzioti, is another cover artist that refuses to copy the sound of the original band in her covers. All her covers have her special touch in them. Ruby's vocals are very unique and of a quality that allowed her to shine at covering bands such as Epica, Lacuna Coil and Evanescence.
Here are our favourites of the Ruby Bouzioti covers.
---
Violet Orlandi
Violet Orlandi is another brilliant artist that constantly delivers more and more epic covers on her media outlets. To the date of this article she has collected a remarkable 42 million views of her covers on YouTube. And what a talent and performance the American vocalist and guitar player has!
Here are our favourite covers from Violet Orlandi.
---
Now here are two tribute bands for our favourite oldies.
Paradise Kitty
The advantage of being a fan of this band is listening to them perform beloved Guns N' Roses songs in an all-girl act. The disadvantage is that whenever Paradise City comes on, I sing along: "Take me down to the paradise kitty…"
Paradise Kitty is formed from Jenna Syde (vocals), Rachael Rine (drums), Ariel Bellvalaire, Hisako Ozawa (guitars), Jessica Fagre (bass).
Now here's Paradise City performed by Paradise Kitty.
---
The Iron Maidens
Another all-girl tribute to another legendary band, and not just any band, it's Iron Maiden! (ALL HAIL!) The Iron Maidens consists of vocalist Kirsten Rosenberg (Bruce Chickinson), guitarists Nikki Stringfield (Davina Murray) and Courtney Cox (Adriana Smith), Bassist Wada Ortiz (Steph Harris), and Linda McDonald (Nikki Mcburrain).
Check out their website.
Here's their version of Run to the Hills published by user DJChrisMexico on YouTube.
---
Finally, here are our favourite young new-comers with a single instrument and/or vocals.
M Drako
M Drako is a violinist that leaves jaws dropping after performing covers of Metal songs with her violin. I Prevail felt that way after hearing her violin cover of their song Bow Down, which they reposted.
Here are some other covers by the Singapore Metal fiddler.
---