The Hellfreaks is a Punk Rock band from Budapest, Hungary. Damn it's so refreshing to start an article that way. Have you felt earlier we're having a shortage on modern Punk Rock bands? Well, The Hellfreaks is a band that many consider as one of the best in the scene, with a career that exceeded a decade in length in which they released four albums, the most recent being this year's release, 'God on the Run', which we will be posting a review of in few weeks.
We had the chance to interview Shakey Sue, vocalist of The Hellfreaks, and ask her about her band's plans and music and a lot of other things. We hope you enjoy reading this interview.
---
---
Interview
| | |
| --- | --- |
| Hello Shakey Sue! How are you and The Hellfreaks doing? | |
| | |
| --- | --- |
| | Thank you very much for having me! It's the most cursed year for the music industry in my lifetime, so I guess no band could answer this with an honest smile but even still, we're doing pretty fine!  |
Hopefully all will be better soon.
The Hellfreaks sounds to me, as a fan of 2000s Punk Rock, like one of the few bands  still active in 2020 that haven't adapted to more popular culture elements in their music. What does Punk Rock as a genre and a scene mean to you as an artist?
We were teenagers in the 2000's so I guess that's the influence you might hear there … but actually we mix a lot of different genre elements: metal, hardrock, punk, hardcore. It's a blend of rock music.  

I get your point and agree that the attitude of the Hellfreaks has a very strong punk rock vibe, especially when it comes to the lyrics. The Hellfreaks has been more than a decade of my life as I was growing up, our audience grown too. I've realized that I'm actually getting heard by a lot of people all around the world, so I wanted to use this attention wisely. 

People who aren't really into punk might think that punk is always "against the system", that it "hails anarchy" and all that it has to say is "acab". But that's absolutely not the case. Punk is about questioning everything that others just take as is. It's about pointing our fingers to things that don't work as they should. I see punk as a seed of change because nothing ever gets better without moving outside of your comfort zone, at least with the right questions. 

I never thought in my wildest dreams that I would go through days like these, not just in my country, but all around the world. The gap between poor and rich is getting bigger and bigger, the dream of equality between different cultures, religions, sexualities etc is running though our hands like sand and simply the unfairness in our society is growing day by day. Not ignoring this is already punk in my eyes. 
That's a brilliant view!
You have released your latest album, 'God on the Run', earlier this year. How have you felt about the reception this album got so far?
| | |
| --- | --- |
| | Overwhelming. We've never worked on an album for so long and so hard and we have never sacrificed so much to bring out a record. But it was definitely worth it! We've received the best and the largest amount of album reviews so far, the songs of this album are the most popular ones on our Spotify page and we get tons of mail from our fans all around the world about how much they love it and what the songs mean to them. We couldn't be happier.  |
| | |
| --- | --- |
| In the new album, as your previous ones, we can feel many elements of Metal in the music. What bands or artists can you say have influenced The Hellfreaks to create their unique sound? | |
Everyone who knows me a little bit also knows that I LOVE female fronted rock bands. Bands like Walls Of Jericho, Jinjer, In This Moment, The Pretty Reckless etc are always on top of my list because I just love how women can not only stand their ground but blow everyone's mind in a predominantly male industry. The inspiration of our sound doesn't really come from any band at all. 

It's hard to define where it comes from because all four of us in the band prefer to listen to different styles of music. I think the main reason for where we've ended up comes from our past: we started as a psychobilly band back in 2009, which was fun  but very limited musically and lyrically. In 2014, we split up as a band because we felt burned out by the genre but in 2015, thanks to an invitation to US based Ink'n Iron Festival in California, we decided to bring the Hellfreaks back but with a new and better mindset. The new mindset was that we will not limit our creativity by genre boundaries. 

'Astoria', our 3rd album was the first album with that mindset, which was way more punk rock. Since then, we've had some changes in the line up – Béla (drums) and Jozzy (guitar) joined us, who were already big names in the Hungarian metal scene by that time. Even though Gabi (our bass player) is the main songwriter in our band, all that led us to try out a heavier sound that we all really enjoy.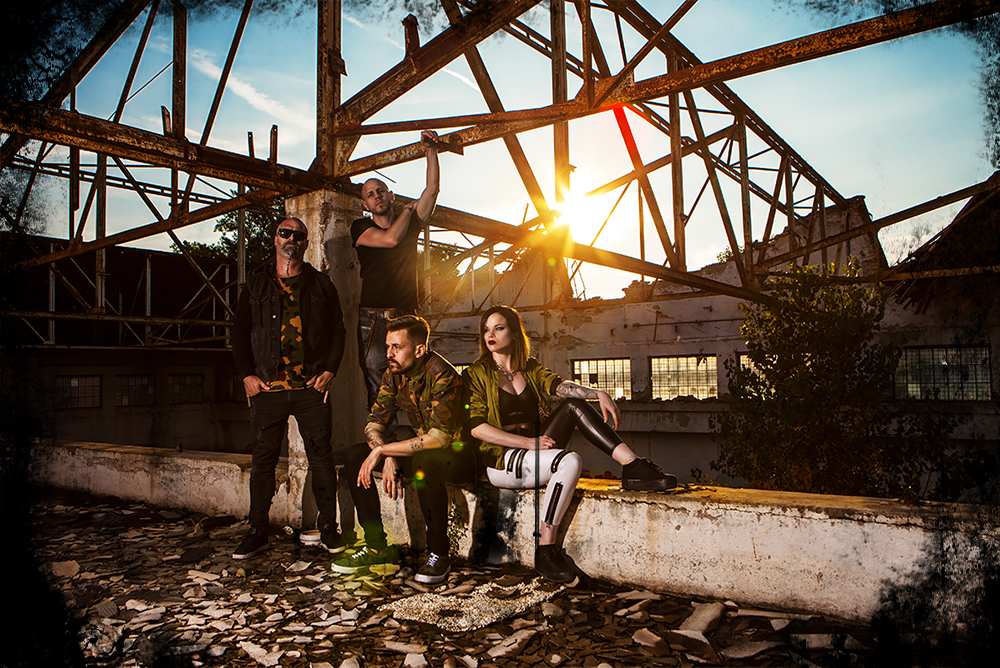 To get our readers to get to know you more, I'd like to play a game of imagination. I'll give you a certain scenario in an alternate universe and you'd have to react to these changes.

In a universe where you're a superhero, what would your superpower be?
| | |
| --- | --- |
| | I would love to be able to teleport myself and the whole band! But of course with style, so I would choose the dress of Catwoman!  |
| | |
| --- | --- |
| In a universe where aliens from outer space came to study music on Earth and asked for a specimen from your music, which The Hellfreaks song would you give them to listen to? | |
| | |
| --- | --- |
| | Red Sky |
| | |
| --- | --- |
| In a universe where the senses of taste and hearing are mixed up, what would The Hellfreaks' music taste like? | |
| | |
| --- | --- |
| | Somethin spicy and salty. A taste that you can love or hate, but nothing in between.  |
| | |
| --- | --- |
| In a universe where you're the queen of a kingdom, what interesting law would you make? | |
| | |
| --- | --- |
| | That's a tough one! I would figure out a way to support the individuality of people by law.  |
| | |
| --- | --- |
| In a universe where the currency is a person's sense of humour, how rich would you be? | |
| | |
| --- | --- |
| | I have a very dark sense of humor, so whatever I would earn for that. I guess I would have to wash that money first.  |
hahahahaha! Brilliant!
In a universe where a new planet identical to Earth has been discovered and people can choose to either voyage and colonize the new planet or stay here, what would do?
| | |
| --- | --- |
| | Home is where my friends, family and my cats are. If it's just up to me, I would go – but I would never leave them, if they wouldn't want to leave as well.  |
Thank you for playing!
Have you ever been treated in a sexist way? How would you face sexism and what advice would you give to young people who face any kind of discrimination?
Of course I was! By promoters, by people who have been to our shows, by people who follow us on our social pages etc. because I'm a woman or because I'm Eastern European. It's just like that if you do your own thing, you will be shamed and blamed anyway. 

I think the only way to learn to deal with that is to understand that they are the ones who are behaving improperly, not you. The only way to treat this right is to speak out loud when anything like this happens, even if it's just someone who is touching your hip while they are going to find their way in the crowd or when you face that someone who behaves differently with you because you have boobs, or if because your skin color is different or because you grew up in a country with way less possibilities.  Speak out! But don't just bark like a dog. Face the person and what she/he has done. Most of the time, they don't even realize what they've just done or how they've made you feel so your words can have a real impact in the end! 
| | |
| --- | --- |
| How has the coronavirus pandemic influenced you as a band, especially that it came shortly after you released your new album? | |
| | |
| --- | --- |
| | I guess you can imagine. We worked for 2 years on the album with the goal to bring out the best material we've ever written. We've had 4 shows of our release tour. We haven't had any shows since the first week of march. We're still licking our wounds but we try our best to keep our heads up. It's unsexy to write about it, but the income we've lost by not playing shows makes it really hard to go on with the plans we had in place. Luckily we have awesome fans that support us in the best ways they can, so we're still on it to bring out new music videos and we've already started working on new music!  |
| | |
| --- | --- |
| Thank you for the interview Shakey Sue! It has been a pleasure! | |
| | |
| --- | --- |
| | Thank you very much for having me! |
---
Follow The Hellfreaks