SINAYA is an all-female band from Brazil fronted by the amazing Mylena Monaco. We had the privilege of getting this interview from Mylena who shared a bit of news about her band's upcoming album, told her story and experience in the world of music, and also shared some valuable points of view and advice. This is our interview with SINAYA's Mylena Monaco!
| | |
| --- | --- |
| Hello Mylena. It's great talking to you. How are you doing today? | |
| | |
| --- | --- |
| | Hello! Thanks for inviting me! 🙂 I'm doing great!! |
Anytime!
You're on the verge of releasing your second studio album as a band in 2022. Is there a date for the album release yet?
| | |
| --- | --- |
| | The album is 100% ready: drums, guitars and vocals were recorded in April and in September, after our bassist, Amanda Melo joined the band, we went back in the studio so she could track her parts. Everything was recorded at Fusão Studio, and produced, mixed and mastered by Thiago Bianchi. We still don't have an official release date but we can't wait to have the songs out there for everyone to hear! |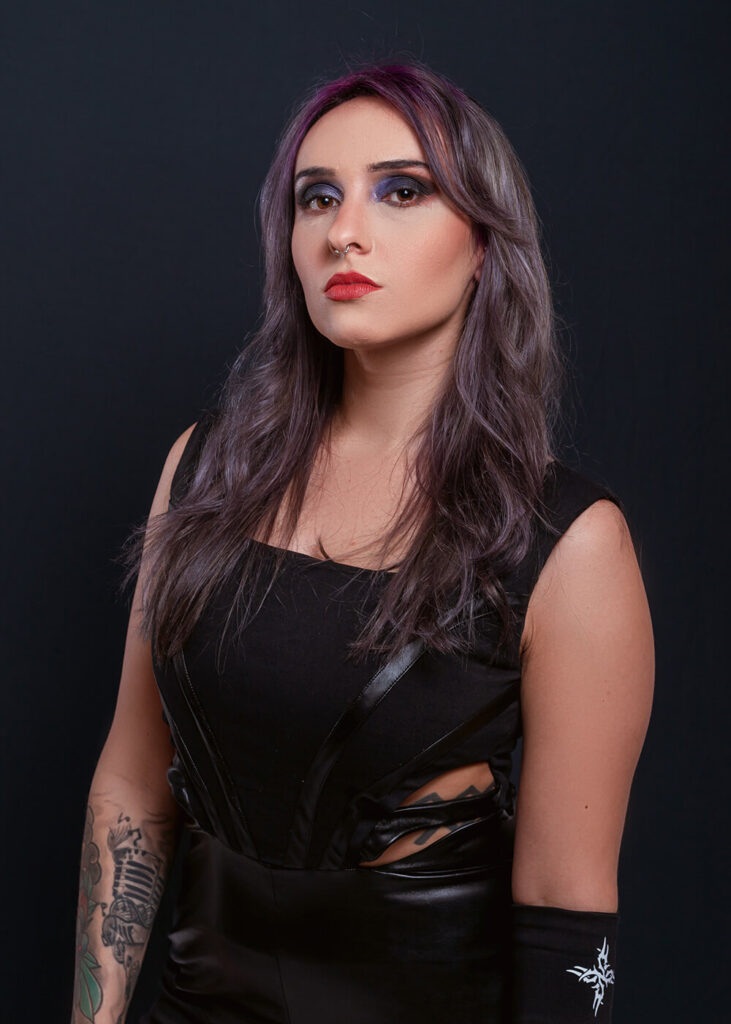 That's great! Can't wait to hear your new music too.
You've started SINAYA more than 10 years ago. What are some difficulties you have faced during the past years to reach where you are now?
| | |
| --- | --- |
| | There were many difficulties. I've had to deal with sexism, women always need to prove more than men. I've already gotten sick on tour and still have to sing. Having to make a lot of decisions quickly thinking about the best for the band and needing to act under pressure, even if it costs ex-members to speak badly about you, about the band or some situation. We have to know how to deal with a band professionally above all else, otherwise, it will never get to the place you really want to. |
Thank you for sharing this. In order to get to know you better, and to have some fun, how about we play a game? I will give you a certain scenario in an alternate universe and you will have to react.

In a universe where you're the ruler of a country, what would be an interesting law you'd make?
| | |
| --- | --- |
| | Certainly a little more equality and opportunity for everyone. Many people work hard but never get opportunities like privileged people. |
| | |
| --- | --- |
| In a universe where humans are born with superpowers related to their personalities, what would your superpower be? | |
| | |
| --- | --- |
| | Being able to make the day have more hours, so I can do everything I need to do. hahah |
| | |
| --- | --- |
| In a universe where singers are worshipped as gods and goddesses and each has a festival, what would your festival be like? | |
| | |
| --- | --- |
| | Currently, I would like to add bands with women in the line-up and bands in the modern/deathcore scene like Jinjer, Gojira, Carnifex, Bleed from within and so on. |
That a very good idea!
In a universe where the currency is the person's sense of humour, how rich would you be?
| | |
| --- | --- |
| | In pounds sterling maybe… haha I really like people with a sense of humor and normally I get along better with that kind of people. By the way, in the band, we're making a lot of memes. |
Memes are the best!
In a universe where the senses of taste and hearing are mixed up, what food would SINAYA's music taste like?
| | |
| --- | --- |
| | Something like Golden Ale Beer! Crisp and refreshing for the soul. |
YUM! Thank you for playing, Mylena!

You have an electrifying growling voice! How did you develop your singing skills? What vocalists, if any, inspired you to pursue this style of singing?
| | |
| --- | --- |
| | Thank you so much! Glad you liked it! I've watched some vocal classes of Melissa Cross but the experience of being on stage taught me many things. I started to teach in 2017, and nowadays most of my students are girls, I think it's awesome. I've been specializing in courses of Physiology of the Singing Voice. The important thing is to always keep improving. I've started to sing because of John Tardy of Obituary, Sepultura, Layne Stanley (ex-Alice in Chains) and Scott Weiland (ex-Stone Temple Pilots). Well, there are many girls too. I grew up seeing girls get inspired by Doro Pesch, Cristina Scabbia, Simone Simons. Nowadays we also have more women inserted in extreme bands. |
| | |
| --- | --- |
| Do you remember the first time you performed in front of a live audience? How did it feel? | |
| | |
| --- | --- |
| | Yes, I remember them all, but there are always those who we've enjoyed more. But the one I was happiest with so far was sharing the stage with Primal Fear. It's a band I've been listening to since I was 10. I also loved sharing the stage with Exodus, Suffocation, Amon Amarth and Abbath. |
| | |
| --- | --- |
| Have you ever been treated in a sexist manner? How would you have sexism and what advice would you give to young people who deal with any kind of discrimination? | |
| | |
| --- | --- |
| | Yes, I've already been! Just keep doing your job and not paying attention to these people. They will always talk about you, whether you are doing it right or wrong and that means your work is paying off. Just move on. |
| | |
| --- | --- |
| Thank you for the interview, Mylena. Is there anything else you'd like to add? | |
| | |
| --- | --- |
| | I just want to thank everyone who follows my work and Sinaya's work, everyone who supports us. You guys kick ass. And thank you so much for having me! Don't forget to follow us on our Social Media to follow our news. |
---
Follow SINAYA