I had the chance to talk with actress and model KateLynn Newberry. The young and talented Atlanta-based actress has appeared in numerous short films, movies, and commercials. In her 2020 short "Pretty Metal", KateLynn portrays a member of an all-female pop group who reinvents themselves into a Heavy Metal band. KateLynn would captivate you with her expressive acting, whether in one of her memorable movie roles or in her creative reels and social media posts.
KateLynn appeared in and won awards for her role in the comedy short film "Notes from Melanie," and she most recently appeared in the thrilling horror movie "Isolated."
KateLynn is able to easily make her character alluring and fun to watch whether she is playing a role in comedy or horror. In this interview, I enjoyed getting to know KateLynn better and learning about her upcoming projects and ideas.
| | |
| --- | --- |
| Hello KateLynn! I'm really happy to talk with you. Since we're mainly a music-related magazine, let me start by asking what are some of your favourite musicians or bands. | |
| | |
| --- | --- |
| | Hello Vanessa! I'm so happy to be here, thank you for reaching out!! My favorite band since I was probably 16 years old is In This Moment. Maria Brink has had a huge influence on me as a woman and as an artist. I'm also a big fan of Tool, Bones UK, The Pretty Reckless and Ice Nine Kills just to name a few. |
| | |
| --- | --- |
| Wonderful! I have been following you on social media for a while now (not to sound stalky) and I am a fan of the way you deal with abuse and sexism. What advice would give young girls who deal with any kind of abuse at school? | |
| | |
| --- | --- |
| | Speak up, NEVER BE AFRAID TO SPEAK UP. Even if your voice shakes, speak up. You speaking up could potentially help someone in the future. Being loud and speaking up will give the women/girls around us the power and courage they might need to speak up as well, and we all know that we are stronger together. We need to be loud, we need to make it an uncomfortable place for abusers and people with misogynistic tendencies to exist. Stay loud, stay strong. |
| | |
| --- | --- |
| Beautiful words! If you could play the role of any historical figure, who would you choose to play? | |
| | |
| --- | --- |
| | I've always had a fascination with Joan of Arc. She was a 17-year-old peasant girl, defying gender norms back in the 1400s, leading the French army to victory. I think that's a powerful story and a reminder that we as women are fucking powerful. Catherine the Great would also be incredible because she was a badass, but Elle Fanning does an amazing job portraying her in The Great. |
| | |
| --- | --- |
| Which actress or filmmaker would you say is your role model? | |
| | |
| --- | --- |
| | Charlize Theron for sure. I think she is an incredible performer, I am captivated every time I see her on screen. She is also a huge role model for me because of her activism work with gender equality and domestic violence. |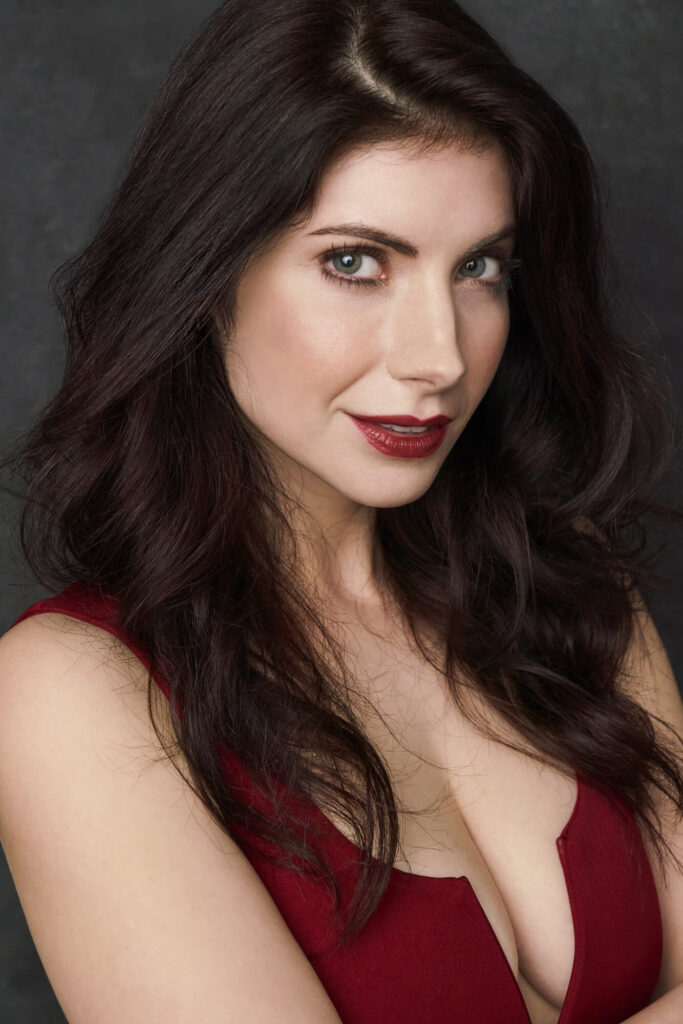 | | |
| --- | --- |
| Can you tell us about any of the projects you are currently working on? Anything your fans can wait for? | |
| | |
| --- | --- |
| | I'm currently gearing up to work on an LGBTQ+ horror film called MEAT written and directed by (one of my very best friends) Roger Conners! I think it's important to have queer representation in film and that we don't have nearly enough of it, so I'm really excited to help bring this story and these characters to life. |
| | |
| --- | --- |
| To make this interview more fun and get to know you more, I will ask you to pick one of the following pairs. | |
| | |
| --- | --- |
| Burgers of Pizza? | |
| | |
| --- | --- |
| | Haha Pizza, that's my current food fixation |
| | |
| --- | --- |
| Live in a world with no coffee or a world with no ice cream? | |
| | |
| --- | --- |
| | No coffee |
| | |
| --- | --- |
| Bohemian Rhapsody or Stairway to Heaven? | |
| | |
| --- | --- |
| | Bohemian Rhapsody |
| | |
| --- | --- |
| Marvel or DC? | |
| | |
| --- | --- |
| | I'd choose Marvel, but I honestly prefer The Boys |
| | |
| --- | --- |
| Oh, nice! Have the ability to teleport or the ability to travel in time? | |
| | |
| --- | --- |
| | Probably teleport, I'm tired of driving haha. |
| | |
| --- | --- |
| Thank you for your time KateLynn! Is there anything else you'd like to add? | |
| | |
| --- | --- |
| | It was a pleasure! Thank you for having me! Stay strong and stay safe! <3 |