We didn't know the meaning of the words "covid-19" and "pandemic" in 2018, and yet that year was the last time that an unbelievable ensemble like Haggard set foot in Italy. We had to wait to leave "covid-19" and "pandemic" behind us before they could come back and blow our minds. This is the report of their live show in Mantua, where we were hosted by Tom Hell's Night of Massimo Mazzola, which we deeply thank for their endless support and professionalism. All the photos are of course by Silvio Colombo.
LEVANIA
About 10 minutes after their scheduled time, the first band to hit the stage was Levania. Their gothic metal is full of influences but maintains a unique sound. Elena, the female lead singer, was absolutely smashing her vocal parts: she could sing so delicately, like a lullaby, and yet also rock out powerful screams. I was really impressed by her versatility! Marco (a.k.a. Still), on harsh vocals, added a heavier vibe to the whole performance. Even though they didn't excel in engaging the audience, I really applauded their enthusiasm and passion. I hope to see them again in a different setting!
Rising
Trace
Your Eyes And My Fear
Dried Blood
Reflections
Abyss
Fukushima
Genesis
Skinless
Hopeless
Nadir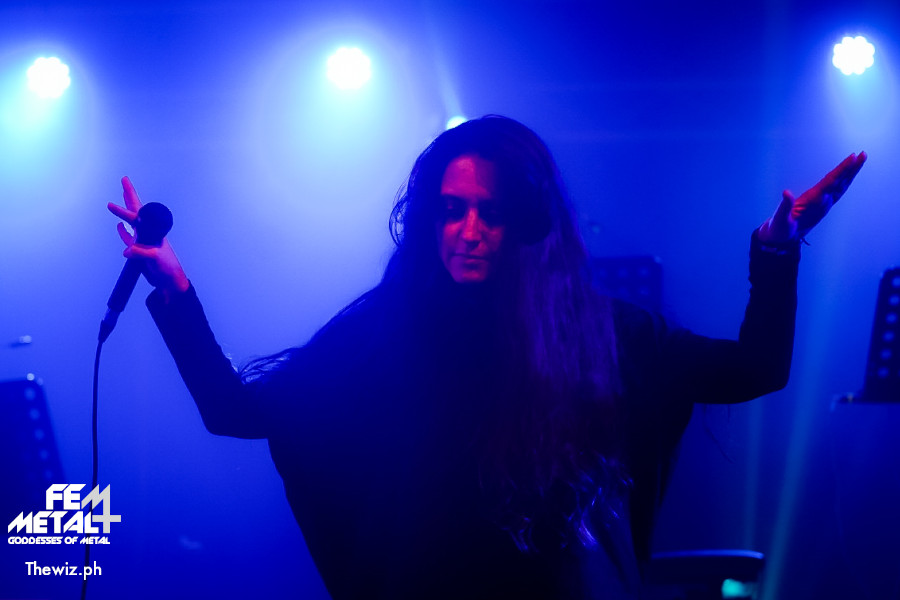 GREAT MASTER
The second band of the evening completely changes the mood of the venue: from gothic, we move on to power metal with the mighty Great Master. If you're a habitual FemMetal reader, you'll know that I had the pleasure of seeing this band last summer in Cerea, but there they played a very short set. Unfortunately, also on this occasion, the band was forced to reduce their time on stage because of delays in the schedule. In any way, their performance was absolutely magnificent. They put on a fantastic show, and it's impossible to stand still while they're on stage. Let's hope the next time I'll see them, they will play a longer show!
Shine On
Rolling Down to Old Maui
War
Long John Silver
Skull and Bones
HAGGARD
"Hello, my name is Claudio Quarta, and since I am Italian, I play the mandolin". These are the words that introduce the iconic Haggard on the stage of the Arci Tom. If you've never been to a Haggard concert, it will be very hard to describe their shows because they are not only excellent performers but also entertainers. Janika Groß, the lead soprano, was hitting flawlessly every single note: I was absolutely in awe the whole time she was singing. I have to mention Aline Deinert, Anne Eberlein and Lisa Hellmich, whose wonderful technique makes me want to dig a hole in the ground and bury myself (yes, I really suck at playing the violin). Also, Ingrid Nietzer delivered some remarkable melodic lines on the piano, and Florinda Hoffmann filled the atmosphere with her cello. It was Catalina Popa and Stefania Sabau that mastered the woodwind section of these talented people. They played for longer than two hours, which was the time scheduled for their show. Long story short, don't miss out on Haggard if they play in a city near you!
In a Fullmoon Procession
Of a Might Divine
The Hidden Sign
In a Pale Moon's Shadow
Heavenly Damnation / The Final Victory
Herr Manellig
The Observer
Prophecy Fulfilled / And the Dark Night Entered
Upon Fallen Autumn Leaves
Per Aspera Ad Astra
The Day as Heaven Wept / Origin of a Crystal Soul
Tales of Ithiria
Awaking The Centuries
Seven From Afar
Eppur Si Muove