To build a castle, you have to start with collecting small stones. Cecile Monique is an artist that has been collecting stones for years to build her musical career. And what a castle she is starting to build!
On November 2nd 2018, the independent Canadian Symphonic Metal singer released her debut album 'Genesis'. FemMetal had the privilege to review 'Genesis' album and talk with FemMetal Awards 2018 Best Symphonic Metal Vocalist nominee Cecile Monique about it.
You can read the review below or jump straight to the interview.
'Genesis' Album Review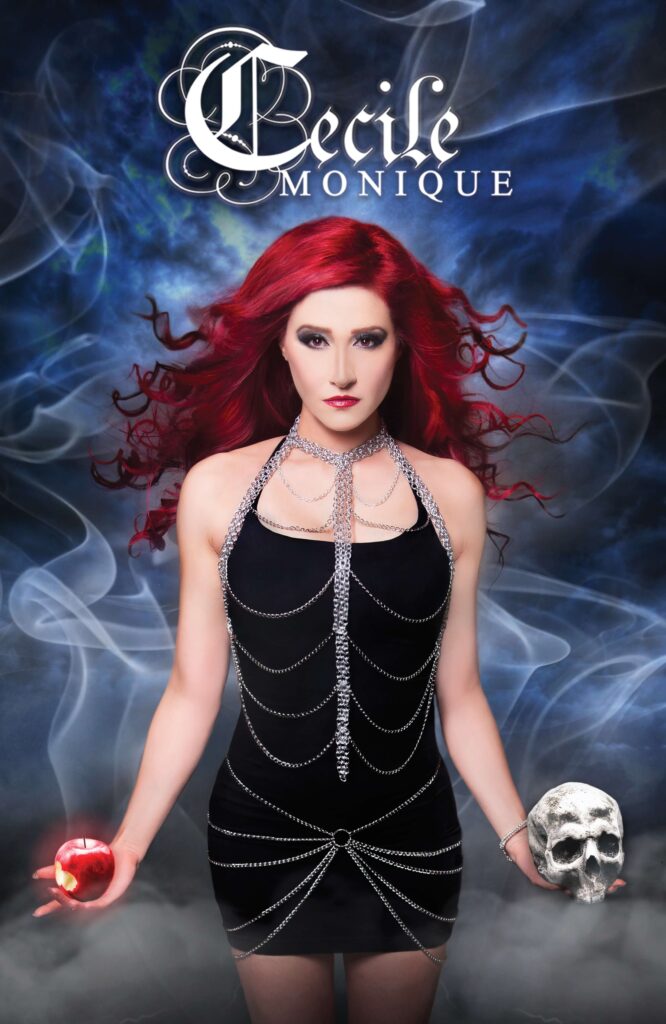 Music
The album kicks off with a breathtaking musical intro that culminates at its end to open for Genesis, the song. Throughout the album we witness great symphonic melodies accompanied by hard guitar riffs. The symphonic intros for some of the songs and the musical variations and guitar solos all make the album musically rich.
Lyrics
Despite not being a concept album, 'Genesis' does have a certain theme or mood that the lyrics revolve around. It is basically about not giving up whatever and whoever stood in your way. Although not similar to lyrical themes this genre has got us used to, the lyrics are powerful and full of feelings. Add to that, the album has an average of 35 new unique words per song. That is 6 words per song above the average for Heavy Metal (according to musixmatch), which adds to the value of the lyrics.
Production
Each song on 'Genesis' has its unique identity. The music works well with the lyrics, as it helps giving life to them on several occasions. For instance, in the song 'Genesis', with lyrics about rising again and not giving up to defeat, after a wonderful guitar solo the song pauses for one or two seconds and then carries on again with '..This is not the end..' being chanted, making the listener not only hear Cecile Monique saying it's not end, but also feeling that it is not the end. The classical vocals of Cecile are of course the essence of the album's beauty.
Cover Art
A good piece of art is one that makes you ask questions. And that is exactly what the cover art of 'Genesis' does. It acts as a one-frame-trailer to get you to grab or click that album to listen.
Ratings
| | | |
| --- | --- | --- |
| Music | 🌟 🌟 🌟 🌟 | 8.5/10 |
| Lyrics | 🌟 🌟 🌟 | 7/10 |
| Production | 🌟 🌟 🌟 🌟 🌟 | 9.5/10 |
| Cover Art | 🌟 🌟 🌟 🌟 🌟 | 9/10 |
| Total | 🌟 🌟 🌟 🌟 | 8.5/10 |
---
Interview with Cecile Monique
We spoke with Cecile Monique about her new album and more.
Mirk: Hello Cecile. First thank you taking this interview and congratulations on your new album!
Cecile: Thank you so much! It's such a pleasure to speak with you!
Mirk: The pleasure is mine. You've been around for a while now. You released your first EP seven years ago and participated in Wacken Metal Battle Canada about five years ago. How does it feel to finally have your first full-length album out?
Cecile: It's a fantastic feeling! It's been a goal of mine to have a full-length album almost since I began doing original music, and I really wanted to put together a debut album that would be an accurate representation of my Gothic-Symphonic style and also have the feeling of being a complete work that belonged together, so I'm really glad that I had the opportunity to release "Genesis" this year. I'm also very passionate about writing for symphonic instruments and choir, so I definitely wanted to have choir and classical instruments figure prominently in the writing for this album.
Mirk: Genesis, the song, is about rising up again and not giving up after falling. How personal is that song to you? Did you ever feel like giving up and then decided to keep on pushing to reach your goals?
Cecile: Definitely, although I don't usually write from direct personal experience – except for the song "Ashes" on this album, which was written for my grandfather who recently passed away – my hope with "Genesis" was to convey a message that everyone could connect with. I think that most artists reach a point in their careers when they question why they're doing their art and whether it's worth pursuing when there are so many talented people in the world, and I've definitely been there myself. I think what has always kept me going over the years has been the support of my family, friends, session musicians and the people from all around the world who have connected with my music and given me the drive to keep creating, and I think that's kind of what "Genesis" is all about; regardless of the challenges we may face or how bleak our circumstances may become in life, there is always an opportunity to begin again and keep pushing through.
Mirk: The cover art of the album, which I really adore, shows you holding an apple in one hand and a skull in the other. I had many interpretations for what the meaning of this image can be, but I'm still not sure. Would you like to explain what the cover art means?
Cecile: Thank you! The cover art for the album was designed together with a great friend of mine and a wonderful photographer, Crestina Martins, of Crestina Photography. This album was also loosely based on Biblical themes, and more specifically the story of creation, but I wanted the album to still be very universal and inclusive, so I always found it fascinating that in almost every religion, there is a creation story of how people came to exist. In the Christian creation story, one of the themes I always found most interesting is the idea that people were given free will, so I chose the symbolism of the apple and the skull in the album art to represent the two choices that we have in life: the apple represents life and knowledge, and the skull represents death and decay, and the choice is up to us whether we choose a path that leads to thriving in life or decaying in life.
Mirk: Many of the tracks on Genesis have a theatrical essence in them. Are you planning for any music videos soon?
Cecile: Absolutely! I think that music videos are such an essential part of releases in today's music industry, and I always have such a blast filming music videos and coming up with a visual concept for my songs as an additional creative outlet to explore! Music videos for the singles from "Genesis" are definitely in the works for the new year and they will, of course, be released on my official YouTube channel.
Mirk: Would you like to tell FemMetal a bit about you? How did you get into this kind of music? What did you grow up listening to? Who is your greatest influence outside and inside the music scene?
Cecile: I began singing when I was around three years old, and since I was very young, I was always very fascinated with operatic voices and used to try to sing operatically all the time. When I was in high school, I used to watch lots of operas on DVD and was very influenced by sopranos like Maria Callas who had such powerful voices and were such talented interpreters of the songs they performed. I decided to pursue classical vocal training and did a university degree in music, and it was during my university training that I discovered the music of Apocalyptica, which really changed the direction I decided to take in music, and I definitely credit them as being one of my biggest musical influences to date. At that time, what really drew me to Apocalyptica was the fact that they were classically-trained musicians playing classical instruments and they were using their skills to make contemporary metal music and even write original music that sounded like nothing I'd ever heard before! Once I started listening to them, I began to find other European metal bands like Within Temptation and Nightwish and realized that so many of the artists in these bands (and particularly the frontwomen, like Tarja from Nightwish) were classically-trained musicians, and I was so inspired. I also really loved how the female-fronted bands like Within Temptation had a very gothic symphonic style that was very theatrical and that brought together the sounds of classical and metal music so well, and I thought, "Finally! Here's a style of music that has everything I like in music, all in one!" And I decided to start using my classical training to write my own original music, and I've never looked back!
Mirk: They usually ask 'where do you see yourself 10 years from now'. I want to flip this question. Ten years ago, did you see yourself going as far as you came to now? Having an album and this success?
Cecile: I think that I always hoped to achieve something as a musician and have my music reach people, but as an artist, you really never know if your work will resonate with people, so I am extremely humbled by the response from listeners over the years and am so grateful to every person around the world who has given my music a chance and listened to my songs!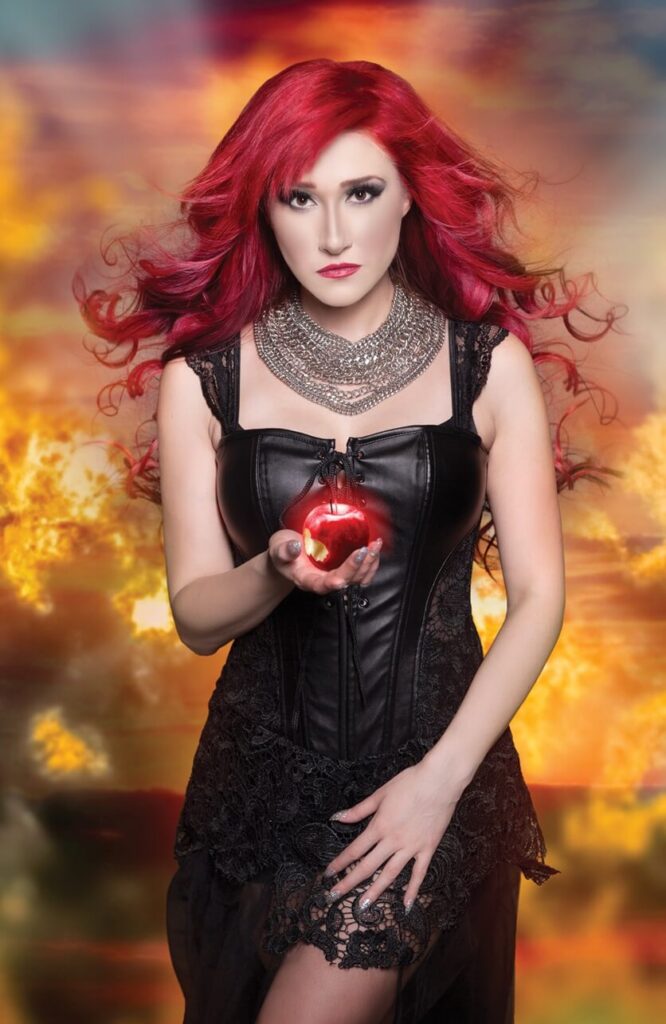 Mirk: You're a solo act and an independent artist. That's really impressive regarding all the work you do on your own. But would you consider joining or forming a band in the future?
Cecile: For live performances and recording in the studio, I have amazing session musicians who play electric guitar, bass and drums for me and function as my live band, so for me, it's been kind of like having the best of both worlds of being a solo artist and having a band! For writing, producing, and arranging, I've always chosen to create and work on my own, and I usually prefer getting my musical ideas fully developed before bringing them to my musicians, so I think that for the foreseeable future, that will probably continue to be my way of working.
Mirk: Thank you for taking this interview Cecile. It's been a pleasure listening to your music and talking to you.
Cecile: Thank you so much for your support!
---
You can purchase 'Genesis' and its related merchandise from Cecile's official store.

Follow Cecile on social media