Freak Injection is an Electronic/Industrial Rock band from Paris. When it comes to Industrial music, people tend to think of a simple formula: Harsh Rock music, mixed with electronic music, such as EDM or Dubstep. The way it's done, however, differs exponentially from one artist to other. The fact that a music genre is a fusion of two or more branched genres makes the possibilities wider, just like a painter with unlimited colour possibilities would be more free in their art than one with 2 or 3 colours on their palette.
Freak Injection had every colour in the rainbow on their palette when they made their album 'Daddy Is the Devil' , which was released last month.
We had the pleasure of interviewing Freak Injection's vocalist and lyricist, Charlie Red to talk about their album and other things. We also had the pleasure to listen to 'Daddy Is the Devil' and write a review on it.
To skip the review and jump right into the interview click here.
---
Review
When a band is named "freak injection" you expect some weirdness, spookiness and out-of-the-box-ness from their music. 'Daddy Is the Devil' is an album full with all these three, presented in a sound that includes a wide range of different elements from electronic and Metal music. Here are three things we loved about 'Daddy Is the Devil', by Freak Injection.
Charlie Red's Voice
Charlie Red manages to translate each of the song's lyrics, vibes and music in her vocals. Her alteration of her singing method added a lot to the album in terms of originality. There are songs like Snakeskin where she's singing in a flawless melodic voice, where in others like Sex Me or Evil Raccoon Party she riots in another direction with more aggressive vocals, in both cases brilliant
Intelligent Music
'Daddy Is the Devil' has many songs with great music. And I used the term 'intelligent' to add something to this character of the album. Some songs might have great music that you'd enjoy to listen to over and over again. However, intelligent music cannot is always surprising and opening new borders to the listeners. This applies especially to songs like Snakeskin and Sex Voodoo & Rock'n'roll.
'Snakeskin'
Snakeskin is our favourite song on the album for having both of the characters we mentioned before and being a remarkable song with its lyrics and melodies. Although it has less aggression and heaviness than other songs on the album, it is a song of its own character that drives the mind into another state. Wonderful song!
---
In Summary, 'Daddy Is the Devil' is a good album that shows the great potential Freak Injection has for the future. It is an enjoyable album to listen to and we recommend it to all Industrial and Elctro-Rock fans.
---
Ratings
Note: Since the 21st of April, we have changed the procedure in which we rate albums, and thus the new rates might be lower than what they could have been following our older procedure. The albums we previously reviewed will be re-rated following the same procedure in time.
The FemMetal Team has given the album the following rates:
| | | | |
| --- | --- | --- | --- |
| | Betty | | 6/10 |
| | Mirk | | 6.5/10 |
| | Rebecca | | 5/10 |
---
Interview
Mirk: Hello Charlie! How are you and Freak Injection doing in these hard days? Staying home?
Charlie: Hello guys , the team is fine and motivated to make people dream in these hard times. I'm fine too, and trying to put some glitters in hell. We realized how much art is important in this kind of situation. Also it's important to behave as humans and take care of our beloveds.
Mirk: That's great. You've released your album 'Daddy is the Devil' a few days ago. How are you feeling about this release?
Charlie: It's like a strong achievement in our life. The meaning of this album is very subversive. It's about killing the symbol of the father oppression and developing more (sweet) insolence in our lives. We are insolent kids forever. After that, the freedom and weird wisdom arise and build a new hell. A hell full of glitters and pink toys, full of pleasure.
Mirk: How would you describe Freak Injection's musical sound and style? Who were your influences to create this sound?
Charlie: It's electro rock, pop industrial style. I really love the bands like The Prodigy (mixing electro, rave, rock, punk influences), Nine Inch Nails (for the dirty sounds and really sex atmosphere), The Pretty Reckless , Motley Crue for the power of rock and insolence, Lindemann for his insolence, power and freedom of lyrics. Grimes for her universe really rich visually and musically. Lady Gaga for her genius in Art. Marilyn Manson…Tim Skold…
Mirk: Your music videos and band graphics contain many cinematics and wonderful effects. How do you believe the ability of adding visuals to music has influenced the industry in general and Rock and Metal in particular?
Charlie: Thank you. I think the music needs to be more than just sound. Indeed, an album is a full story. It needs to serve a real universe and make people dream (or nightmares!). The rock and Metal are these kind of musics where you can have something primal, powerful, intense, it's so natural to create a crazy universe. These kind of musics reveals the rage, insolence, energy, etc, it's really animal. I think it has influenced the industry because in this digital society people need to feel more than ever strong emotions to feel alive. And thank to the modernity we are able to create without limits but our crazy thoughts.
Mirk: What bands and artists have you grown up listening to? And who of these influenced most your decision to be an artist yourself and make music?
Charlie: I grew up with Marilyn Manson, i remember the first time i read a magazine he was saying he broke his ribs to suck his dick himself. I loved so much his freedom to be weird and his sensuality in his music. I really loved too the bands like Motley Crue, Rammstein, The Prodigy, AX7,also Dream Theater (my first band did metal prog music). That's why I love so much to tell stories… the prog music was nice to create a crazy universe. I learnt with the time to sing shorter but deeper stories. I decided to free my madness and to leave the too technical and serious metal music process and turn to something funny but sophisticated and experimental. I'm the servant of Art and the Domina for other things…
Mirk: We know you might be excited to see the people's reaction to all the songs on the album. But some songs might be special in certain ways to you. So I'll ask you to pick a song to do a specific job in this 'Which song' game. (Some of the questions are far from serious)
Which song on 'Daddy is the Devil' would you…
use to introduce someone to Freak Injection?
Charlie: Crosses!..I'm proud of this song, I remember i was in Rome when i wrote the lyrics.
Mirk: …recommend to someone who wants to try your music but isn't into Rock and Metal?
Charlie: Muse maléfique, this sounds is more trip hop and sensual..
Mirk: …use to encourage a friend going through hard times?
Charlie: Glitters in Hell…blood become glitters, the glitters are a substance leading to euphoria and madness.
Mirk: …use as a soundtrack for a movie based on your life?
Charlie: Daddy is the devil.
Mirk: …play when you're mad at something or someone?
Charlie: Sexvoodoo & rock n roll!
Mirk: …use to summon an army of magical creatures to help you conquer the world?
Charlie: Evil raccoon party of course, send the Raccoon King to draw some pink pentacles…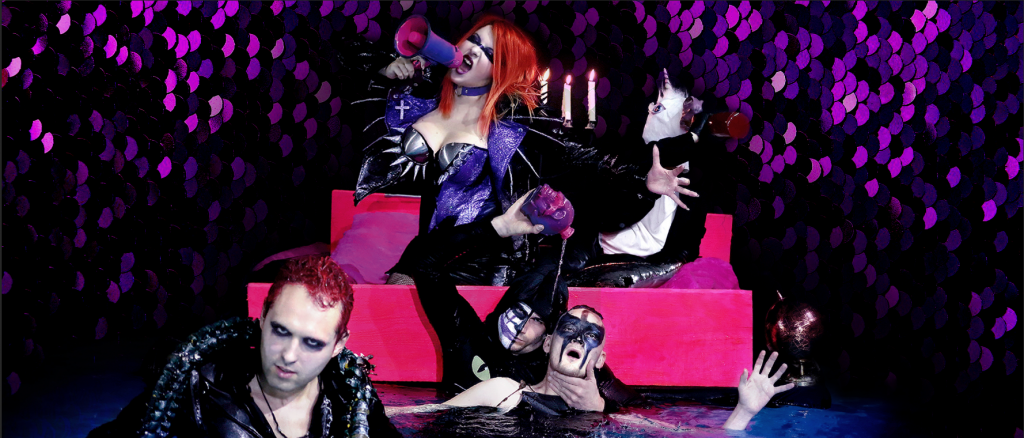 Mirk: That's awesome! Have you ever been treated in a sexist way in your life? How would you face sexism and what advice would you give to girls who face unfair treatment based on their gender?
Charlie: Of course, the sexism is everyday, everytime. There is still so much to do against sexism. The best way to face sexism is to find clearly who you are. When you know clearly who you are, you feel more powerful and don't lie to yourself. When you have no doubts about yourself, start by being proud and developing your self-confidence. Forget your gender and convince yourself (and thus others) than you are a strong mind and can achieve anything, this is how i am in the rock Metal music industry. Your limits are only the ones you put as constraints on yourself, not from others. Culture is also the strong way to fight sexism and so thank you for your work and activism FemMetal! I hope the future generation will have new strong references to destroy this fucking sexism.
Mirk: Thank you Charlie, it's our duty for humanity and ourslves and communities. Thank you for the interview! Good luck for you and Freak Injection in your future projects.
Charlie: Thank you, and long life to the goddess of Rock Metal!
---




---