The band we're talking about today might physically be from Germany, but their music is from all over the world of fairytales. Their Symphonic Metal tunes are a gate into a world of fantasy, exciting, through its storytelling elements and themes. Snow White Blood released their album 'Hope Springs Eternal' on November 13th 2020. We had the pleasure to listen to their new album and write this review about it.
We also had the chance to chat with Snow White Blood's vocalist, Ulli Perhonen and ask her about the album and her thoughts on different issues. You can real the interview with Ulli by clicking the link below.
---
Review
'Hope Springs Eternal' is an 8-track album lasting a wonderful 50 minutes. The quality and talent projected into this work makes it hard to believe this is only the debut album from the German band. Here are four things we loved about 'Hope Springs Eternal'.
1. Songs content
'Hope Springs Eternal' has a very rich songs content in terms of both music and lyrics. Almost all songs on the album have a very exciting melody and riff to them. Instrumental sections and solos reflect a great songwriting, and the lack of monotony and continuous change in pace and tune throughout the album reflects a great amount of talent from Snow White Blood. Shared Hearts, Never-ending Waltz, You Belong to Me, and Falling Stars are perfect examples of the quality we just mentioned.
2. The performance and production of the work
We probably wouldn't have sensed the great quality of the songwriting if the work wasn't executed and produced with a matching one. The instruments and vocals were all hand in hand all through the album. The additional vocals of Lily Seth and Danny Meyer were very convenient for their respective songs. We'll talk more about Ulli's vocals next.
In addition, 'Hope Springs Eternal' contains cinematic sounds that help carry us into the world or story the music revolves around. An example of the latter can be seen in the song Longing for the Sea. The album's leading song, Shared Hearts, and final song, Falling Stars, both have a mood in the music relevant to their location on the tracklist.
3. Vocals
Ulli Perhonen is simply one of the best vocalists in Symphonic Metal. But we're not going to talk about her technical abilities or how her voice soared higher than a Whooper Swan on tracks like Never-Ending Waltz and Longing for the Sea. What I loved most about her voice is how it perfectly reflected the lyrics and feelings. She sounded angry on Drop a Stitch, loving on Shared Hearts, and reflected every other feeling she could have on every song. To make this simple, if I listened to Longing for the Sea, I would have known from her tone and voice that she's missing something or someone even if I didn't know English. Pure class!
4. Consistent quality
The album is very consistent in terms of quality. None of the songs on the album was poor or lacked the quality of the others. Almost all the songs on 'Hope Springs Eternal' have at least one feature that would make them stand out to the rest of the songs on the album.
---
Favourite song: "Never-Ending Waltz"
To be honest, when Shared Hearts came out as a single, I didn't think any song from the album would beat it. Well, Shared Hearts, enjoy your second place.
Never-Ending Waltz is a song that has all the things we loved about 'Hope Springs Eternal' compressed into one track. The majestic vocals from Ulli, with the compelling melodies, cinematic sounds, and pace variety made me wish the Never-Ending Waltz was never-ending… (see what I did here?)
---
---
Ratings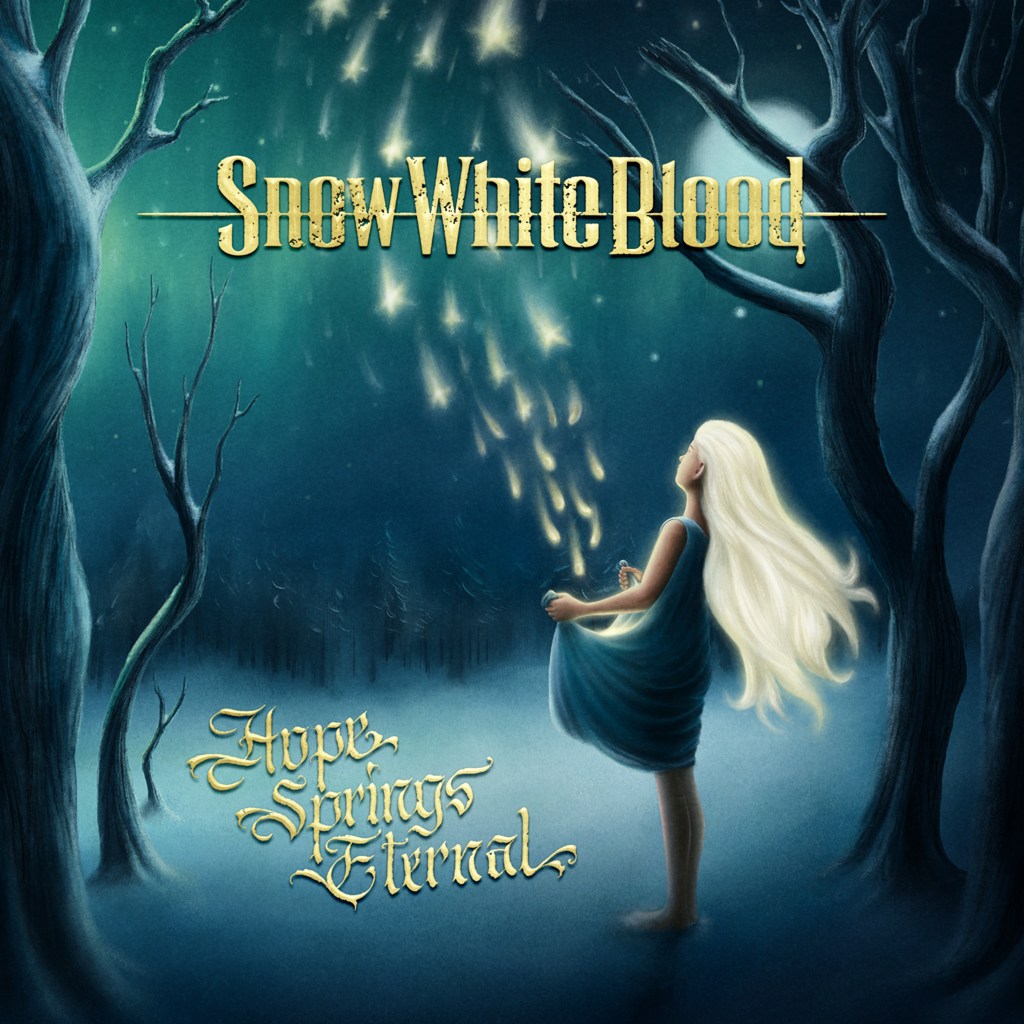 The FemMetal Team has given the album the following rates:
| | | | |
| --- | --- | --- | --- |
| | Betty | | 9.0/10 |
| | Mirk | | 10/10 |
| | Rebecca | | 9.5/10 |
---
Don't forget to check out our interview with ulli perhonen
---
Follow Snow White Blood