Today our guest is special and the first of her kind to be interviewed by our webzine. We've had vocalists, drummers, guitarists, and bassists. Today, and for the first time, we're interviewing a Rock DJ. I had the chance to watch Ell'N'Rock's performance at Online Female Festival, that was recently organized by Kiara Laetitia. The atmosphere Ell'N'Rock was able to create during her set was amazing. I've heard all the songs she played dozens of times before, but never felt that energy in the atmosphere while listening to them from the radio.
It was like a séance or summoning where the spirits of all the artists came to the room and performed live!
We had the chance to interview Elena (Ell'N'Rock) and talk about her music, ideas and many other things.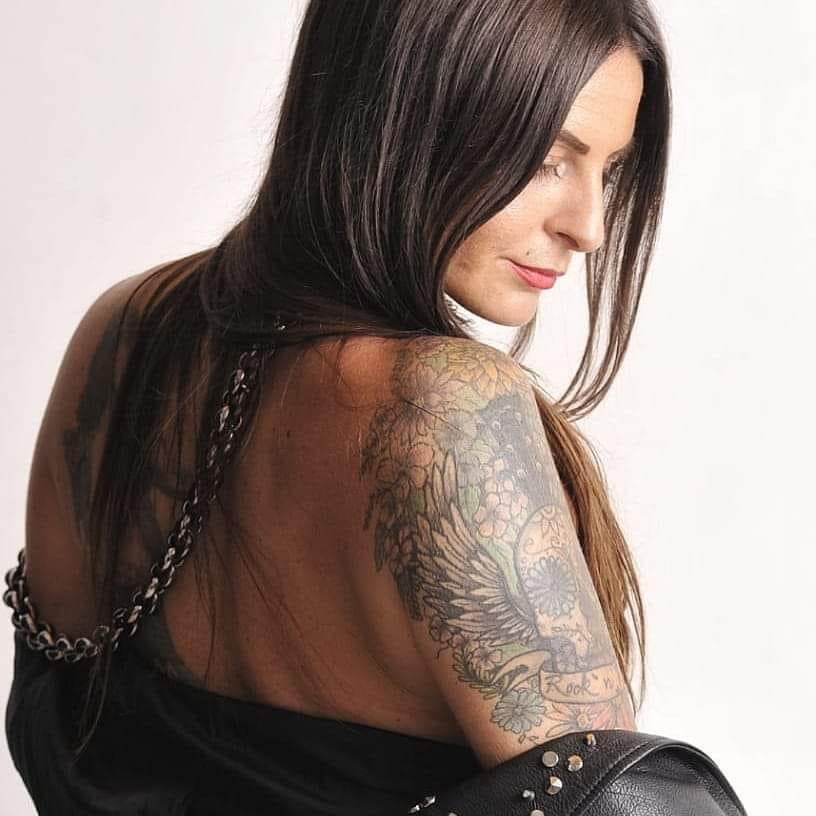 ---
Interview
| | |
| --- | --- |
| Hello Elena! How are you doing today? I'm very happy to talk with you! | |
| | |
| --- | --- |
| | Hey guys! Nice to meet you and thanks for this amazing interview! Today I rode my motorbike and now I'm writing you while listening to music. |
That's awesome!
For our readers who don't know you, you are a DJ, model, promoter and a blogger. Did I leave anything out?
| | |
| --- | --- |
| | I'm also a biker girl (have a red Ducati Monster s2r 800) and my other great passion is art and paint, in fact i attended art school in architecture and freehand drawing. Moreover I love travel, urbex and visiting mysterious places. |
That's a wide range of professions and hobbies!
I've recently seen you on Online Female Fest. Your set was one of my favourites. You brought so much energy into the show and so many memories with great classic Rock and Metal songs.What made you participate in this event what do you believe is its importance?
| | |
| --- | --- |
| | For me it is the first time in my life that I do this. I never performed live in public before, because I was supposed to start my DJ work activity on March with my first gig, but due to COVID-19 all live events have been canceled, so I decided to create my program directly from my house and I called this broadcast "QUARANTENA IN ROCK". This experiment turned out a great success for me, because with only 9 live streams I reached 500'000 views from all parts of the world. That's how the Online Female Fest found out about me and invited me to perform. |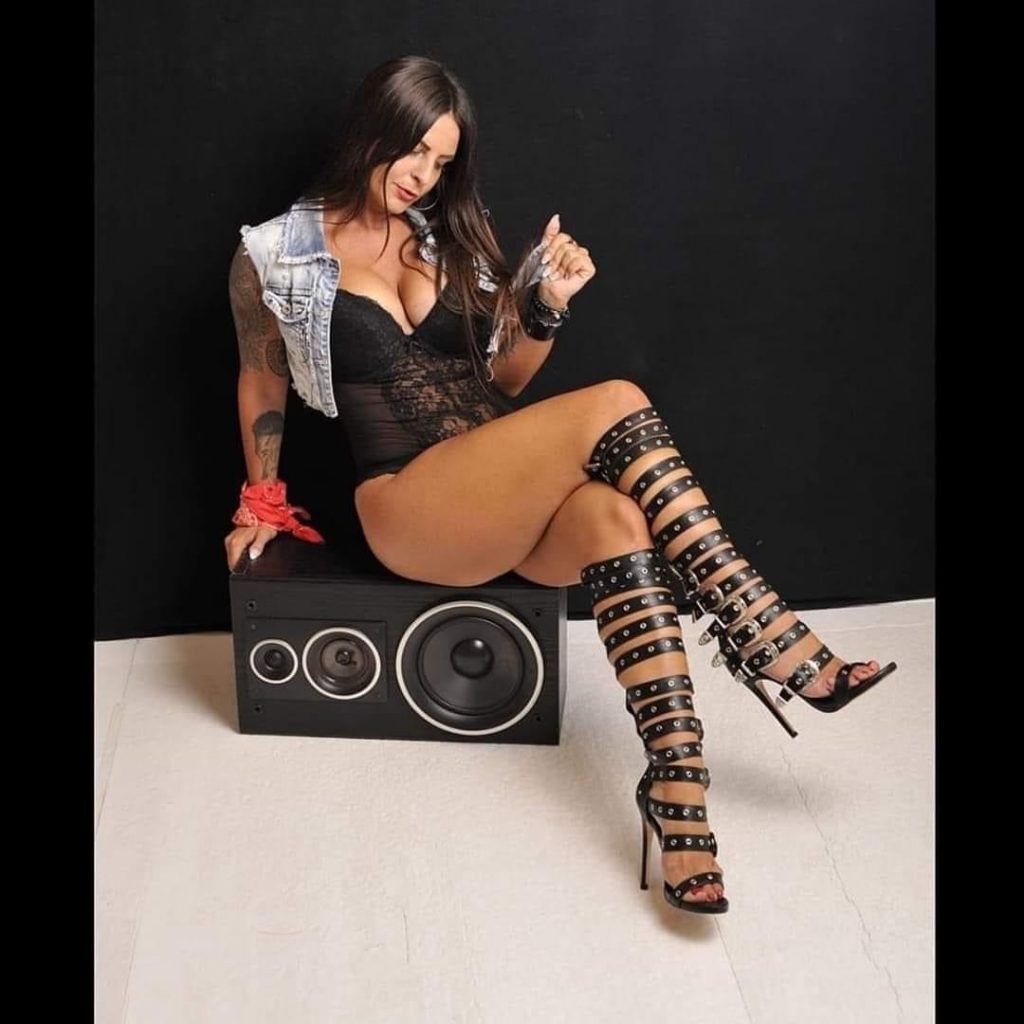 That's wonderful!
Also during the festival we noticed the wide variety of songs you included in your set. What are the criteria to follow to pick your songs and keep your set on fire?
| | |
| --- | --- |
| | All my passion for rock and metal music is the result of what my father Arnaldo handed down to me since I was a child. I am very fond of classic rock and I'm a very extroverted and optimistic person and for me rock and metal music is fire and flames of my soul. My life is always to the max and is very important for me that the people around me receive this immense positivity. |
Since you are so passionate about Rock bands, especially classic one, we'll play a game. I'll tell you a list of activities and you'd tell me one band you'd like to do this activity with.
Which band would you like to be stuck in quarantine with?
| | |
| --- | --- |
| | Without a doubt, Foo Fighters. I love this band and I have also their tattoo. |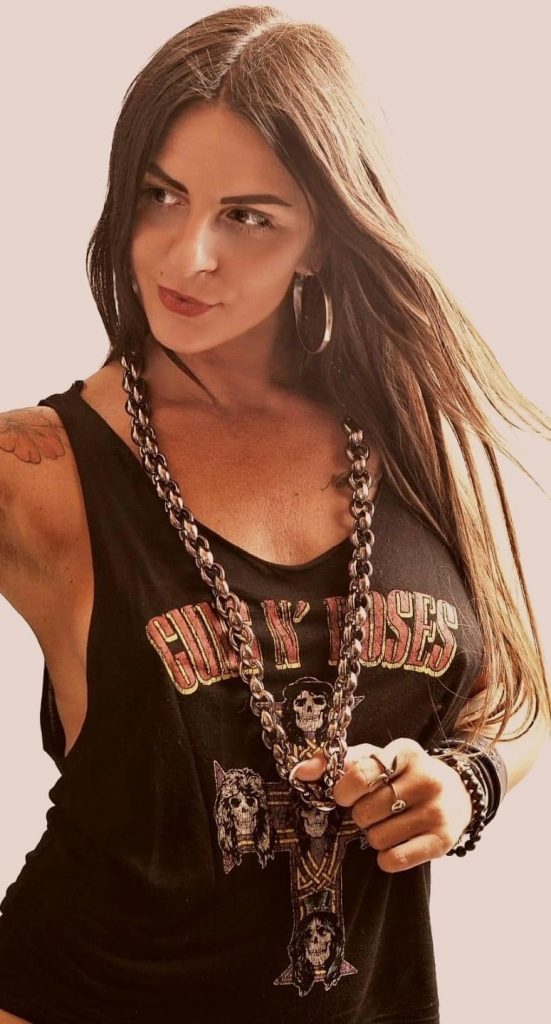 | | |
| --- | --- |
| Which band would you like to have if you're spending a night in a haunted house with? | |
| | |
| --- | --- |
| | With The Cure. Gothic and abandoned places are one of my greatest passions, and I have Robert Smith's tattoo also. |
| | |
| --- | --- |
| Which band would you like to have on your side if you're going to kill zombies in a post-apocalypse? | |
| | |
| --- | --- |
| | Twisted Sister, because for me is one of my favourite glam and heavy metal band. They're so cool and rebel, and I adore this. |
| | |
| --- | --- |
| Which band would you like to have next to you if you're upset? | |
| | |
| --- | --- |
| | Venom, obscure and black metal is a part of my soul. |
| | |
| --- | --- |
| Which band would you like to have next to you if you're in love? | |
| | |
| --- | --- |
| | I'm a very romantic girl, so I'd choose Creedence Clearwater Revival for romantic moments. |
| | |
| --- | --- |
| Which band would you like to have with you if you're stuck on an isolated island? | |
| | |
| --- | --- |
| | I'd like to explore an isolate island and in this place meet the greatest rockstar that I love, that are gone: David Bowie, Bon Scott, Freddie Mercury, Ronnie James Dio, Kurt Cobain and more…. |
Thank you for playing Elena!
During the Online Female Fest we've seen how you transfer so much energy and good vibes through your body language and dancing during your set. Artists, especially DJs, usually get their energy by interacting with the crowd, either encouraging them to dance or headbang or scream something. How do you keep that interaction alive during your sets even though you can't see your crowd?
| | |
| --- | --- |
| | Having never performed in public as a DJ, but only as dancer and presenter of live concerts, for me this is an amazing new experience and I'm very excited for that. I think that is important to believe in your dreams always and stay genuine and happy forever. |
| | |
| --- | --- |
| You have very interesting tattoos. I noticed a David Bowie one. Would you like to tell us about your tattoos? How many do you have and what are they? | |
| | |
| --- | --- |
| | I have nine tattoos on my body: they speak about my heart, my soul and music I like the most. My favourite in absolute is Bon Scott's tattoo, because for me it represents AC/DC band and he is my idol for sure! When I lived in London, some years ago, I went to pay homage at East Dulwich place on the Overhill Road, where Bon died. Than I have other tattoos: David Bowie, Foo Fighters, Rolling Stones, Metallica, Ramones, Robert Smith from The Cure and a Gibson guitar with flowers and skull. |
| | |
| --- | --- |
| If you had the power to get rid of one problem the world is going through, hunger, racism, global warming or any other problem, which one would you choose to completely erase? | |
| | |
| --- | --- |
| | I'd choose to highlight the importance of meritocracy. I think that is important to give voice to more female artists as well, not only for their beauty and physical aspect, but first thing for their professionalism. |
That's brilliant.
Thank you for the interview Elena! It was a pleasure to chat with you.
| | |
| --- | --- |
| | Thank you all, FemMetal. All the best to you and the readers and good luck for your magazine!! |
---
Huge thanks for Kiara Laetitia for her help in making this interview possible.
Follow Ell'n'rock


---