We had the pleasure of interviewing Viktorie Surmøvá, the talented vocalist of the band Surma. We asked her some questions about her band's new album, 'The Light Within', which you can read its review by clicking on the link below, as well as questions about her thoughts on different things, and of course, played some little nerdy game.
Hope you enjoy this interview with the amazing Viktorie Surmøvá!
---
Interview
| | |
| --- | --- |
| Hello Viktorie! How has 2021 been treating you so far? | |
Hi!! 🙂 Thanks for having me. 2021 is honestly a big disappointment for me. I was really optimistic with the whole pandemic situation, but now I just had to resign and I am really just surviving atm.. It is sad, but maybe it will get better eventually:)
How about you btw? 😛
I'm good, although it's lockdown here still and I miss the sun. Hope things will get better soon 🙏🏻
I think most people will remember 2020 for the ongoing pandemic. But for you, 2020 is also the year you released your debut album with your band Surma. What effects did the pandemic and lockdowns have on 'The Light Within'?
Actually the Surma album was finished before the pandemic started, so it didn't affect the album at all. It just affected the release date, it got postponed, but then we decided to release it anyway since we could be waiting forever for the "right time".
Of course the biggest effect after the release is the fact that we can't go on tour to promote our music.
| | |
| --- | --- |
| Glad you did. It was one of the few good things about 2020 😂 | |
Hah! I am very happy you think so 💜
Plus the Ad Infinitum album I believe 😝
Yes there were many good albums in 2020!
Without using genre-related terms, like 'Symphonic Metal…etc', how would you describe Surma's sound?
| | |
| --- | --- |
| | Well, we always call it Metal and we leave the rest up to our listeners. But I would say it is epic, melodic.. If it's the right description? It is difficult to leave the "symphonic part" when it's such a majority in there with the symphonic orchestra sound 🤭😊 |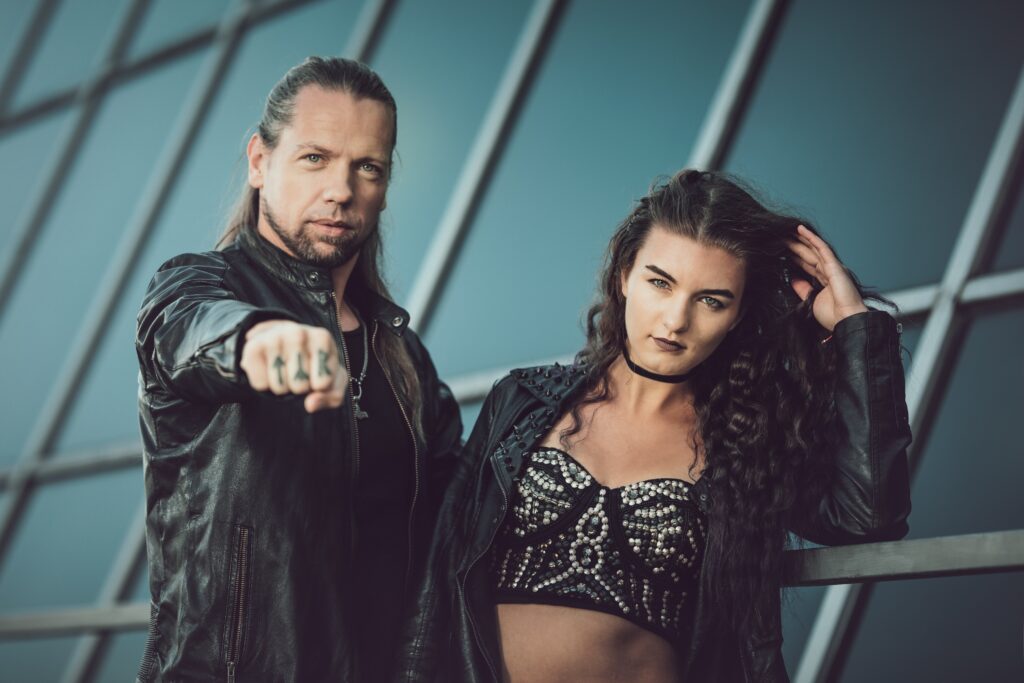 That's a great description though!
To get our readers who haven't listened to 'The Light Within' yet excited about the album, how about we play a little nerdy game? I'll give you a scenario and a task, and you will have to pick a song or more from 'The Light Within' to do this task.

Which song from 'The Light Within' would you use to cheer up a friend going through a hard time?
Definitely "Until it Rains Again" 😊
It is about us having moments, but also that is important to get up and fight. ☺️
| | |
| --- | --- |
| If you're the executive producer of an action fantasy series, and they asked you to pick a theme song from 'The Light Within', which song would it be? | |
| | |
| --- | --- |
| | I can't choose between "Fire and Wind" or "The Selkie" although Selkie is more a pirate song 🤪 |
| | |
| --- | --- |
| maybe one for the first season, and one for the second 😂 | |
| | |
| --- | --- |
| | Hah! Maybe let's add each one from the album for all the seasons 😂 |
| | |
| --- | --- |
| If all the songs from 'The Light Within' came to life and became human beings, which one would be your best friend? | |
| | |
| --- | --- |
| | Wow that's a good one.. I guess "Reveal the Light Within". My best friend should always remind me to stay myself no matter what. |
That's a great answer!
If all songs from 'The Light Within' became food, which song would be a good main course, which one would be a good salad, and which would be a tasty dessert?
😂😂😂 I love this game! Let me think..
Good main course: "Cages of Rage" (it has everything!)
Good salad: "Like the River Flows" (it has a radio potential so it can remind us that easy motive is a heathy way to go 😂)
Dessert: "Downfall" (simply because I love desserts and this song.. also maybe because I would be shouting there to get more chocolate 🍫)
That's just great!
Hostile aliens from outer space invade planet Earth. They are superior on every level, except that their brains melt and explode when they hear heavy music. What song from 'The Light Within' would lead the defense against the aliens with?
"Lost to Time" (it's about killing anyway 🤣)
No choice for our ballads 😂 never mind
| | |
| --- | --- |
| Haha! Thank you for playing Viktorie! Did you enjoy the game? | |
| | |
| --- | --- |
| | A lot! 🙌 I love your creativity and the fact that it is not like repeating the answers with all the interviews |
Thank you!
What is your most treasured music-related memory from your childhood?
| | |
| --- | --- |
| | I have two.. One when I discovered Nightwish through a stranger passing by our house.. 😅 and my very first concert which was an Iron Maiden concert |
Wow these are some memories!
Although we're in 2021, sexism is still strongly present around the world. That's like we like to talk about it with strong women like you. How would you deal with sexism if you faced any form of discrimination? And what advice do you give to young girls who face this kind of treatment daily?
| | |
| --- | --- |
| | To be honest a lot of women are talking about it like about something that happens all the time.. Maybe it is, but I am probably lucky enough to not have to deal with it so often. All I see is just a few comments here and there, but I think the best way is to ignore comments you don't like, because explaining to some people why it's not ok to write this and that would be a waste of time. So my advice is to learn how to stay strong on your own in your head. Just try to not get affected by people that are not worth your energy 😊🙏 |
| | |
| --- | --- |
| Thank you for the interview Viktorie! It was an absolute delight. | |
| | |
| --- | --- |
| | Thank you! 😊 It was fun! |
---
Follow Surma
---
Recent articles