After many months of darkness, it's finally time for the stages to light up again and for artists to shine and perform. I consider myself incredibly lucky to have witnessed a small step towards normality last Saturday. I had tickets to a live show with social distancing, and the bands performing were The Strigas and Holy Shire.
Part of a 9-weeks event called "Il Legend Siete Voi" (all shows take place at the Legend Club in Milan, Italy), the doors were set to be opened at 20:30. Actually, they opened a bit later, but I didn't mind as I didn't have to queue or wait for long to get into the venue.
A few minutes after 21:20, The Strigas came on stage and began their set. Since their first song, I've noticed their passion, talent, and desire to give 100%. "When there's no light / we walk like spineless beings" sings the charismatic Phobos in the following track, "Dream Again" which could be considered a metaphor for these hard times we've all experienced. Even though the band isn't met with many praises from the rest of the audience, I applaud them and try to react any way I can while being unfortunately seated. We move to "Prisons" (not literally!), where bass player Liboria impresses me with technique and emotion.
The evening takes an exciting turn of events when Phobos announces that the two lead singers of Holy Shire could join the band on stage for "Falling Down." I can't help but singing along and bouncing throughout the song! What a great track. This continues to "Deliverance", which I was hoping they would play since it's one of my favorites from the EP "The Loner".
"The Box" is one of the last songs of the set, and I can't help but wish it would last longer. There appears to be a technical problem on stage, and "No Tomorrow" seems to start a bit later than scheduled, but hey, it's the catch of live shows! This doesn't discourage the band, proving to be rock solid (no pun intended) when they perform "Sweet Bitterness". After some thank-yous by Phobos and a wish for future shows to continue, The Strigas say goodbye with their last single, "To Nowhere".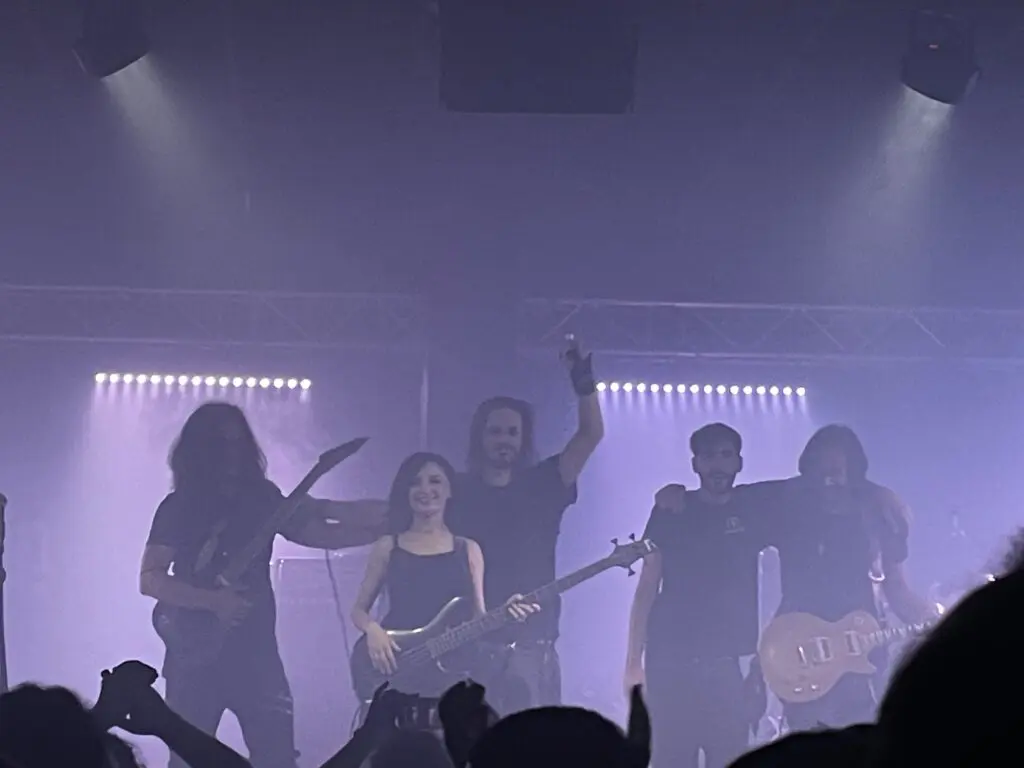 Holy Shire was supposed to start their set at 22:30; they're running a bit behind schedule, but it doesn't matter. After a short instrumental overture, the band unfolds their deck of… "Tarots", which is very appreciated by the audience. It is soon followed by "Gift of Death", in which lead singer Erika holds (literally) a skull.
The band continues the set with one of their most famous tracks, "Danse Macabre", which was even more mesmerizing live. As a Branduardi fan myself, I have absolutely adored the quote sung in the instrumental part! We're soon headed to Westeros for "Winter is Coming" and later, Julia's vocals introduce us to "Princess Aries".
It wouldn't be fantasy metal if it wasn't inspired by J.R.R. Tolkien, and of course Holy Shire shared with us two tracks inspired by "The Lord of the Rings": "The Gathering" and "The Legendary Sheperds of the Forest", which names their latest release.
Tables are turning as now it's Holy Shire playing host to Phobos, who sings with them the metal version of "Greensleeves". It would be an understatement to say that I've loved this rendition. They were capable of making it even more magical! Kima's flute and Melissa's double bass were simply flawless.
When things couldn't go better, Erika announces they're going to premiere "Dagon", inspired by Lovecraft's tale. The band premises this by saying that they haven't rehearsed it much, but the audience exploded in a loud applause after the song ended. 100% success! Unfortunately, all sets must come to an end, and "The Lake" is Holy Shire's last effort. Or at least it would have been if the audience hadn't asked for an encore! They kindly asked to request a song they already played, and I myself shouted "Danse Macabre". My wish comes true!
Even with social distancing and limited movement, I have thoroughly enjoyed the evening. It's so nice to hear local talents perform more than just music nowadays. If you happen to, do not miss a live show by these two great bands!