Less is more. No, I haven't gone mad (or maybe I'm already mad?), but I believe that sometimes less is more, especially in live music. And even though the website is called FemMetal, I'd like to tell you about an acoustic show this time.
Nicoletta announced the live show back in June with a post on all her social network accounts.
I'm well known for loving acoustic shows, so I got interested in this event but didn't buy a ticket because I thought I wouldn't make it (sometimes my day job occupies my Saturdays).
Fast forward to the day before the show, and I got a last-minute ticket: super excited as I am, I couldn't wait longer! The day finally arrives, and after a 1-hour drive, I arrive at the venue well before the door opens. The weather is not the best, but my mood is still pretty good. Nicoletta's fan club welcomes us with a goodie bag full of many interesting and unique items prepared specifically for this occasion.
At 22:05, the show begins: guitarist Paolo comes on stage soon followed by Nicoletta. As the singer explains, the show is divided into two sets: the first set contains only Kalidia songs and the second set contains… surprises! After a couple of songs, Ros (as her fan base calls her) tells the audience that playing acoustic feels different but good. Being used to metal concerts is definitely not the same thing! Despite this, Nicoletta owns the stage and impresses me with her vocal agility and charisma.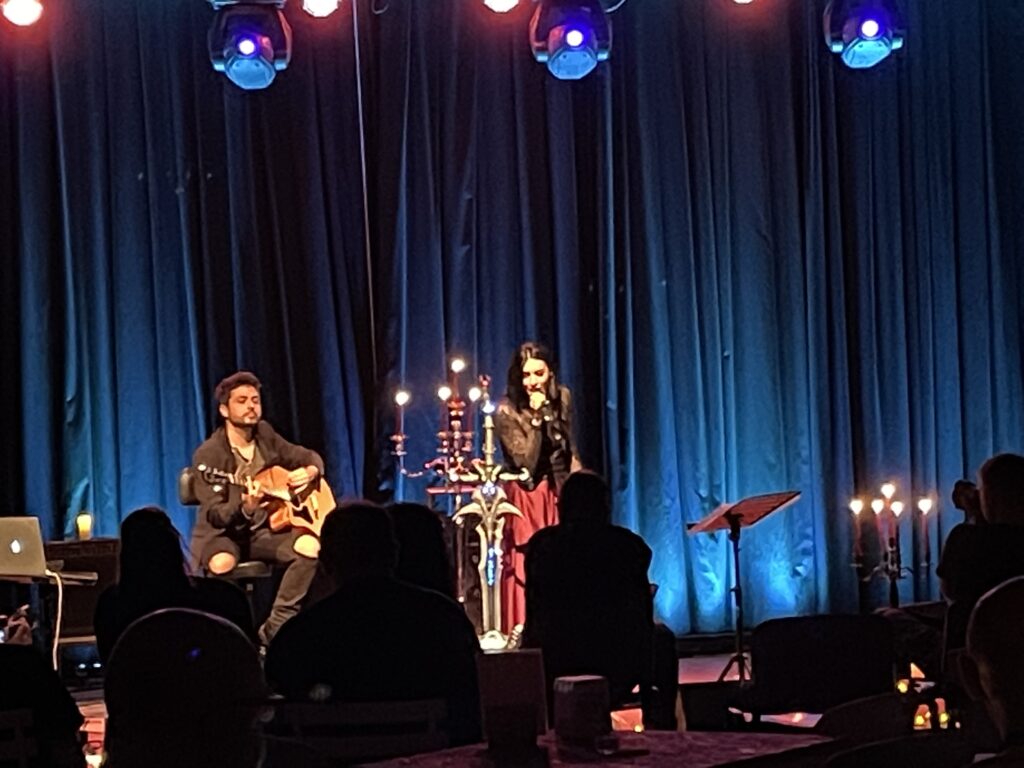 There's a short interval where Paolo gets a bit of rest, and Nicoletta plays two wonderful covers already published on her YouTube channel, "Toss A Coin To Your Witcher" and "The Dragonborn Comes". I can't help but sing along loudly!
The second set is full of Walk In Darkness's songs premiered both live and acoustic. It's magical because Paolo captures the essence of the tracks in his amazing technique and execution.
All things must come to an end, though, and the show is finished with other two notable covers: "I Have A Right" and "Always Will Be".
I'm glad I had the opportunity to be at this special show: it showed another side of Nicoletta and her projects while keeping her original approach to concerts.
Here's the complete setlist: