"…Real-life figures' and icons' lives inspire me during writing" – Interview with Eszter Anna Baumann (Light by the Sea)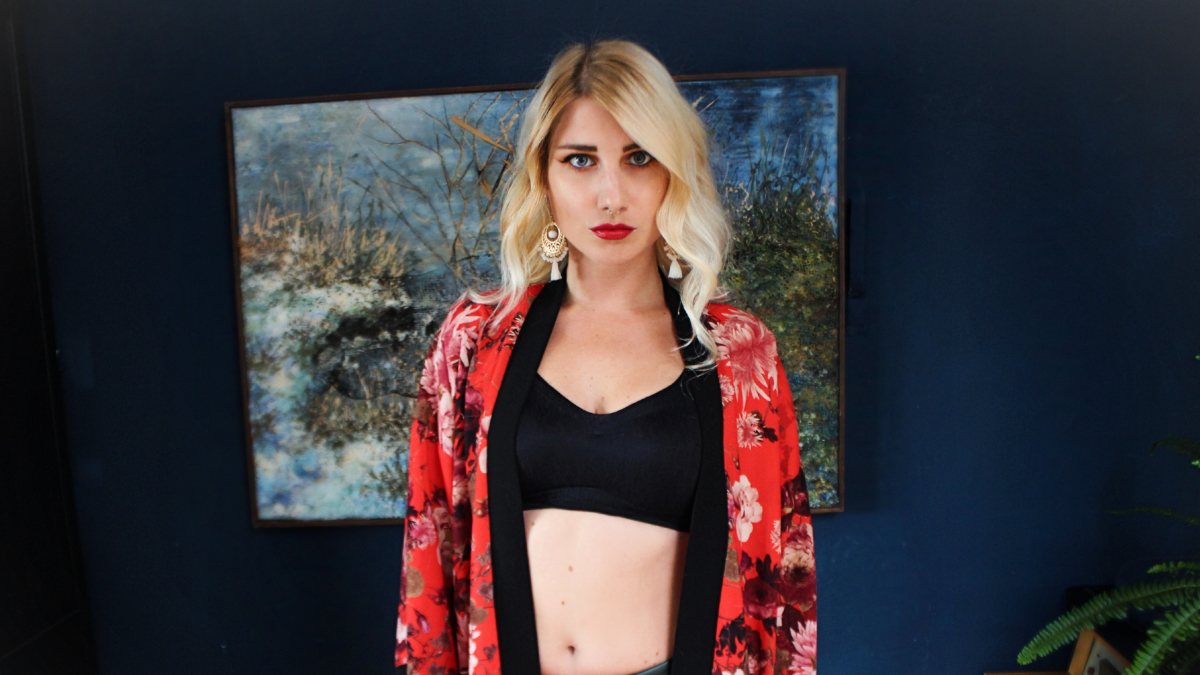 Light by the Sea is a duet formed from Ann My Guard's Eszter Anna Baumann and Outside Revelation & Cloudmen's Davy Knobel. The Hungarian-Dutch act is set to release their debut album, "Only Death Makes Icons" on the 22nd of October. We have already been treated with four tracks from the album, the fourth being 'A Transition of Time' music video in which the debut album release date was announced.
I had the chance to ask Eszter about her new musical project, the upcoming album and other topics in this interview.
| | |
| --- | --- |
| Szia Anna (I learned that specifically for this interview!!) Very happy to chat with you. After last year's 'Furia' with Ann My Guard you're returning, this time with a completely new project. What can you tell us about Light by the Sea; how is it different from Ann My Guard sound-wise and concept-wise? | |
| | |
| --- | --- |
| | Sziasztok! Yes, this year has been a roller-coaster for me not only regarding my musical journey but my entire life as well. With all the good and challenging things, I've been so productive, and although it had not been planned, I started a brand new project with my partner-in-crime Davy Knobel called Light By The Sea. Last year, I just recorded the first vocal demos for our song Eleanor, and now, I can hold a complete album in my hands. Those who know me are familiar with the fact that my musical taste is really wide: I was trained to be a classical musician, then I started my metal band Ann My Guard, but I've always been a fan of 'easier' genres and artists especially from the '70s, 80's and early 90's era. I am a lover of music and a fan of music in the best possible way, with huge respect towards great icons. By creating this style of music, I could honour their heritage in this way. |
| | |
| --- | --- |
| You're releasing your debut 'Only Death Makes Icons' soon. You're excited about that, I can imagine. What is the feedback you received so far from friends and who got to listen to parts or all of the album? | |
| | |
| --- | --- |
| | They truly love it and they are so happy that I am doing something completely different from metal. My good friend from Hungary told me last week, that he feels that the lyrics are darker and deeper than most metal bands'. Eleanor for instance is a long story about a mother committing suicide after her son's death. These tragic stories have always been inspiring me both by Light By The Sea and Ann My Guard. Sometimes I feel like I am channelling stories of dead people who want to reveal their truth. With Ann My Guard I like to reach back to ancient mythologies, Gods and Goddesses, whereas with Light By The Sea, real-life figures' and icons' lives inspire me during writing. |
| | |
| --- | --- |
| While I was busy gaining 10 pounds during the lockdown, you and Davy Knobel were writing this album. I know from experience that being separated from the rest of the world could drain your energy and creativity. What helped you muster the power and will to work on such a creative work? | |
| | |
| --- | --- |
| | Well, I had to be really strict with myself and with Davy regarding our quarantine lifestyle. We are booking agents and managers, running our own business, which, – of course – during the lockdown couldn't operate at all. We were facing some serious struggles in every way regarding our company. Also, I couldn't visit my mom in Hungary for one year, because it was too risky because of her health and the special treatments she got, so it was a double challenging time for me, and I know a lot of people in this situation could have been broken. But I decided to keep creating, to live a sober and healthy lifestyle, and focus on the future with my fiancé. And what happens if two musicians are being 'locked down' in one room for months? They start writing music together. I think it is not even surprising that we wrote enough tracks for even 3 albums. But we chose the 10 best ones and went to the studio to record them with our producer Eddy Bopp. Let me not forget to mention that without our fundraising campaign at Voordekunst.nl we wouldn't have been able to make our dream come true. Let me say thank you here as well to those who supported us financially. |
| | |
| --- | --- |
| That's awesome. You're from Hungary, Davy is from the Netherlands and you mainly sing in English. Do you feel this cultural variety affected the musical identity of Light by the Sea? | |
| | |
| --- | --- |
| | Definitely. But not only that you hear Hungarian or Dutch elements, but our musical spectrum is also so wide! You can hear sitar in our music, as personally, we are so obsessed with oriental instruments and the whole vibe, many songs have Irish-folk taste, mainly because of my voice technic and our love towards acts like The Cranberries, U2 and Clannad. We have an instrumental track which will take you back to ancient Roman Gods' temple and of course, you will find 70's retro disco elements which I got from my parents' cassette collection. |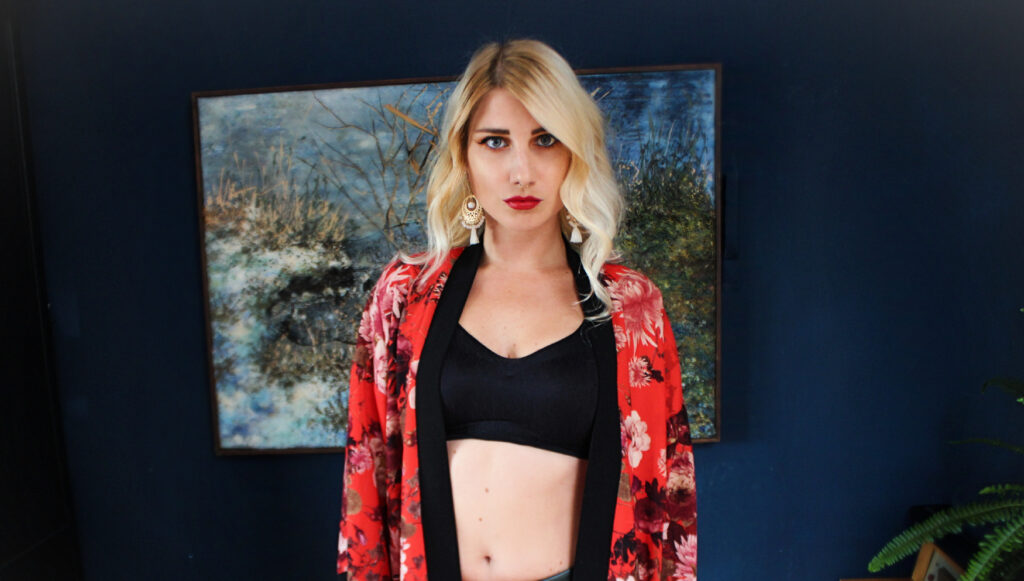 | | |
| --- | --- |
| I noticed you love including instrumental tracks in your albums, with both Light by the Sea and Ann My Guard. What is your favourite instrumental of all time in a Rock or Metal album? | |
| | |
| --- | --- |
| | Yes, I do. I feel like without lyrics you can accurately express any feeling as well. I would go for Nightwish if I had to choose. I always bought those versions of their album which included 'only instrumental' versions, too. For a track, I would pick Last Of The Wilds from their Dark Passion Play album. |
| | |
| --- | --- |
| Do you consider yourself a feminist? | |
| | |
| --- | --- |
| | I consider myself someone who believes in equality, freedom and the beauty of the diversity of every gender and race on this planet. |
| | |
| --- | --- |
| In addition to your music projects, you also run a music management and promotion agency, which makes you a really trusted source for music-related advice. So if any of the young ones reading this interview have a dream of pursuing a career in music, what word of advice would you give them? | |
| | |
| --- | --- |
| | I would say, be unique, look for quality in your music and visuals, and be your own boss. If it takes more time to reach your goal than you first thought, then it is a good sign. It means that you are unique who doesn't fit into the commercial mainstream chain of the current media taste. Educate yourself in the music business, make small, but logical steps, be down-to-earth businesswise and be a dreamer when it comes to art. |
| | |
| --- | --- |
| Now that live music is coming back, are there any plans for any live events with any of your projects? | |
| | |
| --- | --- |
| | Definitely, with both of them. I just had our amazing comeback show with Ann My Guard in Budapest, now I am looking forward to being on the road with Light By The Sea in the Netherlands in October. Our record release show is in my hometown Breda, at MEZZ, and that's going to be epic. Then Ann My Guard comes back again to the Netherlands next February, and I have more plans regarding the new dates in 2022. With Light By The Sea, we are invited to many countries already in Europe for 2022, we just have to make sure to free the perfect dates for these shows. |
| | |
| --- | --- |
| Wonderful! Thank you so much for the interview, Anna! Is there anything else you'd like to add? | |
| | |
| --- | --- |
| | Thank you so much, Vanessa! You are great! Thank you so much for supporting many artists! My honour to be featured here with both of my projects! |
---
Follow Light by the Sea