Being an artist means that you are describing something from your point of view. And it can change, as life happens. Especially in our pandemic times, it's something that's been forced on us. Astray Valley took advantage of this, growing to an incredibly conceptual and atmospheric metal, and their lead singer Clau Violette talked to us about it.
---
Interview
| | |
| --- | --- |
| Hello Clau, how are you doing at the moment? | |
| | |
| --- | --- |
| | Good! thanks for asking! With an unimaginable desire to return with the band to the stages. For the moment, we are working on everything that is about to come… |
| | |
| --- | --- |
| "Tales of Lun" is your latest labor, and as you wrote in the booklet it's been "a unique journey" to make it a reality. What was the most difficult part to create music during a global pandemic? | |
| | |
| --- | --- |
| | Well, this pandemic has been new for everyone. Before it was easy, I mean, you went into the studio, you recorded, you met the band to compose…with all this, we have added the difficulty of the distance. It is hard to work with several people on an online platform, something as personal as art or music is. On the other hand, this album goes a different way from the previous one, we apply everything we have learned from Unneth with darker lore, and a more Wiccan/pagan theme with more aggressive music, and with a step forward into our personality. |
| | |
| --- | --- |
| That's simply brilliant. "Erased" features Lena Scissorhands. If you could choose any living artist to join you on the next collaboration, who would him/her/them be? | |
| | |
| --- | --- |
| | The truth, a lot of people! Everyone has their own references! As far as I'm concerned and referring to vocalists… It would be an honor to have artists like Maria Brink (In This Moment) Angela Gossow, Floor Jansen, or Noora Louhimo. And not just to talk about my female referents, Johan Hegg has some gutturals that I've been in love with for years! It would fit perfectly with this new more mystic stage. |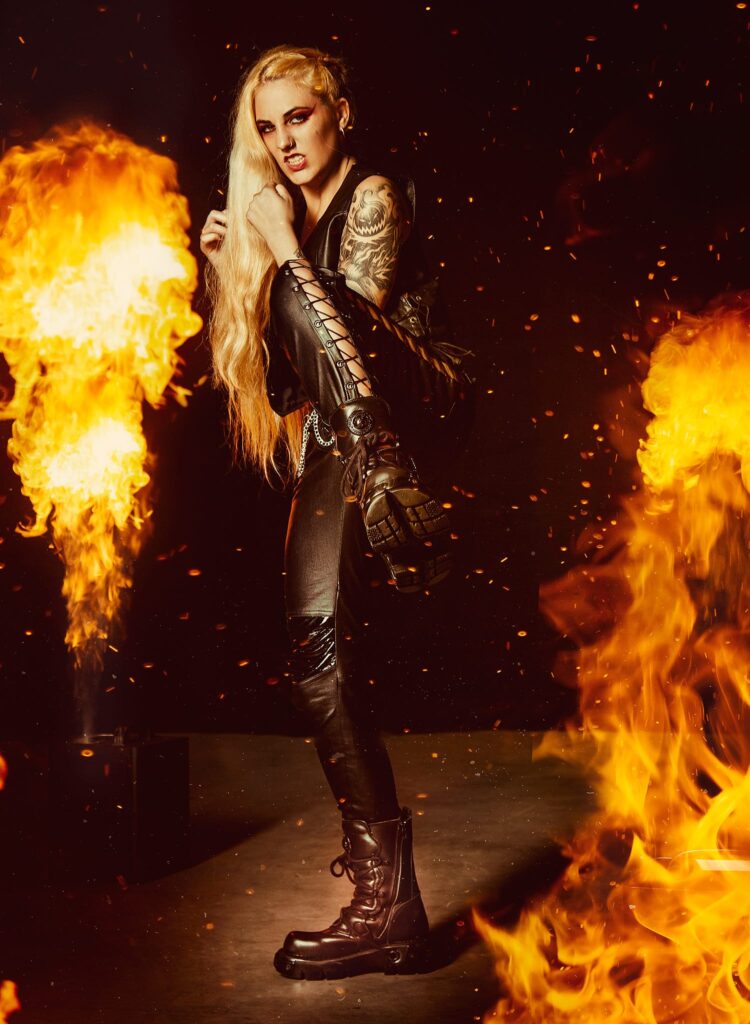 | | |
| --- | --- |
| Wonderful choices! I have to be honest, I wish I could sing the way you do! Is there a secret behind your powerful vocals? | |
Thank you very much! It's an honor that you value my work as a vocalist so much. I know it sounds cliché but the key is to be stubborn and really love what you do, willing to sacrifice time and effort.
In the end, I'm always focused on the fact that my voice has to transmit strength and courage to anyone who listens to it. I have never stopped working on it.
| | |
| --- | --- |
| And you definitely succeed in this! Where do you find inspiration for Astray Valley's wonderful tracks? | |
| | |
| --- | --- |
| | Well, as I said, everyone has their own influences. Astray Valley is what it is because everyone brings their bit. We believe that the personality of the sound is born from the backs of each one of us. It's important that we listen to all kinds of genres to create such a unique thing. In my case I get inspired by the stories that the music is going to talk about: Before I start with melodies, I think and get inspired by the message that we are going to give and the aesthetics that will surround it. |
| | |
| --- | --- |
| Music is your job and you are very good at it; do you have any hobbies? | |
| | |
| --- | --- |
| | Yes, of course! I share music with my other great passion and profession which is drawing. Whenever I'm not working I'm reading comics or reading books. Good movies with interesting scripts are also a great source of inspiration and of course series that are out of the typical kind that we usually find. Evidently, for my other work sector, I'm also up to date with video games. |
| | |
| --- | --- |
| Have you ever experienced episode(s) of sexism towards you? | |
| | |
| --- | --- |
| | Yes, unfortunately. I had the bad luck to experience this very young, at the age of 15. At that age, people can be very cruel. Also, it happens a lot when you want to start a band and the others take inspiration from a male vocalist…having a girl singing is not something considered from the beginning in a metal band. They seek a generic sound instead of working on their own personality. I think these are things you use to find when you start, you have to overcome that shit and as you get together with more professional people you leave those problems behind. |
| | |
| --- | --- |
| That's very true. Can you share a funny moment that happened backstage with the other band members? | |
So many! It's hard to choose one because to be in a band means you have to be sick in the head, and more playing metal… hahaha! One that I keep with a lot of affection was the time we played at the same time that there was a concert on the bigger stage next room; Powerwolf and Amaranthe. Just before we played our respective gigs, I managed to get to their backstage and say hi to them.
It was a great surprise because as they were playing before us when they finished their show they snuck into ours and saw our show. Then we had a drink together. I keep it with great affection!
| | |
| --- | --- |
| Let's play a little game: what fictional character do you identify with the most and why? | |
| | |
| --- | --- |
| | I love this game! Well, I would tell you, even though I'm a longtime fan of Nightmare Before Christmas…. In this moment of my life where I am now, I feel very identified with Harley Quinn from DC comics and Lagertha, it would be a mix between both. I love Lagertha for the strength she transmits and I feel like her on stage. And on the other hand, I have a crazy and giggly side that constantly seeks to stand up for herself with her ideas. I think they represent me the most right now! |
| | |
| --- | --- |
| I think you'd make a terrific Dr. Quinzel! Thank you so much for taking the time for this interview! Would you like to add anything to FemMetal readers? | |
| | |
| --- | --- |
| | Thank you very much for your time and interest 🙂 We hope to see you around very soon. The best thing about our genre is that it is timeless and can withstand the worst of difficulties. It always stands up with its horns. A big hug to all of you and take care. |
---
Follow Astray Valley
---