There are simply too many good things people wait for as the curtain for the month of June unfolds. The summer, the warmth of the sun, the beaches, the delicious fruits, and of course, the debut album by the Symphonic Metal band Fortis Ventus. If this is the first time you hear about this band, this won't be the last time you hear about this band. Here's why.
Fortis Ventus, fronted by Nancy Mos, will be releasing their debut album "Vertalia" on the 3rd of June, and it appears to be an appealing one for fans of concept music and Symphonic Metal from the single already released.
That was what I had to say about the upcoming release. But, what would the front woman of this promising band say about "Vertalia", her vision of music and her experiences with the band so far? Find out in this interview!
---
| | |
| --- | --- |
| Γειά Σας, Nancy! June 3rd is drawing closer and closer and the release of your debut album "Vertalia" is imminent! How does it feel to be finally able to share the result of your hard work with your friends and fans? | |
| | |
| --- | --- |
| | I feel very excited and thrilled that after a long time of hard work, we will finally be able to share "our child" with the world! Due to covid, the whole progress of the album was delayed, as happened in many other bands, so now that the time of the release is approaching it feels so much bigger! |
| | |
| --- | --- |
| We've already been able to have a taste of what the album will be like with your singles "My Death is My Devotion" and "Cave of Glass". How did the people you know react to these singles so far? | |
| | |
| --- | --- |
| | The reaction to both of these singles was amazing actually! We had very positive feedback on the single "My Death is My Devotion", as it was the first to be released, revealing the heavier and more symphonic sound of the band in comparison to our EP. "Cave of Glass" following, made a great impression, especially to people who weren't aware of our music yet and we're very happy for that! |
| | |
| --- | --- |
| You've written the majority of the lyrics of the album. When it comes to writing, what topics are you inspired most by? | |
| | |
| --- | --- |
| | The inspiration for the lyrics may come from almost everything! I can be inspired by a book, a movie, a series and generally everything that involves the human feelings, in all of their forms. In "Vertalia" specifically, which is a concept album based on a novel written by George, the inspiration flowed effortlessly as I had a storyline to follow. |
| | |
| --- | --- |
| With a whole album soon in your discography, you can certainly tour and play more live gigs! Will there be any shows you'd like to tell our readers about? | |
| | |
| --- | --- |
| | We certainly want to start playing live gigs as soon as possible, because we've missed that live energy and feeling so much! Nothing to be announced yet, but soon we'll come back with some news! |
| | |
| --- | --- |
| The whole world was recently in a pandemic that affected the lives of so many people. How did the COVID-19 pandemic change you personally or affect your life? | |
| | |
| --- | --- |
| | It was a very hard situation for everyone, including me. The fear and the isolation had a major impact on my life, as I wasn't able to meet the people I love and of course to play music with the band or even rehearse. I had the opportunity and the time, to do some work with myself both on a physical and mental level, in order to overcome those overwhelming months of lockdown. Let's hope for better days to come. |
| | |
| --- | --- |
| We certainly learned a lot about Nancy the musician, and I'm sure our readers would love to know Nancy the person as well! So I will give you a pair of things and you will have to choose one of each that you prefer. Burgers or pizza? | |
| | |
| --- | --- |
| | Absolutely burger! |
| | |
| --- | --- |
| Metallica or Megadeth? | |
| | |
| --- | --- |
| | Megadeth. |
| | |
| --- | --- |
| Bohemian Rhapsody or Stairway to Heaven? | |
| | |
| --- | --- |
| | Bohemian Rhapsody. |
| | |
| --- | --- |
| Being rich or being famous? | |
| | |
| --- | --- |
| | Well, if you're rich you can become easily famous nowadays. hahahah |
| | |
| --- | --- |
| Ability to read minds or ability to be invisible? | |
| | |
| --- | --- |
| | Read minds! |
| | |
| --- | --- |
| Marvel or DC? | |
| | |
| --- | --- |
| | Oh well, I'll go with Marvel. |
| | |
| --- | --- |
| Country life or city life? | |
| | |
| --- | --- |
| | Country life by far! |
| | |
| --- | --- |
| Mountain or Sea? | |
| | |
| --- | --- |
| | Oh no!! I will choose the sea, cause I grew up near the sea and have the need to visit it regularly. |
| | |
| --- | --- |
| We've reached the end of this interview. It has been a pleasure to talk with you. Is there anything you'd like to conclude this interview with? | |
| | |
| --- | --- |
| | It was a pleasure for me too! Concluding, I just want to say a huge thank you to each one of you out there that support our music and I hope to meet as many of you as I can on our live shows in the near future! Till then take care and give a listen to our magical world "Vertalia"! |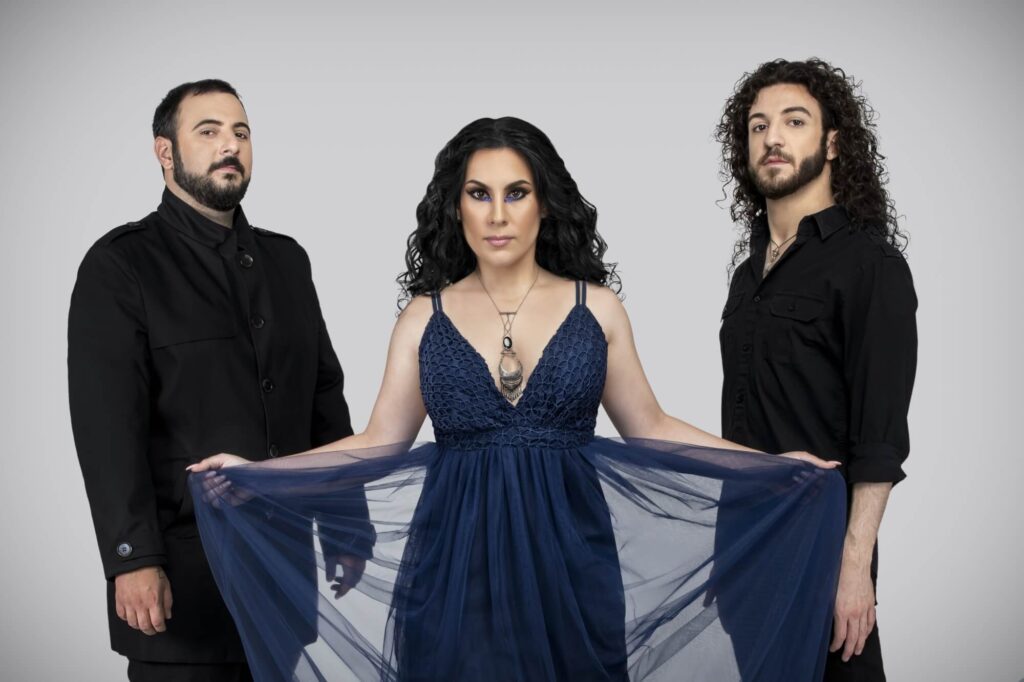 | | |
| --- | --- |
| Ευχαριστώ | |
| | |
| --- | --- |
| | Thank you very much! |
Follow Fortis Ventus