Nature is life, and we should try to see and appreciate every part of it. What I like most about nature is that it's perfectly described in folk music. And I couldn't be happier to interview for you all this amazing band from the UK, Bring to Bear. Their singer, Izabela, has shared with us the life of an artist in these times.
Interview
| | |
| --- | --- |
| Hello Izabela! How are you and the other members of Bring To Bear doing? | |
| | |
| --- | --- |
| | Hi! Thank you for having me. 🙂 We've been doing pretty well. We are working on some new music for you now. With all of us having quite different music preferences, we are coming together with some unique songs. We're still experimenting and looking for the best possible music that will reflect our character. |
| | |
| --- | --- |
| Your EP "Light And Shadow" is splendid. What are your feelings after you've released it? | |
| | |
| --- | --- |
| | Thank you so much. I am so grateful to hear that. I am still pretty excited. It is my and Niks first music release. The rest of the gang were so helpful. The process of working on the songs was quite new to me. And definitely unusual. As I joined the band in the middle of a pandemic. We needed to learn how to pre-record from home. As well as all our meetings were run through video. And we didn't actually see each other until just before studio recording. |
| | |
| --- | --- |
| We are definitely living in weird times. Can you share with us a funny moment that happened during the recording? | |
| | |
| --- | --- |
| | There was plenty of funny moments as we were still getting to know each other. During our video recording, we were all getting a masters degree in falling on the ground. And it was really amusing to work with the Bear. Hehe… |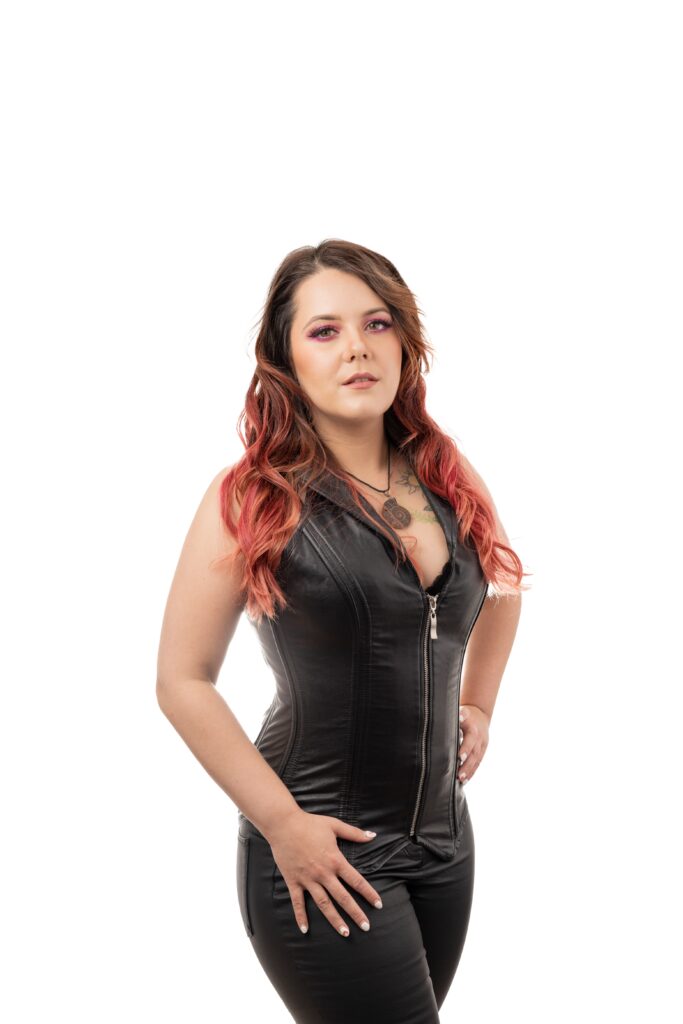 I think your songs are perfect to be played in concerts. Will we be seeing you live in the near
future?
| | |
| --- | --- |
| | Yes! We just landed our very first gig on 15th December in London. To be fair, I am a little nervous about it, but I can't wait to share the music and energy with you. We will also be playing a few unreleased songs as well as a little sneak-peak. 😉 |
| | |
| --- | --- |
| That's amazing! If there are not many restrictions, I will definitely travel to see you! Who inspired you to become a singer? | |
| | |
| --- | --- |
| | The very first person to inspire me was Amy Lee from Evanescence. I used to listen to so much of it that I became pretty good at impressions of Amy. It was one of the bands that helped female vocalists in heavier music. There are so many amazing vocalists in metal like Floor Jansen, Elize Ryd, Alissa White-Gluz and many more. The skills of all those ladies are giving me great inspiration to learn more about the techniques of singing and developing myself vocally. |
| | |
| --- | --- |
| What is something that you've learnt in the last week? | |
| | |
| --- | --- |
| | Well, I'm currently visiting my family, and my 7-year-old sister taught me how to play chess! She is really good at it! Otherwise, I'm learning new things both professionally and musically. I've learned it's worth challenging yourself in life. And try new things even if it makes us uncomfortable at the beginning. |
| | |
| --- | --- |
| That sounds so nice! Being a woman comes with a lot of challenges, and in the music industry even more so. Have you ever been treated differently than male artists? | |
| | |
| --- | --- |
| | Being in a band is still fresh to me, so I haven't felt anything like that from people in the industry. It's something that many women can experience in everyday life or at work, and I know I did. I am a believer that ladies should stick together and give support to each other because we are all beautiful, strong and brave. |
You sing in a symphonic folk metal band. So, if you were a tree, what kind of tree would you be?
And why?
| | |
| --- | --- |
| | Ohh… Interesting question! I was born in a town surrounded by lakes, and I remember I always loved Willow trees. There is something mystical about those. Also… Grandmother Willow. I loved Pocahontas. Haha… |
| | |
| --- | --- |
| Great choice! What do you think when you're driving alone in the car? | |
| | |
| --- | --- |
| | Well. I got my driving license 10 years ago, and the only time I was driving alone was on my exam. Haha… But I love to be a passenger, especially in the evening or at night. I love the lights of the city mixed with great music in my headphones. It feels magical to me, and it gives me a moment to stop and breathe. All the lyrics hit harder then. |
| | |
| --- | --- |
| Ain't that the truth. Thank you so much for taking the time to do this interview! Is there anything else you'd like to FemMetal readers? | |
| | |
| --- | --- |
| | Thank you so much for having me! It's been an honour. I can't wait to share some of our new music with you. Please take care of yourself. 'Cause you're all amazing. |
Follow Bring to Bear