Sweden is the home of many great bands, not only in the metal scene. Who hasn't heard of ABBA, Europe, Opeth and Alyson Avenue? And today we are interviewing Olli Violet, the vocalist of an incredible Swedish band called "Pressure", about life, music and more.
Interview
| | |
| --- | --- |
| Hello Olli! How are you doing at the moment? | |
| | |
| --- | --- |
| | Hi! I'm great thanks for asking! |
| | |
| --- | --- |
| Awesome! If you had to describe the band to someone that doesn't know you in 3 adjectives, which one would you choose? | |
| | |
| --- | --- |
| | Three adjectives would be so few for Pressure. But I will try. The first one is evocative. Every song of Pressure is an independent story that we collected from our friends and fans or shared experiences from our own lives. Each of them has a share of pressure that people experience every day, which means that literally, everyone can find a song that describes his past or present or prompts them to future achievements. Then goes potent. Each story is accompanied by powerful music filled with cool guitar riffs paired with female and male vocals at the same time. All this together gives an incredibly strong sound that can touch even the darkest sides of the soul. Challenging is the third word. There is always a challenge in our songs. And it's aimed not only at the listener but also at other musicians or bands. We even challenge each other. We try new approaches to writing music and lyrics, and we are constantly looking for a new sound. We do not stand still and test ourselves for strength, becoming stronger every day. |
| | |
| --- | --- |
| Those are great choices! You're an exceptional vocalist. During the years, how has your practice technique changed? | |
I started to sing when I first heard Evanescence in 2003. It was my inspiration. The first time I thought about starting a band was when I heard Korn. I decided to keep that powerful vocal message in my future gigs. I first appeared on stage in 2008 when I entered the University. Had a great experience as a student. I attended numerous talent contests and concerts, hoping to find my own style. By now, I have formed as a singer with recognizable vocal delivery and stage image.
My voice is my way to express myself. If I were an artist, it would be my best painting. I'm still working on
it, and I try to add more "colour" to it. I try to learn and use different techniques. But I'm still on the way to my ideal vocal that I have defined for myself.
| | |
| --- | --- |
| What is your favorite track off of "Path Of A Shadow"? | |
| | |
| --- | --- |
| | Unfortunately, I was not yet in the band at the time of "Path Of A Shadow" recording, but I can say that the guys did their best. This was the band's first full-length album. When I joined the band and worked on new songs, I was also working on my own parts for songs from "Path Of A Shadow" for future gigs. So I love and know them all by heart. But I have to say that my favourite song from the first album is the one I heard first. After that, I felt that I wanted to be part of this band and decided to participate in an audition: What You See (Is What You Get). |
| | |
| --- | --- |
| I love that one, too. Music has been an important part of my life, especially in my teen years. Do you remember what bands and artists you used to listen to when you were a teenager? | |
When I was a teenager, it was a little difficult to buy CDs and even cassettes from foreign bands. The internet was in its infancy, and it was very expensive to download. But we had many street vendors selling pirated copies. And one day, when I asked one of those street vendors about the hardest and most unusual metal band, I received a Slipknot cassette. Yeah! It was a real find for my ears! Then I got acquainted with the music of Korn. I'm still a huge fan of these two bands.
I listened to many metal bands like Marilyn Manson, Limp Bizkit, P.O.D., Evanescence, Linkin Park, Disturbed, Machine Head, HIM and Alter Bridge.
| | |
| --- | --- |
| Let's say someone comes to you and asks you for advice because they want to be an artist. What would you tell them? | |
| | |
| --- | --- |
| | If you want to become an artist, you have to be prepared for many challenges. First, be patient. This is not a fast track. It doesn't matter if you want to be a singer, guitarist or any other musician; you need to reach a certain level to have something to show people. Secondly, you should never copy and imitate. We are all individual and unique. Find the strongest sides and show your true self. And third, never stop. Improve your skills, communicate with talented people, exchange experiences with them and keep moving towards your goal. Even if sometimes it seems that nothing is working out, take a break and keep working. |
| | |
| --- | --- |
| You sing in Swedish and you sing in English: which language is the most expressful to you? | |
| | |
| --- | --- |
| | Since I'm originally from Belarus, I also sing in Belarusian and Russian. I worked abroad, so I know and sing a lot of Turkish songs. Now when I joined the band from Sweden, I was lucky to sing in Swedish. I can't compare English and Swedish 'cause they are so different, and my perception of them is different. Swedish would be better for a more aggressive and powerful message. English can be aggressive too, but not that much. It may seem that your mother tongue can be more expressive because you understand it from birth and can give any words the colour you want. But you can express any emotion in any language if you are skilled enough. |
| | |
| --- | --- |
| That's very true. I'd like to play a game with you. What would you do if you found a penguin in your freezer? | |
| | |
| --- | --- |
| | I would be very surprised because I thought there wasn't enough room for a second penguin 🙂 |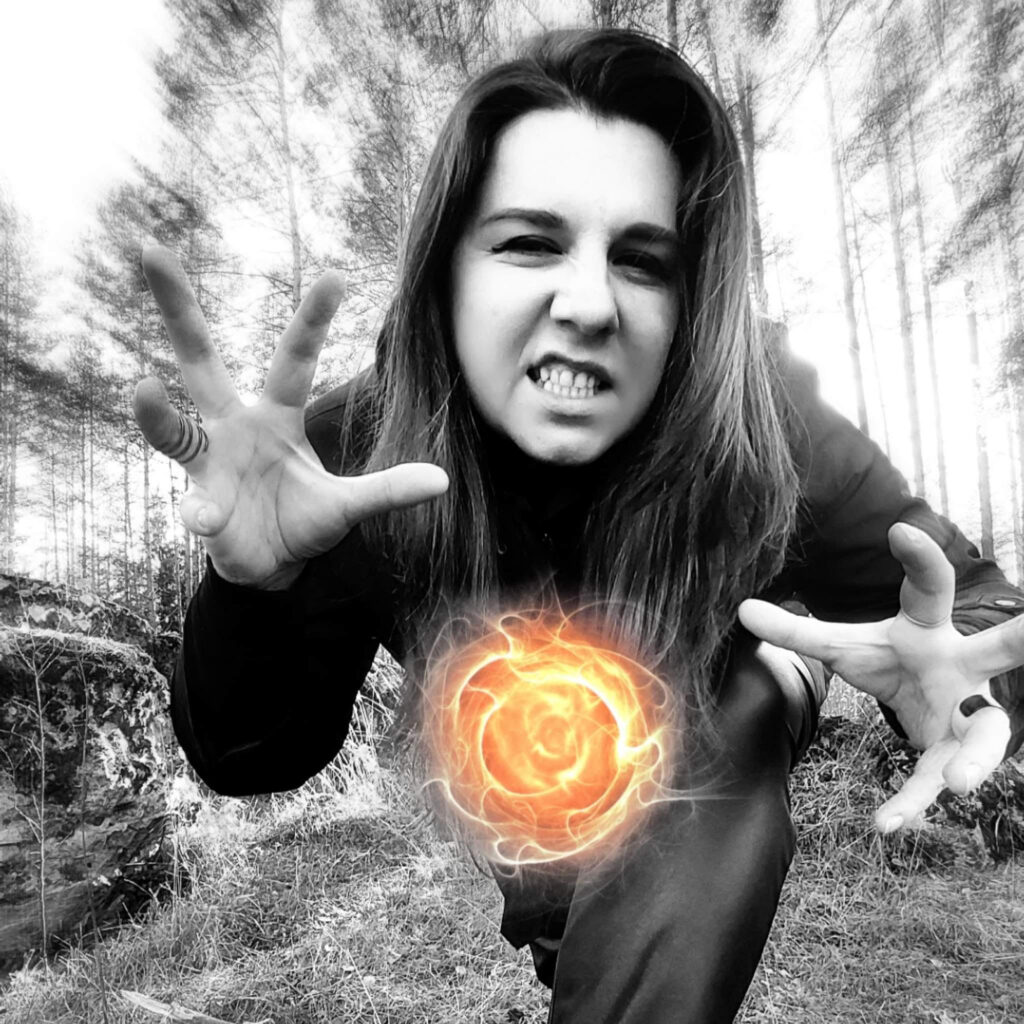 | | |
| --- | --- |
| Well, that was unexpected! What's the last picture you took with your smartphone? | |
| | |
| --- | --- |
| | The last photo I took with my smartphone was a photo of the full moon. Sometimes in our band chat we share photos and get inspiration from nature and each other. |
| | |
| --- | --- |
| Thank you so much for taking the time for this interview! Would you like to add anything to FemMetal readers? | |
| | |
| --- | --- |
| | Thank you! Yeah! Check out our last release, "Am I Too Old" that's my first release with a band. The song is crossing the border on self-doubt, ageism and many different hard choices in life. So never doubt your abilities and don't be afraid to start something new! And, of course, stay metal! |
Follow Pressure