It's a great thing to support bands and venues during these tough times, so it seemed only fair for me to buy a ticket to see my first festival. And what a festival!
In Mantua takes place "Milady Metal Fest", an event that gathers bands with female members to perform in an intimate venue, the Arci Tom. I was very curious to see how it would occur since I had never been to a festival before.
The soundcheck for the bands was delayed, and the concert started a bit later than scheduled. The first band to perform was Red Masquerade.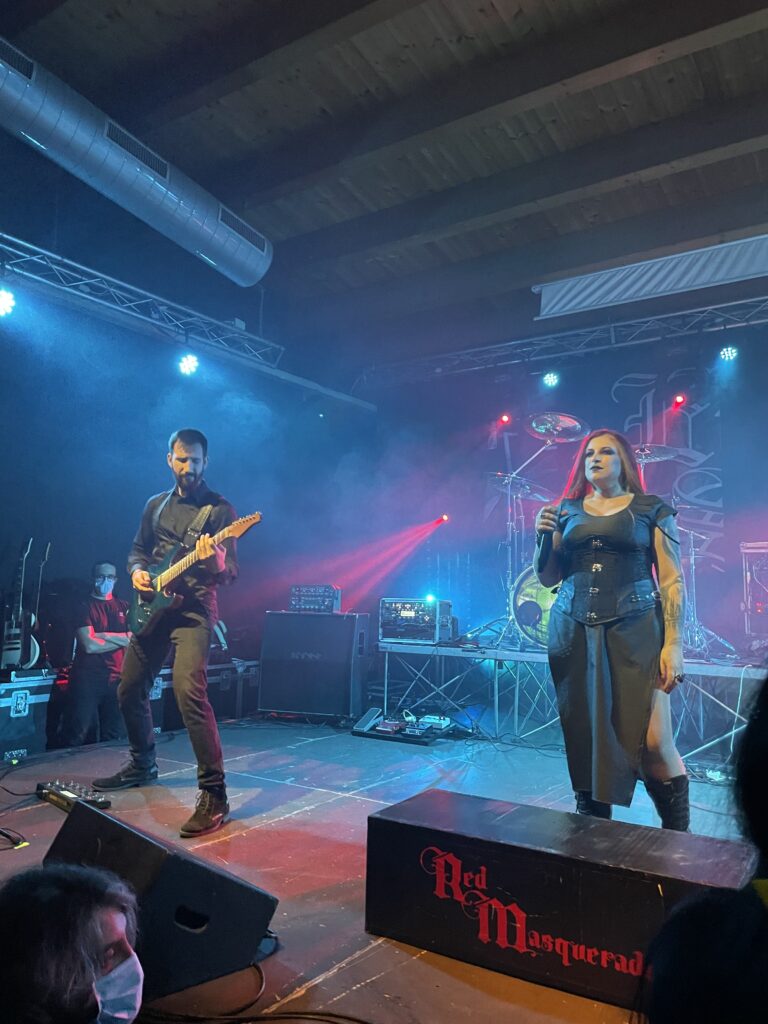 It was my first time seeing them live, and they have been an incredible surprise. Vocalist Marika is very skilled and talented, and their variety of songs really intrigued me. Even though it was quite short, their set was very enjoyable. That night they gained one new fan in me!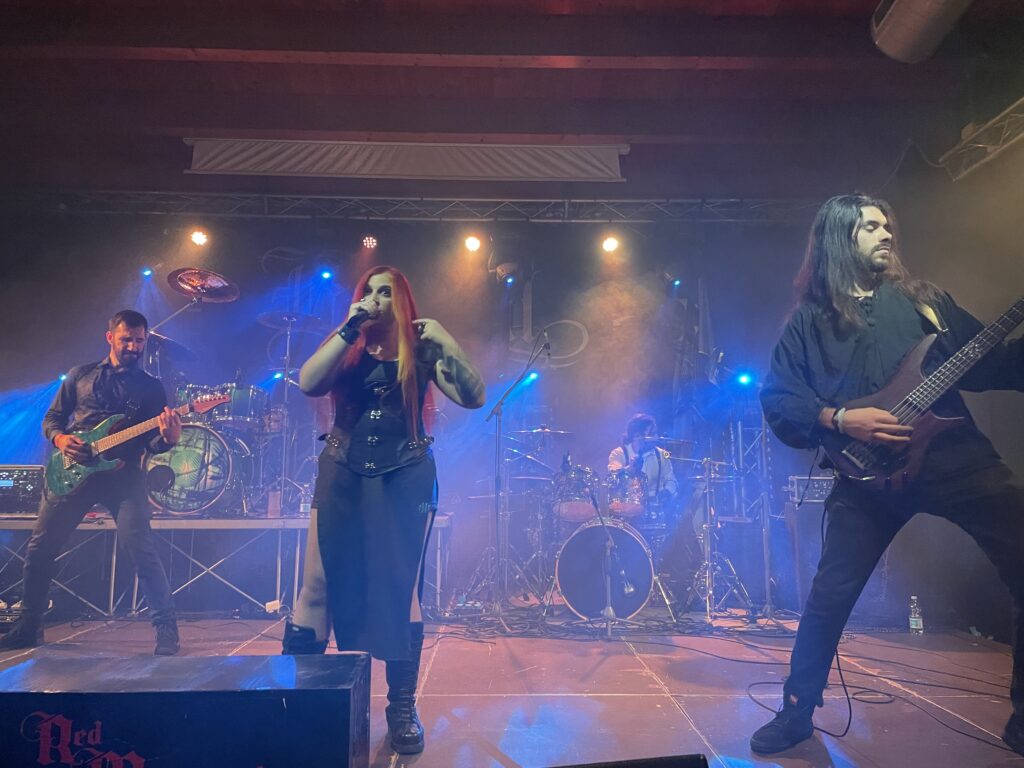 Moving on with the evening, the second band to play their songs was False Memories. And this is the third time I've been seeing them live. Their concert was incredibly mesmerizing, delivered with artistry and magnificence.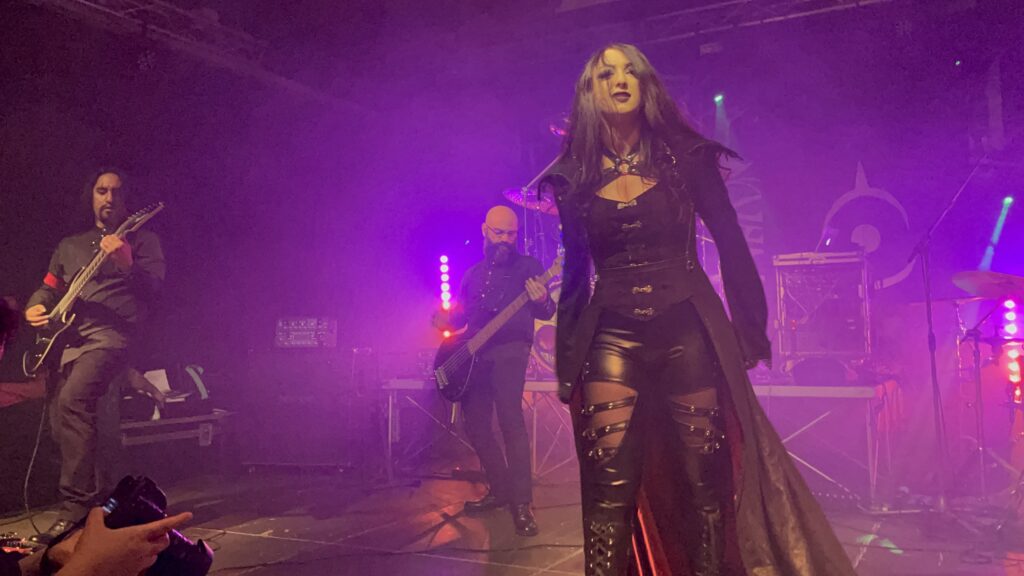 Later I found out that lead singer Rossella was a bit down with her voice whilst performing. But trust me, if you heard how flawlessly she sang, no one would have guessed! I am happy to report that now she is back with full voice strength!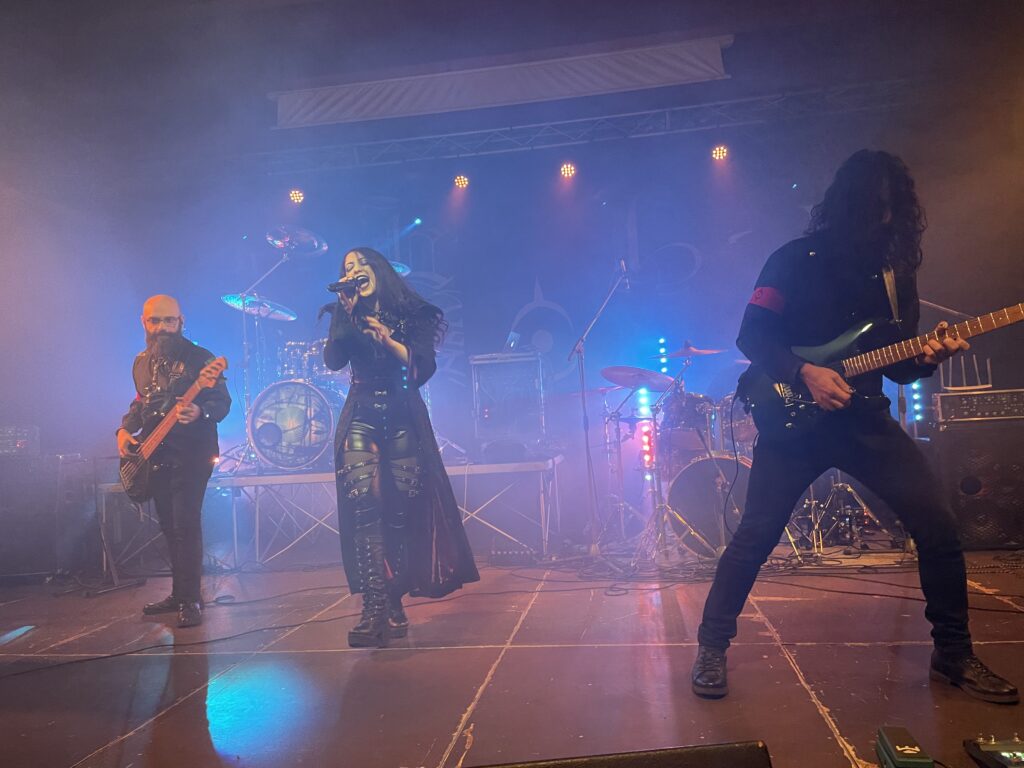 As my day job occupied half of this day, I was a bit hungry, and so after False Memories ended their set, I got something to eat. I, unfortunately, missed the first song of the next act to perform, Eternal Silence, but then was lucky enough to get a good spot almost in the front row.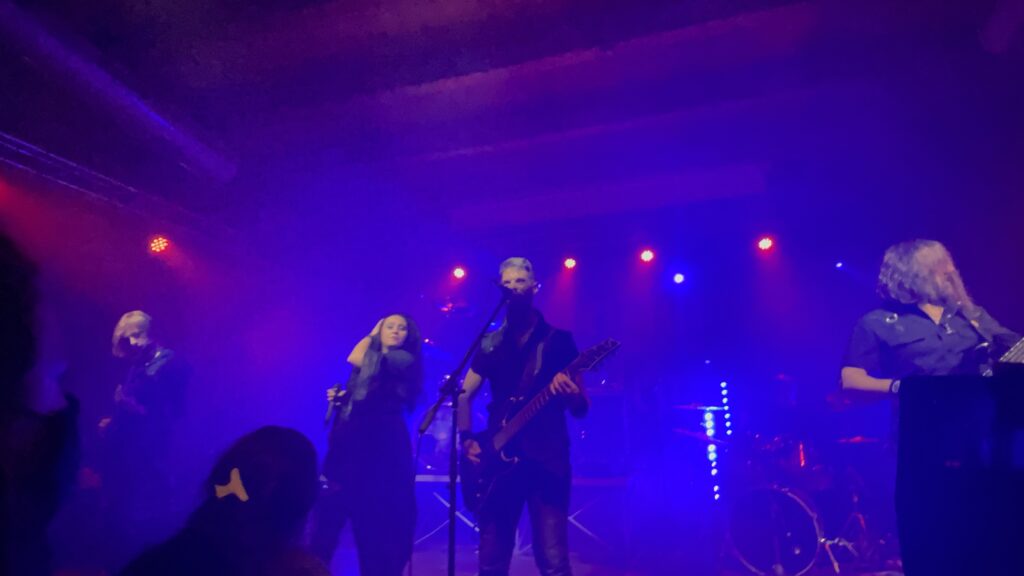 Their previous show was the release party of their new album "Timegate Anathema", and since I couldn't attend that concert, I was very happy to hear some songs from their latest fatigue. The combination of Marika and Alberto's voices is a perfect blend that gives the band a powerful yet elegant impact.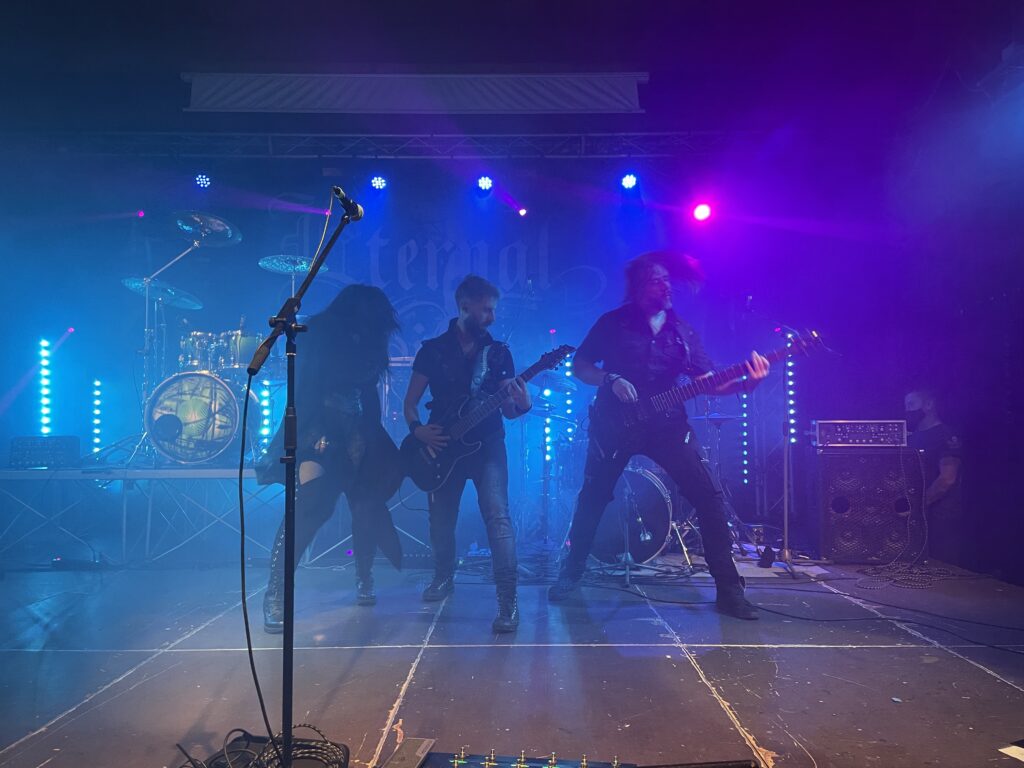 Three band played, three more to go. After a short soundtrack, it's time for Kalidia to take the stage. If you have been following my live reports, you'll probably remember (and if you don't, that's alright) that I have seen Nicoletta and Paolo in an acoustic concert. This made me even more curious to see how they behaved as a metal band.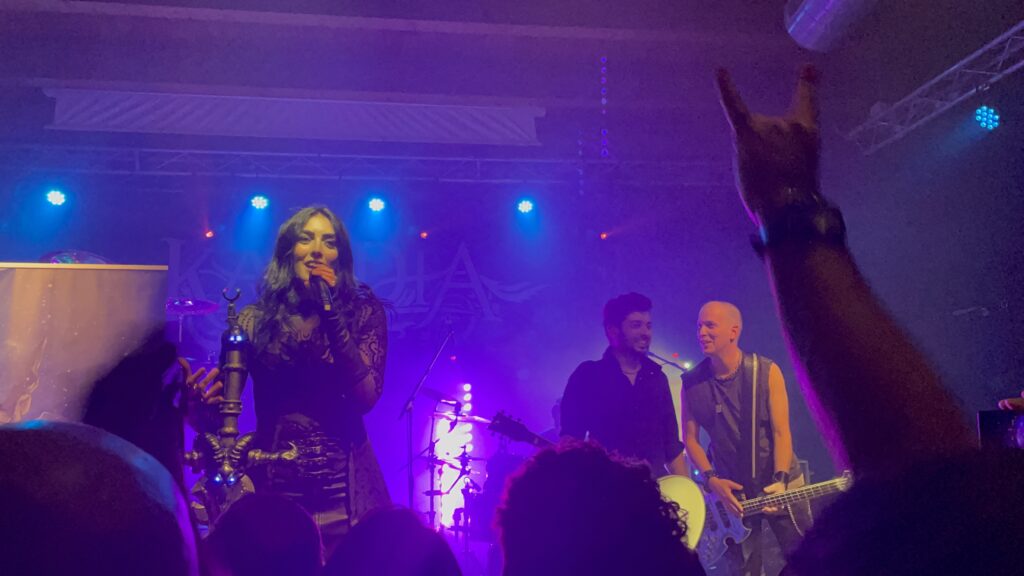 Their set was definitely the audience's favorite one; people jumped, clapped, sang and danced along the band. Some lucky ones were asked to go on stage to join the band in one of the songs! It was absolutely a blast. They really know how to engage and pump the masses!
The atmosphere suddenly changes at the Arci Tom, and lights turn red when the next band is on: Theatres des Vampires have arrived! Even though the band has been around for many years, it was my only first time seeing them live.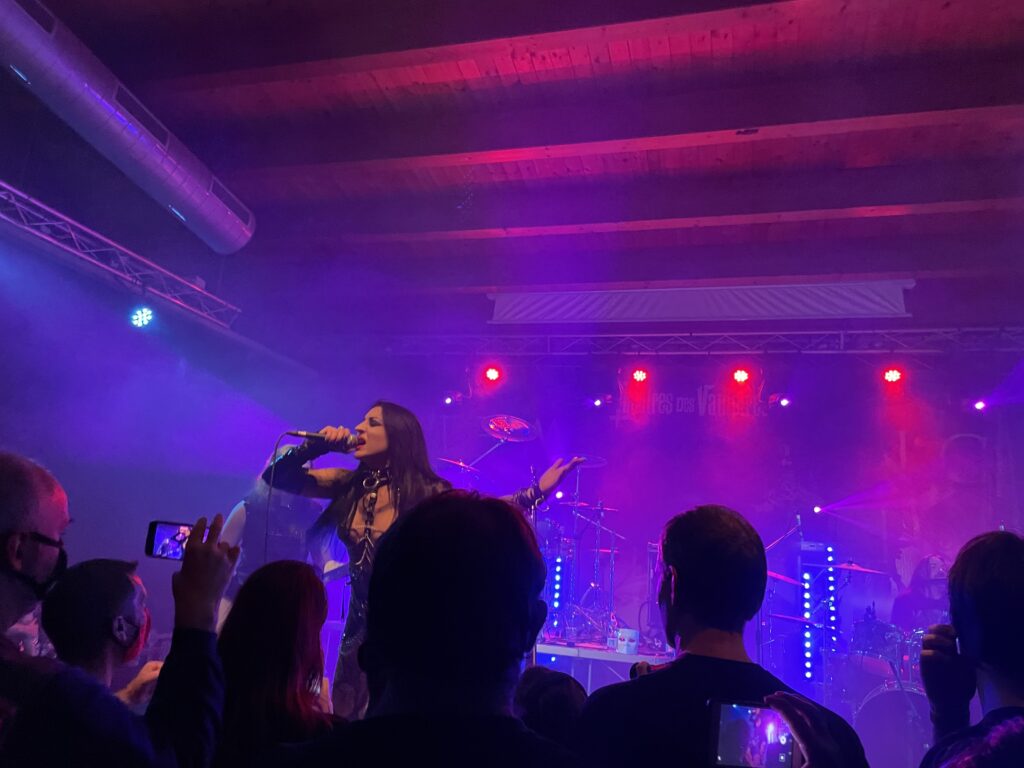 Sonya Scarlet, vocalist and frontwoman, is an absolute beast on the stage. She had us all at her mercy while she enchanted us with her voice and her sensual movements. They also have a new record out, "In Nomine Sanguinis", and for the whole duration of their set, they have managed to transport us to a world full of vampires and blood.
Time flies when you're having fun, and the last band of the evening is now ready to rock. One by one, Temperance take the stage and begin the "Diamanti" release party.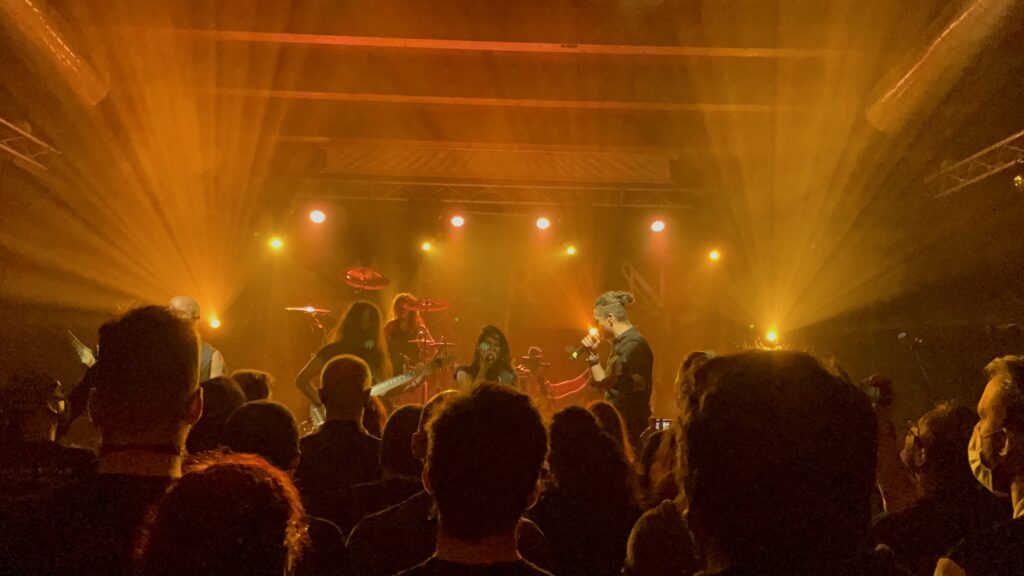 Their live performances are just so vibrant and energetic: vocalist Alessia and the rest of the band really put their heart and soul into their music. I am always very enthusiastic when I hear songs being premiered, and this time was no different. Just a little before the title track of their new record was being played, a girl was distributing plastic diamonds to be held during the song. The band really appreciated this gesture, and it was indeed a success!
Festivals are tiring, but rewarding experiences. And Milady Metal Fest was indeed a rollercoaster of emotions! Music really is magic that unites everyone.