If I had to choose which one is my favourite concert venue in Milan, it is definitely going to be the Legend Club. Their acoustic is close to perfection, and their food and drinks are amazing, as well as the staff over there. Also, and this is the main reason, they host the best concerts ever. And this RockersDen Rock Fest was no exception!
I arrived at the venue quite early, about 2 hours before the beginning of the concerts, because it was my first time actually driving to Legend Club and I didn't want to get lost (which, when I drive, happens more often than I'd like to admit). Not a problem since I've had a drink or two to pass the time. Unfortunately, this Rock Fest is scheduled on the same date as another bigger concert here in Milan, but that didn't stop the organizers from planning a terrific evening. For this reason, I want to thank Jesus Chavarria for his kindness and incredible professionalism! Also a big than you to our very own Silvio Colombo, for shooting these amazing pictures!
Although there was a bit of delay with the soundcheck, the first band started to perform perfectly on time. At 20:00, ViolaFuel is ready to enchant the people of Milan. And what a show they delivered! I know that here at FemMetal, we favour the band with female members, but the talent these girls have it's undeniable. They have been capable of engaging with the audience in a superb way, and their songs are catchy, powerful and well-structured. Led by the charismatic Chiara, the group offers a high-end performance in all aspects: she dedicated "Their Eyes" to all the people who felt helpless and weak in the eyes of the other people but who, in truth, were not weak and helpless. That was a touching moment! My favourite track of their set, though, was "Seven", which was inspired by a famous episode of the tv show Friends. I can't wait to see ViolaFuel again on stage because they have so much passion and energy to offer; it's a crime to overlook this band!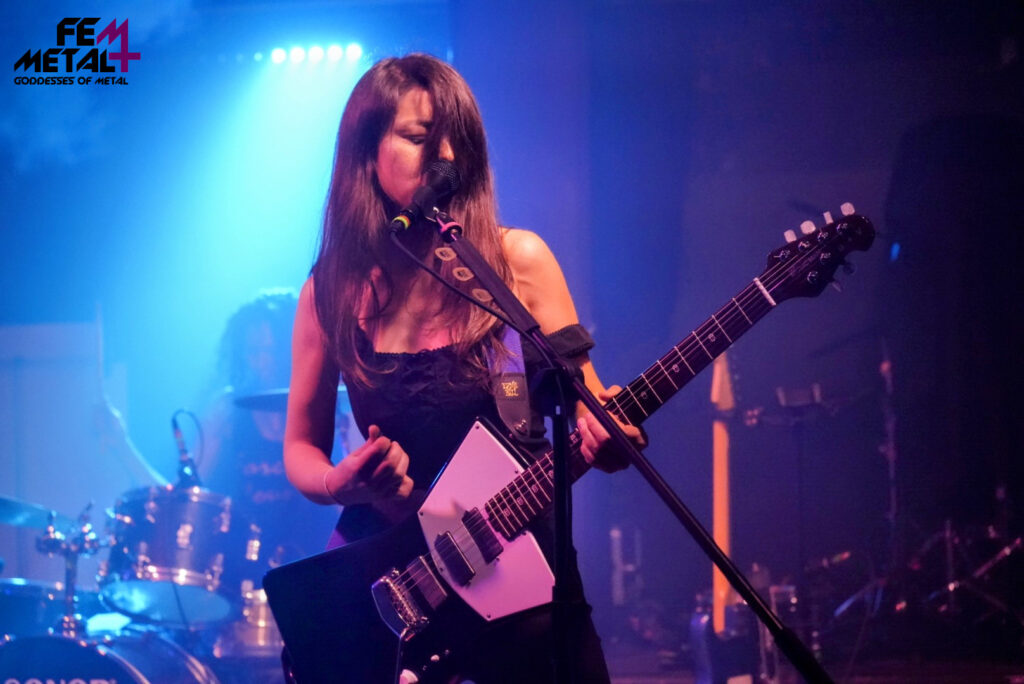 Soon it's time for the second band of the Rock Fest to melt our faces, and a few minutes before 9 PM, Mudblood takes place on stage. Their alternative metal is pure and massive: it has, in fact, gathered quite a few people to watch their performance. Guitarist Riccardo has an outstanding technique, and his solos are majestically played. Lead singer and guitarist Alessio also gave the rhythmic session a huge help, and he really did his best to engage the crowd that assisted the show. I have really enjoyed discovering this band, even though I am not the fondest of alternative metal.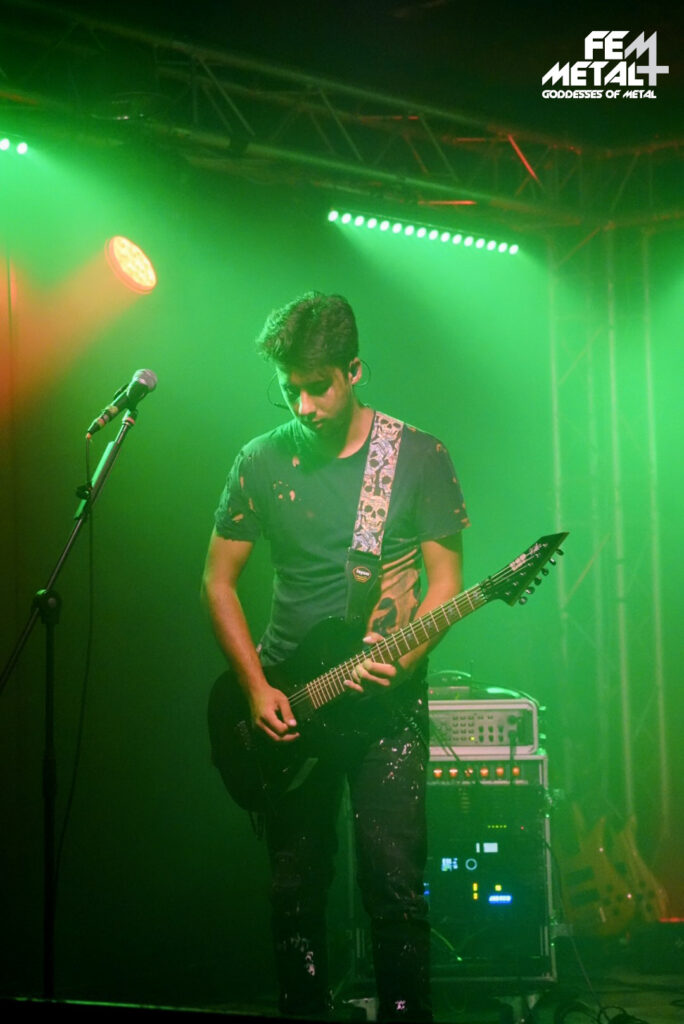 And now it's turn for the only non-Italian band of the evening: one by one, People as Machine take their place on stage. They play heavy metal with many influences and are so good at not only playing but entertaining. Lead guitarist Jesus made the audience even sing some soccer chants! That was awesome! Vocalist Pedro has a stupefying vocal range, making him able to sing basically anything. Their enthusiasm on stage is tangible, and when the band is having fun, the crowd has even more fun! I must mention drummer Mauricio, who played tirelessly and with a lot of power. Their set included many of their best hits, like "Again", "Falling", and "Run For Your Life". I am sure the future holds great things for this band, which has the capability of doing very good.
The co-headliner of this event is a band that I've already had the pleasure of seeing and reviewing for FemMetal, Reasons Behind. This time though, their set was longer and their performance was even better, if possible. Their set started with absolutely no light on: one by one, the male members entered the stage with some futuristic glasses on all of them. That was a really marvellous touch! And then of course, lead singer Elisa was the one to appear in a pink and black outfit. I think that Reasons Behind are one of the most promising Italian band, playing EDM trance metal is quite unique and I'm confident it will bring them many good things. Even with just one guitarist, they are capable of performing quite heavy riffs and sounds, which are always a pleasure to the listeners. We finally discovered Elisa's favorite track off of Project M.I.S.T: "(E)met"! It is also my favorite. They closed their set with fan favorite "Binary Stars", which drove the crowd crazy!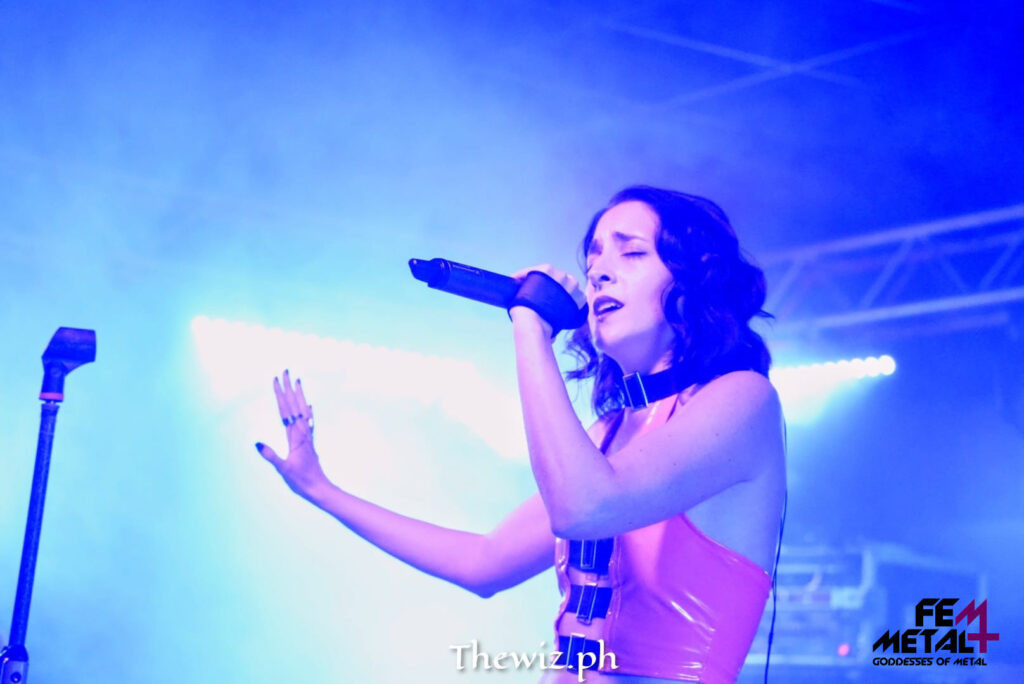 Like I always say, all good things come to an end. And even this glorious Rock Fest had to meet its end, but not before we were thoroughly amazed by Exilia, the headliners of this show. Even though I am not a huge fan of nu metal, they had a huge crowd that was ready to rock with them. Led by the fascinating Masha, the group had a strong performance that included some classics and some newest songs. They also took the time to thank Jesus and the venue for hosting this amazing night.