Before we begin with the music business, here is a thing we'd like to address.
Some might think that the fortune of our planet lies in the gold and oil when it actually is in the forests and wood and the variety of life forms. For weeks now, bushfires have been eating this fortune in Australia, turning millions of hectares into ashes and taking the precious lives of both humans and animals in its way. We would love to express solidarity with the people of Australia who are facing this nightmare, especially the brave firefighters and every person aiding others through this crisis.
It happens that our interviewee this week is with none but the Australian artist and marketing strategist, Monica Strut. Monica have launched a beautiful appeal on her Facebook page that you can find below.
---
The year 2019 was good and bad to us in many ways. One way it was good is through the band The Last Martyr. The young Metal band based in Melbourne, Australia, released their EP, 'Creatrix', and concluded their year with a gorgeous single and music video entitled 'Like A Ghost'.
Review
Like A Ghost is a song made to be listened to at full blast. The energy and speed are spectacular and meant to bang the head for. I mean you can surely listen to it at a low volume, but that would be like visiting Egypt and not seeing the pyramids. Monica Strut's vocals impressively alternate in harshness and heaviness, with the instruments taking us from a peak to another with great riffs and heavy melodies all through the 3 minutes and 47 seconds of the song.
We heavily recommend having this song on your Spotify playlist, especially if you have a playlist called "Best 2019 releases" or "Best Metalcore songs" or "Goddesses of Metal".
P.S. We have a playlist called 'Goddesses of Metal'.
No Spotify? No Problem.
---
Now that we expressed our love to Like A Ghost, it is time to share our the interview we had with Monica Strut. We asked her questions about her music, views, and other things. We hope you enjoy reading the interview the way we enjoyed making it.
Interview
Mirk: Hello Monica. It's wonderful to talk with you. How are you and the other members of The Last Martyr?
Monica: Hi, thanks for having me! We are doing really well, thank you! We have taken some time off over the holiday season and are ready to step things up and kick some epic goals in 2020!
Mirk: Would you like to tell FemMetal readers a bit about The Last Martyr? Who are the members? How did you guys meet and form a band?
Monica: Sure, we are a rock/metal band from Melbourne, Australia. We released our first single in July 2018 so have been around about a year and a half now. Our core members are myself (vocals), Ben (guitar) and Vin (drums) and we will be announcing an official new bassist very soon which will mark a new era for us – very excited!
Ben and Vin and our new bassist had played in bands together for years and I met Ben in an online forum when I moved from Sydney to Melbourne a few years ago. We've been great friends and collaborators since!
Mirk: Your new single, Like a Ghost, went out with music video a few weeks ago, and my reaction to it was as in this meme..
Monica: Haha, we love a good meme, very glad this was your reaction!
Mirk: So will be there a coming album after the EP and single?
Monica: We are focusing more on singles in 2020 so we can make sure that we get new music out more regularly but also ensure that it's the best it can be! We recorded a new single in December with the same producer as 'Like a Ghost,' Chris Lalic. We are pretty excited about so that will be coming out around April with a video clip!
Mirk: How would you describe the kind of music The Last Martyr present?
Monica: We have never set out to sound a certain way as we all have different influences. We only ever wanted to be heavy and melodic with songs you can bang your head to but also sing along! Our EP was definitely more traditional melodic metal/metalcore but with 'Like a Ghost.' we have added more modern grunge and rock elements and the new track coming in 2020 definitely pushes that further. We tried a lot of different things in the new song. I tried a new kind of scream and my vocals are probably the most diverse they've ever been so are really curious to see people's reactions!
Mirk: Besides being the vocalist of The Last Martyr, you're also a marketing and business strategist and a blogger. How do you coordinate between your work as a strategist, dealing with scientific methods and data and being an artist who deals with feelings and emotions?
Monica: I think they both play into one another! I've always been very business-minded and love marketing and branding. My favourite bands not only sound amazing but look different as well and the visuals around the music play a huge roll for me in whether I like something. It's not enough to be good at your instrument, especially nowadays when the internet has made everything so over-saturated. Bands really need to learn how to be a business and carve their own path in the industry and through my experience as a music journalist and digital marketer, it gives me so much satisfaction to help other bands with this! Sometimes it can be hard to switch off from business and just be creative, I often struggle with this. But once you get into the flow it becomes easier, it's just about getting started on the day you want to create.
Mirk: As you might know, we at FemMetal address feminist issues around the globe. You are from a country where women have equal rights to men. I think Australia was the second country in the world to give women the right to vote. But as a female artist, what advice would you give to women around the world that in some cases can't even express their feelings and opinions?
Monica: Yes, Australia is a lucky country on the surface however when you dig down, we still have a very long way to go. In saying that I do recognise how privileged we are to be in this relatively safe, first world country. I don't have the authority to give advice to other women who perhaps are in a situation where it might be dangerous or not culturally acceptable to speak their opinions, as I've never experienced this exact situation. But please know that you are seen by myself and many other feminists out there and we truly respect and admire your strength.
The important thing is to take steps forward, even if they are very small, do what we can. Women are rising right now and stepping into their power, I have faith that things are slowly changing more and more for the better.
Mirk: I always ask nerdy questions in my interviews but that is the first time I ask this one. If Earth was invaded by aliens who wants to wipe out humanity for all their crimes against this planet, and you were given the chance to speak to these aliens, what would you tell them or show them to prove that not all humans deserve to be wiped out?
Monica: I'd probably take them to a good rock or metal show so they can see the amazing community the heavy music scene has and how the music can impact you to your core! I think this will change their mind!
Mirk: Aside from music, what hobbies do you enjoy in your free time, if you've got any?
Monica: Most of my hobbies revolve around music whether it be my band or consulting business or work as a music journalist! However, I am really into metaphysical things like tarot, astrology and the law of attraction! So in my spare time, I love going for long walks in nature listening to books or podcasts learning about all that stuff! I find it so interesting, empowering and fun!
Mirk: Thank you Monica for the interview. It was a pleasure talking to you! Good luck for you and your band in your future projects!
Monica: Thank you so much for reaching out! I appreciate that there is an openly feminist publication out there and I can't wait to watch you grow as well!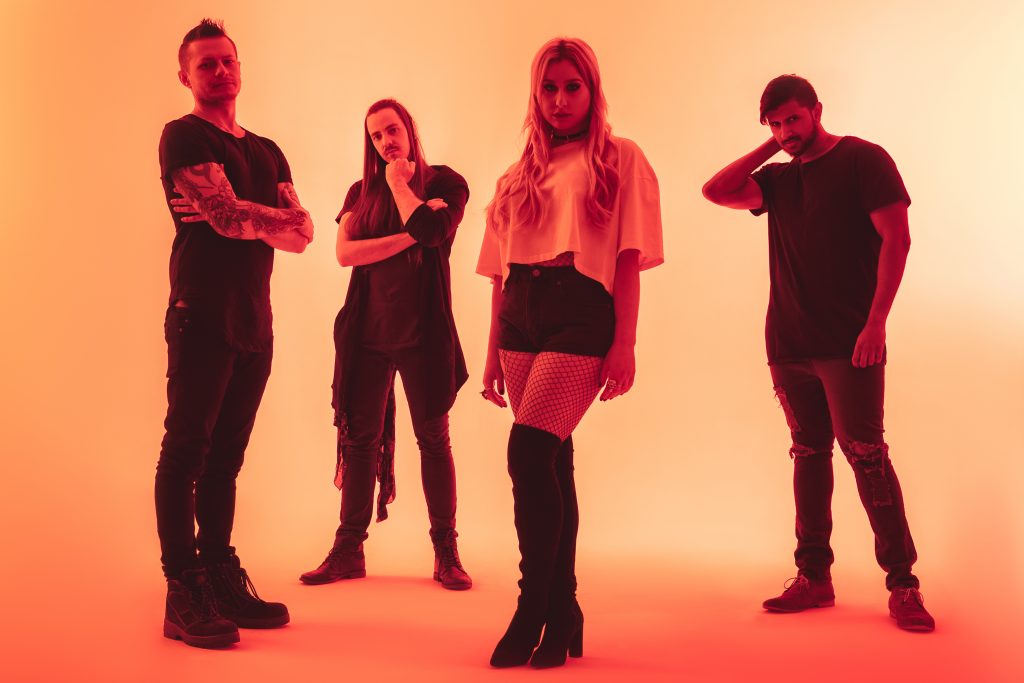 ---