If you ask anyone who is Benedetta's favourite band, they'll reply "MoonSun". And since today is the release of their brand-new single "Slain By Silence", I have interviewed their composer, guitarist, bass player and drummer Thomas Kolbin.
---
Interview
| | |
| --- | --- |
| Hello Thomas! How are you doing at the moment? | |
| | |
| --- | --- |
| | Hello Benedetta, hello to the whole FemMetal-Team and hello dear readers! Thank you very much for the opportunity for this interview, I was very happy about the request. I'm doing really great and looking forward to your questions. |
| | |
| --- | --- |
| Awesome! From MoonSun's social networks we can see that there are new projects in the making. Can you share with us what you're working on? | |
| | |
| --- | --- |
| | We actually release our brand new single "Slain by Silence" today (with a music video on YouTube) and are looking forward to your feedback. We've been working intensively on the song/video for the last three months and are very happy that we can finally show it to you today. Susanne and I do everything with MoonSun on our own, and that's why a new single release is always connected with a lot of work for us. But then, we are even happier when the release day finally comes. And besides "Slain by Silence", two more MoonSun-songs are already in the pipeline. You can definitely be curious about that. |
| | |
| --- | --- |
| That's fantastic! Do you remember the first time someone stopped you and recognized you as MoonSun? What did you feel? | |
| | |
| --- | --- |
| | Yes, I can remember that very well. Susanne and I just got out of our small wine-red Subaru Justy to buy apple juice spritzer in a drinks market, and an older man came up to us and asked if we weren't the two from MoonSun. Apart from a "Yes, you're right", nothing more came out of us, and the conversation ended before it even started. 😀 In the meantime, we get recognized more often and deal with such situations much more confidently, although it's still not an everyday occurrence. |
| | |
| --- | --- |
| How cool! Taking a step back… were you a good student when you were in school? | |
| | |
| --- | --- |
| | I was neither really good nor bad at school. My time at school was difficult because I had a very long way to school and arrived there very early. I also didn't get home until quite late and didn't feel much like doing homework. Instead, I spent many hours on the sports field, at the table tennis training or playing the guitar, drums or writing songs. And I must confess that I was never really interested in the content of the lessons at school and preferred to learn what really interested me. So I'm not a good role model when it comes to school! 😀 |
| | |
| --- | --- |
| Well, that works great for MoonSun! What would you recommend to watch on Netflix nowadays? | |
| | |
| --- | --- |
| | In fact, I'm absolutely not a series or film guy and watch a maximum of one or two movies a year. Every now and then, I watch documentaries of globetrotters, animals or film biographies, but I'm more the audiophile type, less the visual one. |
| | |
| --- | --- |
| Interesting! Your songs mean a lot to me. Which 3 songs had the most impact on your life? | |
| | |
| --- | --- |
| | Of our original songs, I'd say "The Lake", "Don't lie to me", and "Until I collapse". Those are actually all songs that are quite old. "The Lake" was the first original song we ever wrote with MoonSun. In 2010, we sat at the keyboard at Susanne's parents' house in Bavaria and tried out different melodies for our first original song. We didn't have any lyrics; that's why we sang poems by Edgar Allan Poe. Those were the origins of MoonSun, so to speak. "Don't lie to me" gave our musical career the biggest boost, and we still remember with great pleasure the 2018 tour with Van Canto and Evertale, where the audience sang that song along with us night after night. The third song on my list is "Until I collapse". When the song was written, we were drained; I had a lot of difficulties with vertigo, and musically, we didn't know which direction to go. It was a hard time for us, even though we didn't talk about it that much, but we made it, and now we are very happy with everything. 🙂 |
| | |
| --- | --- |
| Those are brilliant choices! Are women in metal being treated differently than men? Why are there still many disadvantages for female artists? | |
| | |
| --- | --- |
| | Since I'm not a woman, I can't really say that much about it. Of course, I read a lot of negative things from other female artists, especially what is written on social media. But where Susanne and I have performed so far, we've always been treated equally, but I also know that it is not always like that with other bands. Personally, I absolutely don't care about gender; as long as people are friendly to me, I'm friendly to them. |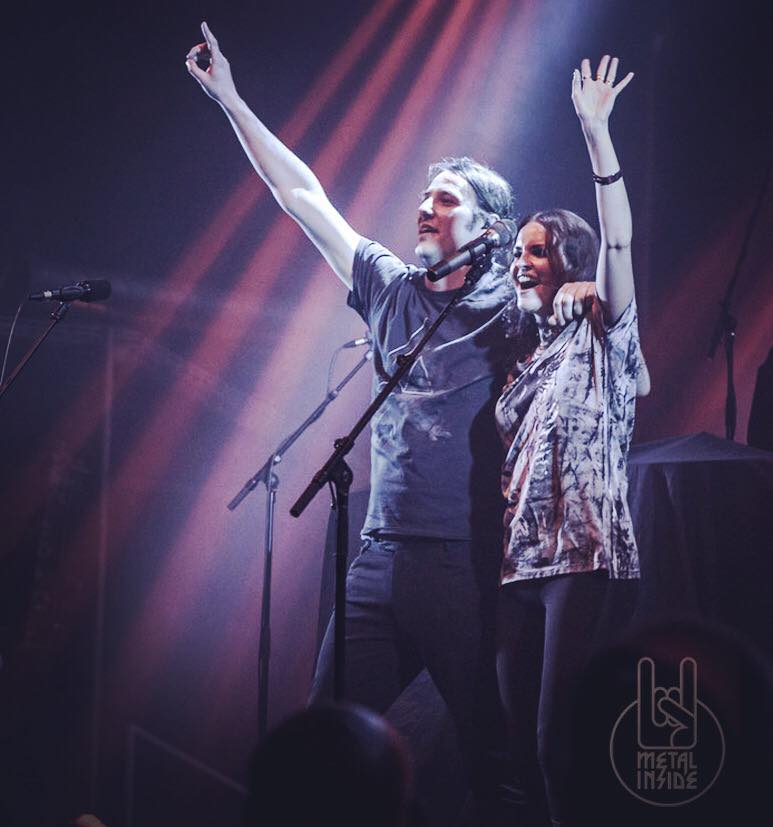 | | |
| --- | --- |
| I wish everyone had your attitude towards this! It would be better for everyone. Let's play a little game. What would you name your boat if you had one? | |
| | |
| --- | --- |
| | Haha, that's a funny question I've never thought about before. I've been playing table tennis in the club for 20 years, and everyone there always calls me octopus, because I have such long arms and can reach simply every ball. I think that's why "Rocktopus" would be a pretty fitting name for my boat, wouldn't it? 😛 |
| | |
| --- | --- |
| It would! Can I book a cruise? 🙂 I'm hoping to see you soon in a concert. Do you prefer to perform in big or small venues? | |
Well, we haven't played reeeally big venues yet, but I think what most people say also applies to us – the smaller, the better. You can look everyone in the eye during the concert and see and feel the emotions much better than in a big venue, where every single person gets lost in the masses. But because we go into the audience after our concerts, we can at least see and meet the people from this big mass afterwards and talk.
And in general, if you meet me somewhere you can always talk to me; I'm always happy to have a nice chat!
| | |
| --- | --- |
| I can vouch for that! Thank you so much for taking the time for this interview! Would you like to add anything to FemMetal readers? | |
| | |
| --- | --- |
| | Again, a biiiiiig thank you for the opportunity for this interview, and I wish the whole FemMetal-Team and all readers, above all, good health because that is always the most important thing. If there is anything else you'd like to know about MoonSun or me, please feel free to contact me or us on social media. We thank you very much for your support and now open your music platforms, "Slain by Silence" is waiting for you! 🤘 |
---
Follow MoonSun
---