Being raised in a Christian family I've never celebrated Halloween like they do in television or movies, or like the tradition would want. But this year I couldn't pass the occasion of celebrating this spooky time of year with a concert.
And so it begins. At 21:45, Degrees of Truth take over the stage.
I have never been impressed by a band like it happened this time. Their set was varied yet consistent, powerful yet elegant, complex yet harmonious. Lead singer Claudia introduced the songs giving the audience important details to focus on, and I've found that essential. Her vocal technique is simply astonishing; later, I've discovered that she is, in fact, the same vocalist of Nightwish tribute band Wishmasters. Now that makes a lot of sense! To master such vocal agility is definitely not easy, but she makes it look effortless.
Another distinctive element of their performance was the same sound effects that they used in the record; those have brought their concert to a sublime level, uniting each song played like the flow of a river. I'd like to mention Lorenzo as a great vocalist as well, creating a unique contrast while singing with Claudia.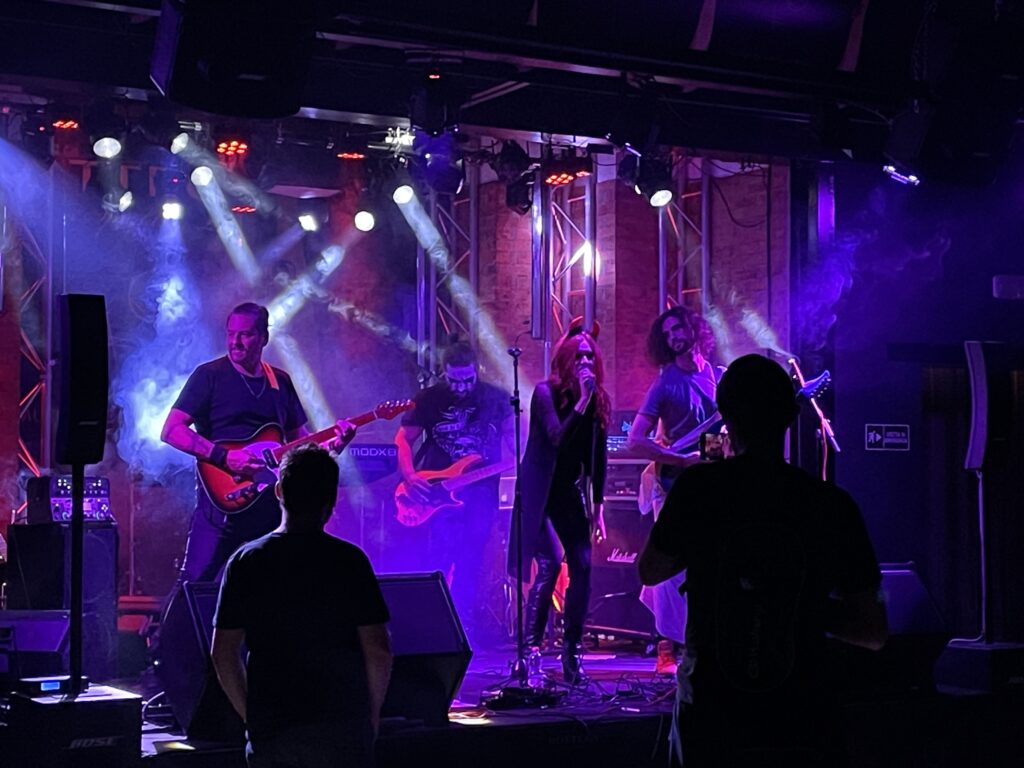 The themes of Degrees of Truth's songs are refined and not at all obvious. I have felt not only as part of the audience but also as the main character in the story that they wanted to share. They've taken the whole venue on a trip throughout the centuries to discover something that's always been inside us, our very nature.
They are very skilled artists and very friendly people. I had the pleasure of chatting with them after the show, and there are not enough words to say how much I've enjoyed that. Here's a picture with the setlist that Claudia kindly gave me!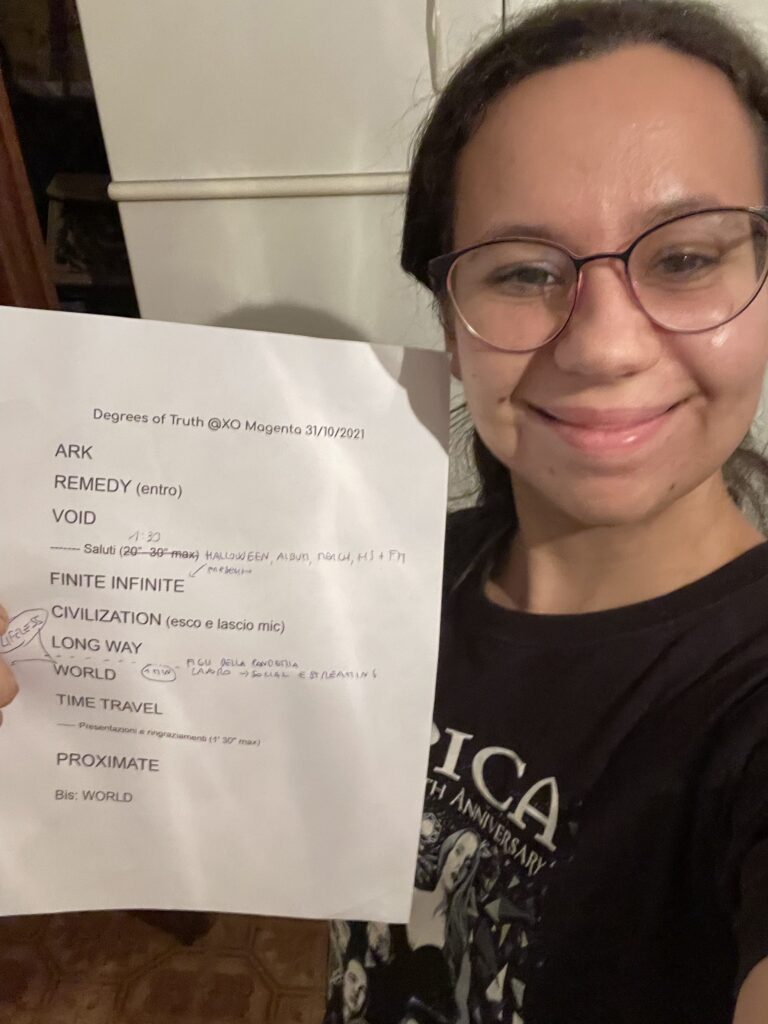 Unfortunately, time flies by when you're having fun, and Degrees of Truth leaves the stage for the next band, Holy Shire. Now yes, I've seen Holy Shire already three times (counting this instance), but what can I say? Their concerts are addictive!
After their magical intro, we were soon expecting to jump like kangaroos on one of their explosive tracks, but apparently, there's been a bit of a technical problem with the guitar, so we patiently waited. I was so worried, and more people came on stage to help Mattia. Thankfully just a few minutes later, the guitar seems okay, and their set resumes.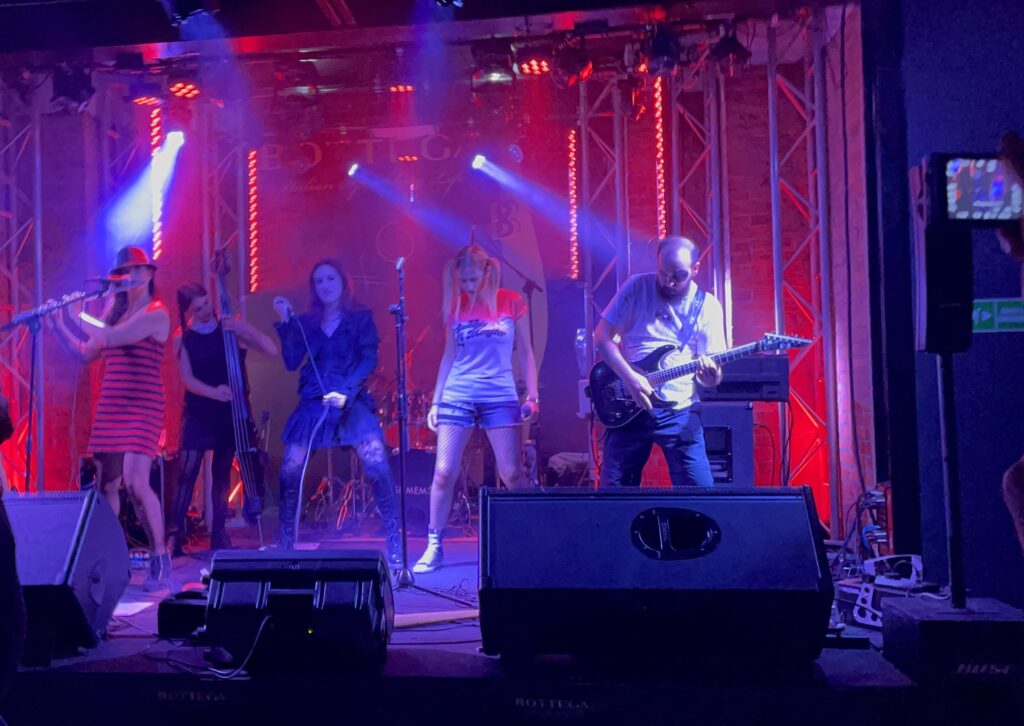 As you can see, each member was dressed as a beloved fictional character for Halloween, and it was amazing. Kima/Mrs. Freddy Krueger even had the metallic hands! I honestly don't know how she could play the flute flawlessly with such a prop, so kudos to her! Instead, Julie/Harley Quinn had a baseball bat, and you can see it's on the stage floor between the two amplifiers.
Holy Shire's shows give me life: they're enthusiastic, mighty, upbeat and brilliant. They never fail to deliver an incredible performance. Erika/Vampire and Julie both put their heart when they're singing, just like Melissa/Wednesday Addams's passion in playing the double bass.
Despite the technical problem I've really had a lot of fun: it's impossible to be bored when Holy Shire is on stage!
Midnight almost strikes, and it's time for the last band to close this Halloween special concert: False Memories. They take the stage one by one and start their wonderful performance.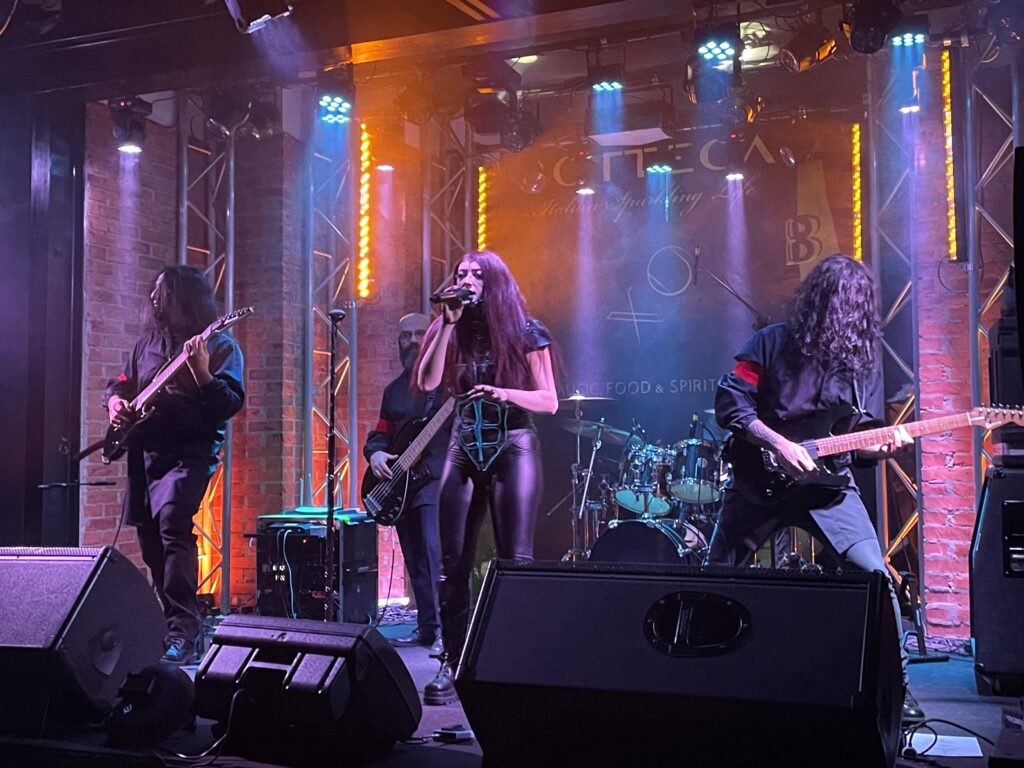 What I like the most about False Memories is that their performances are never just for the ears but also the eyes. The stage lights, Rossella's movements, their outfits… it all combines to be also a visual entertainment. The order in which the songs are played is not casual: each track is linked to the next by a theme or a meaning, and it's natural to understand what message they want to deliver.
They also released a special video for "White Crows" on Halloween, and Rossella's outfit was glowing intermittently to the song's rhythm. That was a very special touch, and it was met with a lot of cheers from the audience.
For unknown reason though, their set was stopped after only 8 songs. The audience as well as myself demanded at least one more song, but our wish wasn't granted. The curtain fell, and the show ended.
I had the pleasure of meeting both Holy Shire and False Memories after the concert, and if you have Instagram, you might have seen some stories on FemMetal's account. Those were all improvised at the moment, and I had the best laughs with them!
My first time celebrating Halloween was indeed a blast! I will remember this concert and hold it as a memory of a fantastic night.